"Joy to the world… the Lord is come!….."
Welcome friends to Sand & Sisal's Coastal Christmas Home Tour – part 1.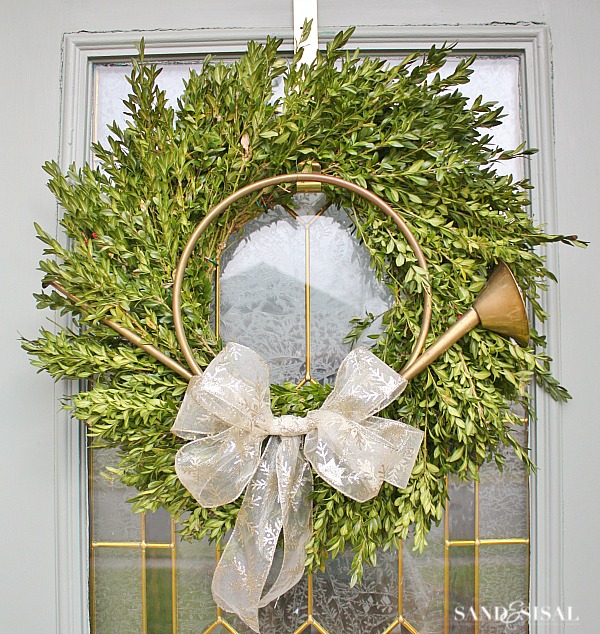 Today's Coastal Christmas Home Tour is part of the White Buffalo Styling Co.'s  Blogger Styling Home Tours. If you are following the tour in order and coming from Primitive & Proper then let me say hello and welcome!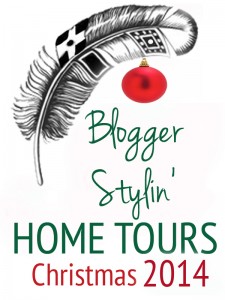 "Let Earth receive her King! Let every heart prepare Him room."
This little beautiful brass horn from a thrift store never knew he'd be adorning a simple boxwood wreath.
For years he's been buried beneath the boxes in the attic, dusty and tarnished, unnoticed.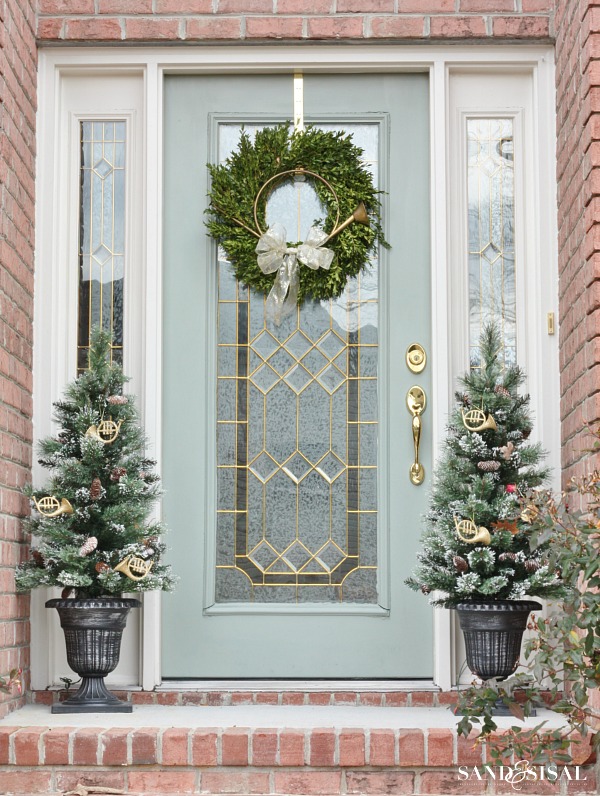 The horn cried out to be polished, shiny and gleaming once more.
"I'm not shiny enough, I don't sparkle. I'm rusted and tarnished, dented, damaged, and not good enough". 
You are enough in my eyes though. Don't you see that?
You are beautiful and whole and you proclaim His coming to this earth. So let the trumpets sound, today a Savior has been born. He is Christ the Lord.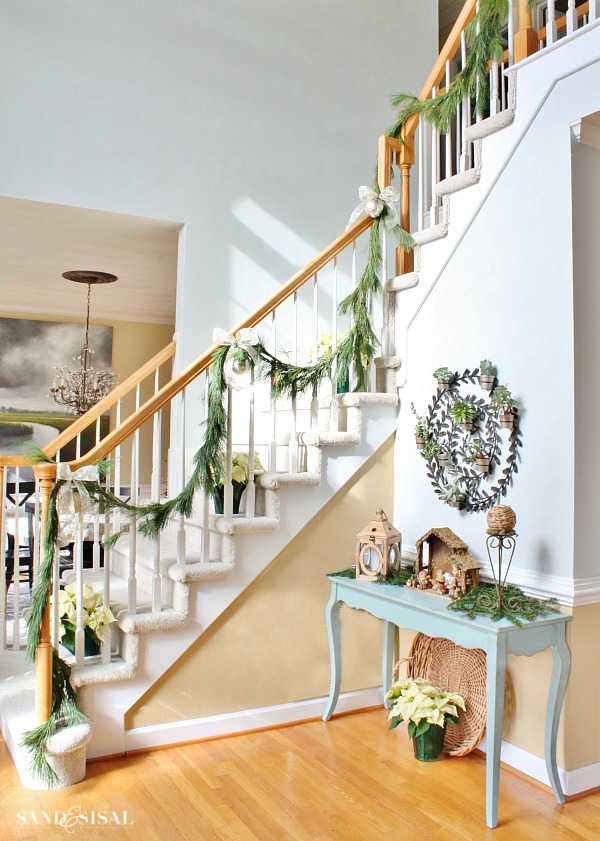 Sometimes the oldest of our belongings can find new significance once more. Our foyer has not changed much over the summer. I still love my Succulent Wall Hanging, which is displayed over the Chalk painted console table.
Having lovely decor is always nice, but there is more to life than a pretty home and keeping up appearances. We must remember why we celebrate Christmas. We need to understand and teach our children the reason for the season. It's not just all about Santa or the Elf on the Shelf, or the pretty decorations but it's about the birth of our savior, Jesus Christ.
If we skip that then what is the point of it all?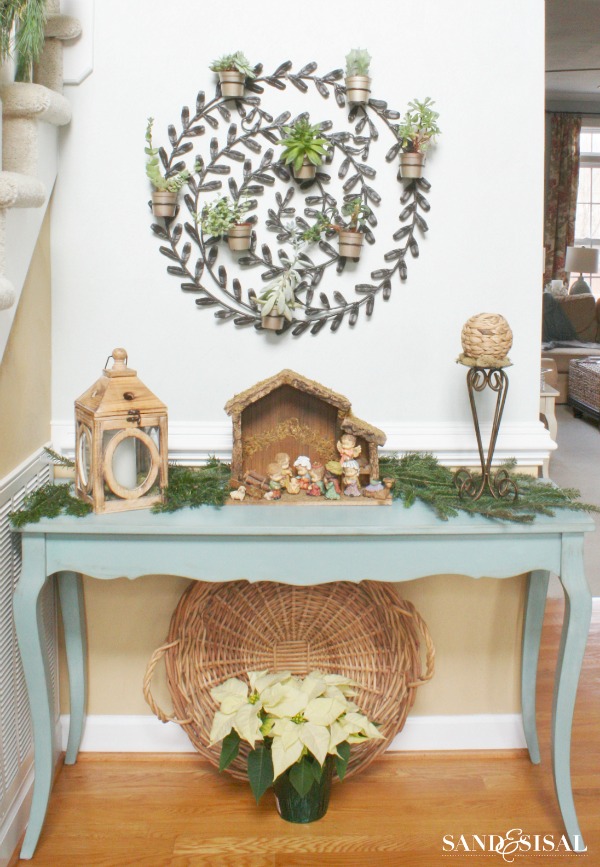 I bought this little nativity manger scene almost 20 years ago. I think it cost me under $10. All 4 of my children have played with it over the years. The ears of the donkey and cow are broken. A few wise men are a bit beat up, chipped and scratched, but Baby Jesus is still pristine and whole. Even if he was marred and dented…He would still be loved and adored by chubby little child hands that enjoy re-enacting the story of his miraculous birth.
Chipped and broken…scratched and aged, You are enough in My eyes… He reminds me. 
For HE is the Reason for the Season. He restores the chipped, the broken and damaged souls.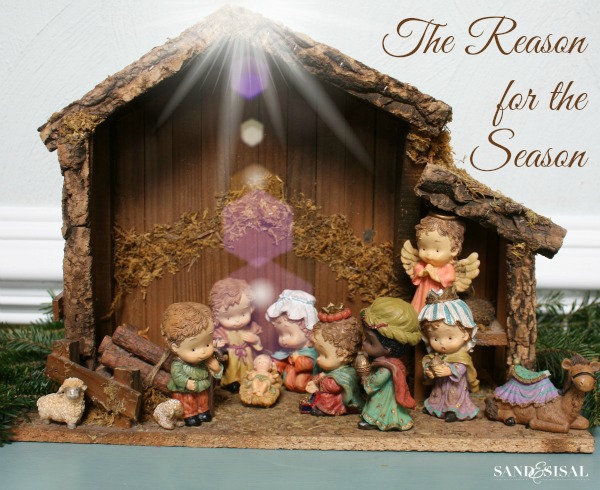 And the wise men brought him gold, frankincense and myrrh. All that glimmers is gold….. Simple gold ornaments & bows line the banisters. So in that thought, a large portion of our holiday home tour this year is decked out in classic silver and gold.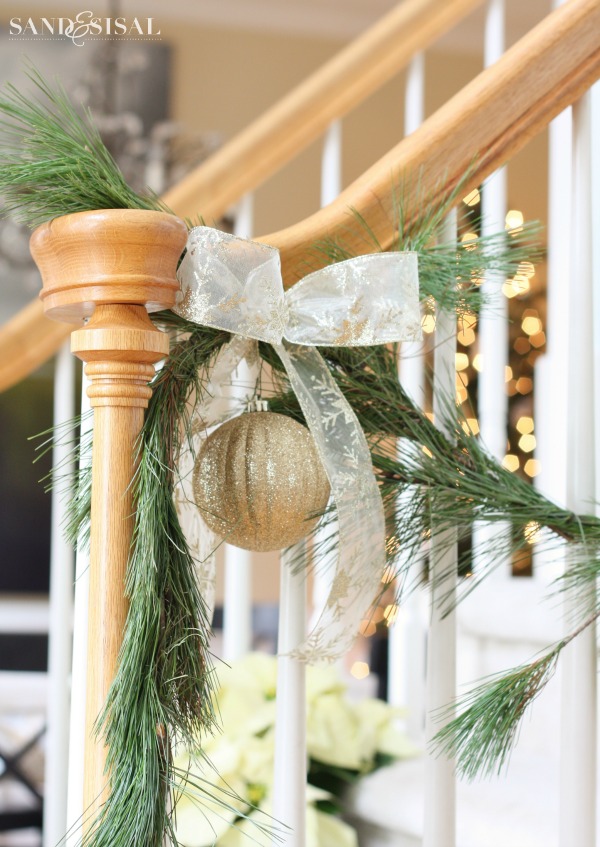 I wish we used this dining room more because it is so lovely and can you believe I found that table and chair set at a thrift store for only $120?  The walls are painted in a buttery Ivorie from Sherwin Williams. We added wainscoting molding to the lower walls last year.   The gilded pear wreaths stay on the wall all year round, minus their snowflake toppers.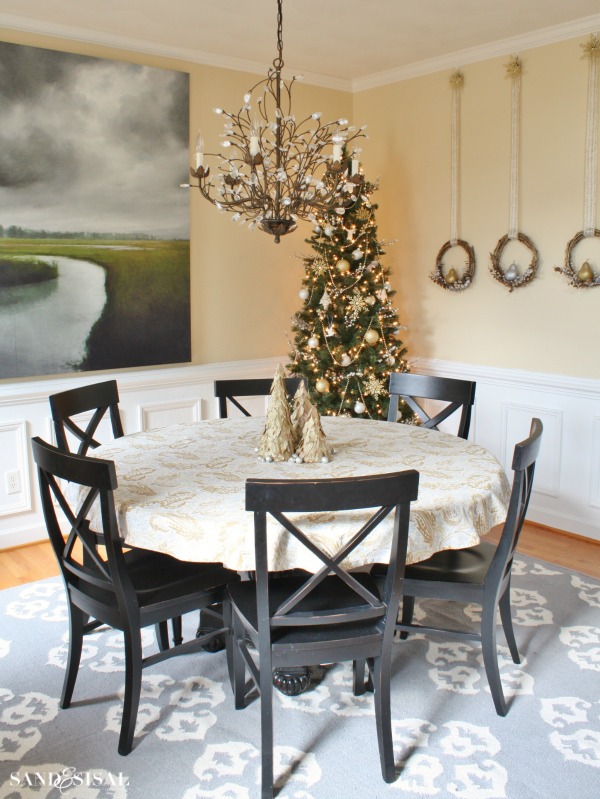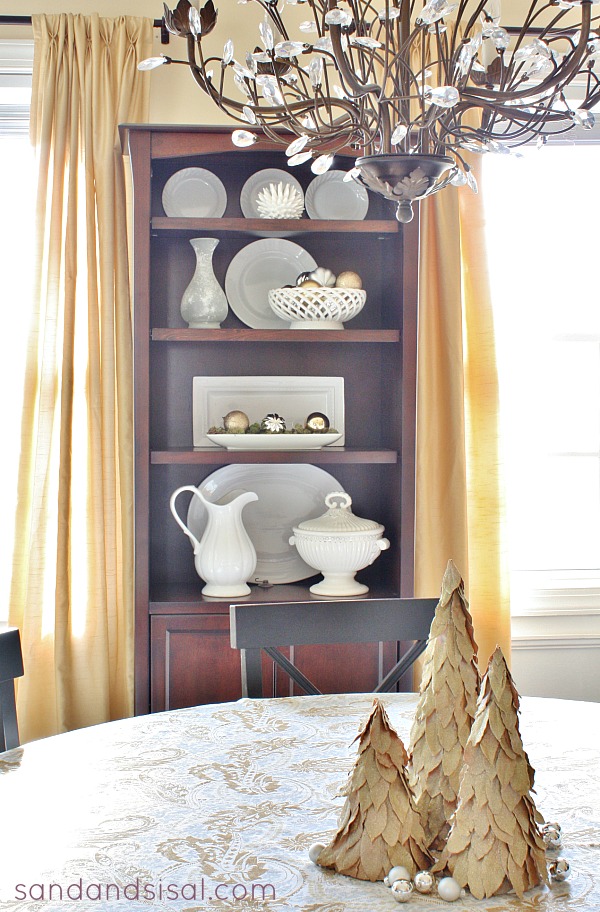 My little ol' bay leaf trees had faded from their pretty vibrant youthful green from past years and turned yellow and browish. Most would have thrown them out,
But they were enough in my eyes…
I had a plan for them… a golden makeover. Sparkling and once again NEW. God has a plan for each of us, maybe it's shiny and new.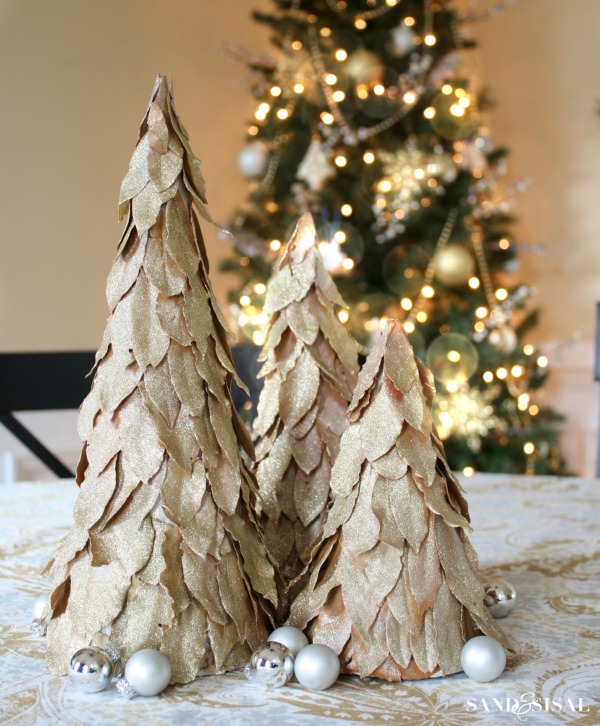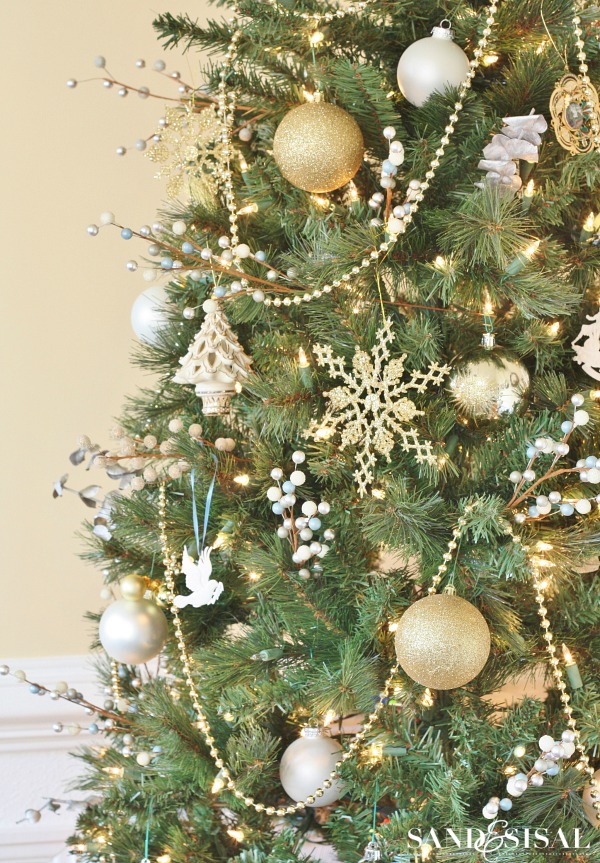 Let us move into the family room now. This is where all the giggles happen, the wrestling on the floor commences, the movies are watched with popcorn in hand, and essentially it is the hub of our home.  I'm so excited to show you my Coastal Christmas Mantel and Coastal Christmas Tree.
"Oh Holy Night, the stars are brightly shining!"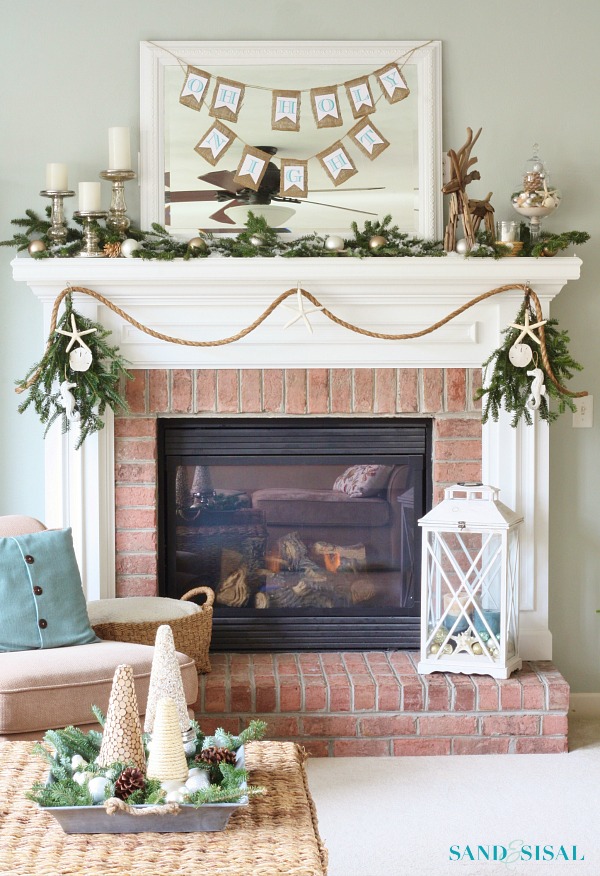 Every year for as long as I can remember, my sisters & I would gather around the piano and sing this song together, hence why I made this "Oh Holy Night Christmas Banner". It's my favorite carol.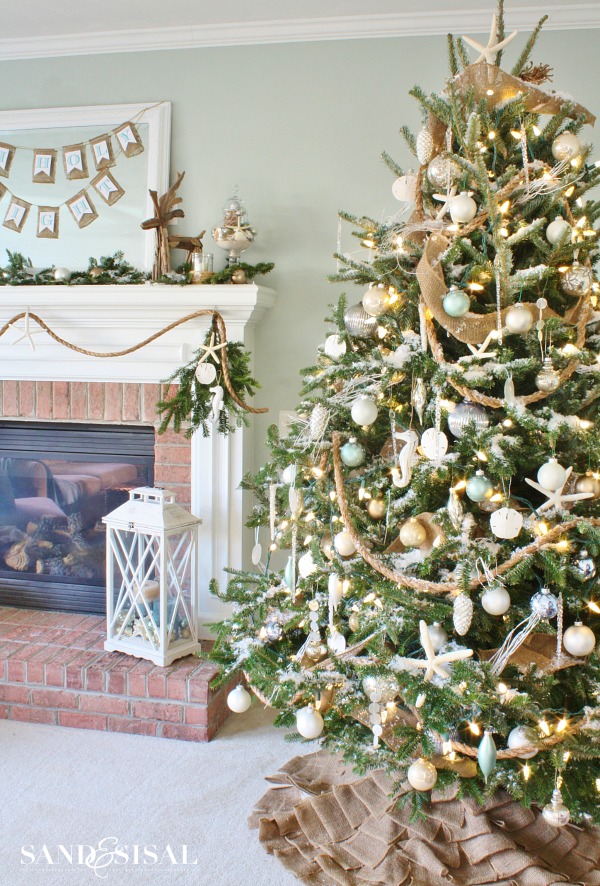 When we were teens, in our high school theatrical years, this carol sounded beautiful, but as we grew up I think we kind of lost our, um… key?.. and well, it became a tad bit comical, especially hitting the high notes.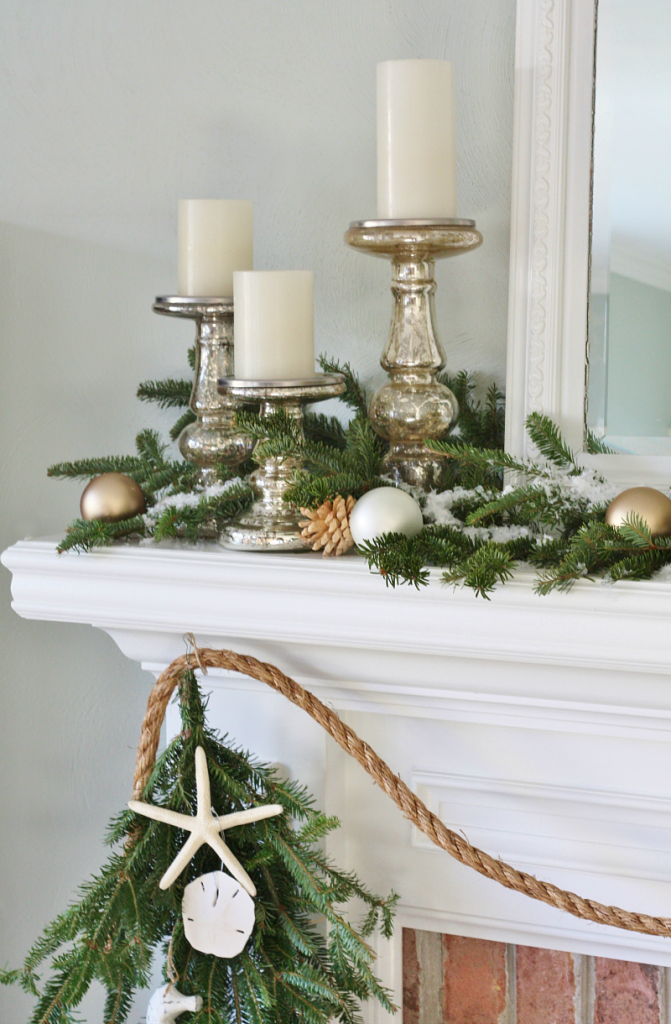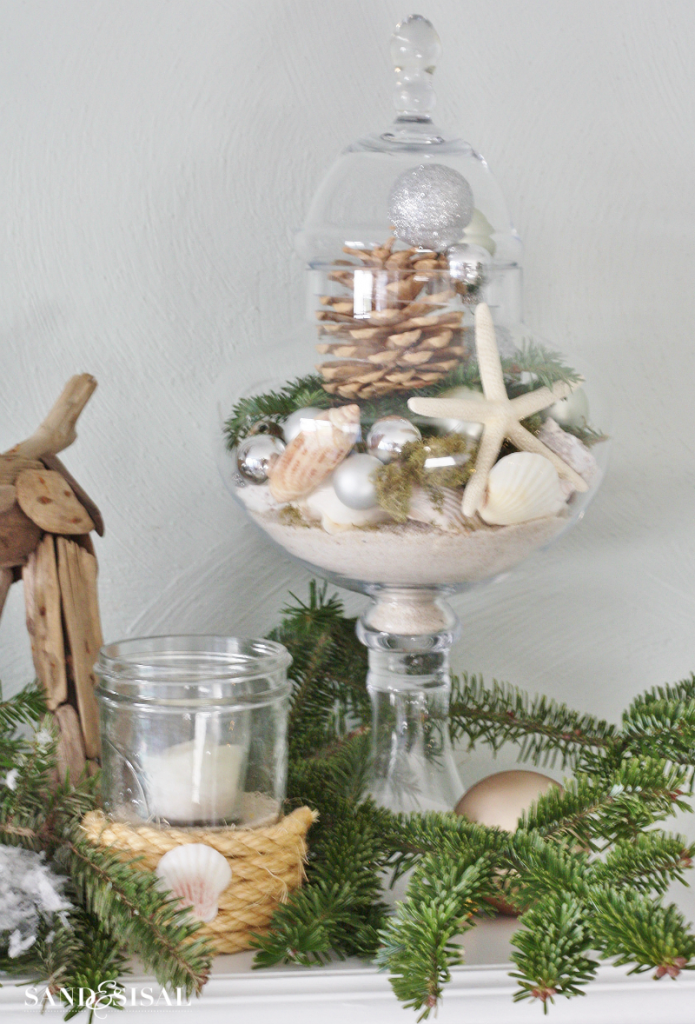 The song is so dear to our family and our amazing father who passed away a few years ago from melanoma loved our silly singing tradition. This song brings us to tears, but lately I think our singing is the cause of those tears (wink).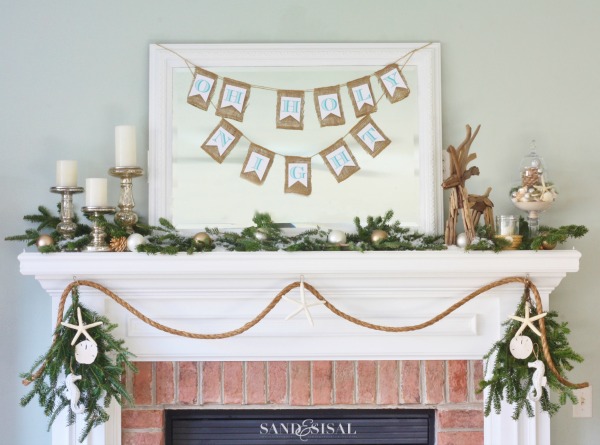 I know that our singing was enough in my Father's eyes. 
This Christmas season I hope and pray that no matter what you are going through, no matter your financial circumstance, that you understand and believe that YOU ARE ENOUGH IN GOD'S EYES. You are beyond enough. You are beautiful and HIS precious creation. None of us are perfect, and I am far, far, far from it, but I'm holding on to the hope, joy, and promise of this season.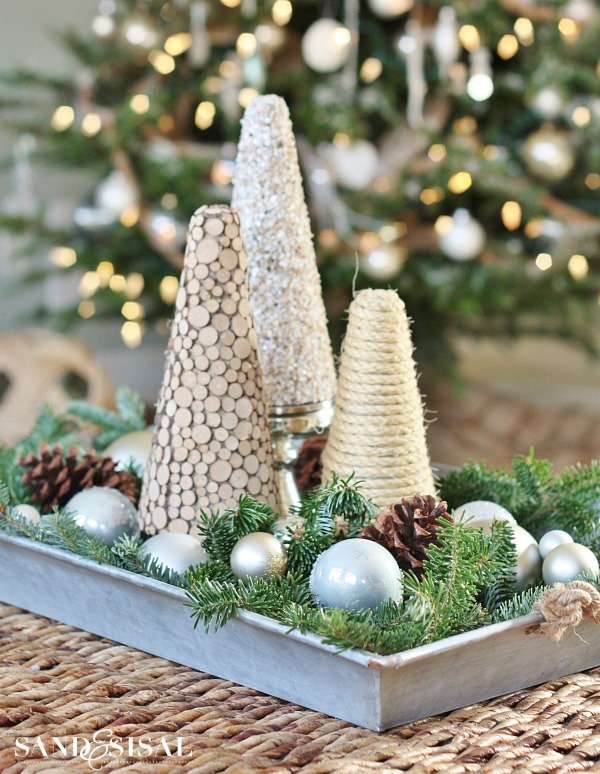 I hope you enjoyed seeing my softer, coastal Christmas decor, full of natural greens, blues, golds, and silver.
Tomorrow in Coastal Christmas Home Tour – Part 2, we switch gears and go all merry and bright and colorful, with a vibrant palette of Turquoise and Red Christmas Decor!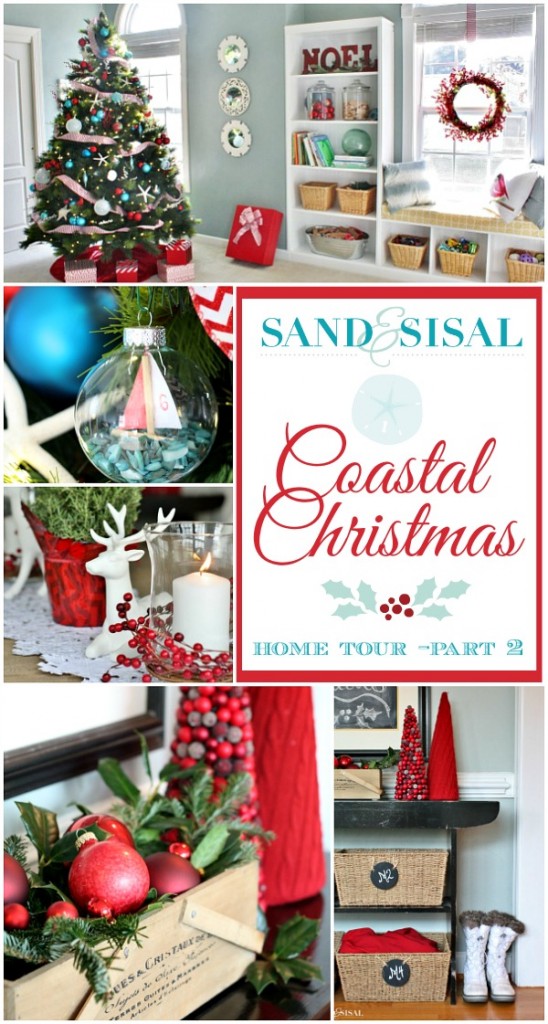 Next up on the home tour is Emily from Decor Chick! Be sure to check out her gorgeous home tour too!
Merry Christmas!
KIM