Hi friends! I've been MIA for over a week now. It's been a rough one for sure. I procrastinated and didn't finish taxes until Monday. Having a home business makes tax time more complicated and stressful. Then my daughter came down with a horrible case of stomach flu. Then to top it off, we spent a day at the hospital with my husband who had extensive sinus surgery. So I've been on supermom/wife duty this week and feel totally exhausted! Thankfully the sun has been shining which helps my mood and I had a moment to take a few quick pics of some new blue and white living room updates which I'm excited to share with you!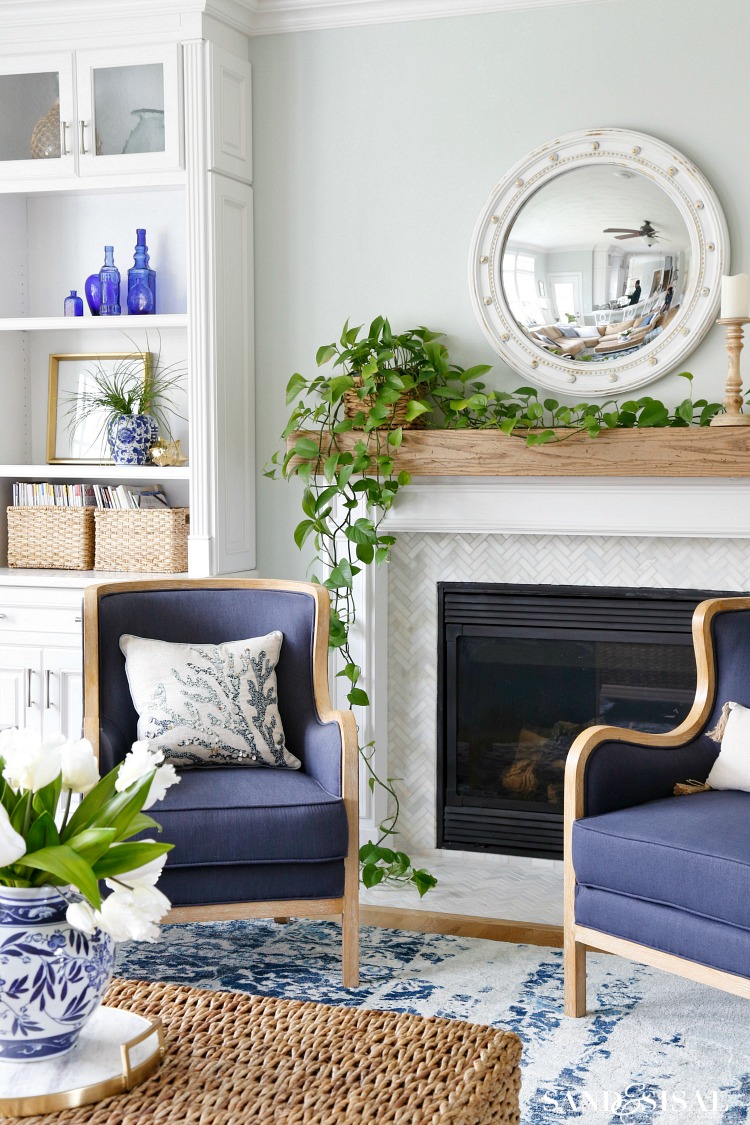 affiliate links provided in this post for your shopping convenience
The two big changes were adding additional seating and a new rug. We have a very large sectional but with a family of 6, additional seating is always needed, especially with when my teens bring home all their friends. Always know that I never buy anything at full price. I picked up these navy linen chairs for $100 off each from Pier 1! The fabric color looks very similar to dark denim. The cushion is impressively thick and nicely firm and comfortable. The wood trim has a white wax finish which settles into the grain. It's gorgeous! The chairs come in a flax and navy with your choice of dark or light wood. I loved how the wood trim matches our weathered oak floors and DIY wood beam mantel.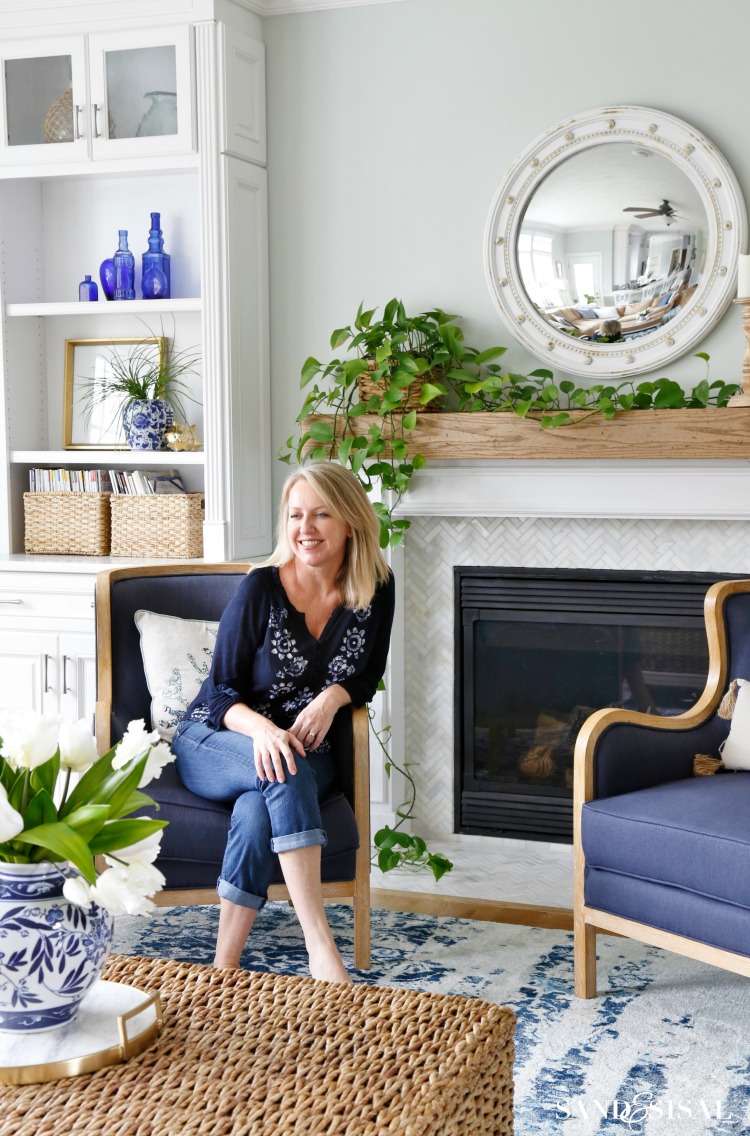 The chair is a nice size. It's not to big or too small. I'm 5'4″ and it fits me well. My husband is 6'2″ and actually gave his "comfort approval" (which is rare).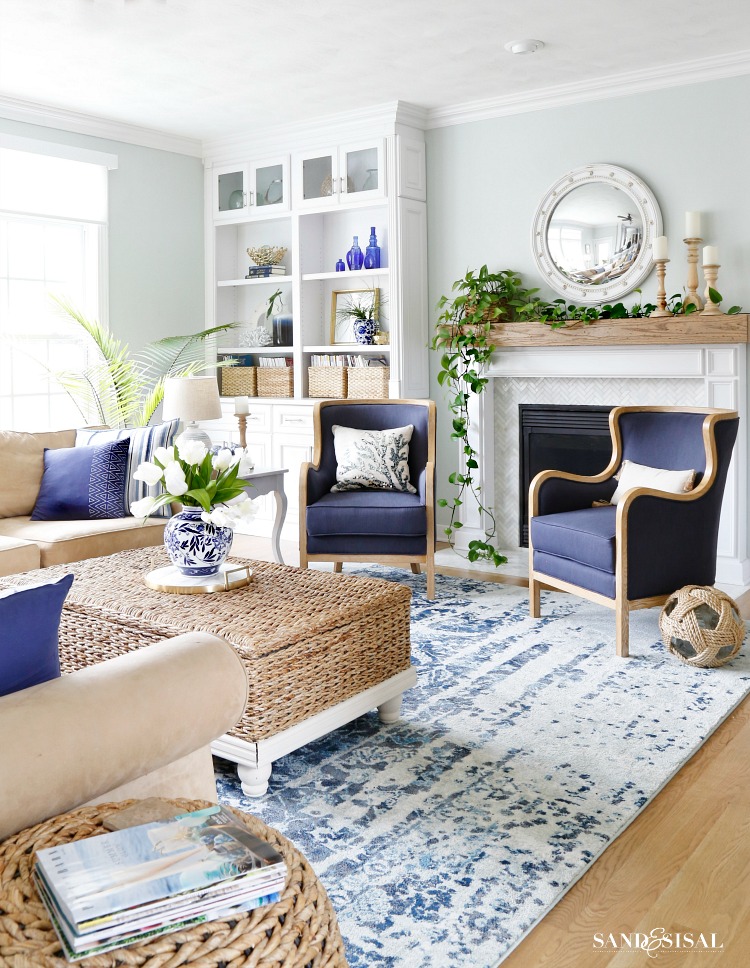 The next big blue and white living room update was a new rug! I absolutely adore this Muted Flourish Rug! (Click that blue link if you're interested in purchasing or finding out more). You probably recognize this rug, because many home bloggers own it. I had been eyeing it for a very long time and finally took the plunge when it was on a deep sale. The rug has a nice pile to it and is very soft and comes in 10 sizes. It does not shed and cleans up rather nicely. How do I know it cleans up well? Let's just say that my husband christened the rug in a post surgery nauseous episode. Ahhhh… fun times…. (sigh). He was so apologetic and sweet. Poor guy.
Below is a better full view of the beautiful rug. I love the washed out, distressed design.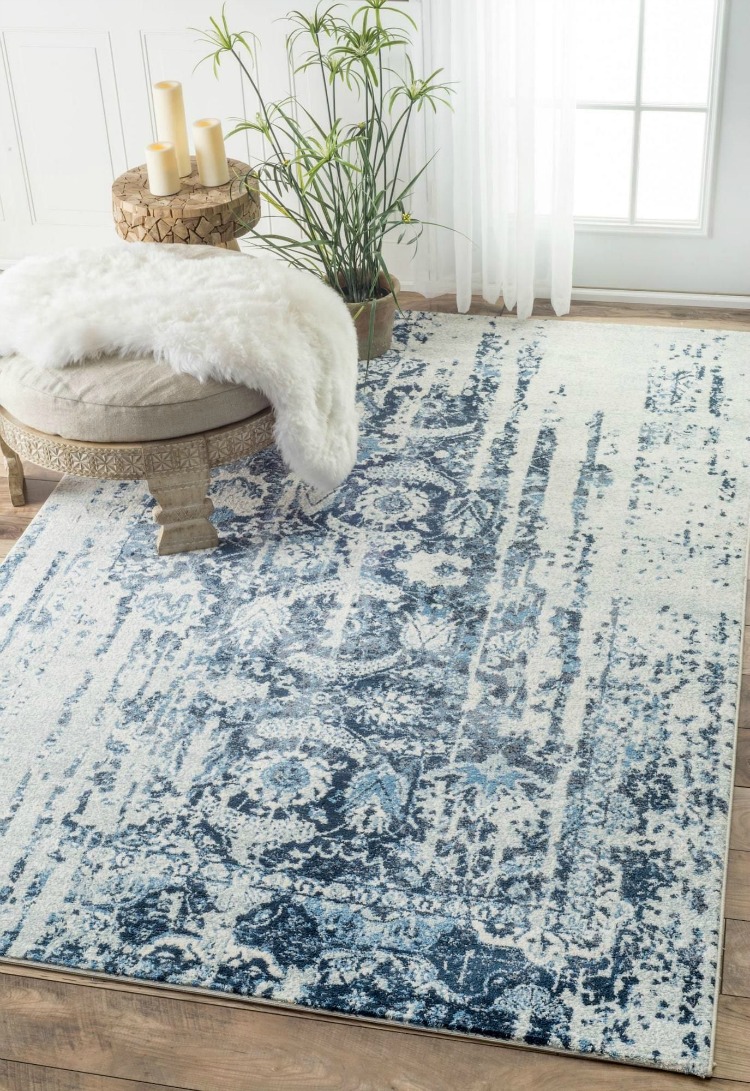 Here is a closeup of the pattern. The white areas are not pure white. They are a mottled mix of Sea Salt blue and white. The camera does not pick up the Sea Salt color very well, but I was so happy to discover that it matched my Sea Salt by SW wall color perfectly!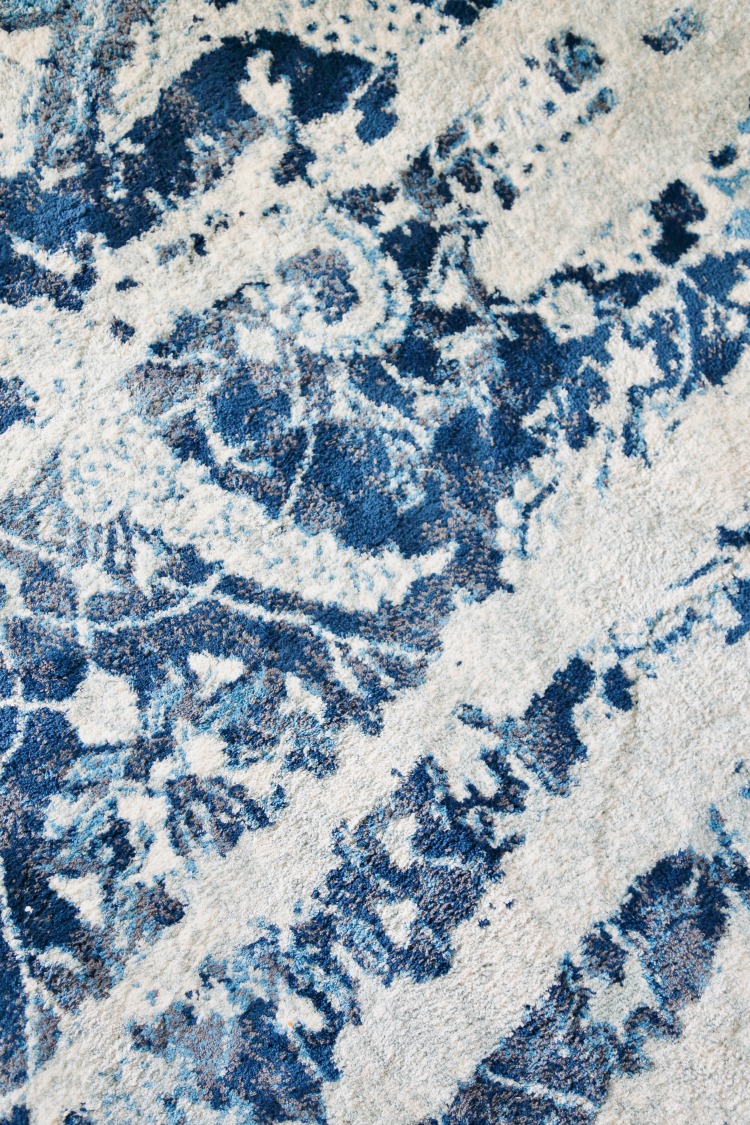 Here's a view from the other side of the room where our TV is located. Maybe one day I'll show that wall. The TV is sitting on an ugly old desk until I find a stand I really love.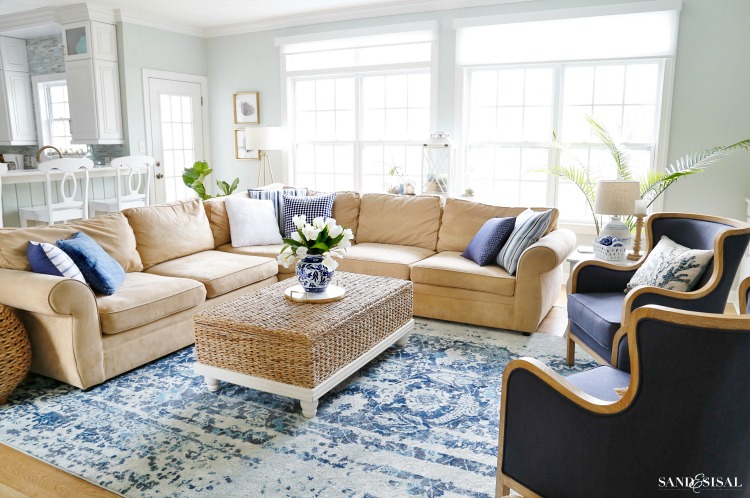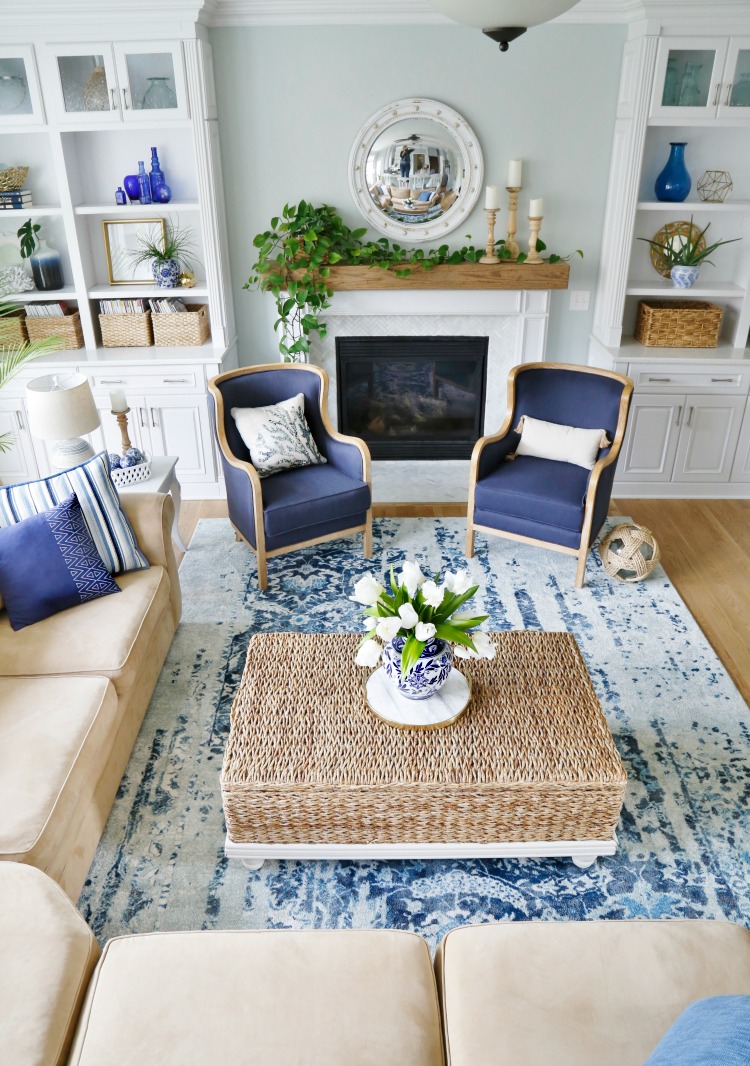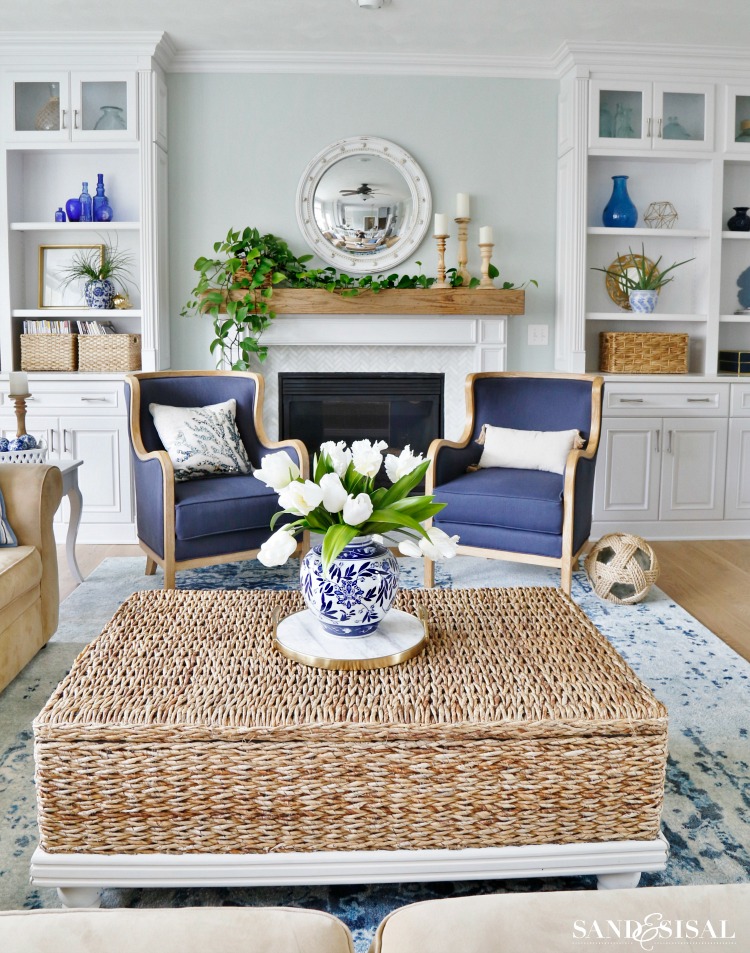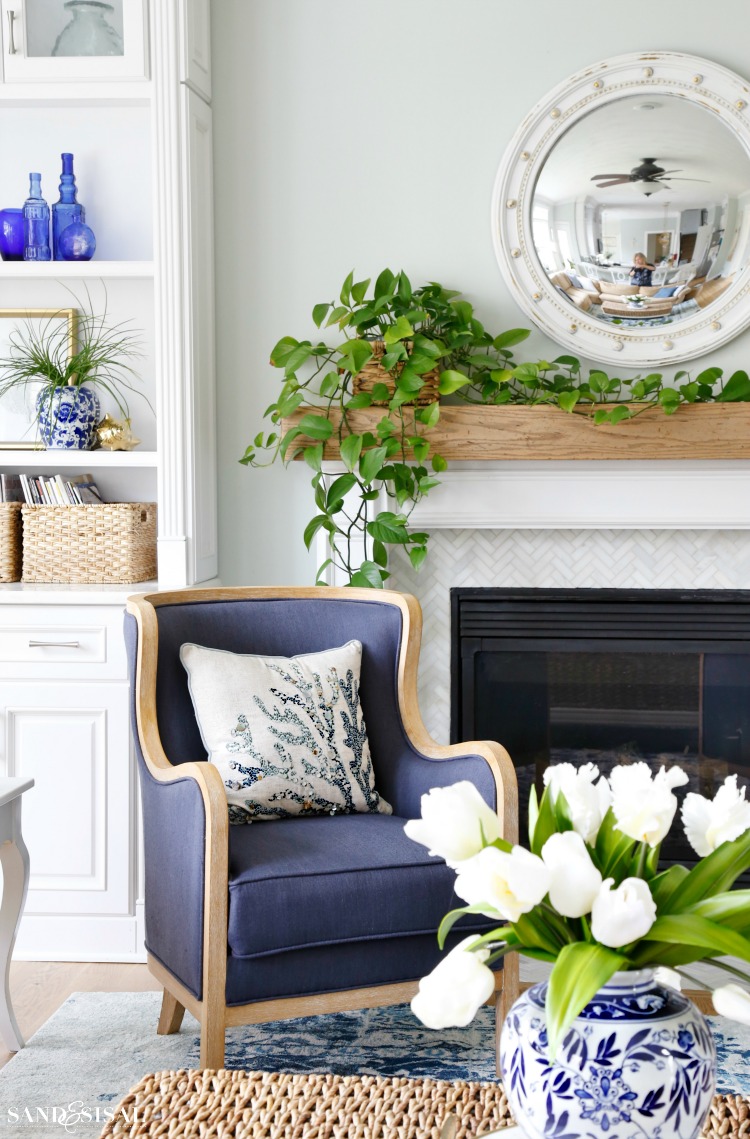 So what do you think of the changes? I personally love them and was ready for more color in our lives. Blue and white is so classic and I think it will work nicely with our coastal inspired home decor.
GET THE LOOK!
Happy Decorating!
KIM