Sugar cookies colored in cheery, bright colors or soft dreamy pastels welcome springtime into your kitchen
and surely put smiles on the kids faces.
Look at some of these gorgeous cookies below, made by some master cookie makers.
Each picture is hyperlinked so you can go to these wonderful women's websites and learn more from them!
Martha Stewart's Ideal Sugar Cookies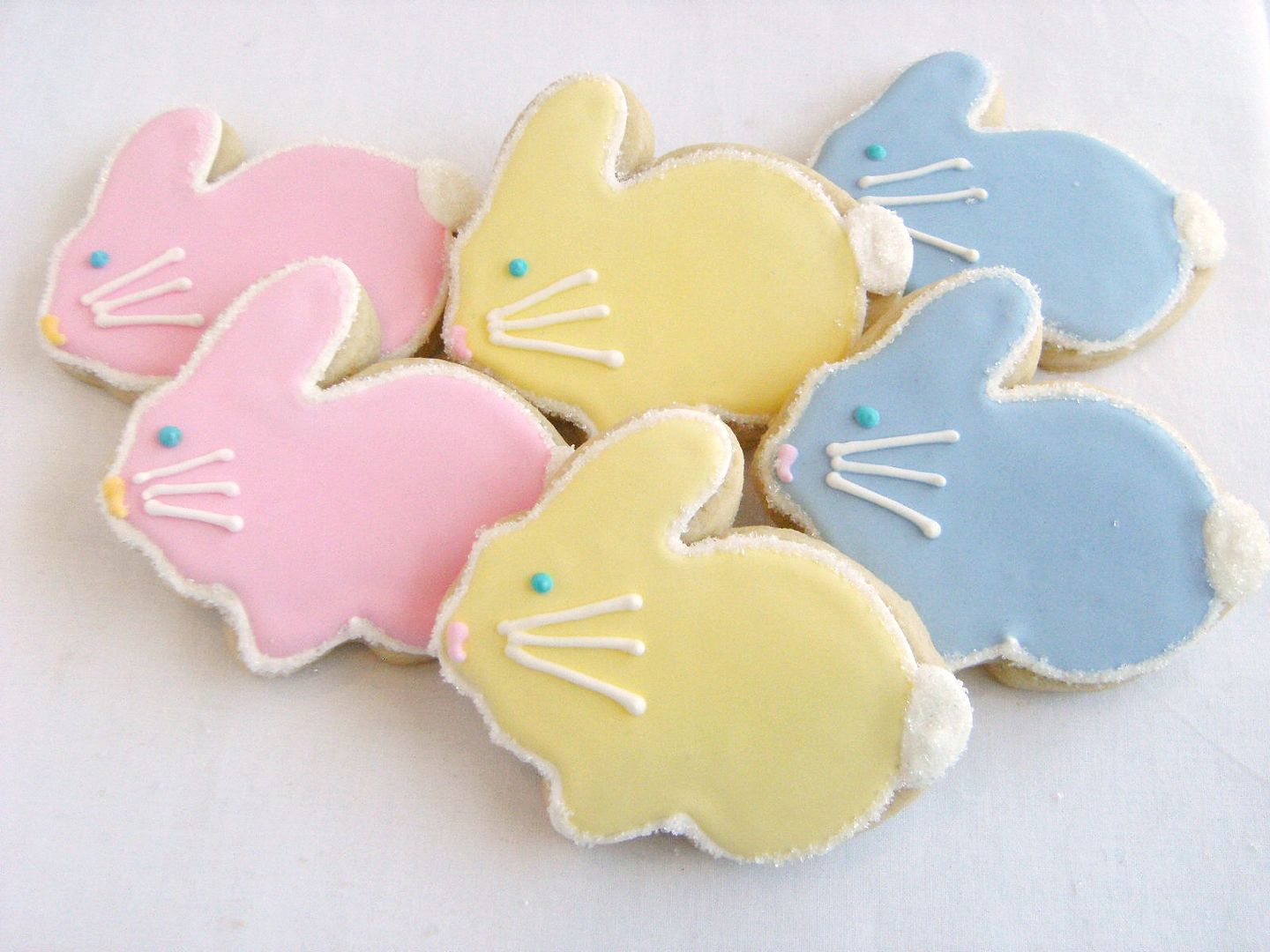 I'm more of a roll-them-in-a-ball-and-eat-them-straight-out-of-the-oven-kind-of-girl.
But I've always wanted to try to make gorgeous frosted cookies and I never could figure out how.
These ladies above taught me how! So come along as I attempt my first frosted cookie experience!
I found this Krusteaz mix at Sam's Club during Christmas and loved it so much I bought a few bags.
All you need is 2 1/2 cups of the mix, 1 egg, and a stick of softened butter.
I love adding lemon or orange zest (or both!) to my dough. It adds a fresh bright flavor.
When doing roll out cookies add 1/2 cup of flour to your mix.  This makes for a stiffer dough.
Now I know this is the most tempting part, but try not to eat too much at this point!
All my kids love to help out in the kitchen, so bring in your little helpers to assist you in your cookie cutting and bake as directed.
What I learned from the fabulous women featured above is that they line their cookies in royal icing.
Royal Icing consists of powdered sugar, meringue powder or egg whites, and water.
I have to admit, I was lazy and just used powdered sugar and water and food coloring. 
When you mix your icing for lining, you want it pretty thick, so it holds a long ribbon when lifted in the air.
I'm pretty low-budge when it comes to icing tools. I always use quart or gallon size freezer bags, snipping off a corner and adding my tip.
To see other ways to use freezer bags in all your frosting needs click HERE or HERE.
Use 2 different sized tips. A small tip for outlining your cookie and a larger tip for "flooding" your cookie.
Outline each cookie with your small tip and let it set up and harden (wait at least 1/2 hour!!!).
Then you can "flood" the inside of your cookie with a watered down icing. The icing should flow easily.
If you want to add spots inside your frosting, then add dots while your flooded icing is still wet.
If you'd like raised spots then add them after your icing has set up.
Below are my humble, first attempt Easter cookies. One bite and WOW!
The citrus flavor bursts in your mouth while the tender, buttery cookie melts on your tongue. Yum Oh Yum!
Now that I tried the "professional way" of decorating cookies, I'm not so intimidated anymore.
But I do admit it does take some time to accomplish, and I kept eating more cookies then I decorated.
Be aware…. these beauties won't last long!
Happy Easter y'all!
Kim
Linking up to: