Making a window treatment does not have to be complicated or expensive. Making a dish towel valance is about as simple as it gets! Yes, I said dish towels. This season the stores are loaded with beautiful printed towels. Target has gorgeous grain sack printed towels in a cotton/linen blend, so why not create something beautiful like a valance out of them!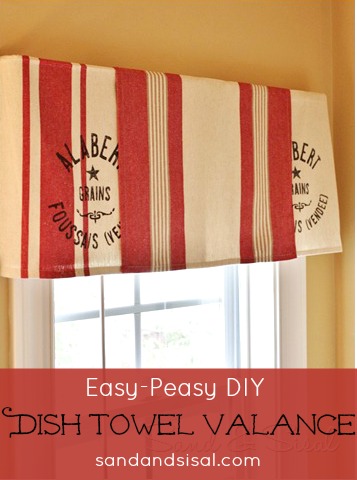 These are the grain sack towels from Target.
I purchased three for this project and 2 for my kitchen (for real towel use!)
Next I removed the old floral valance that hung in my downstairs bathroom. I was never really fond of that print.
We were already updating the board and batten in that bathroom (read about it HERE), so a new valance was a good idea too!
I gave each towel a good press with an iron to get out all wrinkles and simply folded each towel over the bar.
It doesn't get any easier!
This is a picture of the bathroom before.
And here it is now AFTER, all updated with trimmed out board and batten and a grain sack dish towel valance.
See The Lettered Cottage's gorgeous photo peeking in the mirror? I'm loving how it all comes together now.
So tell me what you think! Tell me about your simple valance projects you've done! I'd love to hear from you!
-Kim
linking up to: