When someone gives me a challenge I take it, but sometimes I  must admit, I take it with a bit of cautiousness. But when Better Homes & Gardens gives you challenge, your answer is an automatic, "Why YES!!! Bring it!"
Better Homes & Gardens at Walmart gave me an amazing opportunity to give my family room a "Spring Room Refresh" using  the new and affordable BHG line of products at Walmart.
Come and see how you can give your family room a fresh new look without breaking the bank!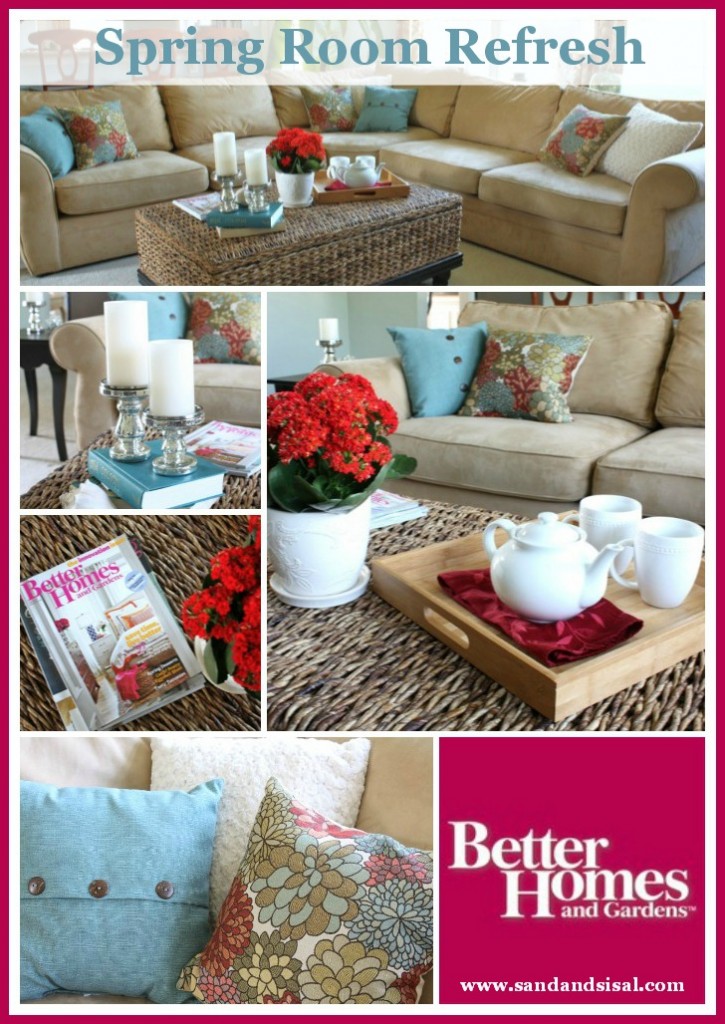 I wish I could show you how the room looked before I repainted the walls and added new drapes, but I want to be real about my "before pic".
To be honest, my before is not too shabby in my opinion.
The room has gone through some huge changes this past year since fall, like when I switched over from gold to Comfort Grey, but this is what it looked like before I refreshed it up for spring…
minus my boys' toys, shoes, muddy socks, and my girls' book bags, pony-tails,text books… etc. Trust me. This is a rare, pretty moment in our house…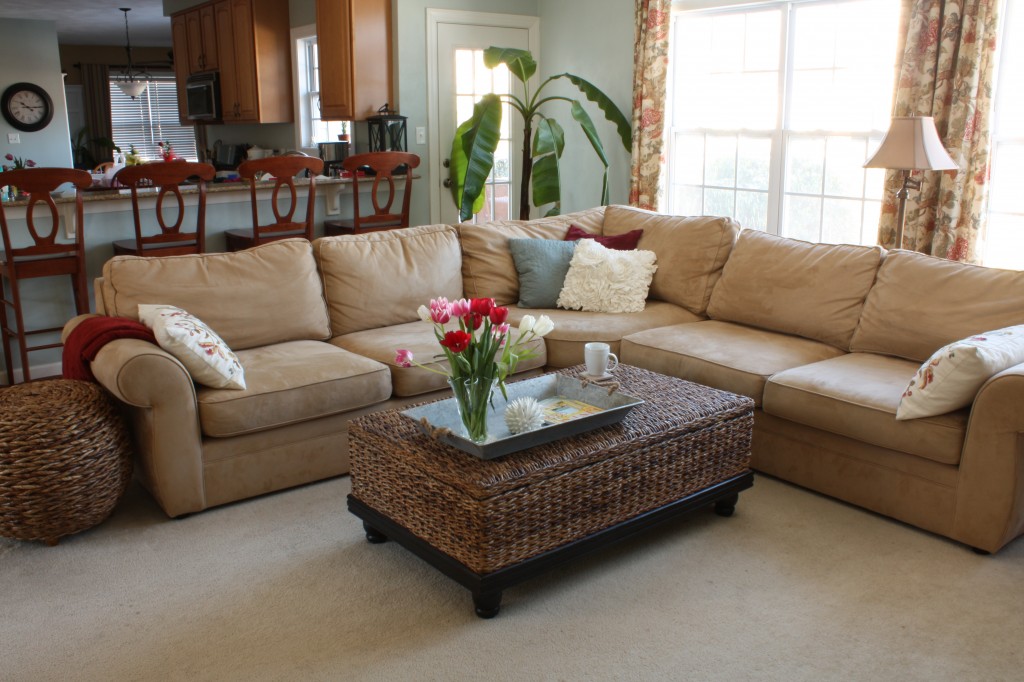 …. but let's turn it up a notch! Let's make it a bit more "spicy" as my daughter now describes the room.
How about adding a deeper punch of sea salt blue pillows and brighter pops of red and sage with an embroidered texture?
  Isn't it all coming together nicely?!
We are FINALLY & SUCCESSFULLY blending my past red and gold decor with the fresh and updated sea salt gray and sand colored decor.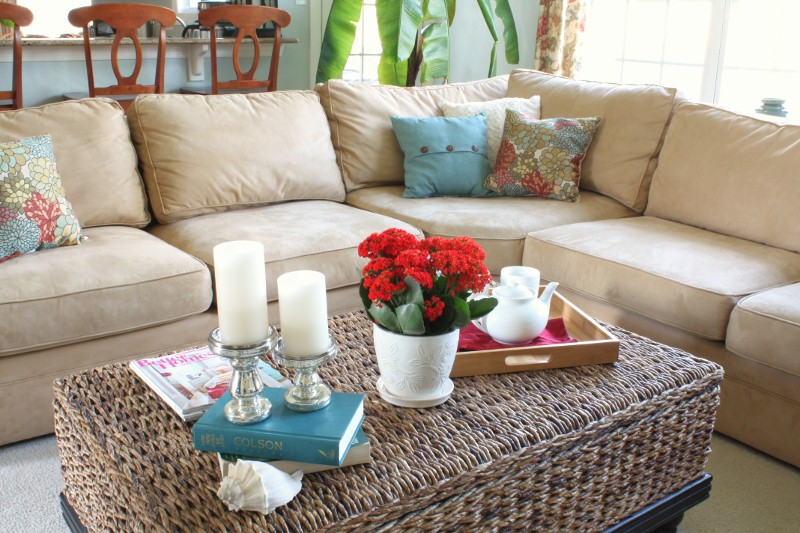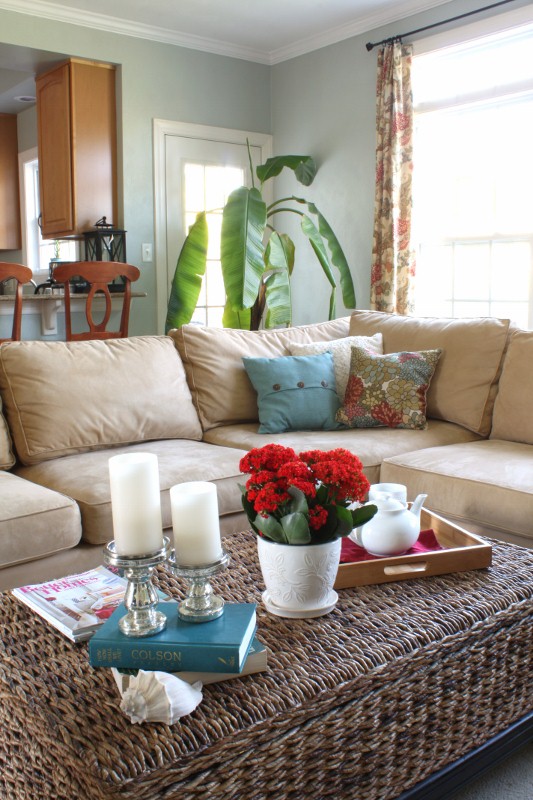 Every room needs a bit of sparkle. I was shocked at how inexpensive these mercury glass-like candle holders look no different than my high priced designer holders.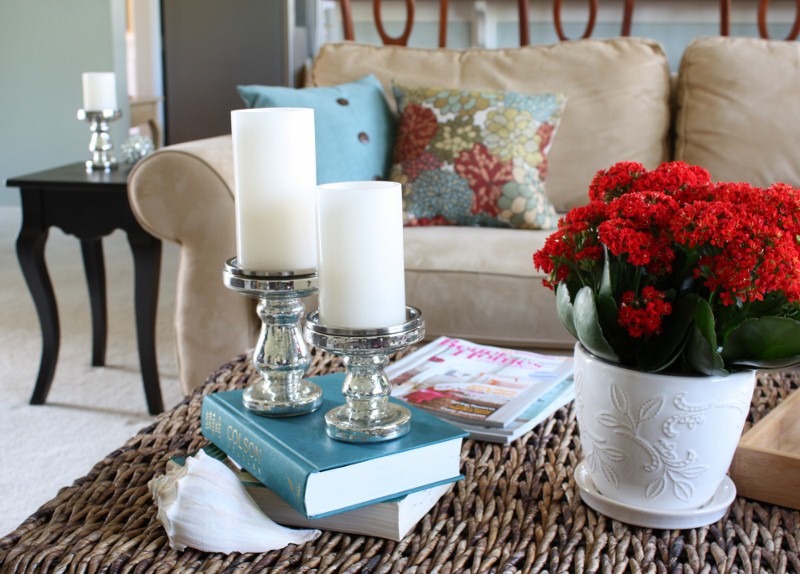 And pair them with BHG LED lit candles. Go BHG@Wal-Mart!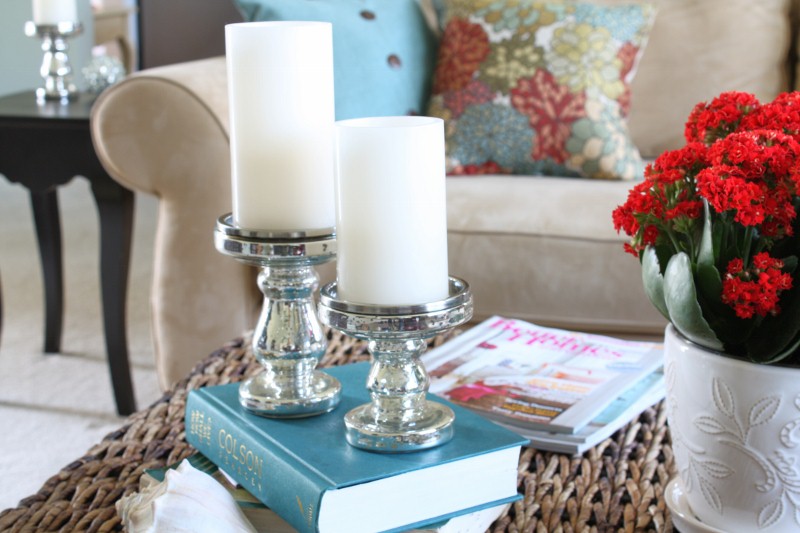 Every southern girl needs a collection of serving trays.
I seriously fell in love with this eco-sustainable bamboo tray by BHG.
It is large, light, sturdy and perfect for entertaining indoors or out.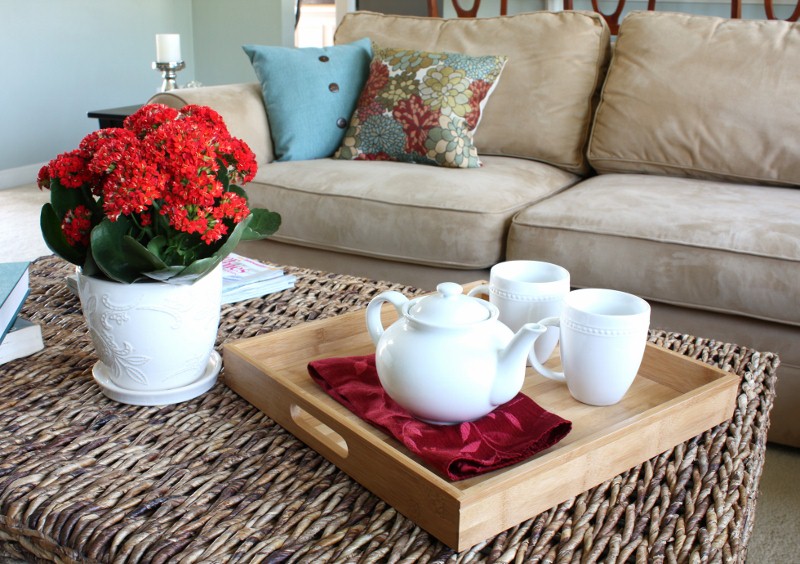 The first thing my kids noticed when they came off the bus was the pillows.
Pillows never last long ON the couch, but easily make their way onto our family room  floor, and hope to survive the nightly wrestling episodes.
My heart goes out to the beautiful embroidery of the Garden Mumsfield Pillow…. You are strong girlfriend to survive these 4 kids!
But the heartthrob is the soft and svelte Ivory Rosette pillow.
(They promise to stop snuggling up to you soon….. maybe I need to buy them a bunny????
naw… a buttery soft pillow is way more afordable…. )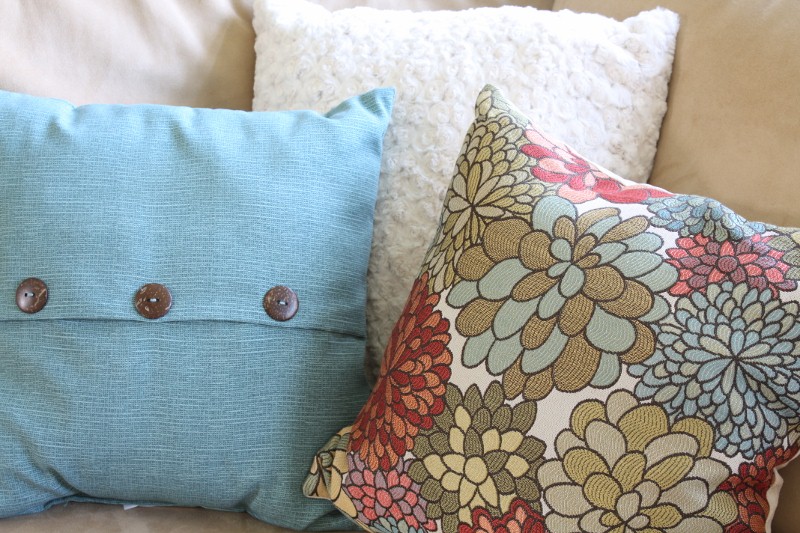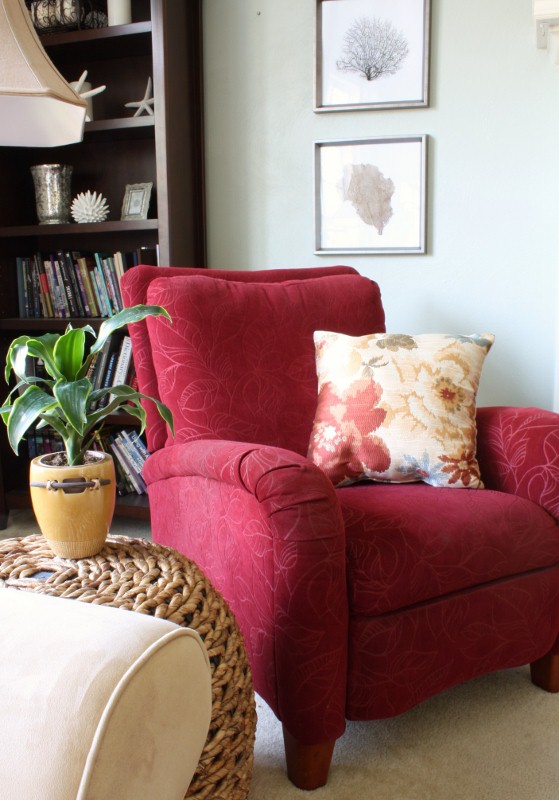 Of course we HAVE to have the latest BHG mag sitting on our coffee table, right?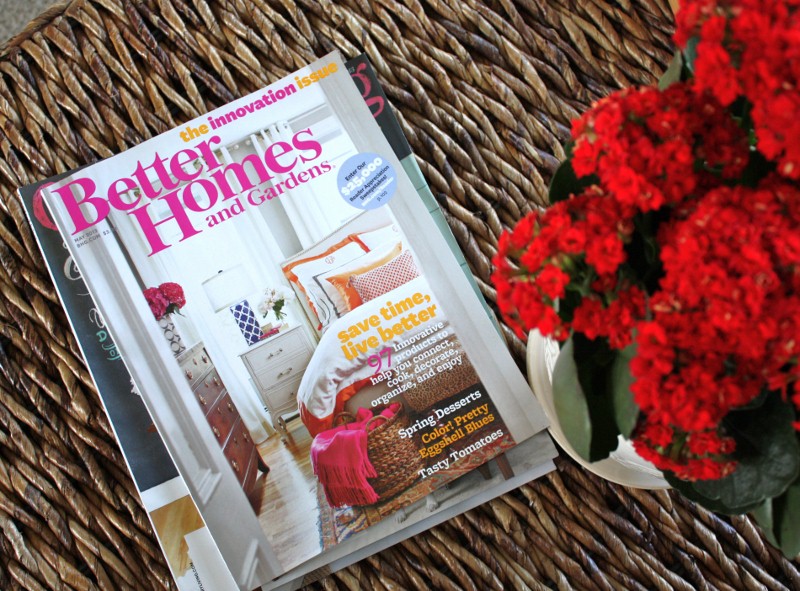 If you aren't already relaxed enough then let the warm and cozy scent of cookies and vanilla welcome your family home in this beautiful ceramic  BHG Scented Wax Warmer.
(Don't blame me if the kids are disappointed when they realize you didn't actually make cookies!)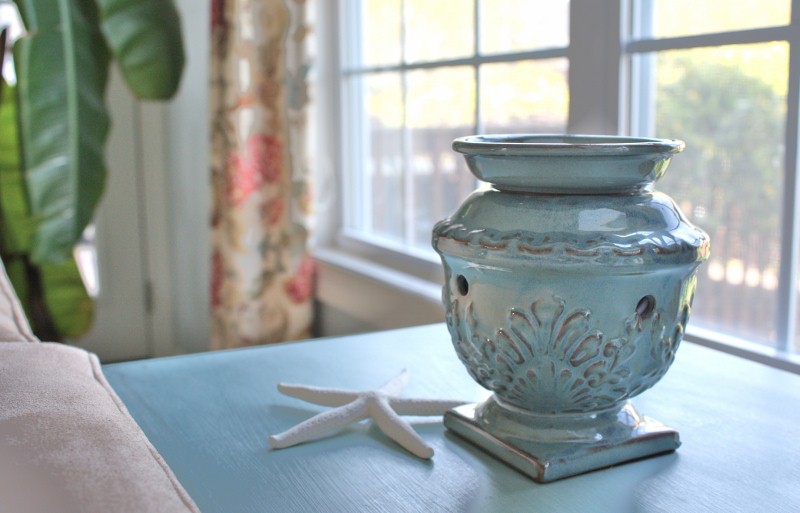 Because my family room is on the north side of my home, it totally lacks in natural sunlight, even though it has a wall of windows.
So I have found over the years that the addition of several smaller mirrors will help magnify the light in darker room.
I love this Distressed Black Quatrefoil Wall Mirror. I'm considering grouping several of them together now!
They are so inexpensive (under $15)!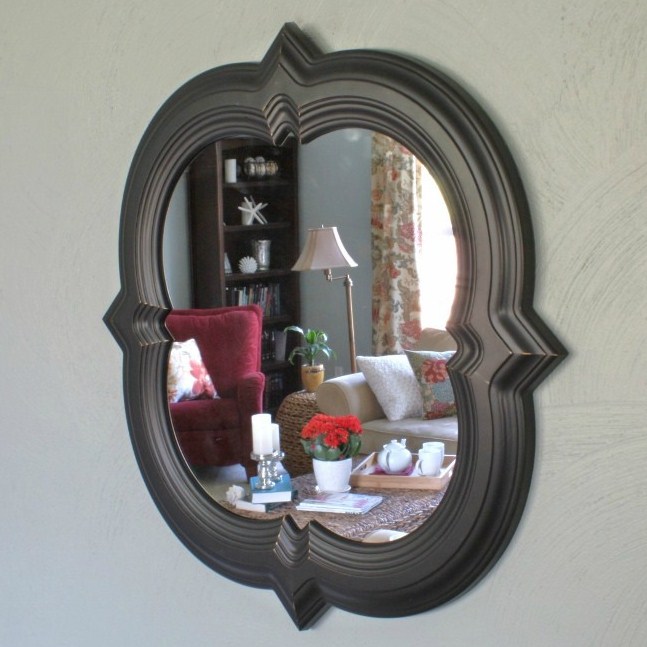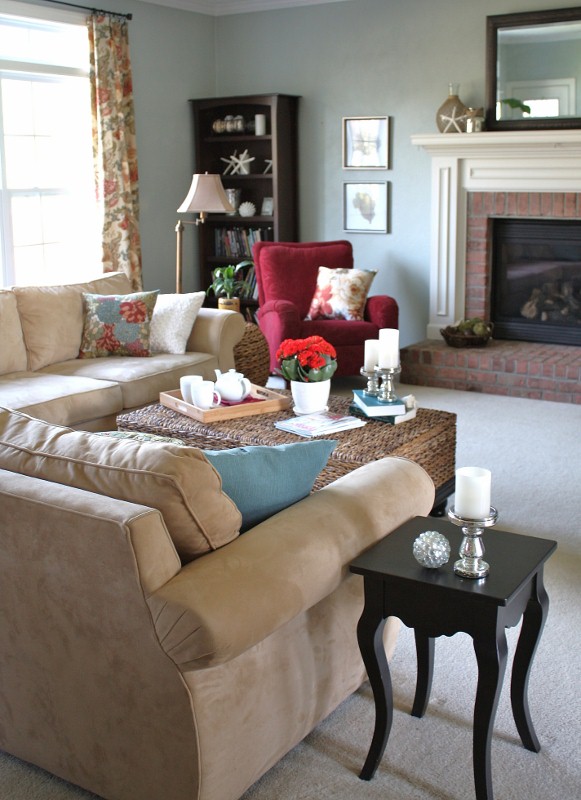 No matter your budget, Wal-mart has beautiful Better Homes & Gardens home decor that you will love.
Show me what your own room makeover will look like and enter the
Room Refresh Sweepstakes. (Update 2-22-14 SWEEPSTAKES has ended)
You could win $1000 for yourself towards a room makeover! 
I'd love it if you'd be sweet to my amazing sponsor BHG and check them out on:
 Twitter, Facebook, Pinterest, Web.
(psst: tell them Sand & Sisal sent you!)
KIM
*In accordance with the FTC Guidelines I am disclosing that I received compensation from Better Homes & Garden  for my time and participation in the Better homes & Garden Refresh Challenge. Although we have a material connection, any publicly state opinions of Better Homes & Garden and their products remain our own."