The in-laws were arriving for vacation at the end of the day and I had turned into a cleaning mad woman on a mission! Not only was the house a disaster, but the deck area was covering in grime and cobwebs and there sat the stainless steel grill… (which they bought for us 3 years ago)… looking gross as gross could be.
And I knew that was not going to fly with them. Something had to be done about it, and FAST!
Best Ways to Clean Stainless Steel Grills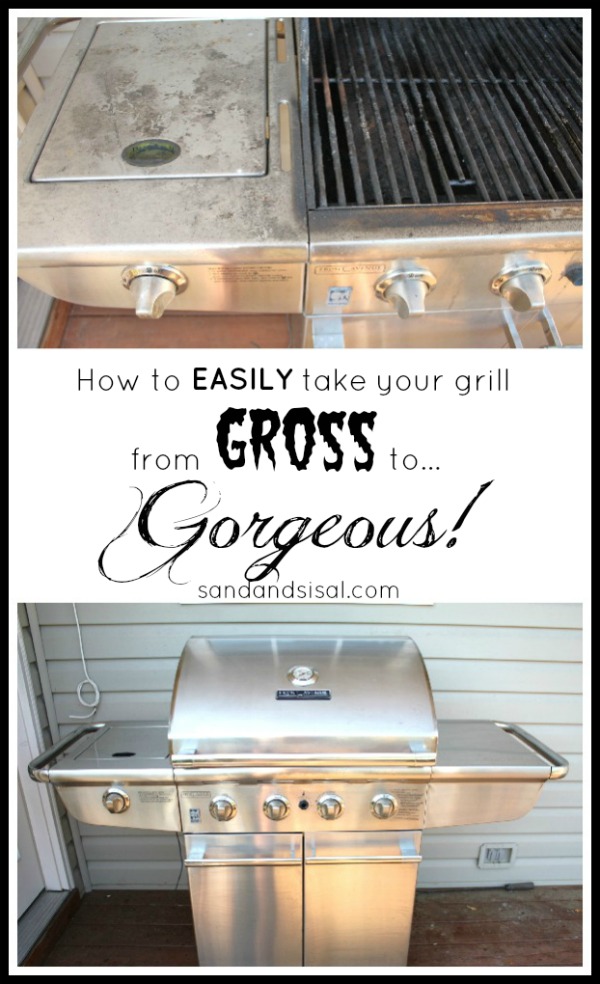 I was given the opportunity to review some Proctor & Gamble products available at Lowe's. I had my fingers crossed that Mr. Clean would come to my rescue and save the day for me! I love Magic Erasers but I had never tried out the Mr. Clean Outdoor Pro Magic Erasers or Mr. Clean Outdoor Pro Spray before.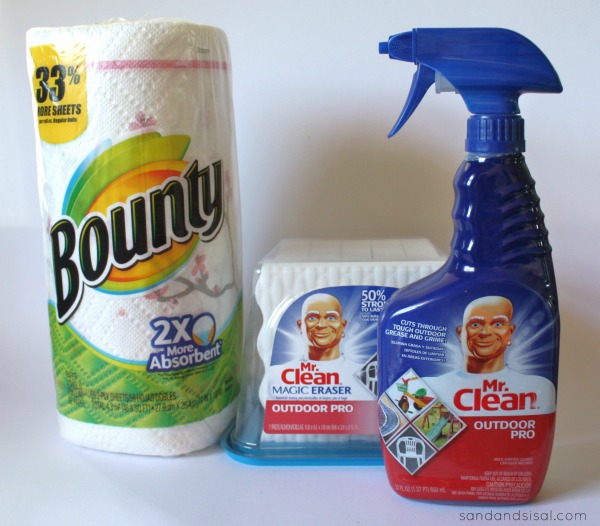 I put it to the test. The directions said for stainless steel, I should just spray it on and then wipe off and to let it sit for a minute in really tough grimy areas. Oh-my-goodness! I seriously shouted, "WOW"!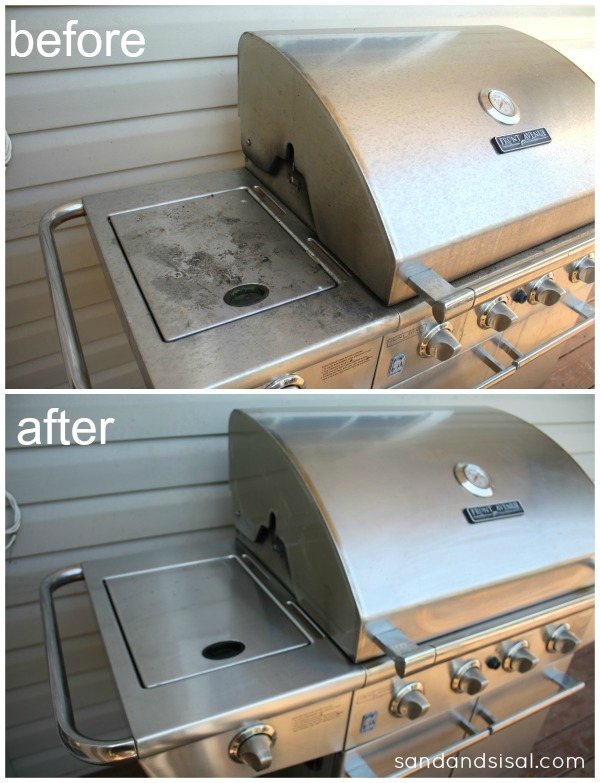 I've used all kinds of things in the past to clean this grill and it was labor intensive, but this stuff was amazing! Just look how nasty the grill had gotten. The Mr. Clean Outdoor Spray totally cut through all the grease and all I had to do was wipe it off with the paper towel. For the really bad baked on grease (along the edge), I sprayed really heavy and let it sit, then wiped. Then I went over it all with a damp paper towel.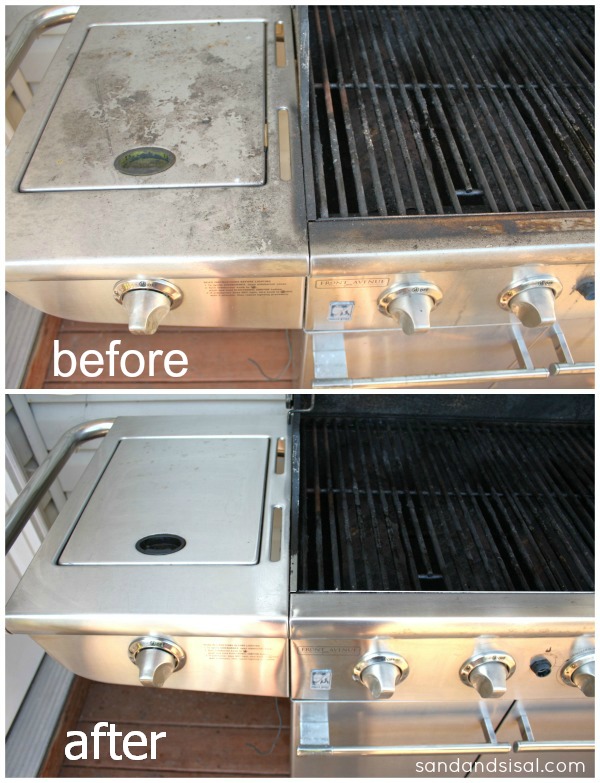 Seriously, look at the difference of the before and after! Ooooooo, so shiny!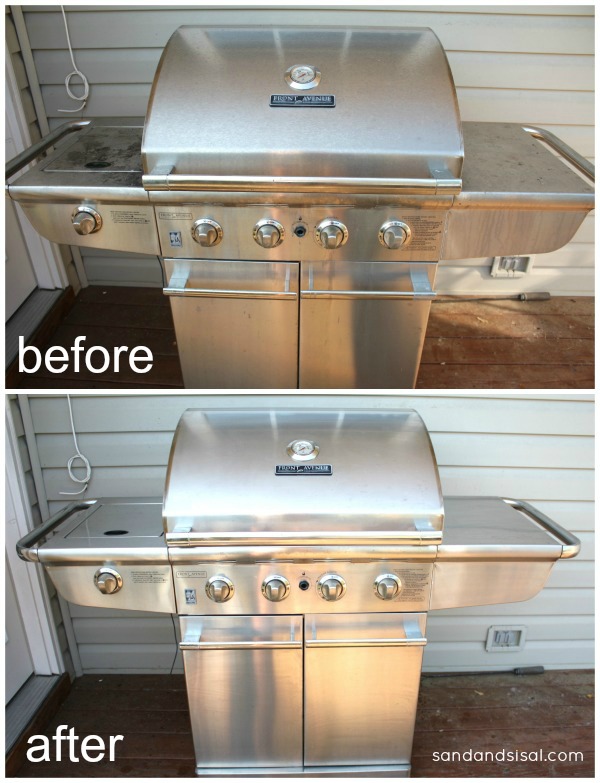 Ok, that was impressive. Now I have this gorgeous grill against a disgustingly dirty deck and siding. How about we try Mr. Clean on the siding? I sprayed it on, let it sit for a minute and then rinsed it off with a hose. Almost all of it came off but I really probably should have sprayed the siding first to rinse off the excess grime (the dirty was really thick). I took the Mr. Clean Magic Eraser, wet it and slid it over the siding. I didn't have to scrub at all, just wiped it over lightly and the grime was gone.
See the difference in the pic below?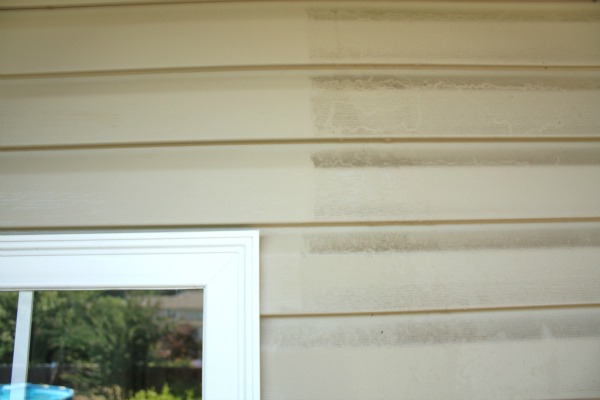 The doors and surrounding trim also got wiped down with the eraser. Huge, huge, huge difference!
Bye-bye mold!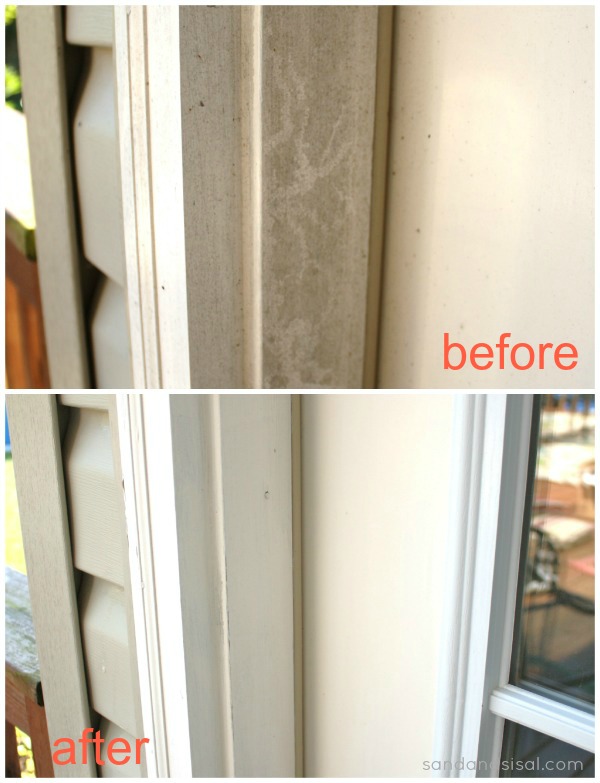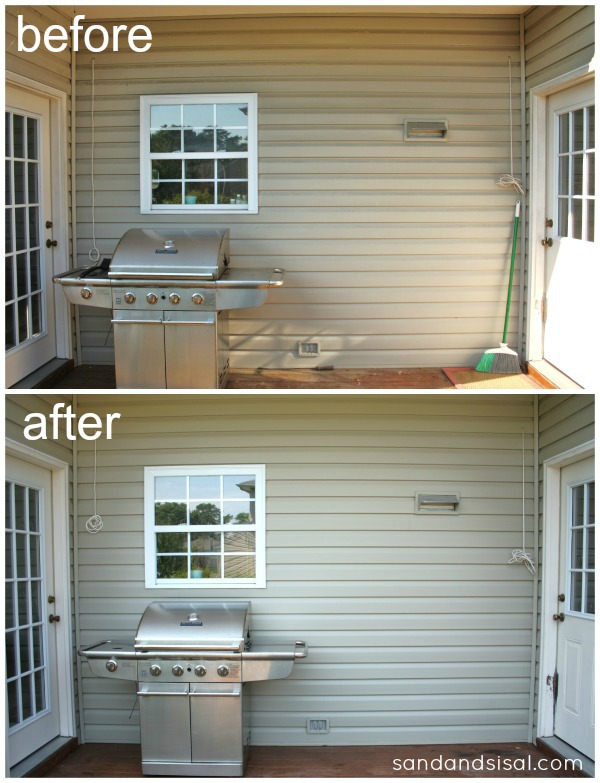 It didn't take long at all! Thank goodness. Now that the deck went from gross to gorgeous, it is ready for relaxing and entertaining!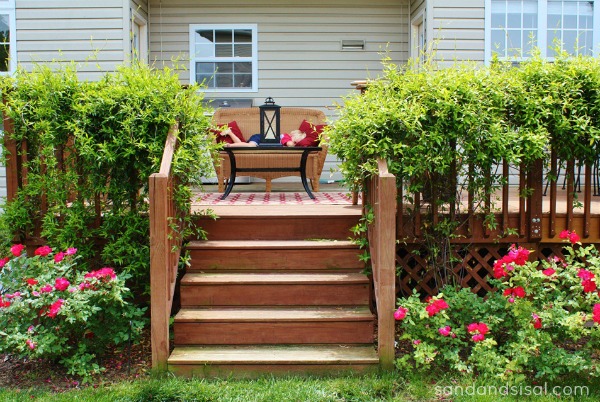 And guess what? My father in law stepped outside and asked us, "So you all got a new grill?"
Hee, hee, hee! Success!
I hope you try some of these best ways to clean stainless steel! If you don't have a Lowe's near you, then you can also find these products on Amazon. Click this affiliate link to buy it on Amazon: Mr. Clean Magic Eraser Outdoor Pro Cleansing Pad
For all kinds of cleaning tips and tricks on how to get your outdoors ready for summer fun and entertaining click here http://finditatlowes.com.
Kim
This post was brought to you in partnership by P&G and Lowe's.  All expressed opinions are my own.