I'm a woman who loves beautiful things, but not at an extra cost (if I can avoid it!). I have a ton of glass votives and they are all soot filled with wax, ranging from 1/4 inch -1 inch full of wax. I could be completely lazy and materialistic and toss the old and go buy myself new ones, (which I can afford to do), but I don't feel right in my soul to waste these perfectly beautiful pieces of glass for my laziness. So I put out a call on my Sand & Sisal Facebook Page for help. I asked my wonderful readers this: "Calling all my clever, crafty, ingenious readers: I have a ton of glass votives with 1/3 inch of melted wax in them. What is the best way to remove the wax from votives so I don't have to buy new ones? (I hate wasting!)."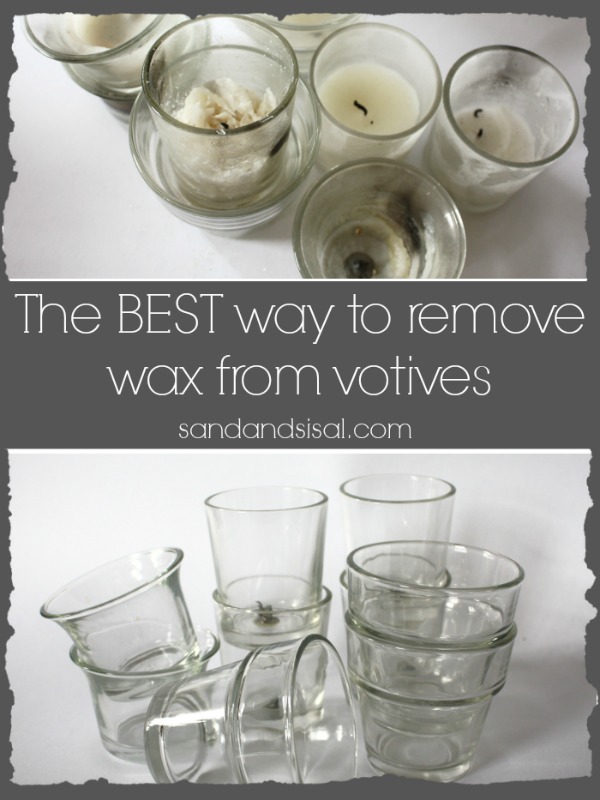 Well, within about 5 minutes over 50 of you had commented! Who knew removing wax was such a hot topic?! haha! In the past 24 hours 11,000 people have seen my question and 151 of y'all have graciously given your tried and true advice and I thank you for taking the time to help me out!  
Here are the 3 main methods of wax removal that you all recommended.
FREEZER – HOT WATER- OVEN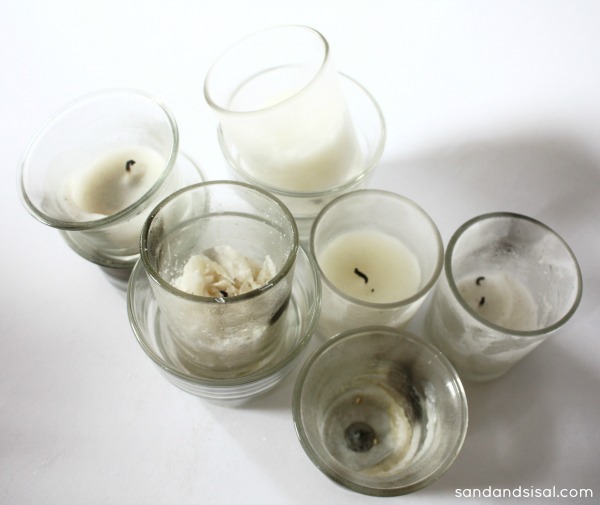 METHOD 1 – FREEZER
I tossed most of my votives in the freezer for several hours. For some reason my kids kept removing them from the freezer. I'm sure it is because they probably thought mom had lost her mind again and was doing whack-a-doo things… ha!  After educating the entire family that YES, I actually WANTED the votives in the freezer, they relented and let them sit….. geesh! Who knew weird items in the freezer would cause such a ruckus?  Well, the FREEZER METHOD DOES NOT WORK IF YOU HAVE A VOTIVE WITH A GLUED WICK. (Thank you sweet readers who advised me on that! You are so right! ) If your wick is glued to the bottom of the votive then this is what you get as a result… a mess. Time to move on…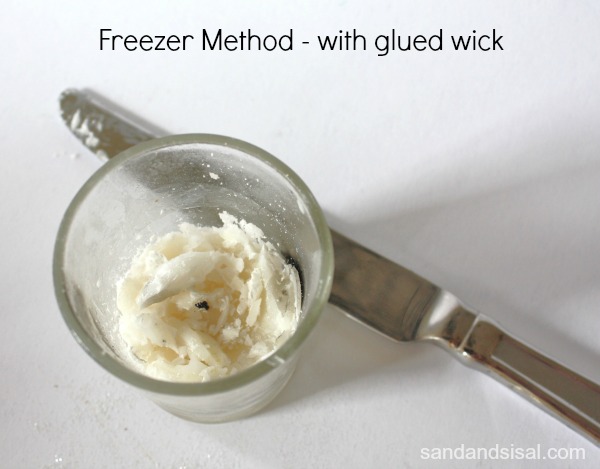 The overwhelming comments were, "Stick it in the freezer!". So for the votives I had without a glued wick, this freezing method worked like a charm! Pop! It was out! Yet there was always a bit of wax residue on the sides, so you do still have to wash them with hot water or simply place in the dishwasher.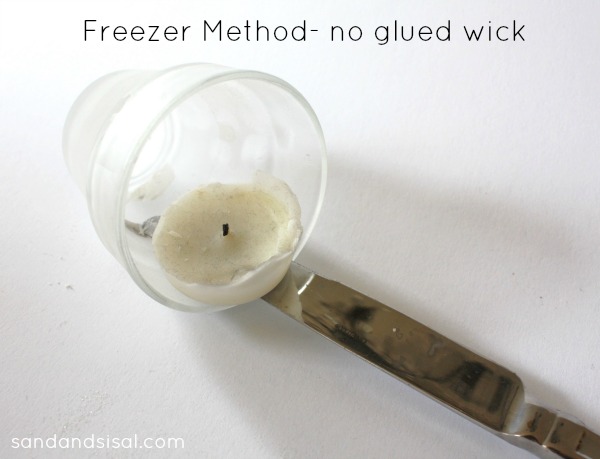 Method 2- HOT WATER
I was worried about what this hot water method would do to my pots, but to be honest…. I'm seriously due for new pots any how! I placed the votives in the pot, in the sink, and filled it with super hot tap water.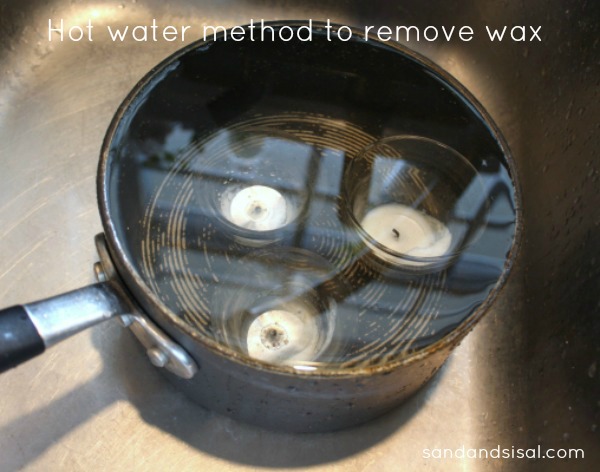 After 5 minutes I could remove the votives from the pan and easily scoop out the wax. Finish washing out residue with soapy hot water. **NOTE** Do not use boiling water. Why? Well, 1) you risk the glass shattering under the extreme temperature, and 2) you do not want to melt the wax, just soften it enough to scoop it out. If you melt the wax to a liquid state in your boiling water and then dump it down the drain, you will end up with a clogged drain. (Thank you sweet readers for informing me of that! I'm glad you did!).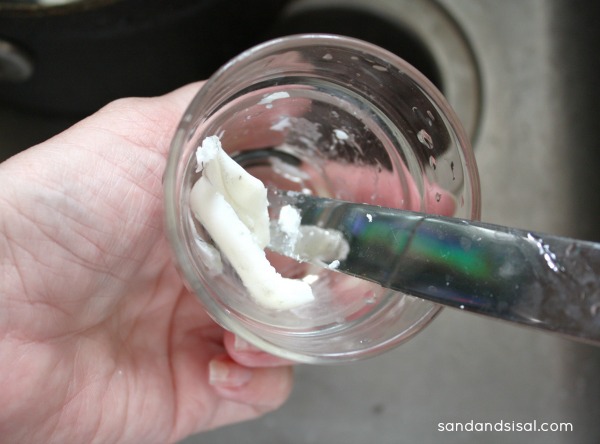 METHOD 3 – OVEN 
Line a baking sheet with foil making sure the edges of the pan is covered. Turn the votives upside down on the foil. Place the baking sheet in the oven and turn it on to 200 degrees. In about 15 minutes all the wax will be melted out. Remove each votive with a hot pad and wipe out the remaining wax with paper towel, then wash with soapy water if needed. This oven method worked fine, but I didn't like the strong smell it left in my kitchen and I was using non-scented wax.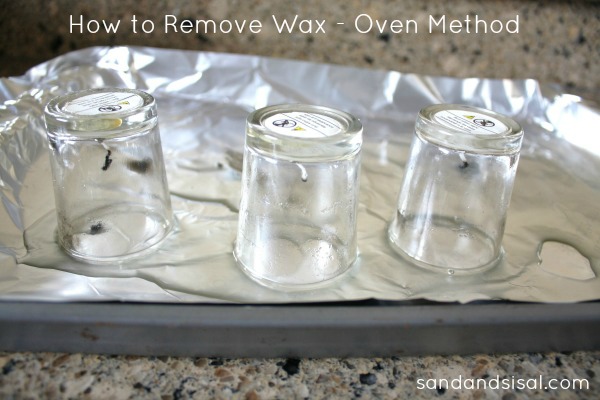 Now there was a 4th method that many suggested… the MICROWAVE method, which I tried…..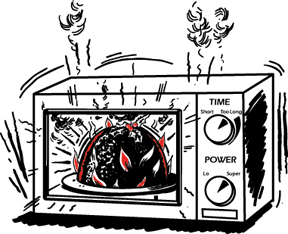 Let's just say when you see flames and sparks shooting out of the microwave, your votive most likely has a metal wick in it! YIKES! Not good! I do not recommend risking blowing up your microwave just to save a little votive. 😉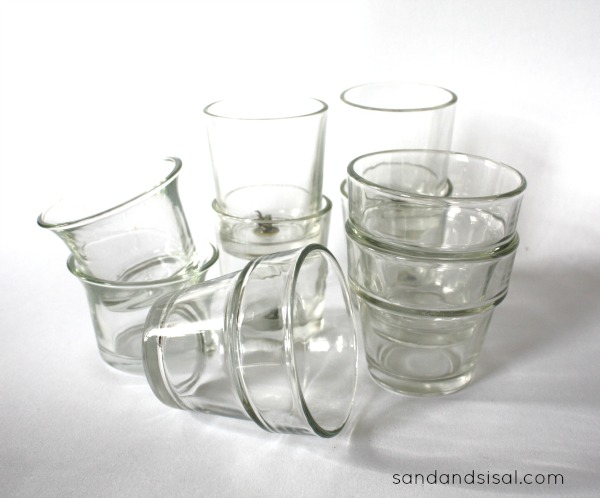 Overall I must say that the freezer method comes out pretty clean (if they didn't have a glued wick), but I had to wait for them to freeze for at least an hour and then wash them in hot water regardless. So in my opinion, I think the HOT WATER METHOD wins out! It takes the least amount of time.
Thanks everyone for sharing all your advice and helpful tips!
KIM
Linking up to: Tidy Mom