School is out, the temps are heating up, the sun is shining, and summer has arrived! Hubs and I enjoy spending warm evenings relaxing on the deck, watching the kids play in the yard as the fire flies start to appear, and sipping on a tall, cool, adult beverage. It's a good time to slow down, catch up on how each other's day went, and take time to reconnect. One of my favorite new drinks for sultry summer evenings is a Cucumber Melon Gin Spritzer. It is the perfect combination of subtle sweetness and refreshing flavor. Not to mention, they smell wonderful.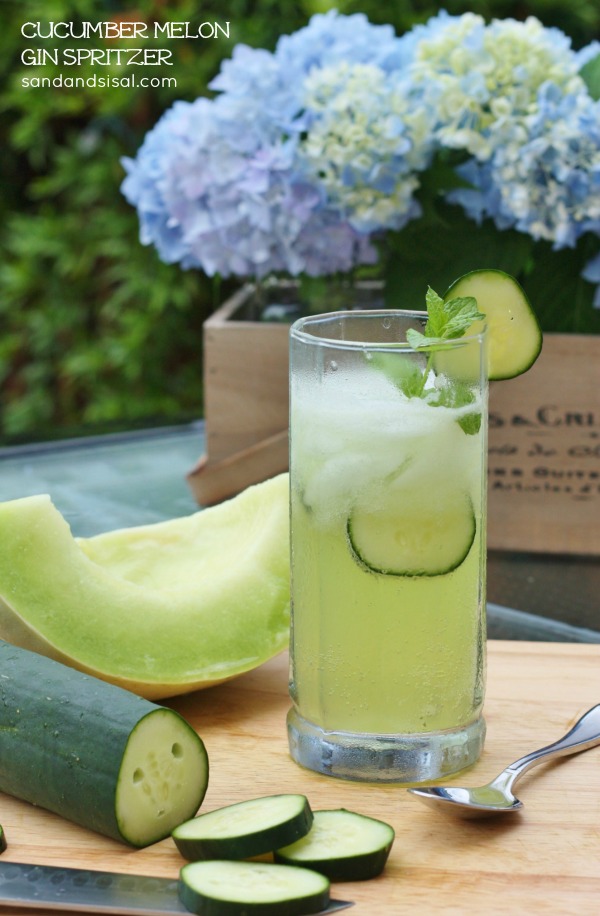 This drink calls for Hendrick's Gin. Now if you've never tried Hendrick's, then you seriously are missing out. It is very different tasting from other gins and has a distinct flavor. The gin is infused with the essence of rose petals and cucumbers, which makes it the perfect choice for this summer cocktail. I have not tried it with other gins, so be warned…. (just go and buy the Hendrick's, you won't be sorry).
Cucumber Melon Gin Spritzer
Recipe type:
Alcoholic Beverage
Ingredients
1 glass filled with ice
1 ounce Hendrick's Gin
2 ounces pureed honeydew melon
1 Tablespoon simple syrup (or sweetener of choice)
Club soda
cucumber slices
Instructions
Cut a few slices of ripe honeydew melon. Remove seeds and rind.
Puree the honeydew in a blender or food processor. Strain though fine mesh strainer if desired.
Fill a glass with ice cubes, a few cucumber slices, pour in gin, pureed melon, syrup, and top with club soda.
Gently stir and garnish with a cucumber slice.
Take one sip and your mind will race back to the early 90's when cucumber-melon body lotions, shower gels, and sprays were all the rage.
Crop tops, super high waist shorts with big fat belts were in fashion (why oh why are they bringing that look back again?), and "Smells Like Teen Spirit" by Nivana was rocking the charts.
Those all smelled good enough to taste… the lotions that is (not the Teen Spirit… eww)
I promise you, I didn't taste my cucumber melon lotion… now, the dog might have… but I didn't.
So, if you were a fan of cucumber melon then you will enjoy a bit of nostalgia and sipping on one of these delicious drinks!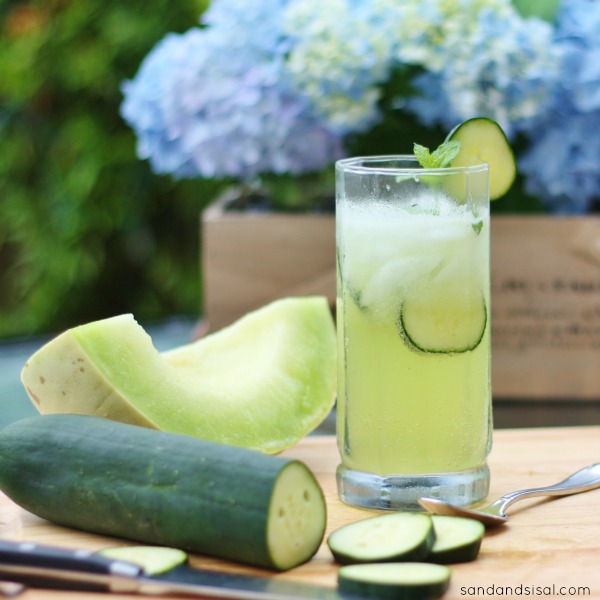 Ready for more FUN in the SUN this week? I've teamed up with 10 other bloggers for a Blog Hop & Giveaway!
Today is the blog hop so click on any of the links below to check out more summer goodies and come back tomorrow for an awesome CASH GIVEAWAY!