I am a snob…. a seafood snob that is. I order fried calamari when dining out, every chance I get. Unfortunately 8 out of 10 times,  the calamari tastes like deep fried rubber bands. Have you chewed on rubber bands lately? It's not appetizing. Overcooking calamari is the number one reason (in my opinion) why people won't give fried calamari a second chance.
My daughter Morgan, age 18, makes THE BEST crispy and tender Fried Calamari that I have ever eaten! Even my husband and son, who refused to eat calamari, now love it!  Today she's going to show you how to make your own, step by step, and even with a little video!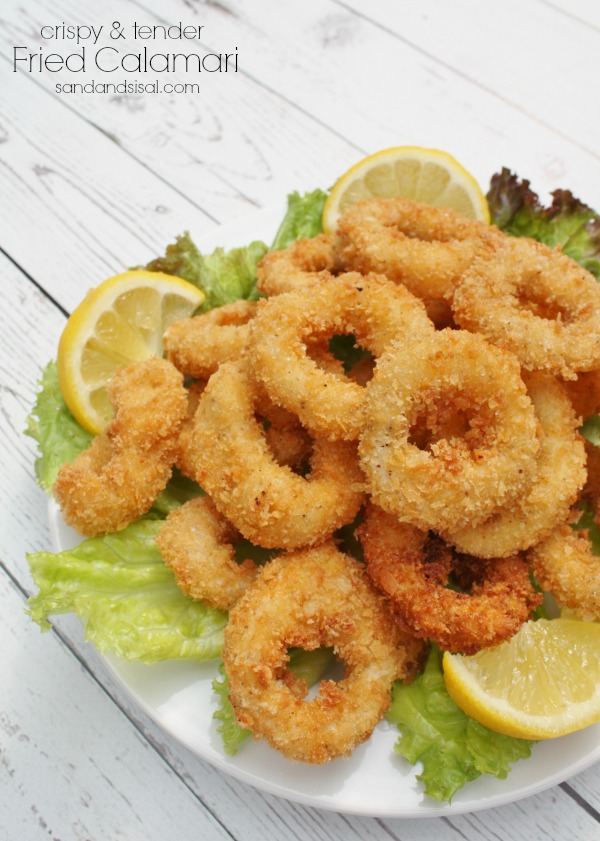 How to Make Fried Calamari
(Printable recipe below, but we'll walk you through it) You will need the following:
Frozen calamari rings (available in your grocers frozen seafood section)
3/4 Cup flour, seasoned with  1 tsp. salt and 1 tsp. pepper
3 beaten eggs with a splash of milk (2-3 tablespoons)
1 cup panko crumbs (Why panko? Panko crumbs are Japanese bread crumbs. They create a super crispy, yet light crust vs. using normal bread crumbs.)
The frozen calamari rings usually come in large plastic bags. Our family normally prepares 1/2 a bag at a time. Take out the amount you want and place the calamari in a bowl of cold water. Allow to defrost almost completely. I like to leave the rings slightly frozen because they will hold their ring shape a bit better. Drain the calamari really well in colander.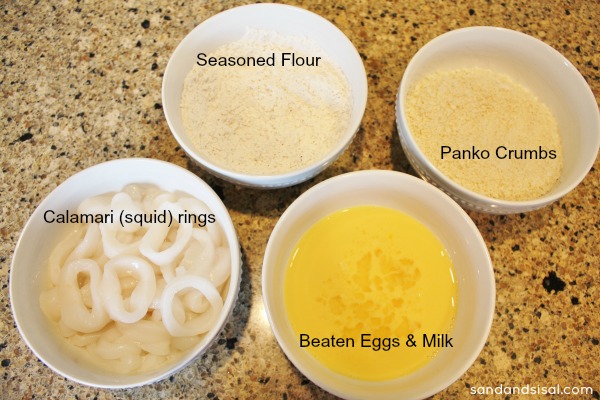 Toss 3 or 4 calamari rings into your seasoned flour, coat well.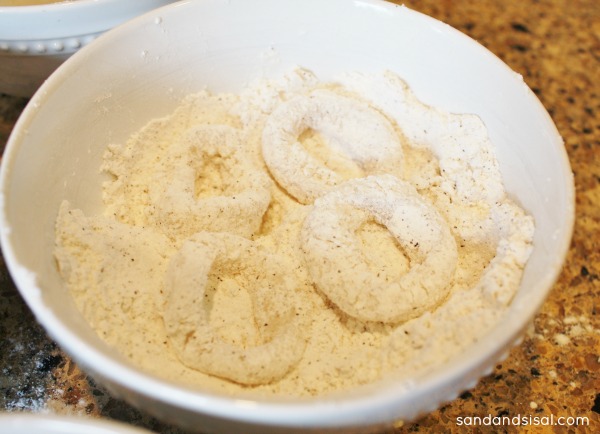 Now dip one calamari ring at a time into the egg wash. Make sure it is completely coated with the egg wash. This will act like a glue for the crispy panko crumbs.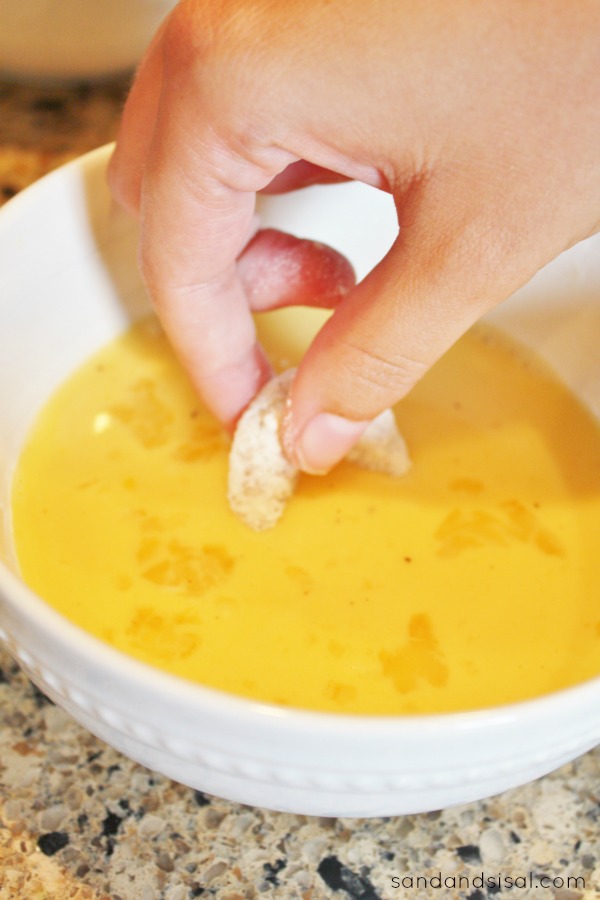 Drop your egg wash coated calamari ring into the panko crumb bowl and with your opposite hand, toss the panko crumbs over the calamari. One hand stays wet and one hand stays dry!  Set the crumb coated rings on a plate.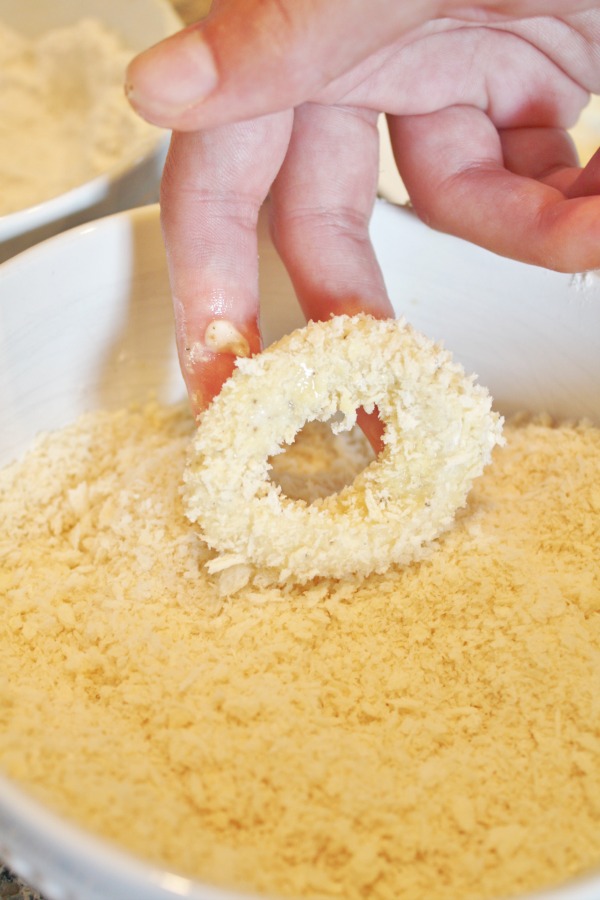 Heat up 2 inches vegetable oil in a large sauce pan to 350°. Use a cooking thermometer to ensure accurate temperatures. Once oil is hot, drop a few calamari carefully into the oil and fry until golden brown, flipping once. This usually takes less than one minute. Remove the fried calamari with a metal mesh frying utensil to a paper towel lined plate. Immediately sprinkle with sea salt. I made a super quick video of Morgan demonstrating how to prepare and fry the calamari.
***I have to apologize, in my excitement to be eating fried calamari, I totally forgot to turn my iPhone sideways… I'm learning … so the video looks a bit "skinny". Sorry friends! ***
Plate and serve with lemon wedges and a dipping sauce of marinara if desired! They are the ultimate panko fried calamari that will crunch upon first bite and then totally melt in you mouth with the tender and sweet squid succulence! Oh so good!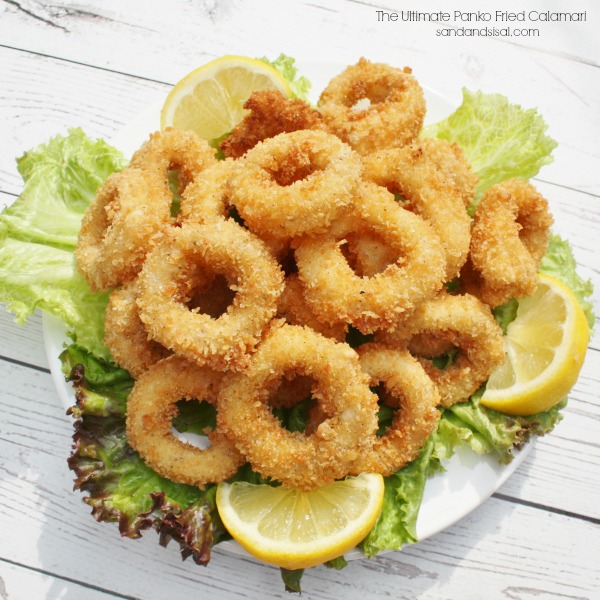 Fried Calamari
Author:
Kim Wilson - c4a.bc9.myftpupload.com
Prep time:
Cook time:
Total time:
Ingredients
Frozen Calamari/Squid Rings - 1 large bag
¾ cup flour
1 teaspoon salt
1 teaspoon pepper
3 eggs beaten
2-3 tablespoons milk
1 cup panko crumbs
vegetable oil for frying
Instructions
Defrost ½ the bag of frozen squid/calamari rings in cold water.
Before squid is completely defrosted, remove from water and strain well in colander.
Gather 4 separate small bowls (like cereal bowls).
Place strained calamari rings in bowl the 1st bowl.
In 2nd bowl mix together the flour, salt and pepper.
In the 3rd bowl beat 3 eggs with the milk.
Place Panko crumbs in the 4th bowl.
Dip on squid ring into the seasoned flour, coating well, then into the egg wash, coating well, then lastly, drop it into the panko crumbs. Use your other hand to coat the ring thoroughly with panko.
Set aside on a plate, and repeat the process with all the calamari rings.
Heat 2 inches of oil in a heavy saucepan to 350 degrees.
Drop a few rings at a time into the hot oil.
Fry until golden brown (approximately one minute or less).
Remove with metal strainer utensil onto a paper towel lined plate.
Immediately sprinkle with salt.
Serve with lemon wedges and marinara dipping sauce if desired.
For more delicious recipes, check out my
Kim's Kitchen
tab on the top menu bar!
Enjoy!
Kim & Morgan