I'm gonna swing from the chandelier….. the chandelier! Sing it with me! My daughter and I love that popular song by Sia. We moved our oldest daughter Morgan into college a few weeks ago. Decorating a dorm room can be a challenge, because  you can't nail anything into the walls. Removable vinyl wall decals are a perfect option for any dorm room. I called up my friend Leen The Graphics Queen and asked her if she could design a custom decal for me. Based on Sia's song, I thought a "Swing From the Chandelier" Wall Decal would be a fun addition to Morgan's dorm room!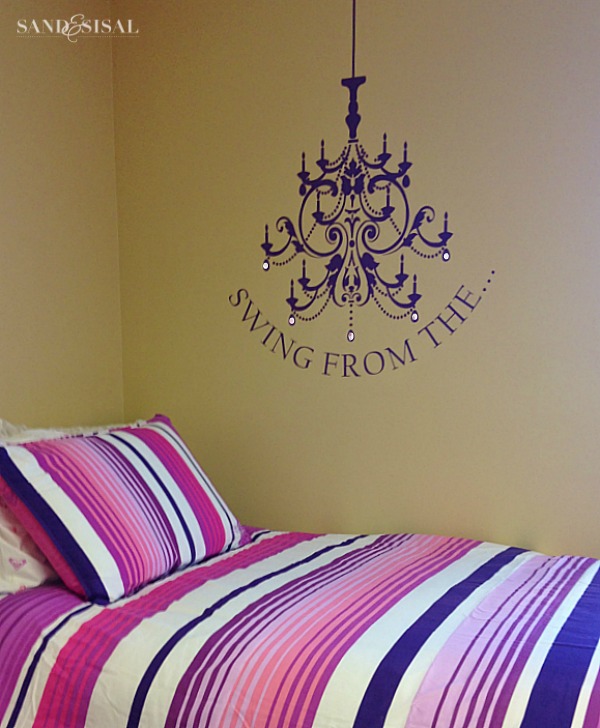 Morgan and Leen loved the idea! Leen already sells a few chandelier wall decals. I chose the Ornate Crystal Chandelier  and Leen designed the words to go underneath the chandelier.
***Morgan sent me all these pics of her room that she took with her iPhone. I really wanted to bring my tripod, light kit, and camera to her dorm room and set up a photo shoot, but the look of sheer horror I saw in Morgan's widened eyes at that suggestion told me that phone pics from her would have to suffice! Ha!***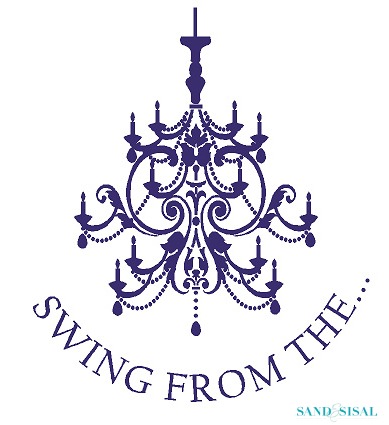 The chandelier decal can be ordered in your choice of over 40 colors! We chose the dark plum to match Morgan's hot pink and plum Roxy bedding. The application is easy and Leen provides step by step application instructions with each order. What is so great is that the decal can be easily removed without damaging the walls.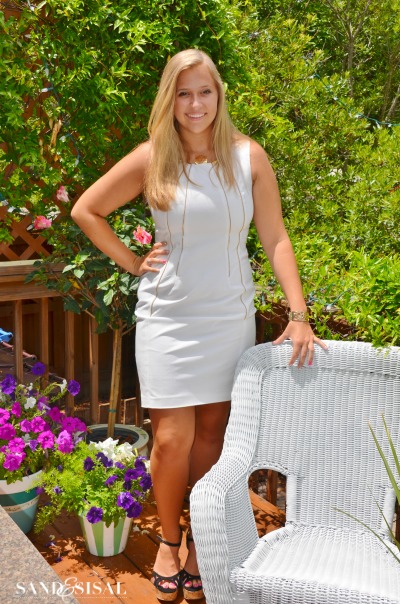 For a little extra bling we stuck on several adhesive gem stones where the chandelier crystals hung. I love the addition of that extra sparkle! You can find self adhesive gem stones at most craft stores. I actually found mine last year around Halloween time at Target! They were part of a pumpkin decorating kit. 😉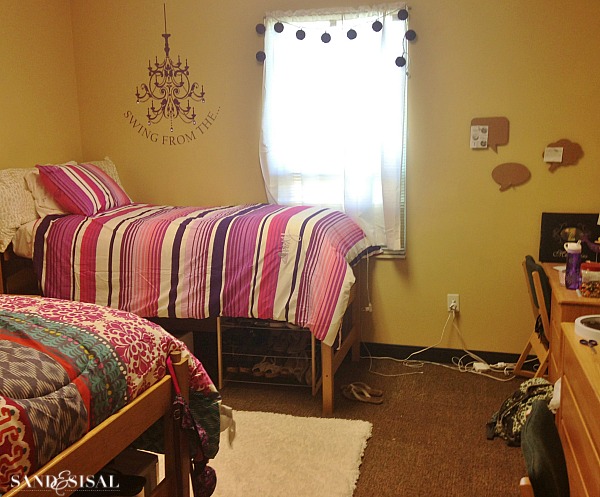 Morgan's dorm room is slowly coming together, but is still needing a bit more artwork and decor, which she'll pick up when she visits home. (Hopefully sometime soon!) or maybe I'll bring some items up for parents weekend. Leen the Graphic Queen provides:
Photography Backdrops
Wall Decals
Canvas Art
Paper Prints for Framing
Leen the Graphics Queen is giving all Sand & Sisal readers a 20% discount on any order!
Use the code: SAND&SISAL
You can connect with Leen here too~
Thank you Leen for providing me with such a beautiful piece of art for Morgan's dorm room! We love it!
Kim