This post is sponsored by The Home Depot Foundation, all opinions are my own. Please see below for additional disclosure.
They brought the tools and the crew. They brought the lumber, the flooring, the appliances, and all the supplies. But most of all they brought the LOVE! It's not hard to recognize joy, goodness, selflessness, caring, compassion, and humility when Team Depot gathers to serve and give back to our local veterans.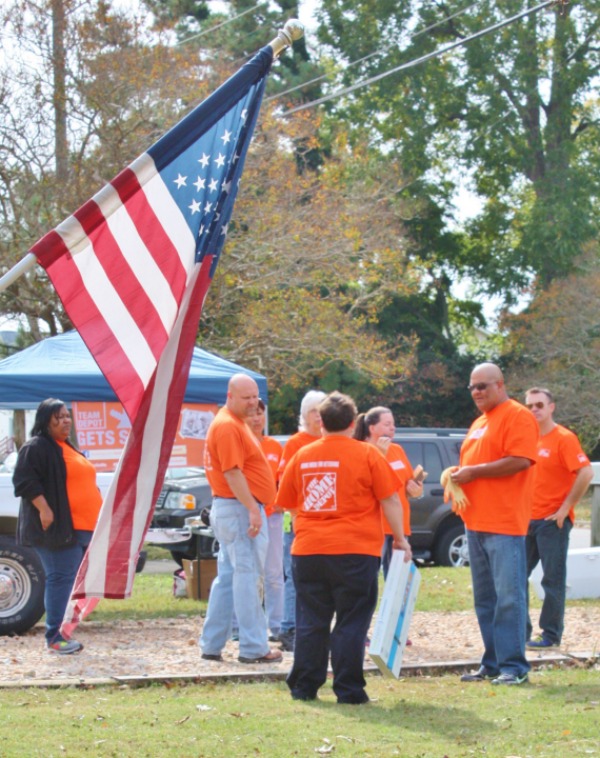 In just two months, from 9/11 – Veterans Day, Team Depot volunteers will work to help transform over 1000 homes for veterans! The Home Depot with its amazing volunteer teams have worked on over 13,000 veteran's homes. Helping veterans is a very personal mission for Home Depot. They employ over 35,000 vets nationwide! How awesome is that?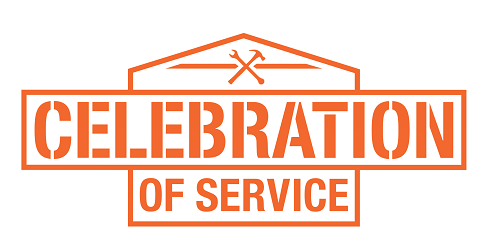 This week I had the distinct honor to participate with the Home Depot Foundation's Celebration of Service, helping give a bit of a makeover to the Vetshouse, locally well known as The Gingerbread House, here in Virginia Beach, VA.
The greater metropolitan area, comprised of 7 cities, is called Hampton Roads and we most definitely a military community. We host the world's largest Navy base. The "Gingerbread House", is just one of 5 homes, all owned and run by Vetshouse, Inc.. The Vetshouse is a non-profit program that helps to temporarily house homeless veterans and helps to equip them so that they can be self sufficient and independent once more.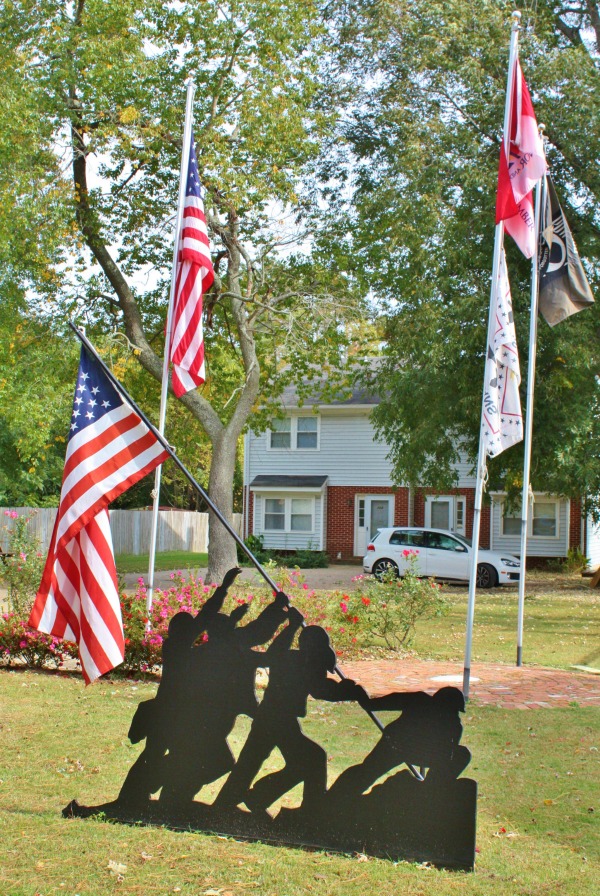 Each veteran can be in the program for up to 12 months, but because the program is so successful, most find that they don't need to stay the full time! The executive director of Vetshouse is a dear, sweet, vivacious man named "Smitty" or "Chief" as the vets call him. When I held out my hand to shake his, he just looked at me with a very stern expression, and said, "Young lady, we only give HUGS around here!" and then he embraced me in a huge bear hug with joyous and welcoming laughter! Smitty has an infectious smile and demeanor and is a true motivator and mentor for these veterans. You can't help but to feel happy around him.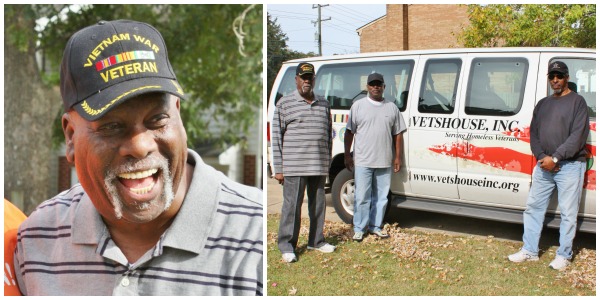 Vetshouse was established 23 years ago and has housed over 800 veterans. Four of the homes house men and 1 houses women.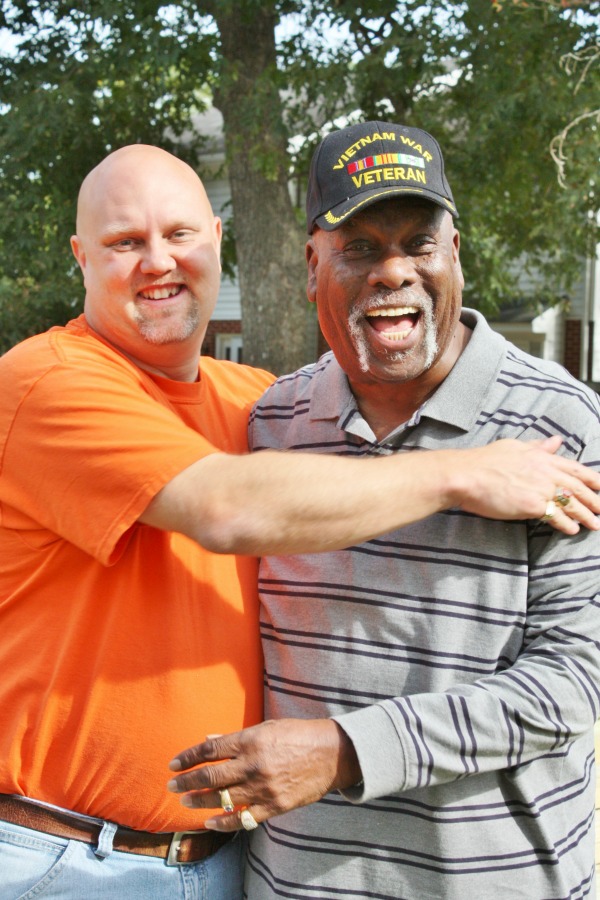 The back yard of the Gingerbread House is very large. The veterans have turned it into a large garden. They sell their bountiful produce each week at a local church farmer's market.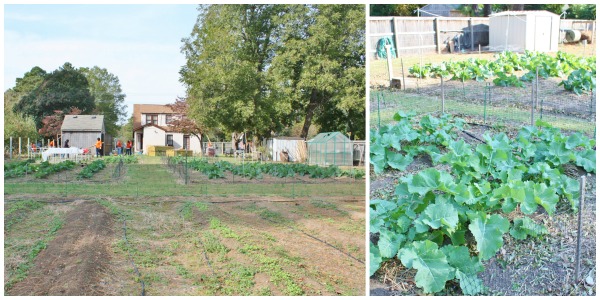 Team Depot has several projects to work on at the house: 1) to replace the perimeter fence around the yard….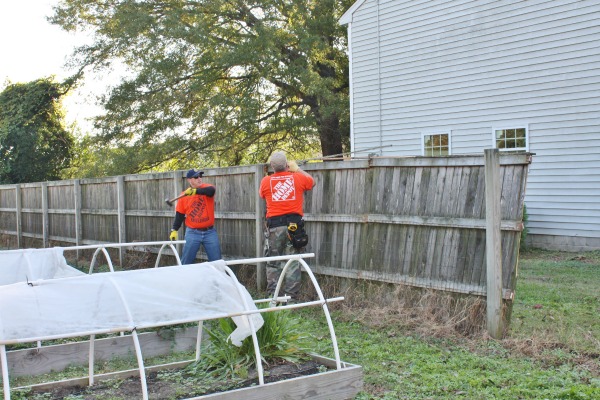 2) to replace the flooring in the laundry room …..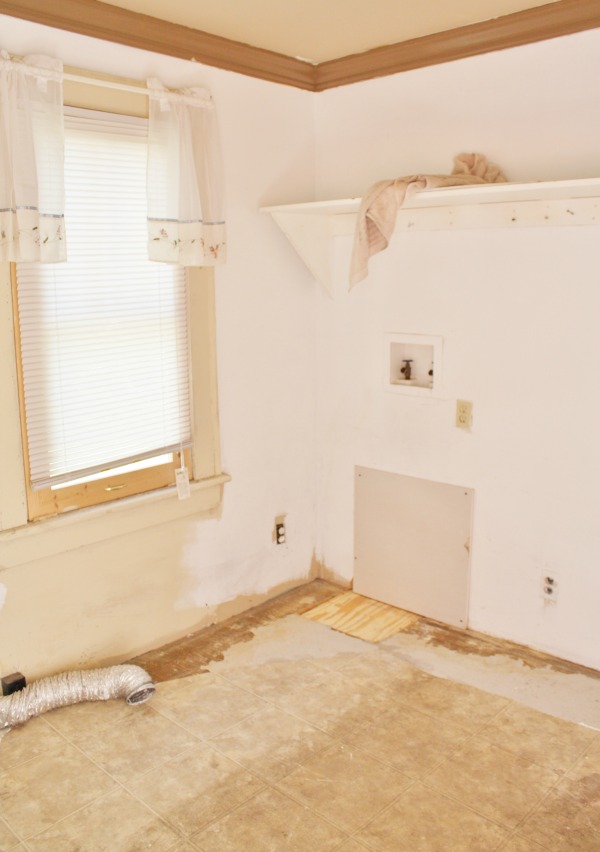 3) to cover the water damaged floors with new Pergo laminate.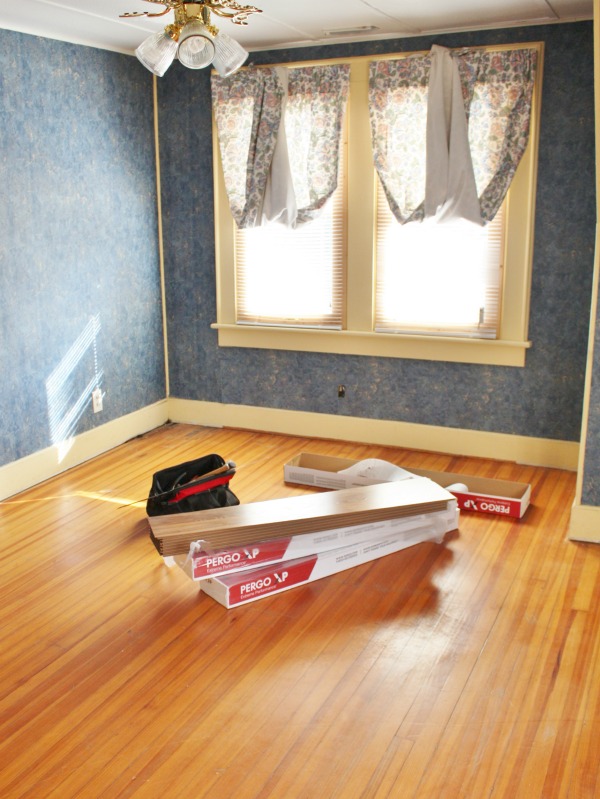 The first job was to take down the old fence. I took my try at the saw zaw!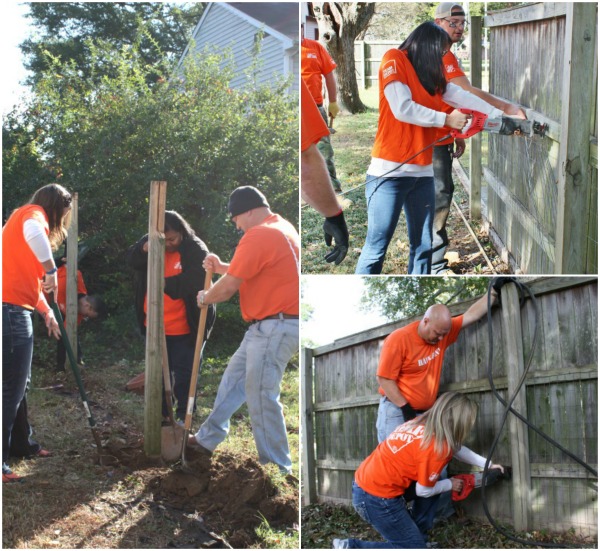 Next we team replaced any rotten posts and installed the new fence.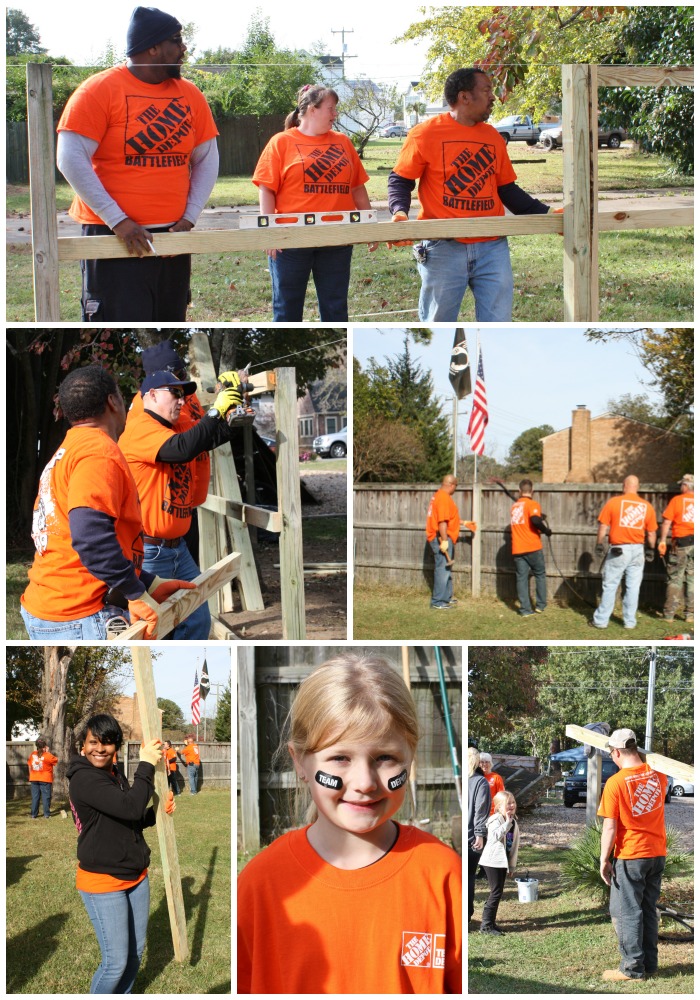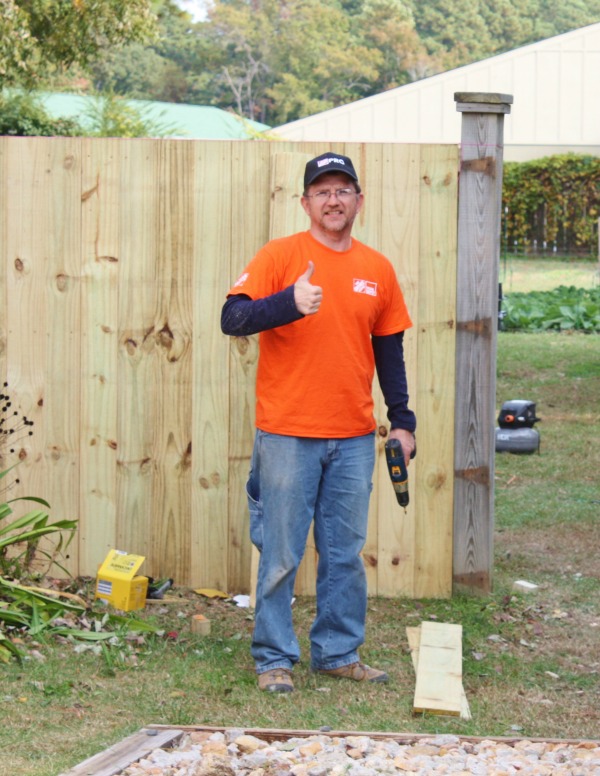 The ladies installed the new bedroom flooring.
And the laundry room floor was repaired and also received a new floors too.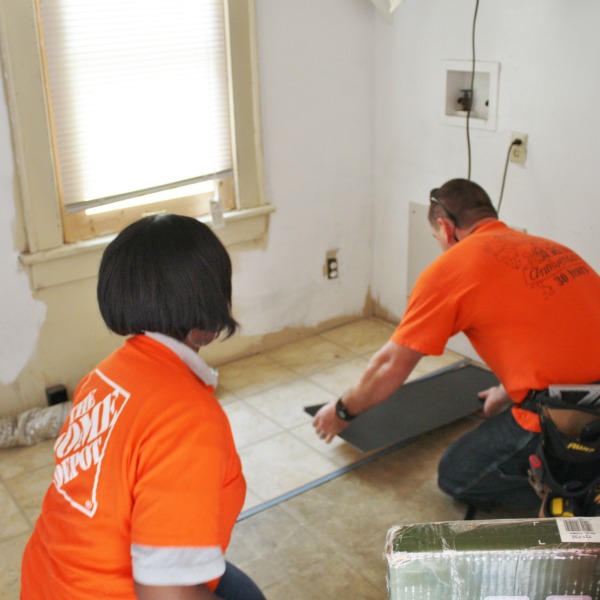 The Vethouse is in the flight pattern so F-18's roared overhead every few minutes throughout the day, practicing their touch-n-go's. Yes, they make conversation a bit challenging , but we have a phase here in our area, "We love jet noise". I never get tired of seeing our navy pilots soar! You feel such a sense of pride and awesome power in our military with every fly-by.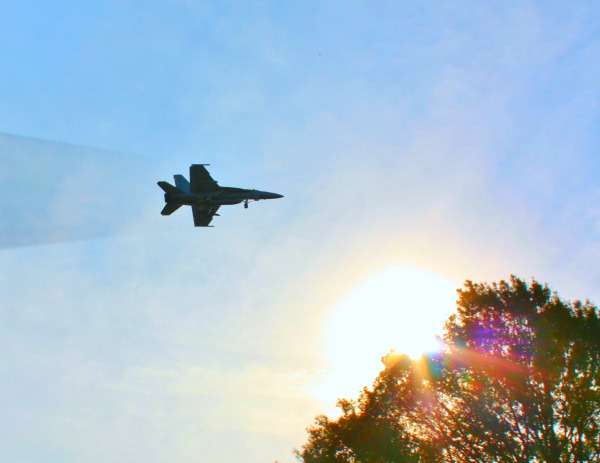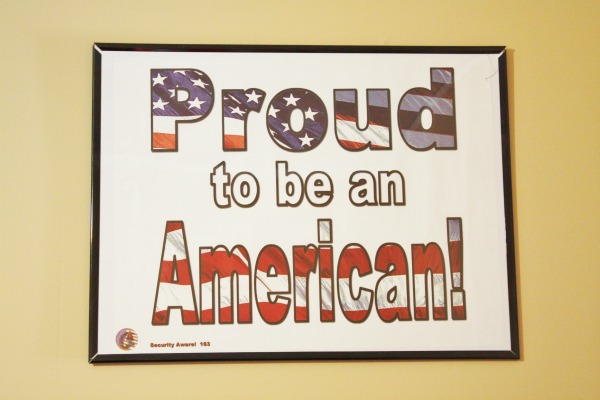 One of the house vets, Sam, graciously agreed to share a bit of his story with me. Sam, age 68, is one of the older men at the home. He was in the Navy on the USS Shangri La. He shared how he ended up making poor financial decisions and relationships and had lost he way. Sam ended up homeless for a short time and a friend introduced him to Vetshouse.
At the Vetshouse, Sam said how he had once again discovered the long forgotten camaraderie like he used to have back during his Naval days. He talked about how "Chief's" (Smitty's) strict discipline wrapped in love and respect helped renew his confidence in his fellow man and in himself. What deeply impacted and touched Sam, was not just Home Depot's involvement and donations to the Vethouse, but how caring, friendly, and genuine all the volunteers always are.
"We feel remembered, like we matter and our service (in the military) made a difference in this country."
Sam has been in Vethouse for 5 months and says his future plans are coming along well, so he doesn't see that his stay there will need to be much longer. Congratulations Sam!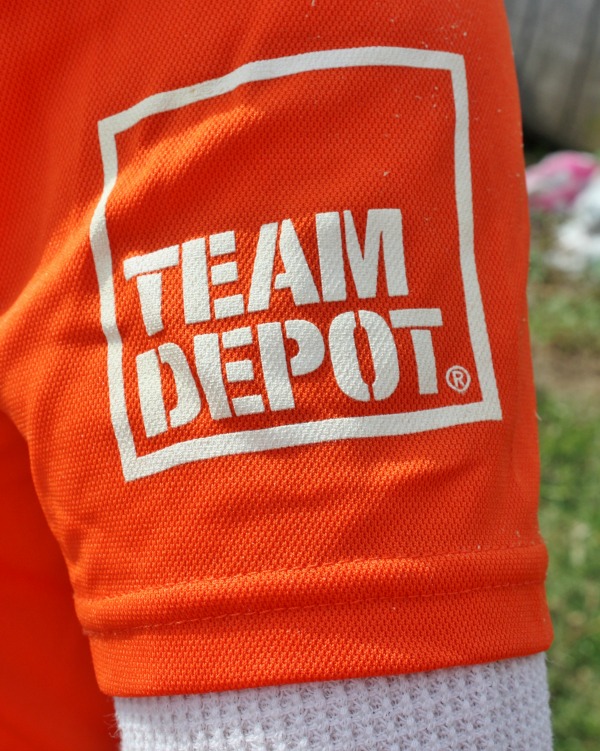 It was a wonderful experience to help give a bit of time and energy to such a great cause. Thank you to the whole Team Depot volunteers!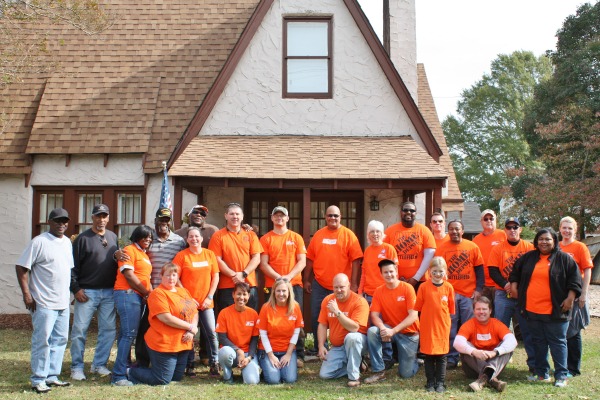 Click the link to learn more about how the Home Depot Foundation is helping veterans in your area!
You can also connect with The Home Depot Foundation on Facebook & Twitter
And to all our amazing Veterans, THANK YOU for your service!
Kim
Disclosure: The Home Depot Foundation partnered with bloggers such as me for their Celebration of Service program. As part of this program, I received compensation for my time. They did not tell me what to purchase or what to say about any product mentioned in these posts. The Home Depot Foundation believes that consumers and bloggers are free to form their own opinions and share them in their own words. The Home Depot Foundation's policies align with WOMMA Ethics Code, FTC guidelines and social media engagement recommendations.