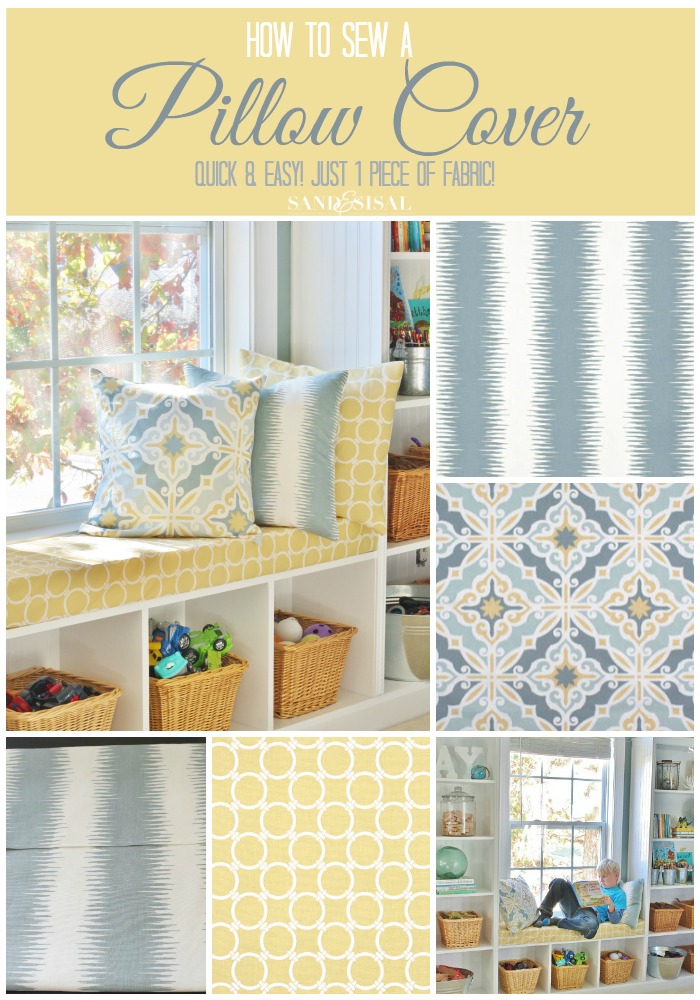 We recently finished our DIY Built-in Bookshelves with Window Seat and I am so pleased with how it all looks! I needed to make a window seat cushion and some pillows for it and for the couches in the playroom. I love using pillow covers because you can easily switch them out with the seasons and they save space! I certainly do not need to fill my closets with more pillows, so pillow covers are the perfect solution!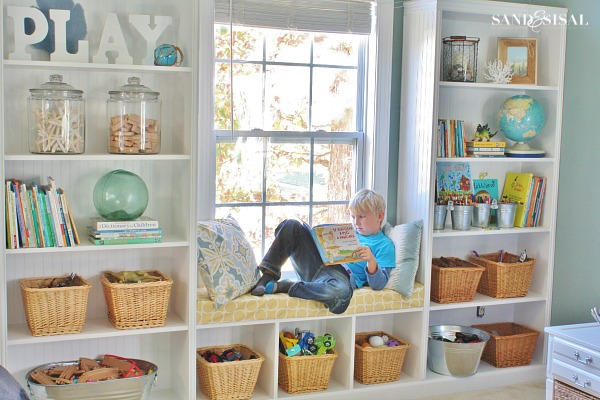 I've made no-sew pillow covers before but I figured I'd try my hand at sewing once more (which I haven't done in 10 years!) and show you all How to Make A Pillow Cover (or several) for your own home! It is so, so simple and best of all we only use 1 piece of fabric!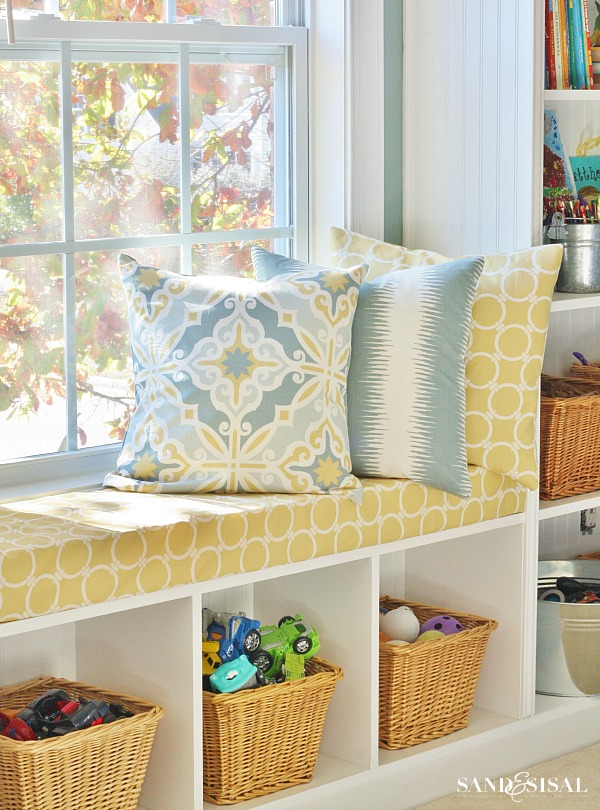 Online Fabric Store (which I love!) supplied me with some absolutely gorgeous fabric and down pillow forms and guess what? They are giving away $100 OFS gift card to one lucky Sand & Sisal reader!  But before we get too excited, let's take a look at how to some pretty fabrics!
I chose these 3 Premier Prints Patterns:
I want you to know that when you are shopping online at OFS, the fabric colors online were so true to reality which was awesome! The darker gray-blue color is an exact match to the playroom wall paint, Atmospheric by Benjamin Moore! I was amazed.
How to Make Pillow Covers
The first step look at your pillow insert and determine how wide it is. I used 18 inch wide down pillow forms.  Next you want to iron your fabric.
Then cut your fabric so that the length measures 2 times + 6 inches the length of your pillow form.
Example Length:  18″ x 2 =36″ + 6″= 42″
The width should measure the width of your pillow form plus 1 inch.
Example Width: 18 + 1 = 19″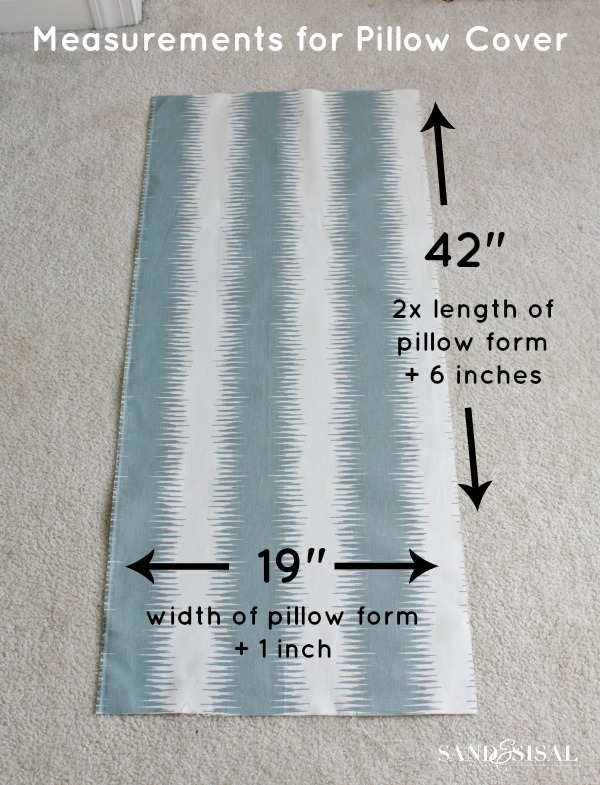 Turn the fabric so the wrong side is facing upwards. Fold each end inward 1/2″, press with iron and sew.
After sewing the hems, flip fabric over so that the right side is facing up. Then fold the right side of the fabric inward 9 inches, which is half the width of the pillow form.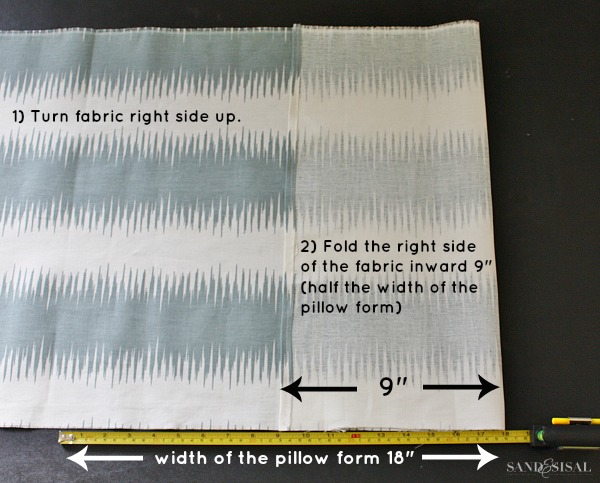 Next fold the left side over top of the right side, maintaining a total width of 18″ (the width of the pillow form).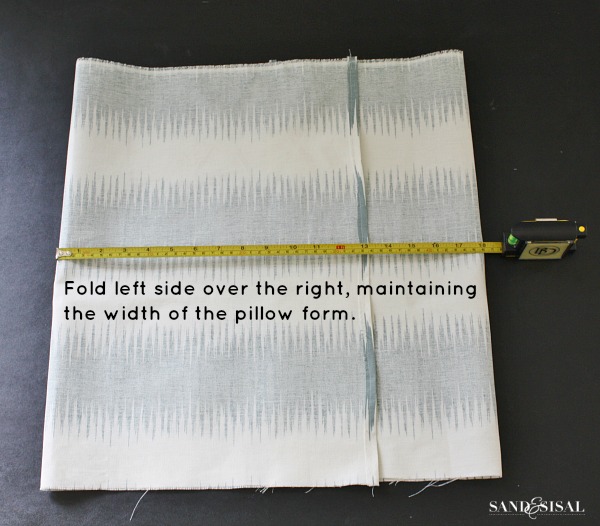 Pin the sides together and sew a 1/2″ seam on each side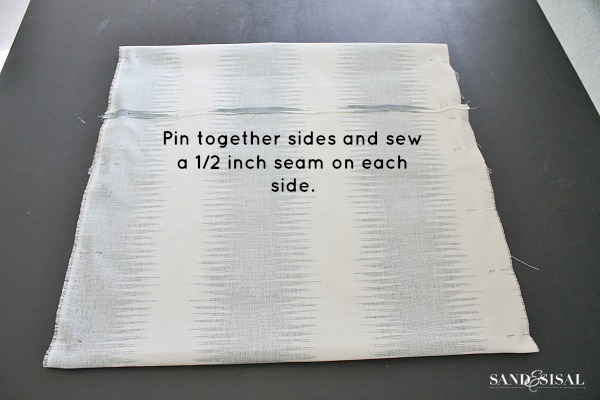 Turn the pillow cover right side out and insert your pillow form inside the pillow cover envelope. That's it! Super easy!
I love this print because you can get two different looks from the same fabric! It is Premier Prints: Harford Saffron Macon.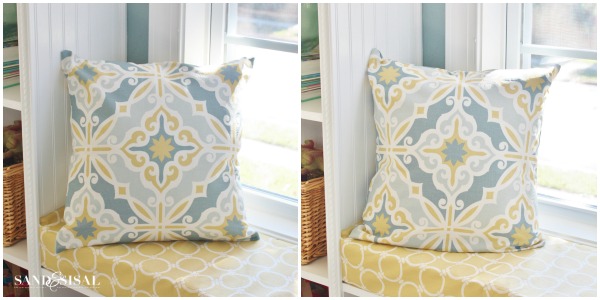 I'll share with you all soon how to make that window seat cushion too! So stay tuned!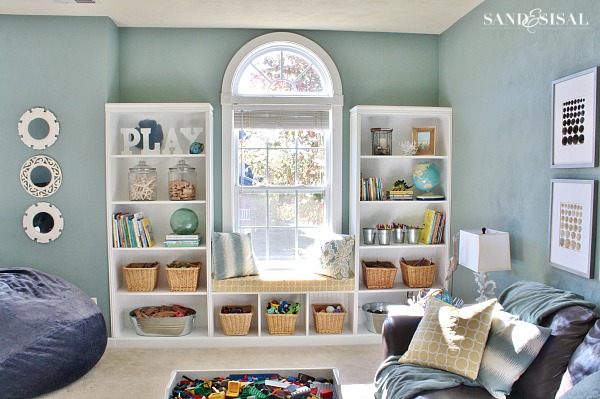 These make great gifts and use very little fabric. I hope to make some pretty holiday pillow covers this next week! I hope you give it a try. Are you ready for the awesome giveaway from Online Fabric Store? A $100 gift card can buy you a nice amount of fabric, pillow forms, cushions or you can even use it to buy some pre-made decorative pillow from OFS!
Best of luck & Happy Sewing!
KIM