Oh my… January is THE month for organizing isn't it? I mean you must feel the social-media urge to do something organizational and formatable in the month of January, do you not? I totally succumb to the "get your house in order" influence at least once a year and I'd be dishonest if I didn't say it wasn't a good practice!  This new year I've teamed up with Kirklands in their "Resolution: Organize" event along with a few of my girlfriends to help motivate and get each other more organized in simple and realistic ways.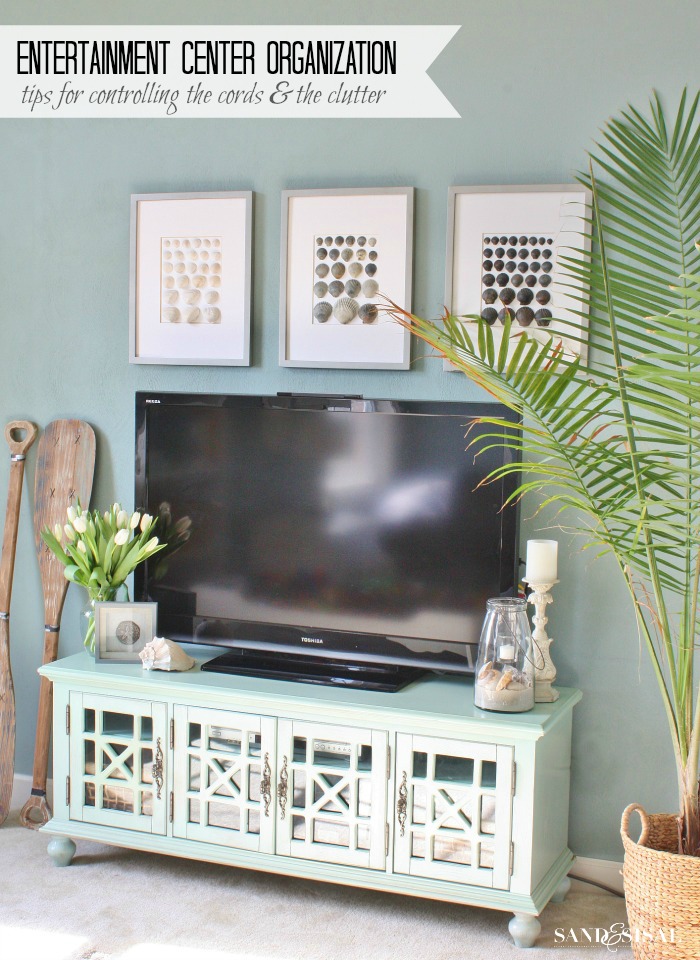 As you know I've recently been working on organizing our playroom, which also functions as our media room.  We installed custom built-in bookshelves and started making the room a fabulous specimen of toy, truck, and actions hero order of its kind! Take a look at the stages of the playroom below.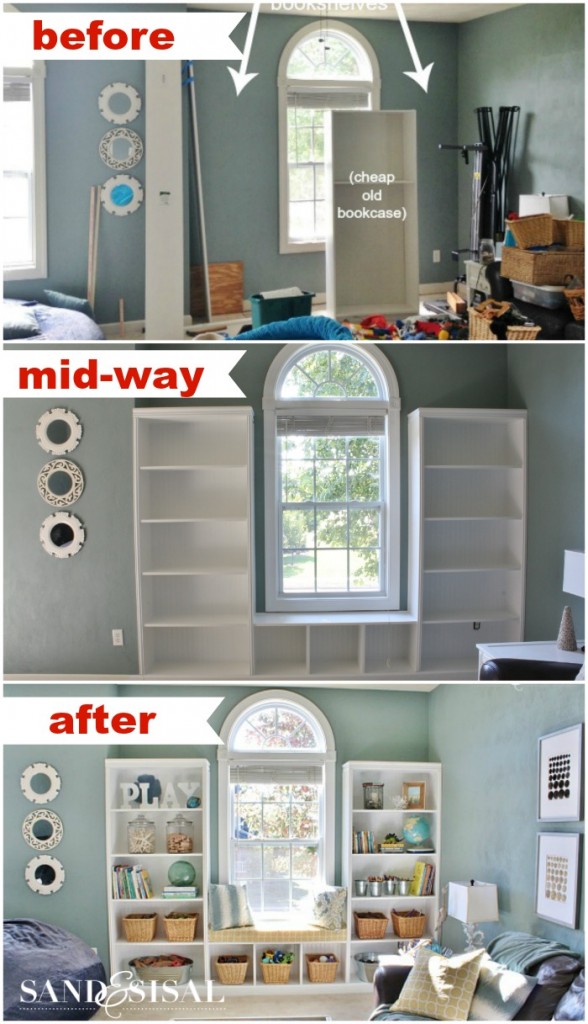 But I had one little secret that I kept hidden from all of blogidom….
Let me introduce you to…. THE CORNER OF SHAME….
Oh my, it was a hot mess! A hot mess of chaos, of cords so tangled and entwined, like cooked spaghetti noodles that had sat out way too long the stovetop, lending no rhyme or reason as to what in the world they actually went to. It was a hidden corner, yet one that was used most often. It hosted the TV… the um, entertainment zone.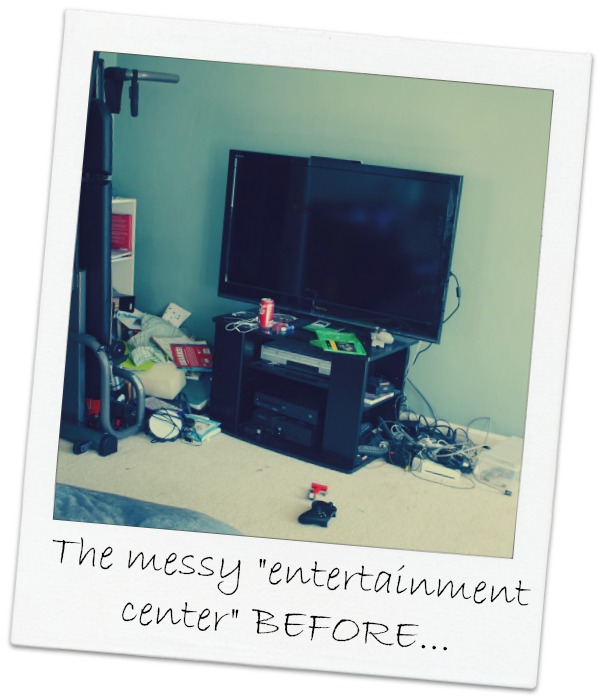 Time to get organized! We were in desperate need of some entertainment center organization… and pronto! The time had come for a new entertainment console, one that actually fit the TV this time. I was thrilled to find this beautiful robin's egg blue media console from Kirkland's with glass door fronts and silver hardware.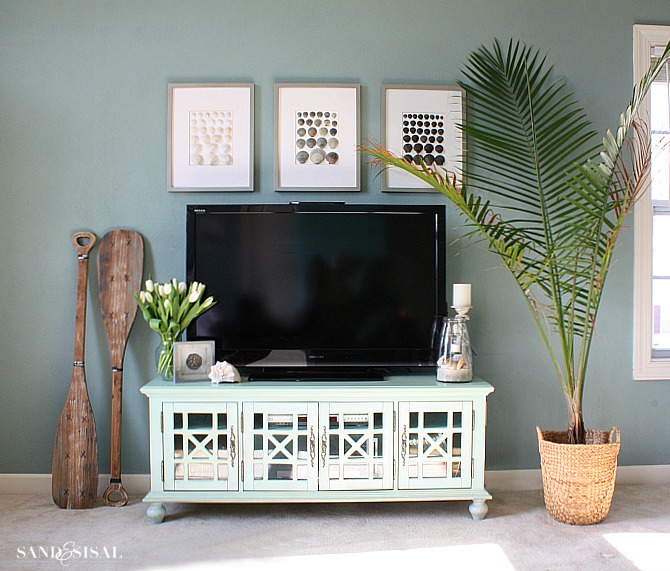 It came fully assembled (yay!) and had enough storage for the kids' games.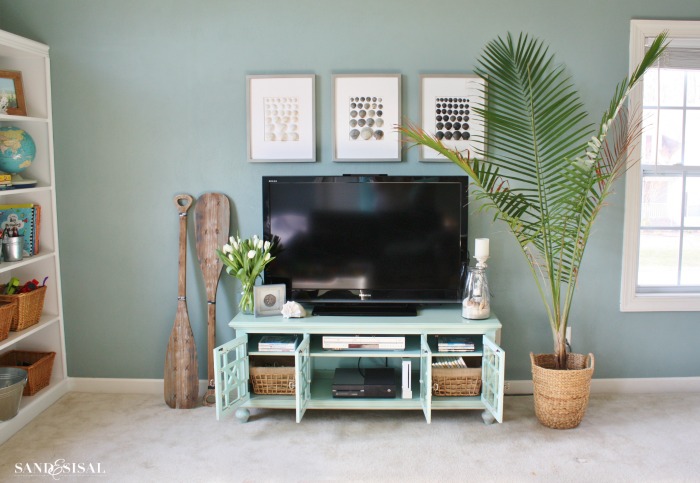 The decision to get organized is never a simple one, but I do find a few tips that always make the process more tangible.
#1) PURGE & DONATE– Gather all your old game consoles, video games, movies (VHS, DVD, Blue-Ray) and decide what you really want to keep. Donate everything you don't want or consider re-selling the items to a video store. Most national video game stores will purchase your used games, controllers, and units. I asked my sons gathered all their old Xbox games, decide what they really wanted and then traded them in toward a purchase for a new game console. We immediately eliminated over 1/2 of the clutter.
#2)  CREATIVE CONTAINERS – Now that you have purged and donated your older items, place your games and controllers in your entertainment console in stylish and simple baskets. I love using woven seagrass baskets like these I found at Kirklands. Click the link to check out all the other creative containers and playroom storage ideas I've used in this room.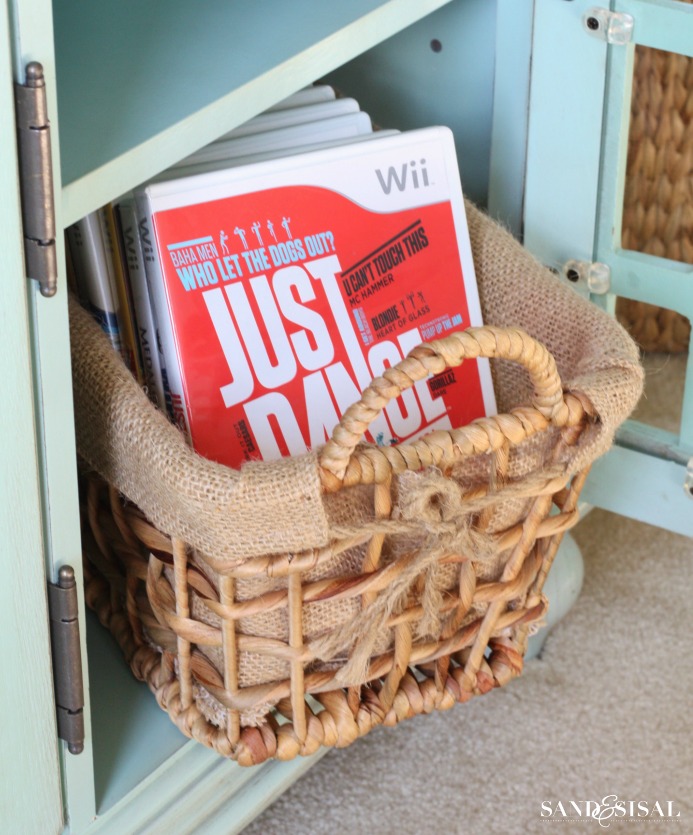 These cute hyacinth and burlap baskets come with a convenient chalkboard tag to label yourself.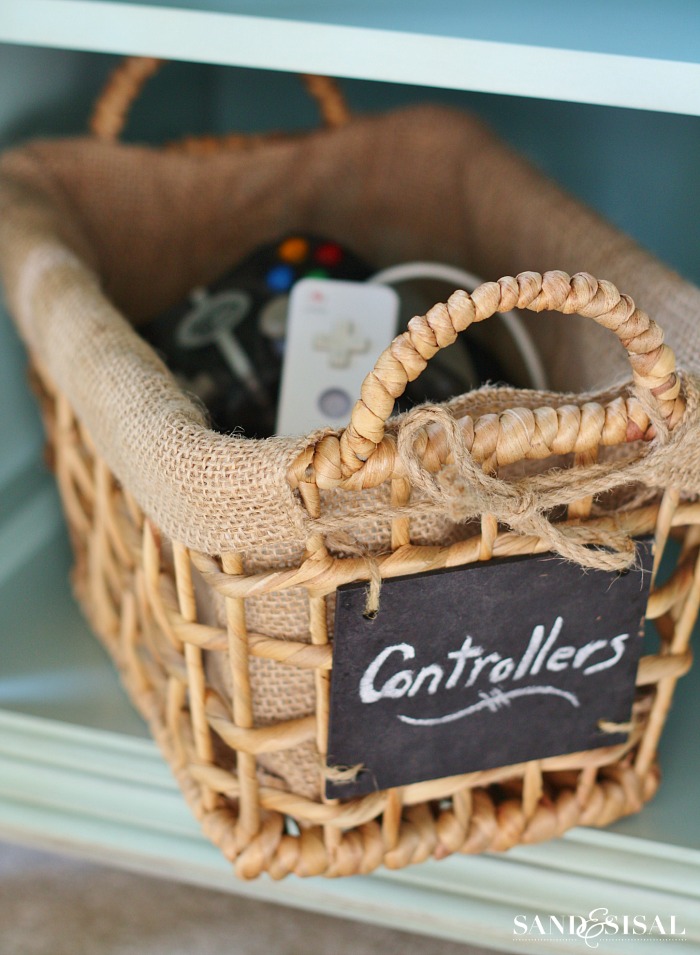 #3) CONTROL THE CORDS – Say buh-bye to that scrambled tangled mess of cords behind he console with inexpensive zip ties and plastic bread package closures! Upcycle the plastic tabs that help close your loaves of bread and lable them with the names of of your cords. Now you will never have to guess which cable goes where.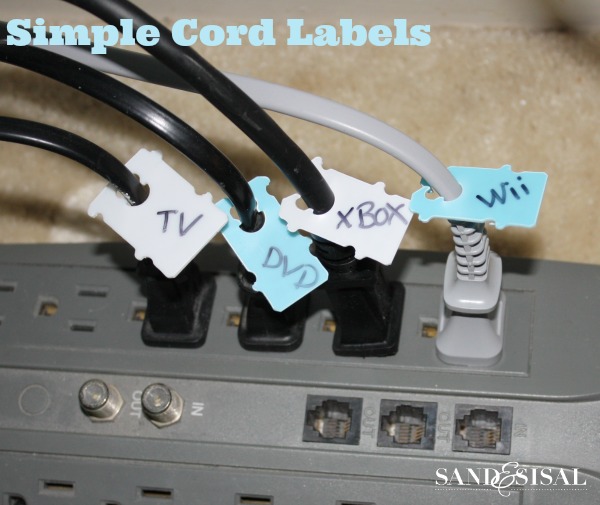 #4) Accessorize – Everything should look pretty, even a big screen TV! Personalize your entertainment console and that huge black TV with some beautiful accessories on the sides and artwork above.  I chose a pretty white candle stick and glass lantern filled with sand and shells….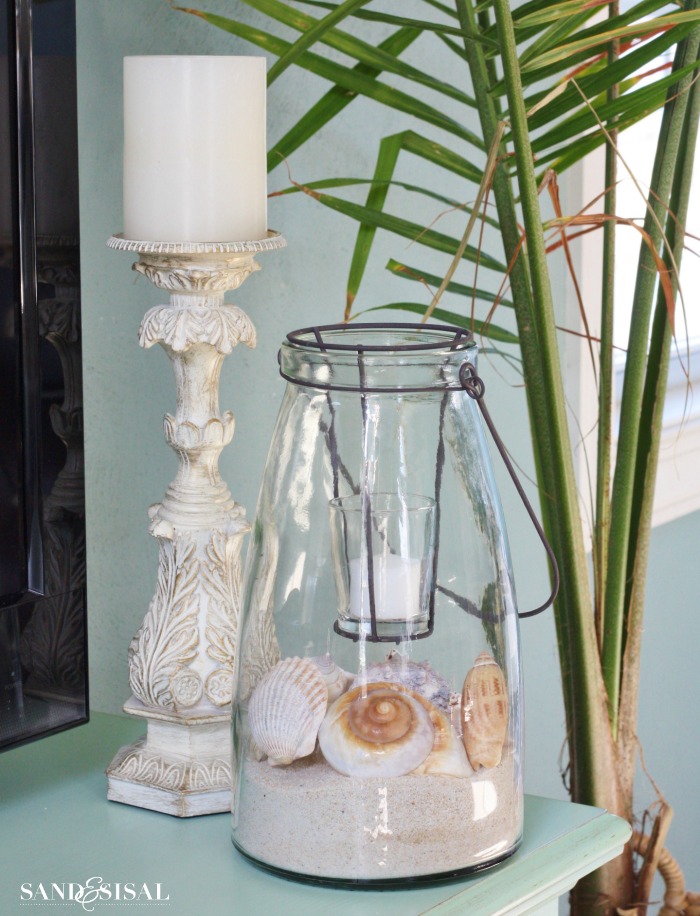 rustic wood oars, a vase of my favorite, white tulips…. Ahhhh, don't tulips just make you smile, especially in winter?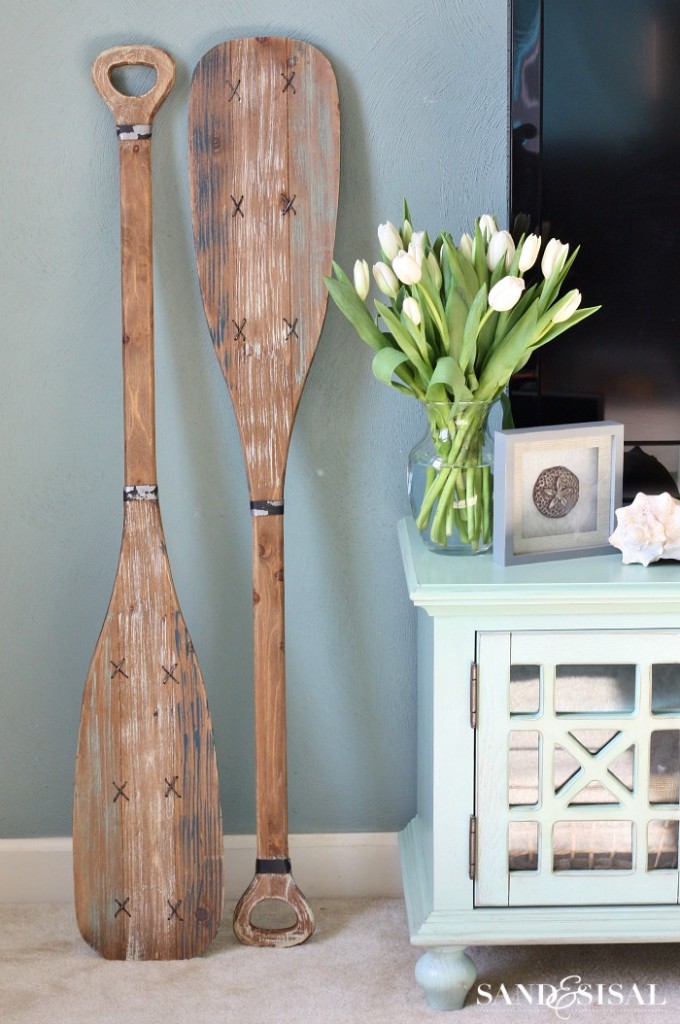 and a sand dollar shadow box.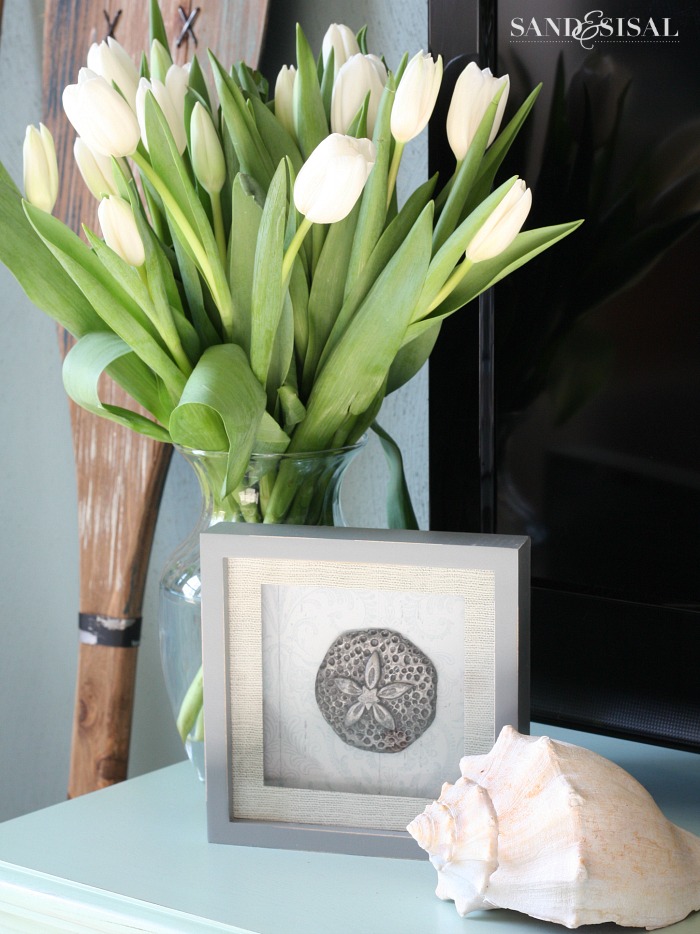 We placed the entertainment console on the opposite side of the room and adjusted the seating for better viewing. We are all so happy how organized and functional this playroom/entertainment room has become!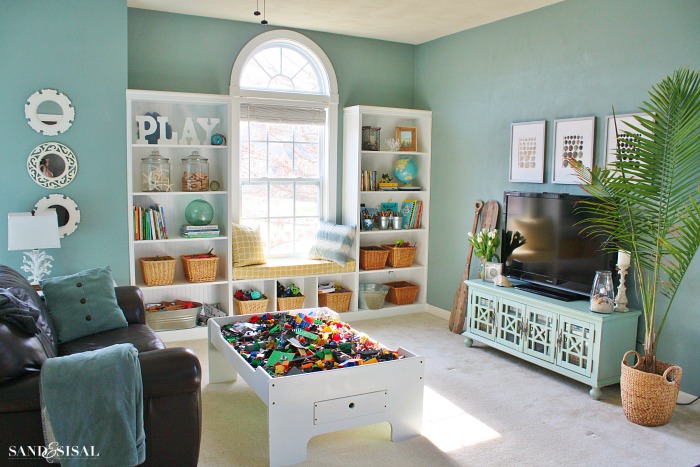 Kirkland's wants to help you get organized this new year too with a $100 Gift Card Giveaway to their store! Click HERE to find a Kirkland's store near you. Enter for your chance to win in the Rafflecopter entryform below. And check out how my girlfriends are getting organized in their home too this week with a little help from Kirklands!
I received compensation for the "Resolution: Organize" blog post. Kirkland's partnered with several bloggers like me to raise brand awareness. All purchases and content are of my own accord and reflect my personal opinion and style.