Are you ready to spice up the new year? I attempt to get myself and home in gear and get organized each January. This month I'm going to try to focus on my kitchen and a few other spots in the home.  My spice cupboard is a hot and spicy mess! Each time I open the door, spices come crashing down on me! Time to get organized! Let's take a look at some Spice Rack Storage Solutions!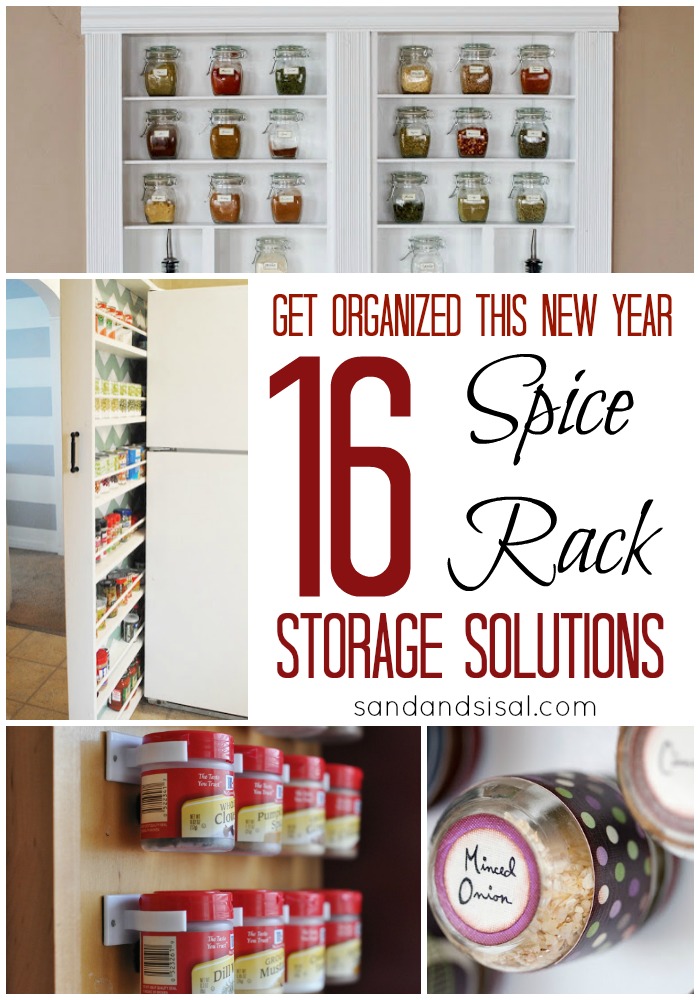 Spice Rack Storage Solutions: Maximize Unused Space 
Use the wasted and unused space next to a refridgerator and make this DIY sliding spice and canned food storage rack.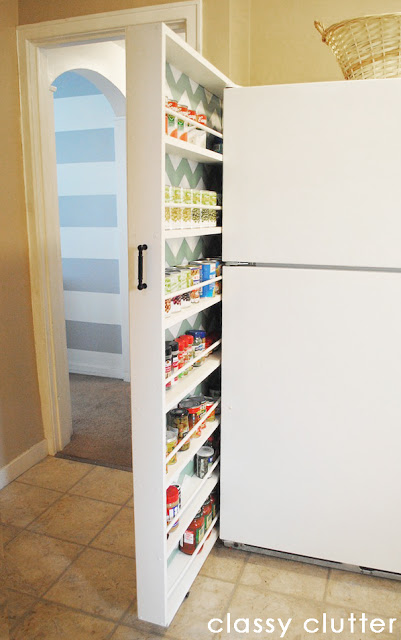 Classy Clutter
Use multiple inexpensive wire mesh pencil holders and screw them into the side walls of a pantry or closet to hold all your spices.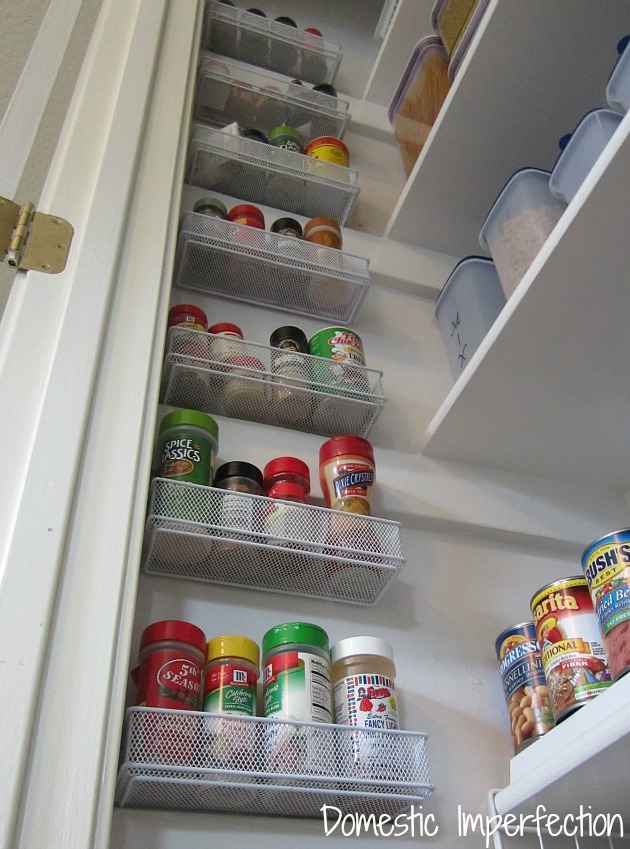 Domestic Imperfection
Spice Rack Storage Solutions: Spice Up Your Drawers!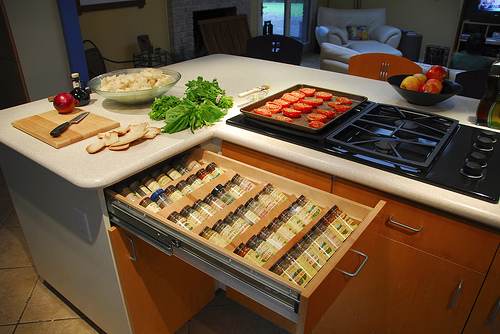 Open Salon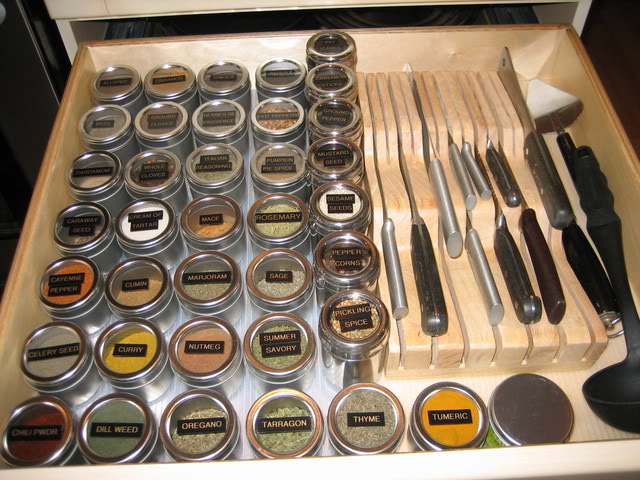 GardenWeb
Use small mason jars to organize your spices in a drawer.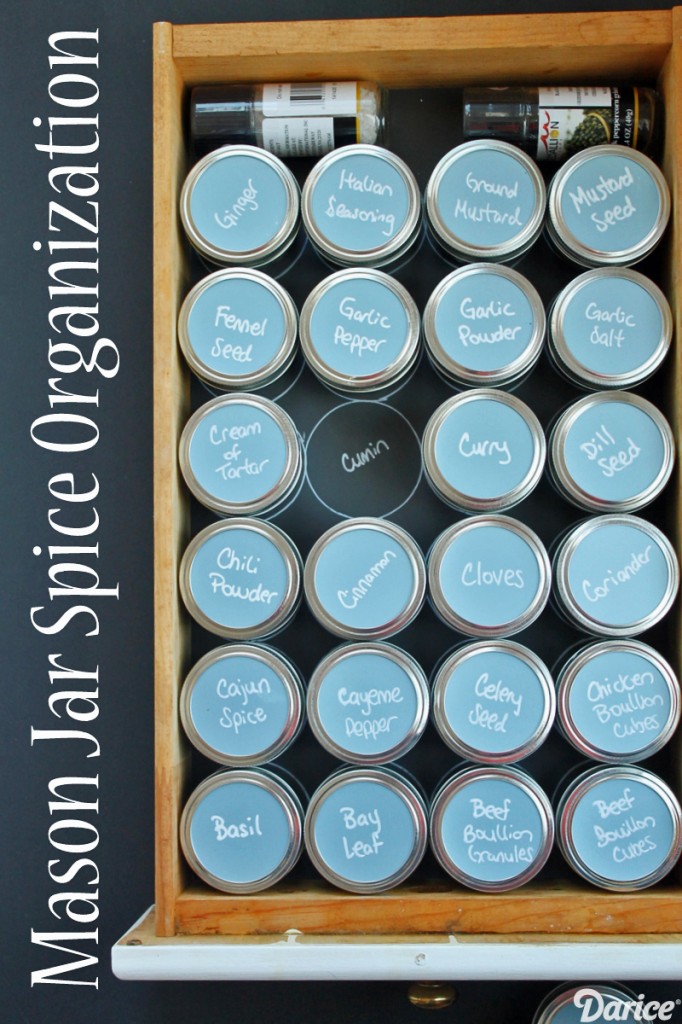 Darice
Spice Rack Storage Solutions: Secret Hidden Spice Storage 
This newel post on the cabinets does not only add a beautiful architectural element to the kitchen but it also hides a spice rack! How clever!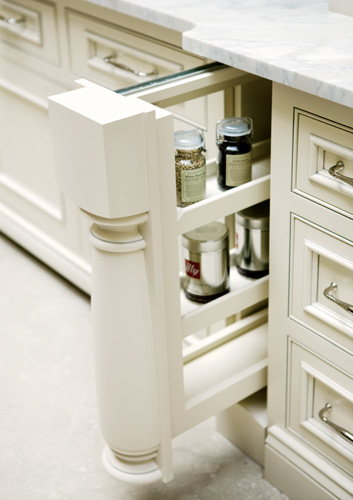 Atlanta Homes Magazine
Use any wasted space on the sides of appliances to install a skinny, pull out spic drawer. Store the spices in wire baskets and alphabetize them for quick and easy access.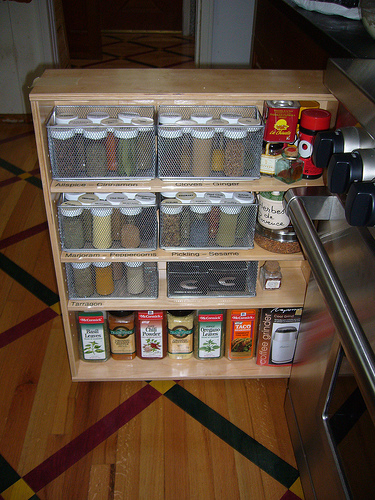 GardenWeb
Spice Rack Storage Solution: Built-in Spice Racks
Build your own spice rack cabinet in between the wall studs and hide it all with a wood door.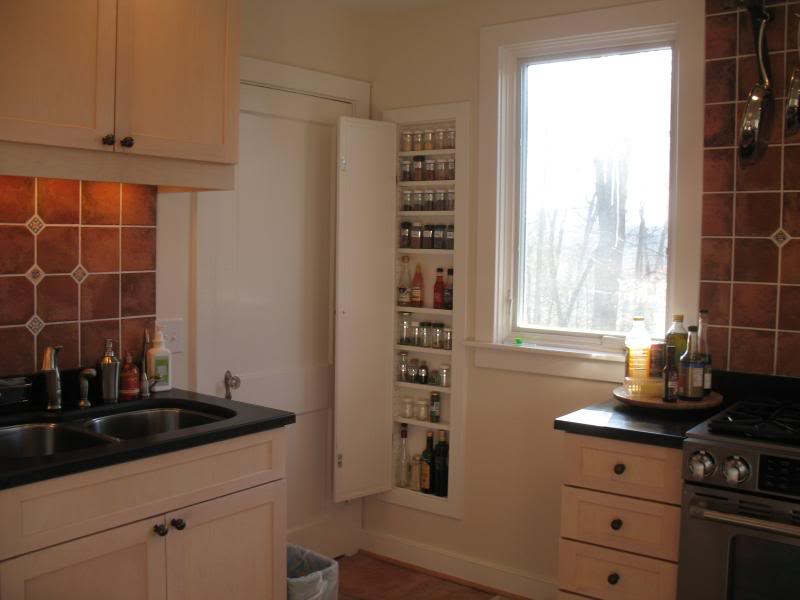 GardenWeb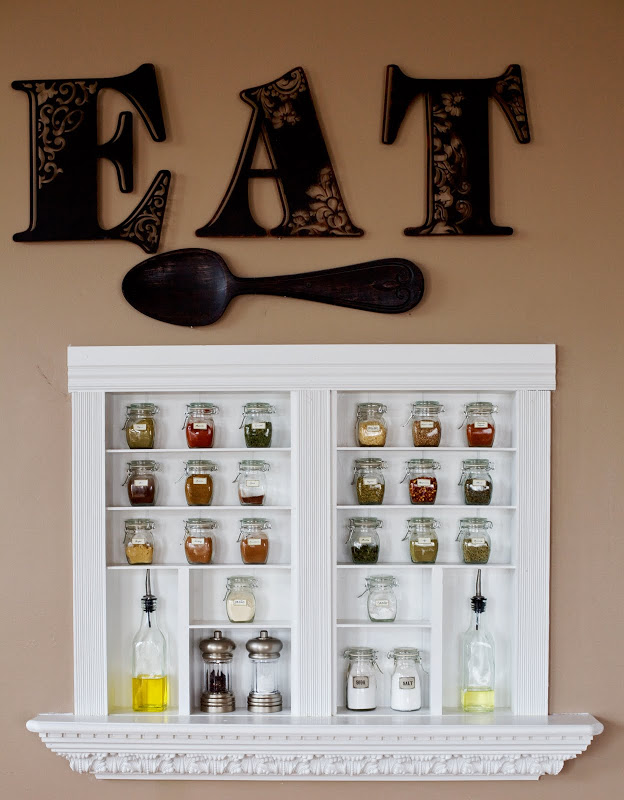 Tidbit from the Tremaynes
Spice Rack Storage Solution: Spicy & Magnetic
How brilliant is this? Use recycled baby food jars to make your own magnetic spice rack! This one is stuck to the side of a refridgerator.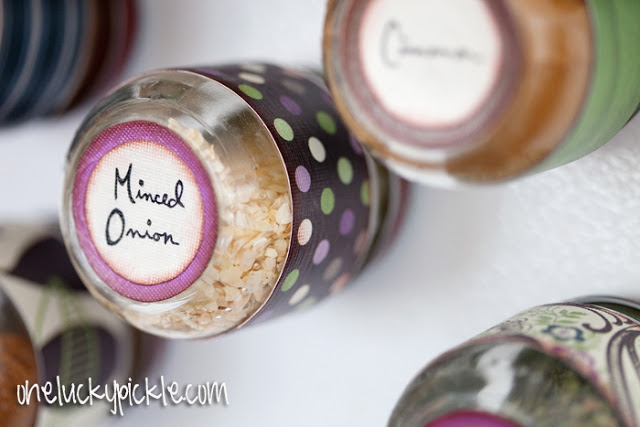 One Lucky Pickle
Create a DIY magnetic spice rack on the side of a cupboard.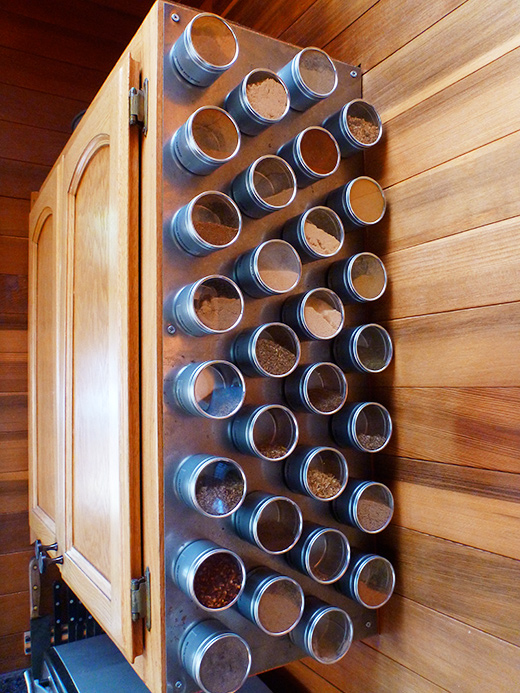 Garden Betty
Use the few inches that peek out from the side of your fridge to store and display the magnetic spice containers.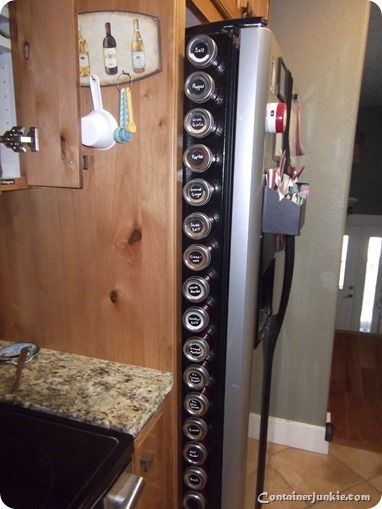 Spice Rack Storage Solutions: Door Mounted Spice Racks
Maximize space and use the insides of closet, pantry, and cabinet doors for a pre-bought or custom made door mounted spice rack.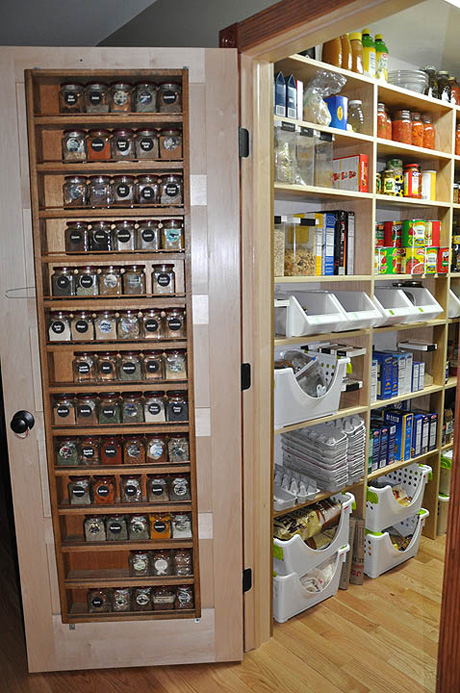 Make Create Do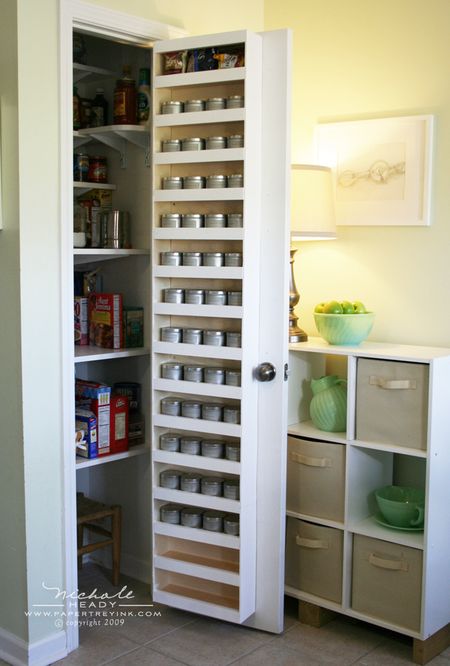 Inspired Papertrey Ink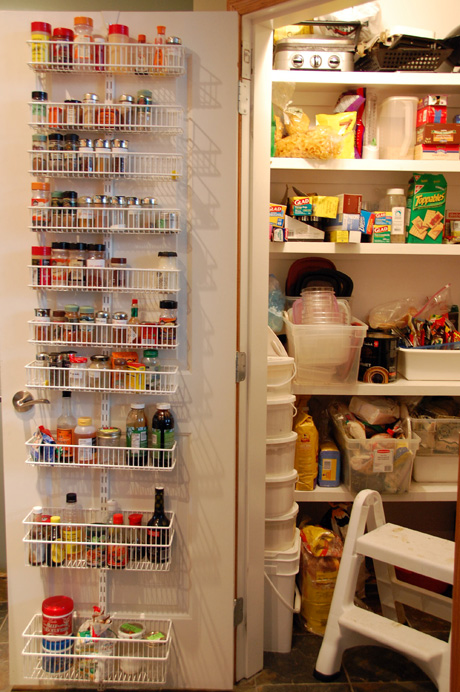 The Perfect Pantry
Simple Plastic Spice Rack Organizer clips hold spice bottles on the inside of a cupboard easily and securely.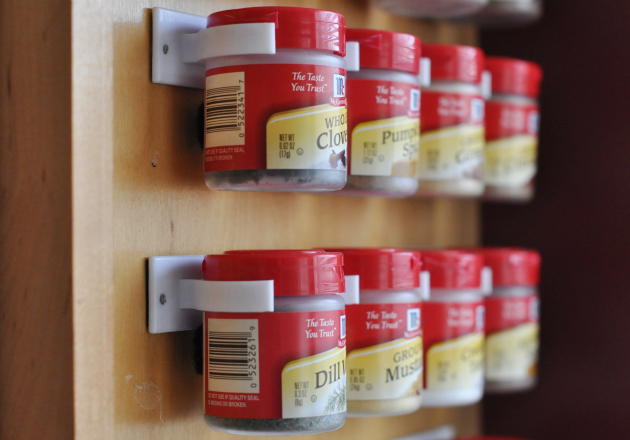 Food Family Finds
I'm not sure which spice rack storage solution I'll choose to use yet, but wow, I certainly have a ton of ideas to decide upon! Which one do you love? I'd love for you to share with me how you store your spices too!
Happy Organizing!
KIM