My friend Renee is the absolute hostess with the mostess! She is also a fabulous cook! She would invite our family over for a Sunday dinner and our favorite dish that she would serve us was this Amazing Manicotti! It is filled with three creamy cheeses, herbs, and spinach. This recipe will feed a crowd and can be made ahead of time and frozen.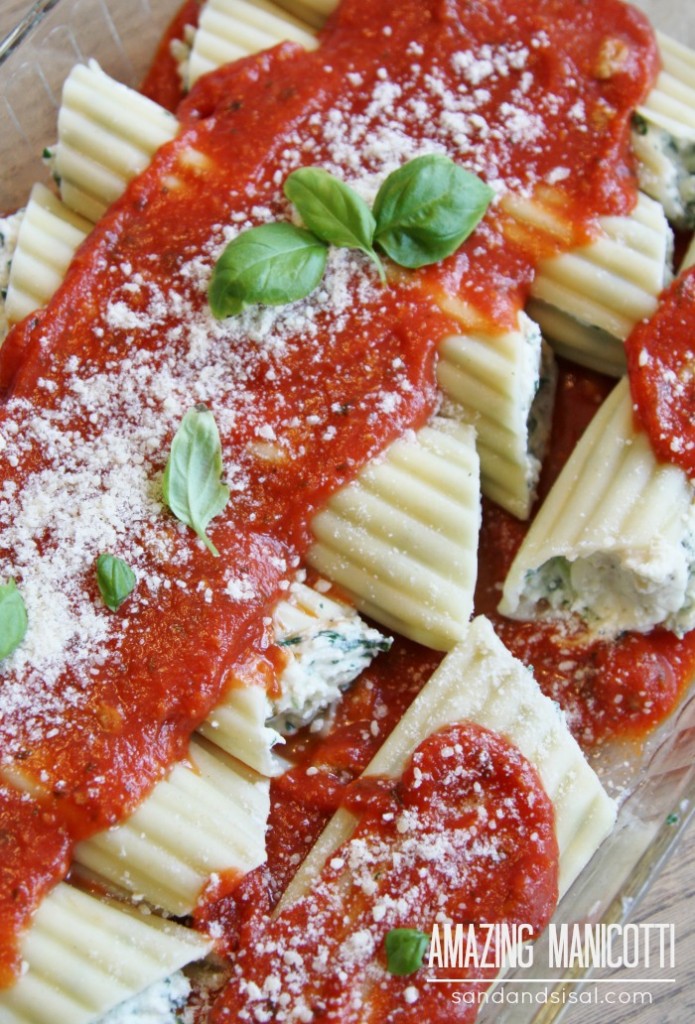 I have a printable recipe for you below, but I'll walk you though the steps a bit. You will saute minced onion and garlic until tender. Sauteing brings out the natural sweetness of the onion and garlic and takes away the bite that the raw onion and garlic can have.
Then you combine the onion, garlic, ricotta, parmesean, mozzarella, egg, spinach, herbs, salt and pepper in a large bowl until mixed really well. Feel free to mix this up in the morning, place it in the fridge and then pull it out when you are ready to make dinner.
Below are the manicotti shells. They usually come in a box of 14 shells. Follow the cooking directions on the box, drain, and set aside. I ususally like to mix up my filling while the manicotti shells are cooking.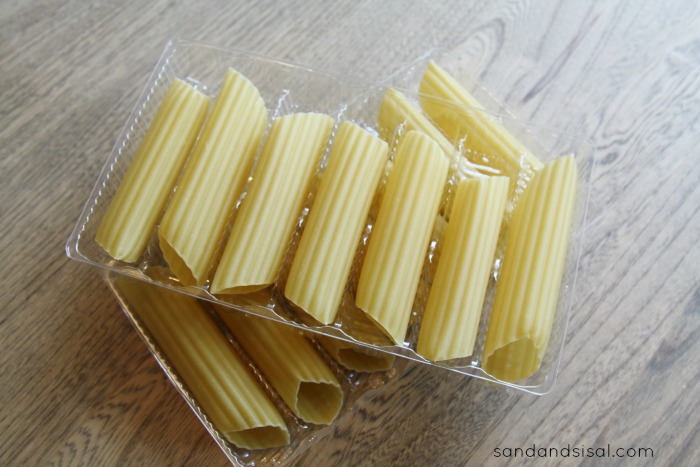 Filling manicotti shells can be a royal pain, but I found a super fast and easy way to fill the shells. Place all of your manicotti filling in a gallon sized ziplock bag and twist the top to seal, just like you would for a pastry bag. Now snip one corner off with scissors and squeeze the bag inside the manicotti tube until it fills up. I lay the filled manicotti tubes on a cutting board until I'm ready to place them in the baking dish.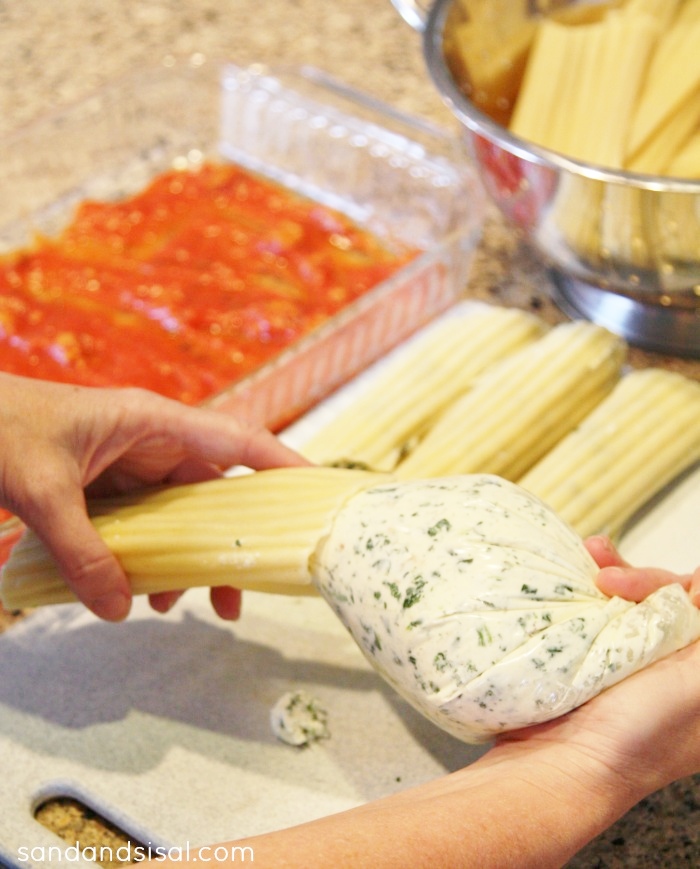 My dear friend Renee is the type of woman who makes her own sauce with tomatoes fresh from her garden, but I'm not that disciplined so I use a good quality jarred pasta sauce instead. This is a nice shortcut. My favorite jarred sauce for this recipe is Prego's tomato sauce with sausage. Feel free to use your favorite jarred sauce.
Pour and spread 1/3 of the sauce on the bottom of a 9×13 glass baking dish then arrange the stuffed manicotti shells in the dish. You will also most likely need an 8×8 glass baking dish, because this recipe feeds a crowd! Top the arranged shells with the rest of your sauce and sprinkle with extra parmesean if desired.

Amazing Manicotti
Author:
Kim Wilson - c4a.bc9.myftpupload.com
Prep time:
Cook time:
Total time:
Delicious manicotti shells stuffed with 3 creamy cheeses and spinach with herbs and a sausage tomato sauce. This recipe can be made ahead and freezes well.
Ingredients
1 small onion - minced (appx.1/4 cup)
1 clove garlic - minced
2 tablespoons olive oil
32 oz. ricotta cheese
1 egg - beaten
½ cup grated parmesean
2 cups shredded mozzarella cheese
1 packed cup frozen chopped spinach - thawed and well drained
1 tsp. salt
½ tsp. pepper
½ tsp. fresh thyme
1 Tablespoon chopped basil
1 package Manicotti shells
1 jar Prego Tomato Sauce with Sausage
Instructions
Preheat oven to 350 F degrees.
Cook manicotti shells in a large pot of water according to instructions on the pasta box.
Drain manicotti shells and set aside.
Saute minced onion and garlic in olive oil until onions are translucent and tender.
In a large bowl mix together the sauteed onion, garlic, ricotta, egg, parmesean, mozzarella, spinach, salt and pepper until well combined.
Put the manicotti filling into a gallon sized zip lock bag.
Snip off one corner with scissors and as you would with a pastry bag, squeeze the filling into each manicotti tube until each tube is full.
Pour and spread ⅓ of the sausage tomato sauce onto the bottom of a 9x13 glass baking dish (a 2nd 8x8 baking dish may be needed to hold all the stuffed manicotti)
Arrange the stuffed manicotti shells in the dish.
Top with remaining sauce and sprinkle with extra parmesean if desired.
Bake uncovered for 45 min until heated through.
Garnish with basil leaves.
(If you freeze this ahead of time and place in oven frozen, then baking time will be 1.5 hours)
Bake for 45 minutes at 350. Serve with a fresh green salad and bread.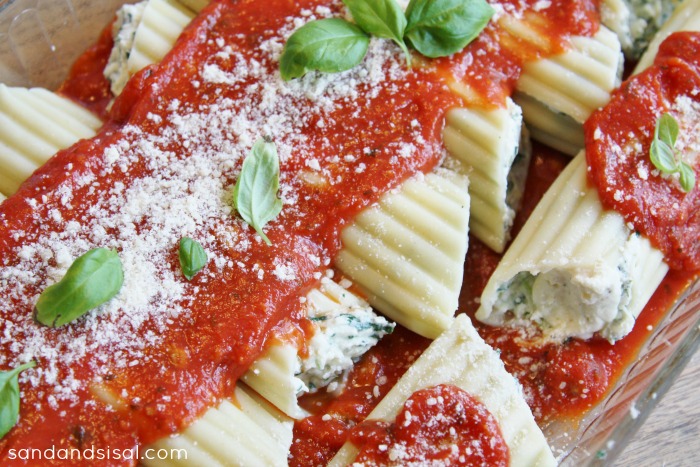 Enjoy this AMAZING MANICOTTI!
Check out more delicious recipes in Kim's Kitchen.