The holidays are about over and it's time to put away all those pretty Christmas decorations. This year get yourself organized so that next year's holiday decorating will be a breeze and you'll have more time to relax and celebrate. Today I'm sharing my 10 Top Christmas Decoration Storage Tips that I know you'll love!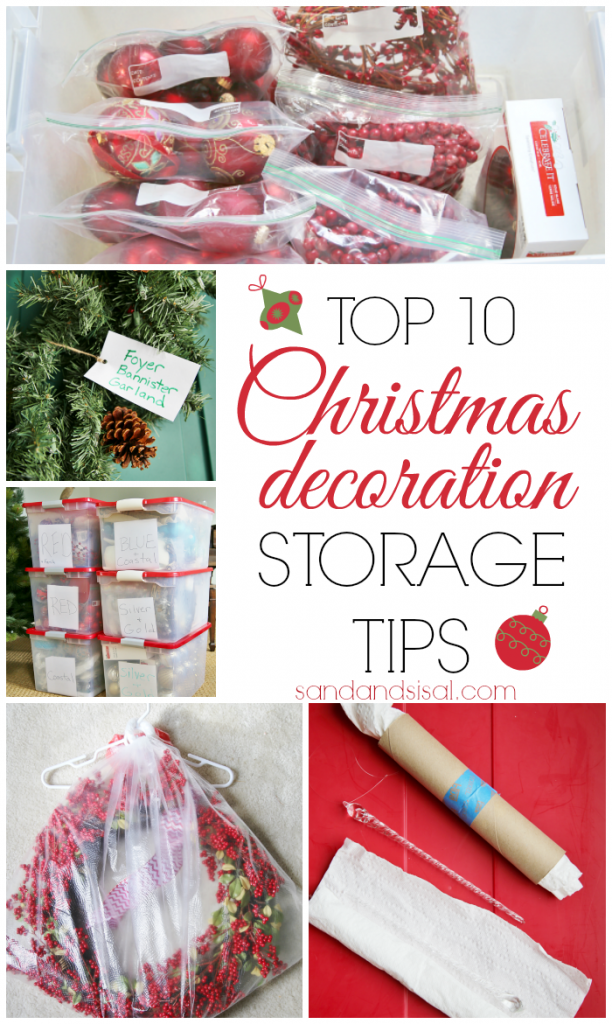 1. Use clear storage bins with colored lids
Clear storage bins make it easy to see what you have inside. I like using 66 quart bins with side latches and colored tops. They hold a lot, but aren't too large to carry. They are sturdy, stackable, the lids won't accidentally pop off, and the lids are colored coordinated for the season. For example: Christmas decor is stored in bins with red lids, fall decor is stored in bins with orange lids. This makes finding the correct bins a breeze!
2. Classify storage bins according to ornament color
Label each bin with a specific color or theme, for example: Silver & Gold, Coastal Decor, Red, White, Family Ornaments, etc. Sort and store all the Christmas decor in the classified bin.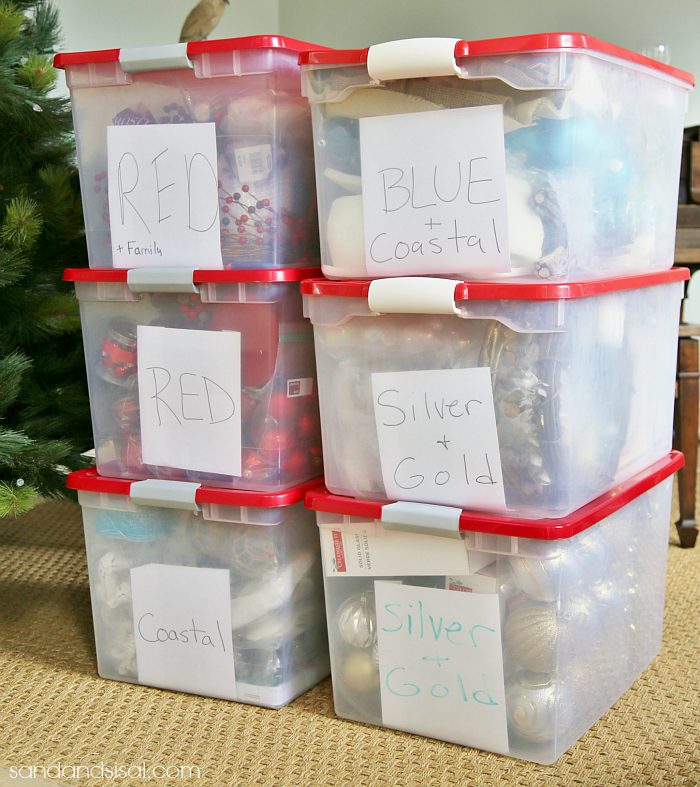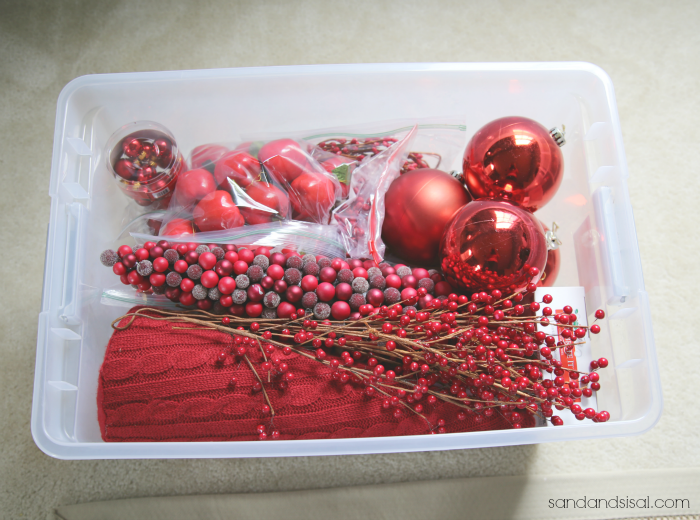 3. Store ornaments in gallon sized bags
Do you no longer have the original boxes that your ornaments came in? No problem! Fill a gallon sized zip lock bag with ball ornaments. Gallon bags will hold a large quantity of ornament balls and take up less space in your storage bin. The bags work well for beaded garland too.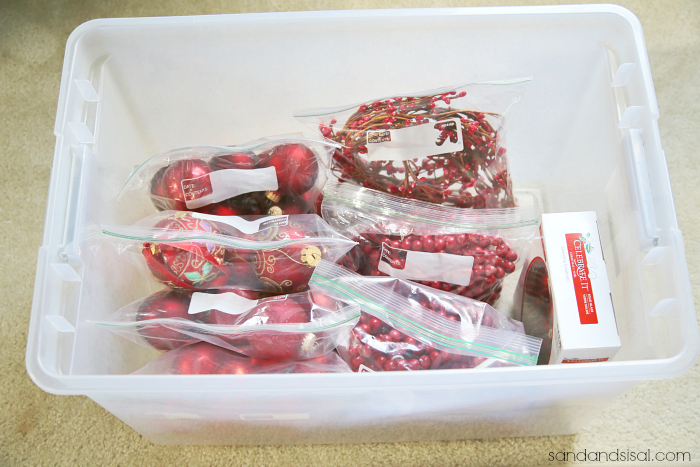 4. Store wreaths in clear plastic bags
Wrap a wreath in a clear plastic garbage bag and hang it on a hanger for easy identification, to keep it dust free and protected from getting crushed.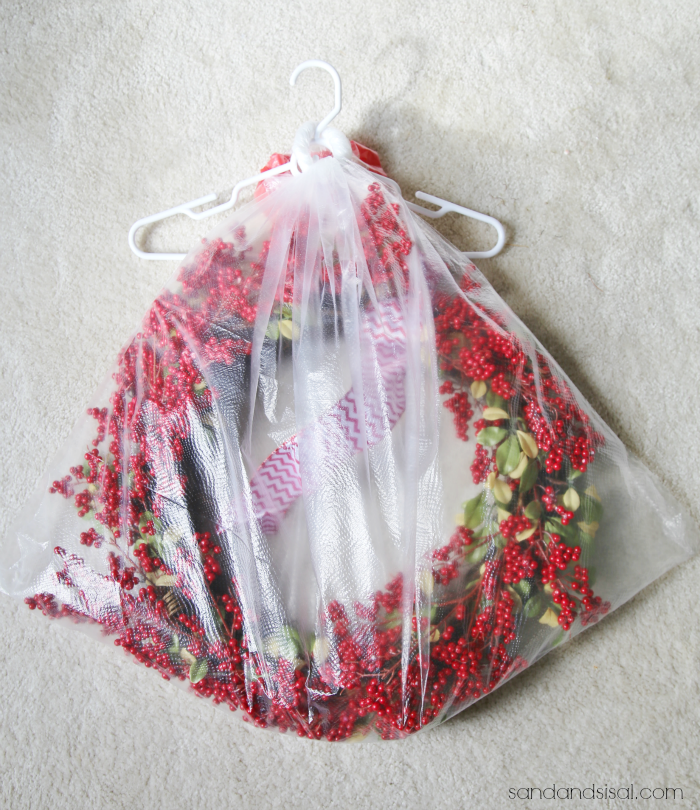 5. Sort wrapping paper and supplies in a shoe organizer
Keep wrapping paper organized and tidy by storing the rolls in an over the door shoe organizer. Simply cut the bottoms off of the middle shoe bins. Use the top bins to store scissors, tape and gift tags.  (Click HERE for a direct link to buy one on Amazon (affiliate link).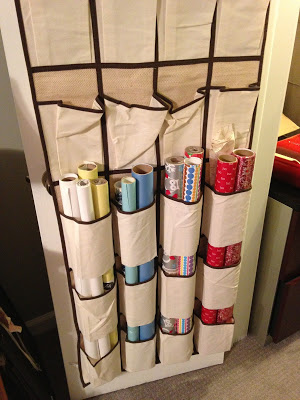 6. Keep ornaments moisture free
Don't toss away those silica packets that come in shoe boxes. Place one or two inside each storage bin to keep the contents from moisture and mold damage. This is especially important if you are storing your bins in a garage.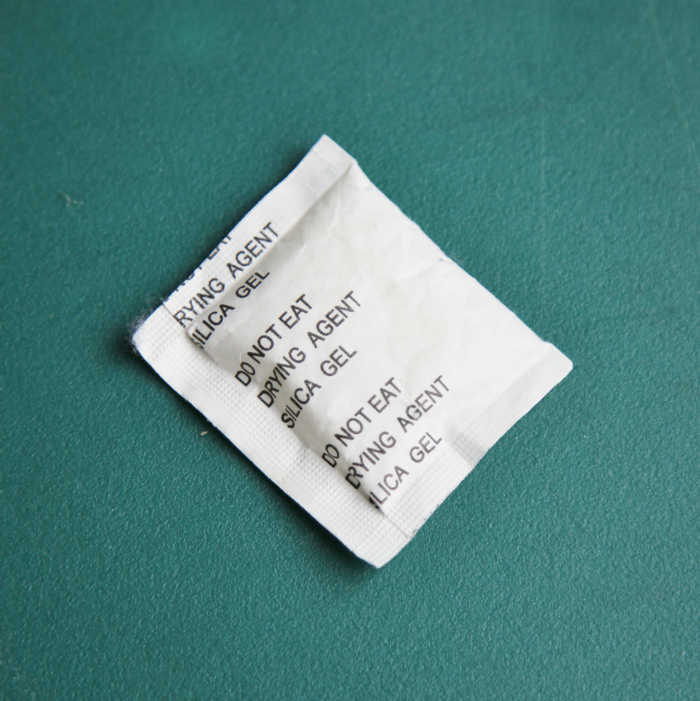 7. Label artificial greenery
Label artificial greenery like swags and garlands with large tags for quick and easy identification.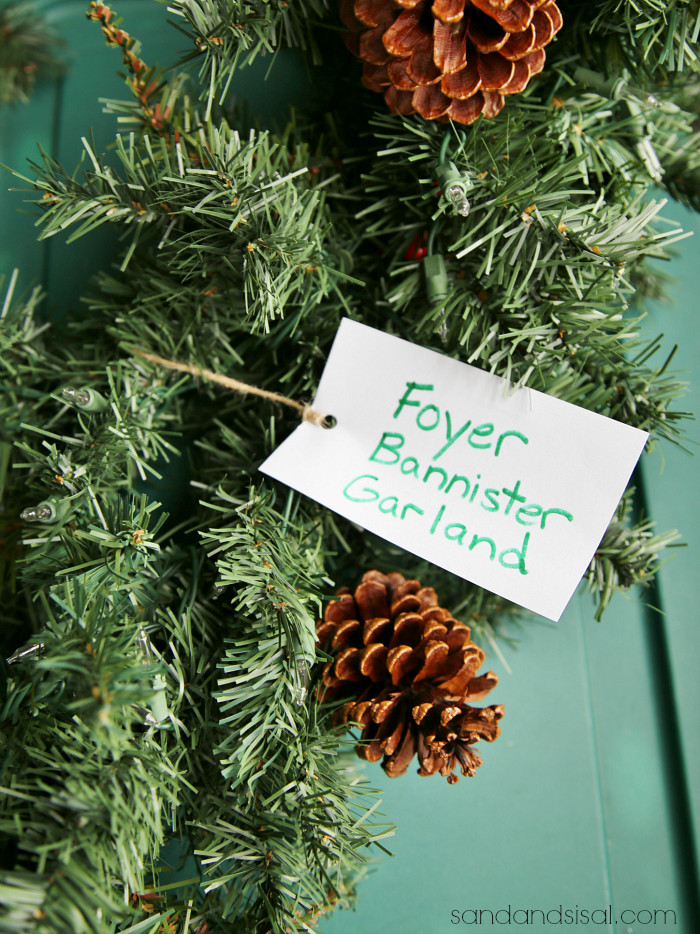 8. Stuff stocking hangers inside the stockings
Protect those heavy stocking hangers from scratches, dings, and tarnishing by stuffing them inside their coordinating stocking.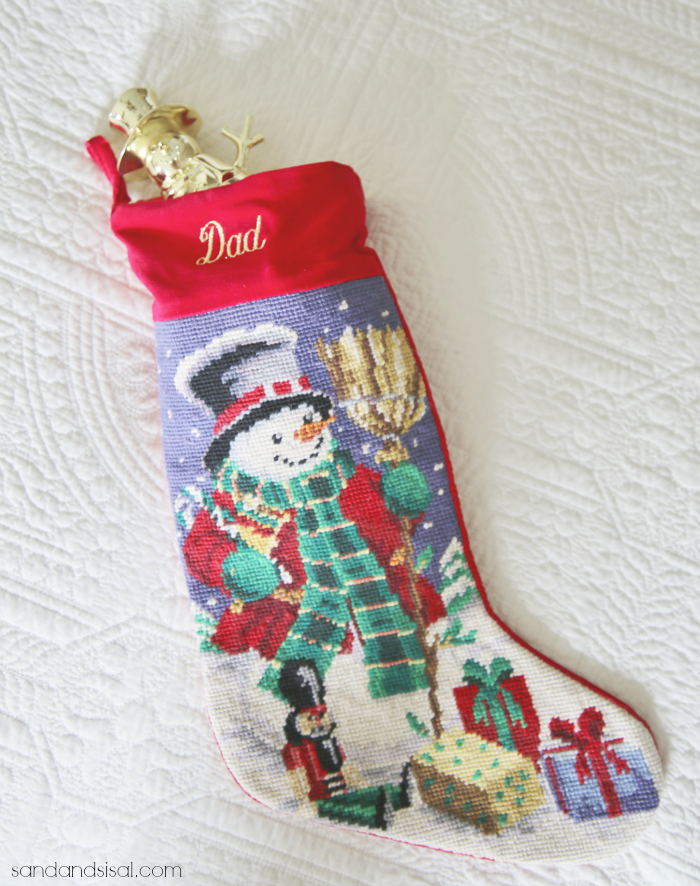 9. Protect Delicate Icicle Ornaments with Paper Tubes
Protect those beautiful and delicate icicle ornaments by wrapping them in paper towel and storing them inside either 2 toilet paper tubes taped together or one paper towel tube. Then place the tubes in a gallon bag.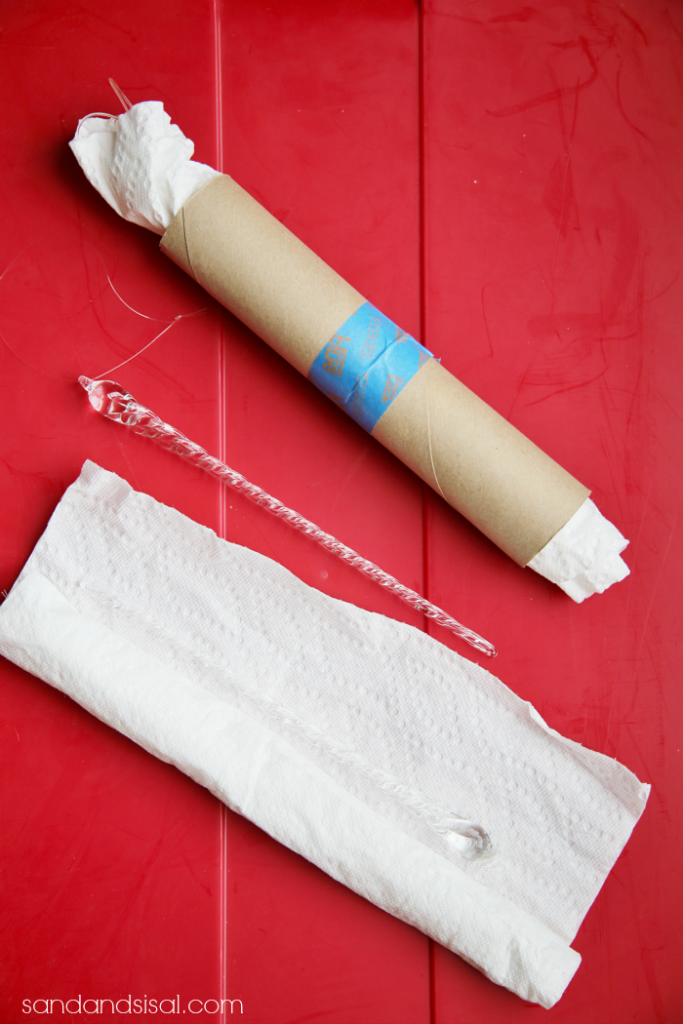 10. Keep lights tangle free with cardboard
Cut scrap rectangles of cardboard and wrap strings of lights around each piece. Store in a clear plastic container.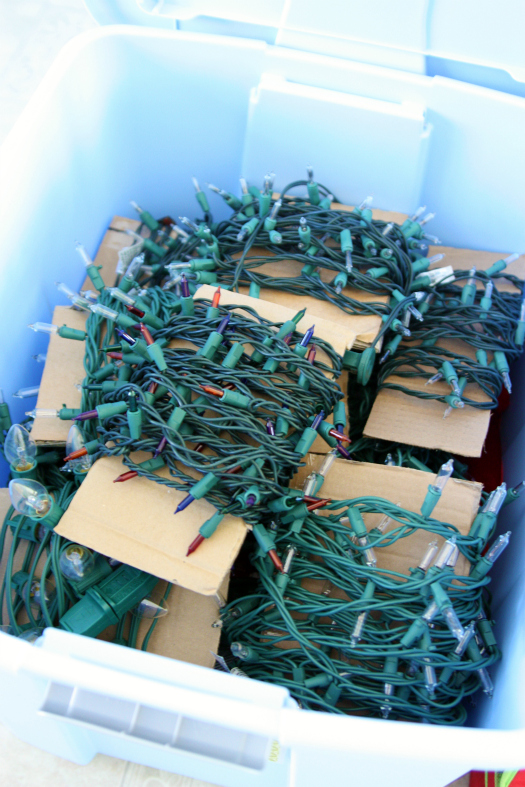 LOVE IT? PIN IT!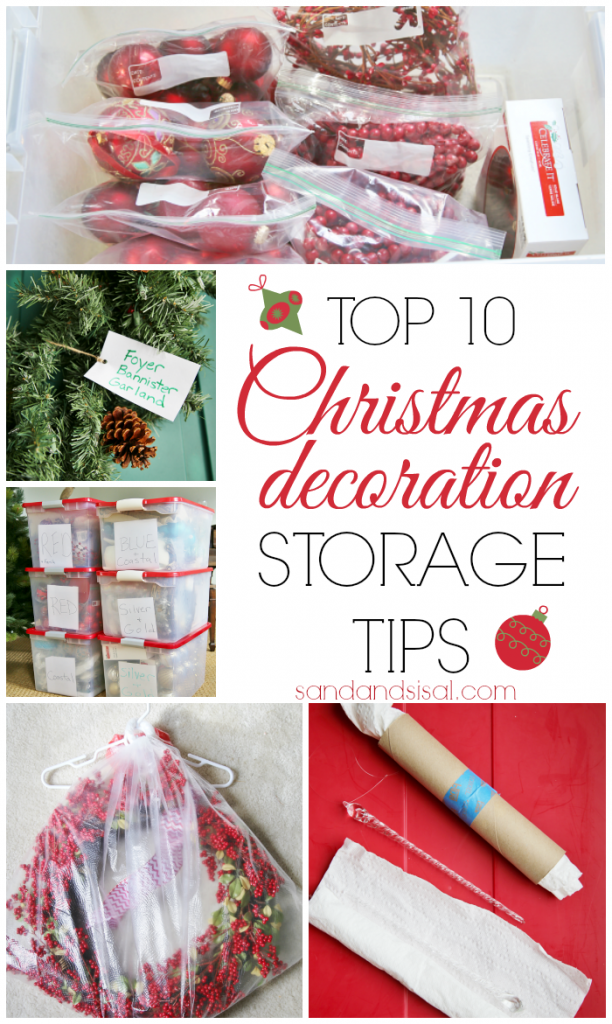 With these top 10 Christmas Decoration Storage Tips you'll be on your way to an organized and stress free holiday and New Year!
KIM