This post has been brought to you in partnership with Kirkland's featuring the Coastal Cottage Collection.
Did you know that most people make their first impressions of a home within 3.5 seconds of walking into a home? What first impression does your home give? How do you create a warm and welcoming environment in such a small amount of time? It's actually easier than you might think! Let's take a look at how to make a fabulous first impression with these 4 Simple Ways to Create a Welcoming Entryway .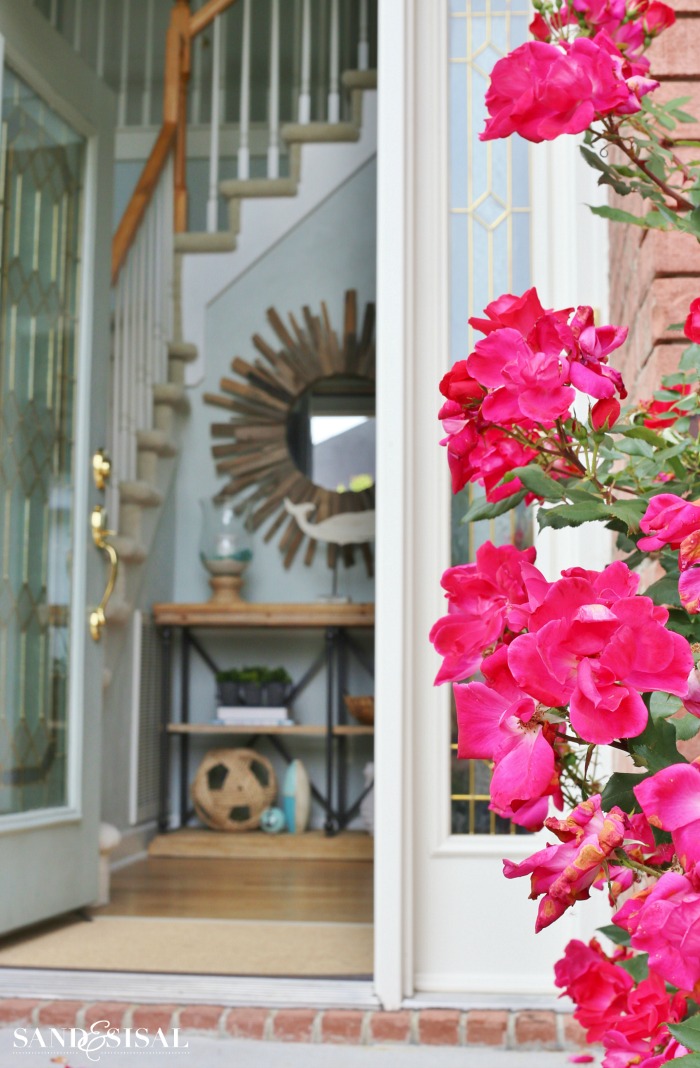 4 Simple Ways to Create a Welcoming Entryway:
Express Yourself
The entryway of your home should reflect your personal decorating style. Is your style farmhouse, mid-century modern, traditional, or coastal? Mine is "coastal chic" as I like to call it. When friends walk into our entryway, they will immediately know that they are walking into a coastal styled home. My love for coastal decor is expressed in a mix of weathered driftwood tones, a blend of natural textures, a color palette of ocean blues, crisp sailcloth whites, and nautical accessories.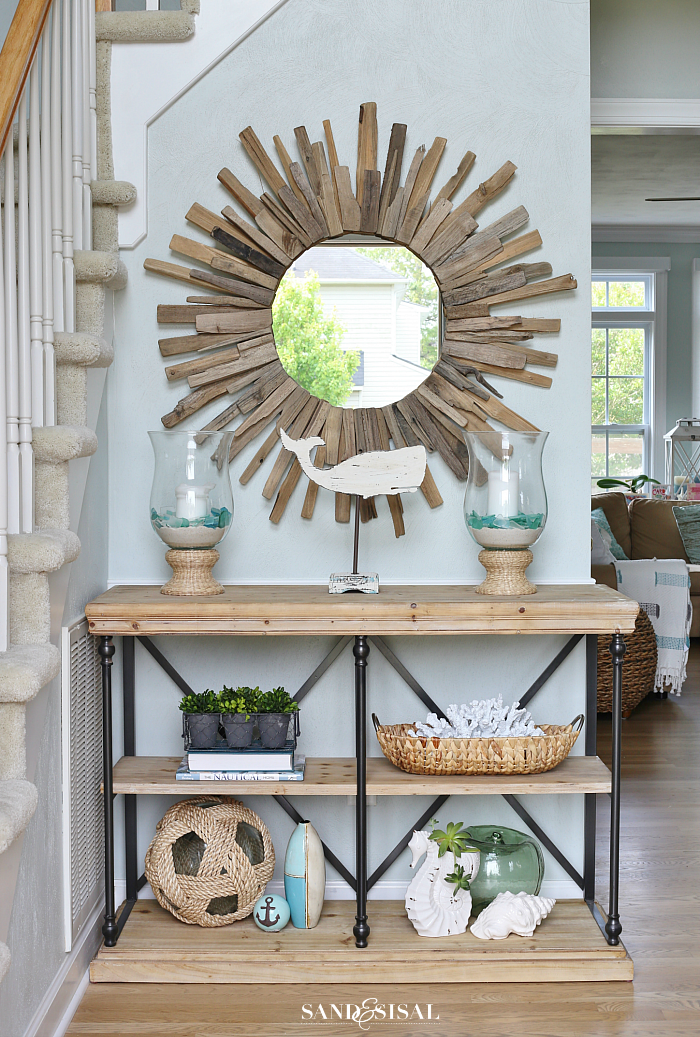 Create a Balanced Focal Point
Many of today's homes have soring 2 story foyers. To add balance to the space and visual direction (where your eyes are immediately wanting to focus upon), choose a console or accent table like that is proportional for the space and draws the eye towards it. For example, a tiny round side table would look lost in our 2 story foyer but might look absolutely appropriate in a smaller, one story entryway.  A 2-tiered driftwood and black iron table fills the space and and allows for substantial display of accessories and additional storage if desired.
Table shown: Kirkland's Sonoma Two Tier Console Table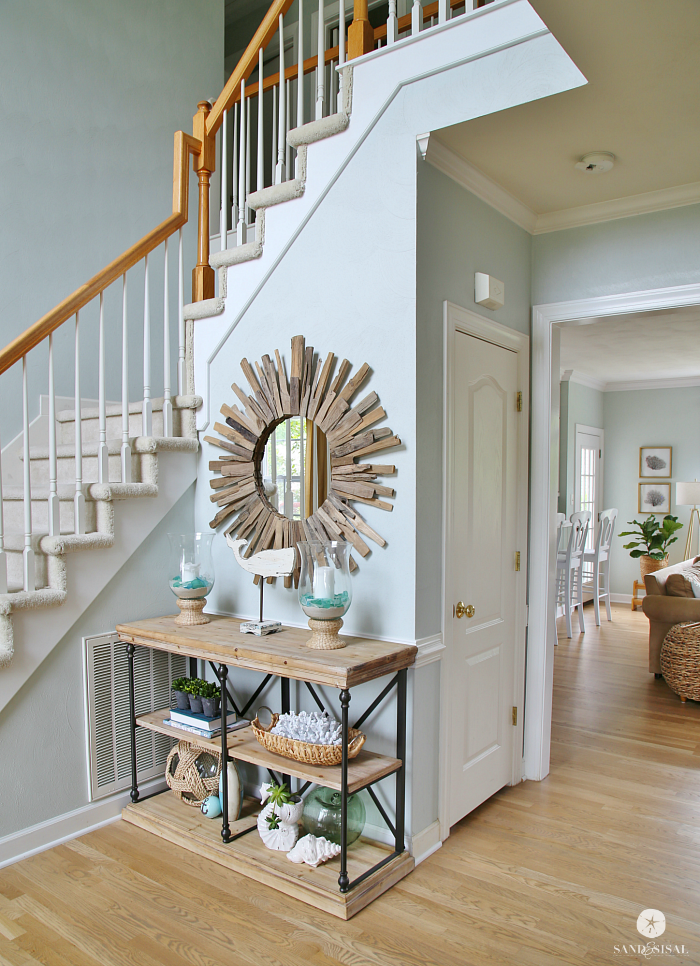 Brighten the Space
The easiest way to brighten an entryway and welcome guests into your home is with a spectacular, decorative mirror. Mirrors not only give the illusion of enlarging the space but they also reflect the beauty of the outdoors and magnify the light both during the day and at nighttime. Choose a mirror the way you would choose a piece of art. It should be bold, beautiful, and unique, essentially a piece of art itself. (Not to mention you can check your appearance before heading out!). 🙂
If you choose a piece of art, like a painting, in lieu of a decorative mirror, then consider adding 2 small table lamps to illuminate the entry way. Additional lighting using hurricane vases and candles will always create a warm and welcoming entryway.
Shown: Kirkland's Rustic Driftwood Mirror & Rattan Glass Hurricanes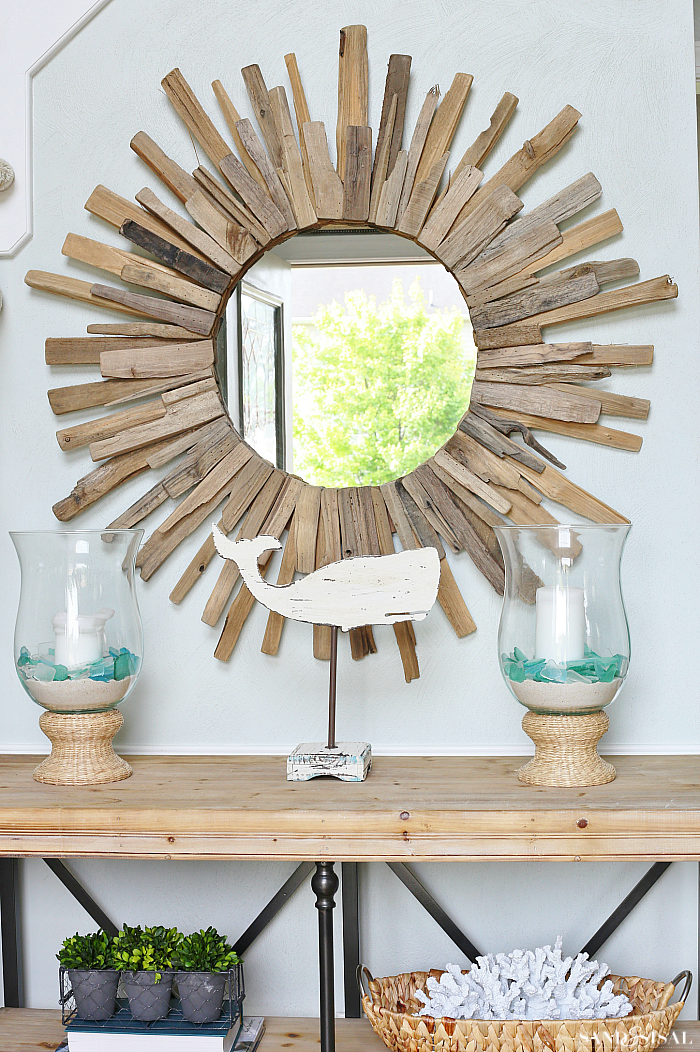 Accessorize with Simplicity & Personality
Now comes the fun part! Time to accessorize your entryway and show off your personality! Avoid the desire to clutter the area with all your favorite nick-knacks. When decorating an entryway, less is more. Choose a small collection of accessories that work well with eachother. Limit your accessory colors to only 2-3 colors and 2 neutrals. Mix textures like glass, wood, natural woven materials, cloth, and ceramics or glass. Limiting colors and multiplying textures is what creates an overall cohesive design.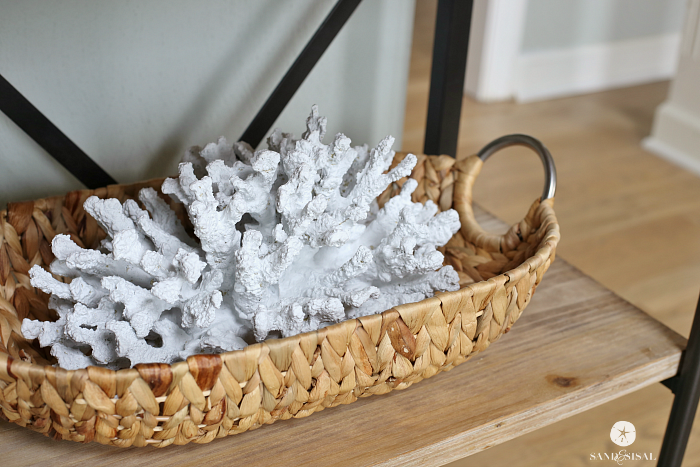 The key to create a welcoming entryway is not taking yourself (and your home) too seriously. So add a bit of whimsy to make everyone smile! This little distressed driftwood whale does that for our otherwise chic coastal space.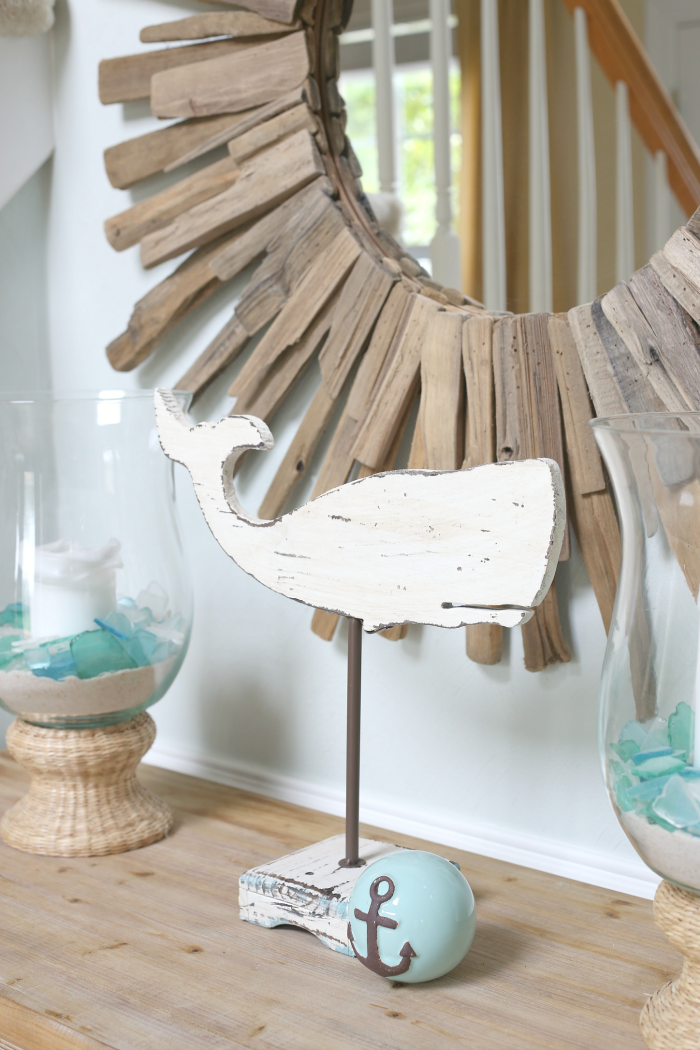 Every space needs something LIVING! This is best achieved with plants. Ok, so you are a total brown thumb and you kill every plant you touch, there are so many beautiful faux and preserved plants available. No watering is ever necessary!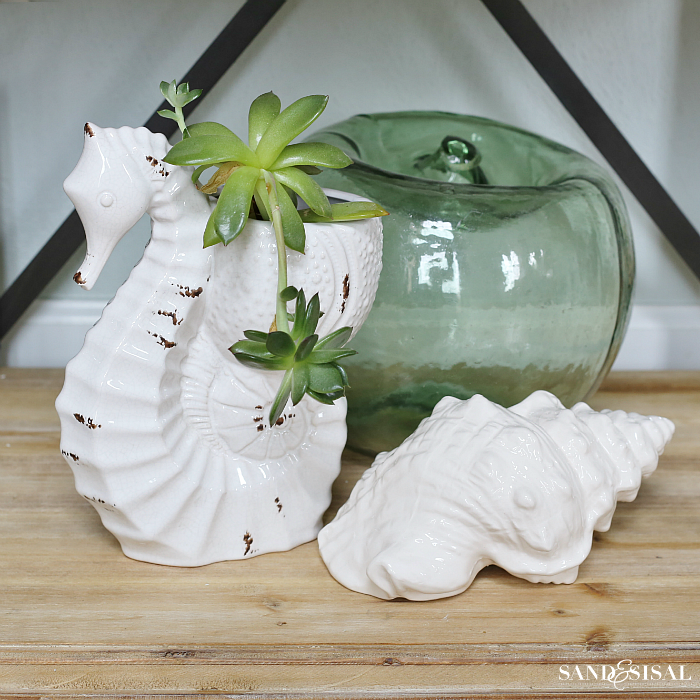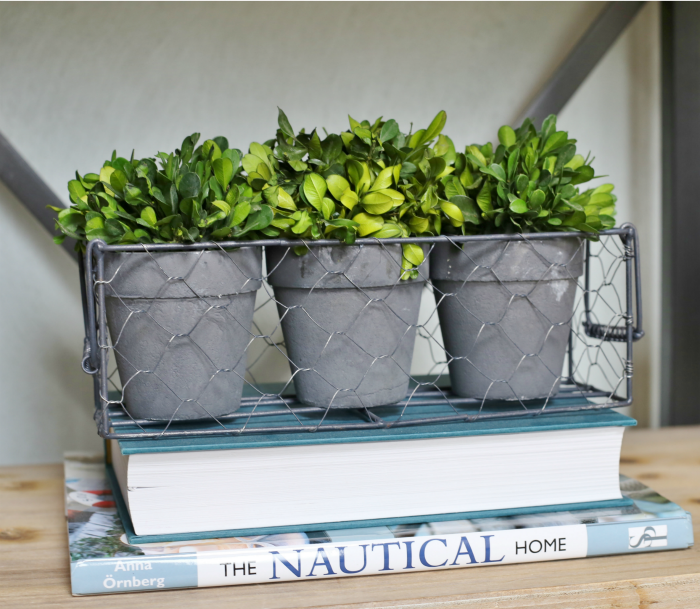 Kirkland's Coastal Cottage Accessories Shown: Faux Coral, Preserved Boxwood Pots, White Ceramic Seahorse Planter, White Conch Shell Figurine (similar here), Blue Anchor Orb, Blue Coastal Blue Bottle Vase, Distressed White Wood Whale.
With these four simple steps you will create a welcoming entryway in your home that both you and your guests will love!
Love it? Don't forget to PIN it!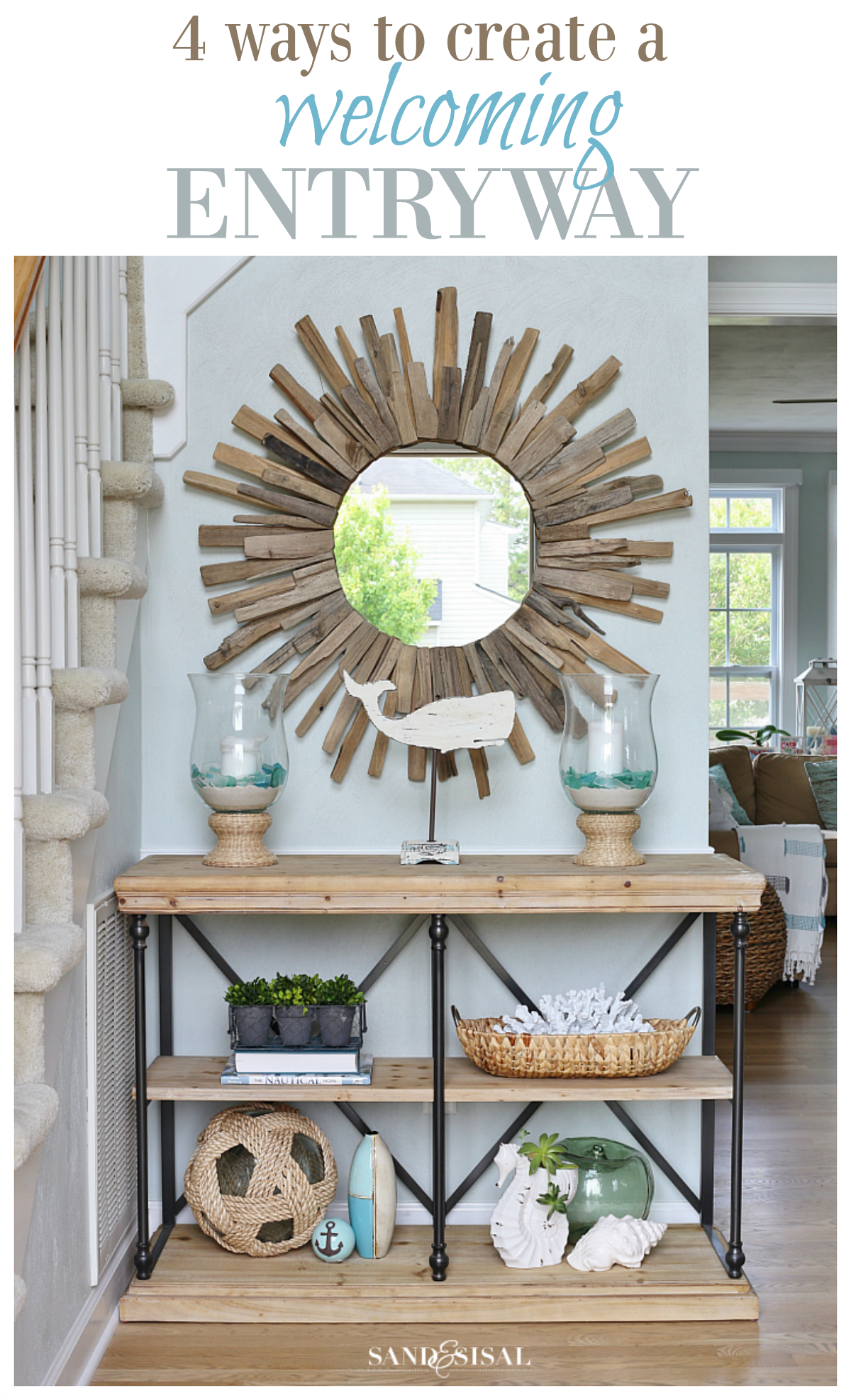 KIM