Do you have a special man or dad in your life who could use some amazing lawn and garden gifts? As a brand ambassador for Troy-Bilt®, I have the fun opportunity to review several great garden tools. This week I'm reviewing  one of Troy-Bilt's awesome new cordless power tools.
Troy-Bilt® just came out with a new line of powerful, cordless outdoor power equipment powered by CORE™. Unlike other cordless power equipment on the market, the patented CORE motor design is made to rival the power of gas fueled equipment.  The motor design replaces the heavy copper coils of a typical motor with a state-of-the-art, printed circuit board which operates in tandem with magnetic rotors.
The cordless tools powered by CORE provide longer runtimes, and have smaller, lighter motors, are easy to maneuver, are highly efficient and deliver more power where needed. The products available with CORE are a string trimmer, a leaf blower, a hedge trimmer and a lawn mower which will be released later this summer.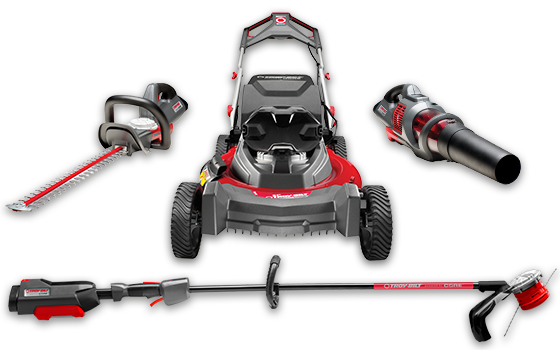 Feel free to watch this short video to learn even more about the CORE technology.
All Troy-Bilt powered by CORE tools can operate on the same 40V max lithium ion battery. So if you own one battery, you can save money by purchasing just the bare tools. The Power Output Display shows real-time motor performance. When the display illuminates red, you know the motor is under maximum load. If it illuminates green or blue, the motor is pulling less energy. Keeping it in the green mode will allow maximum cutting time.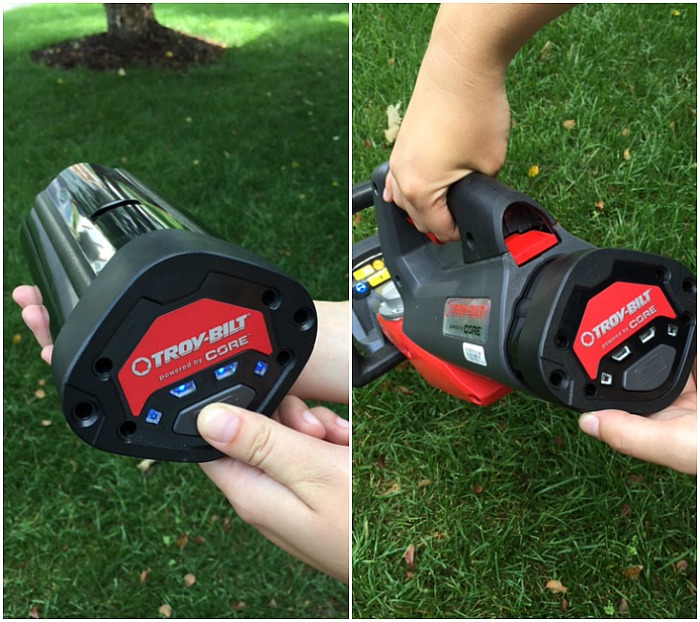 Our shurbs, vines, and bushes have been in horrible need of trimming, so I was excited to try the new cordless hedge trimmer by CORE. Our last hedge trimmer was not cordless and well…. it no longer works because hubs did what many of us do… accidentally cut the cord!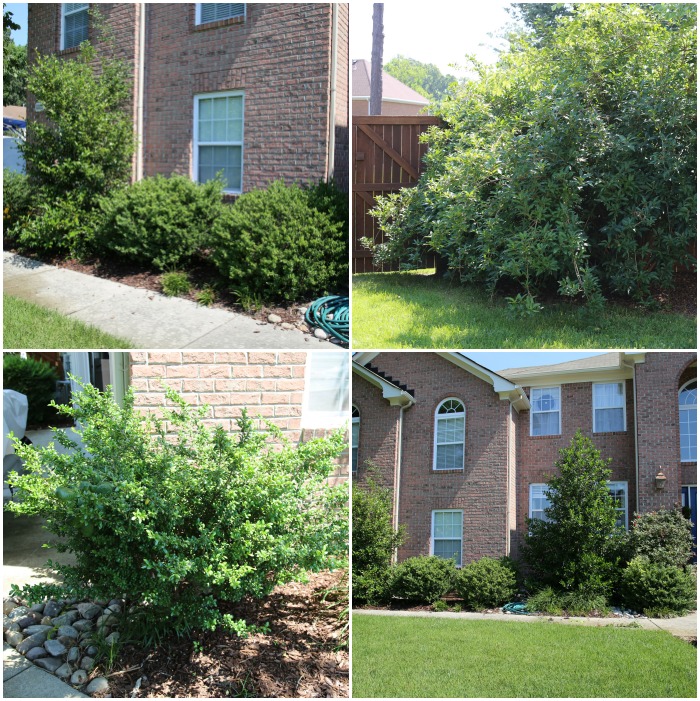 The cordless hedge trimmer has a nice blade gard for storage and the blades cut up to 3/4″ branches! That is pretty amazing.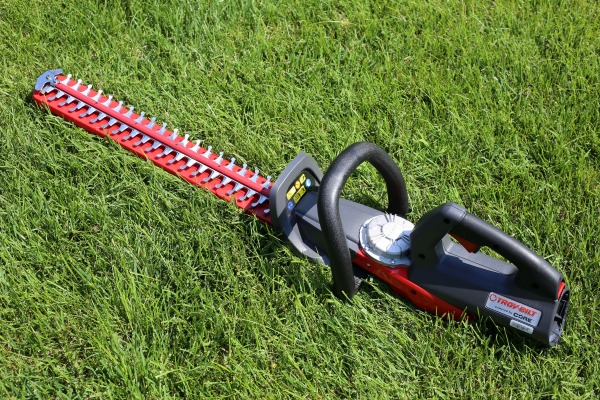 We first tackled the vines which we were ready to say good bye too. They were so thick and blocked the view of the patio below. You all… I am so embarassed to even show you these pics! We had such a rainy spring that no yard work was accomplished until this past week.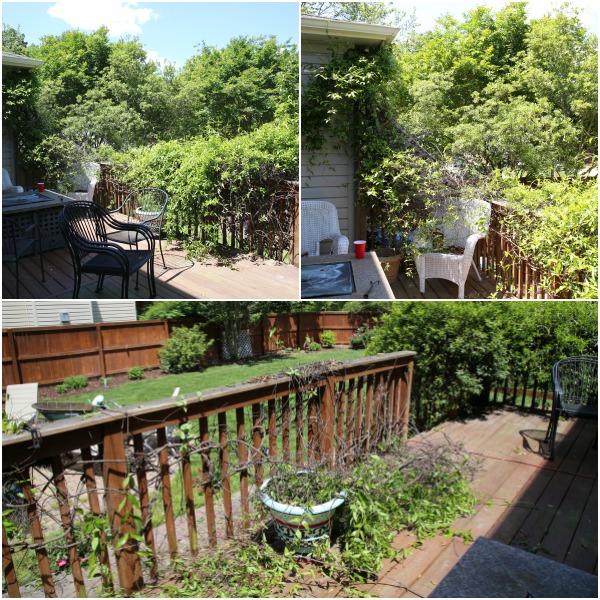 The hedge trimmer cut through them so quickly like a hot knife through butter! It was awesome. Next we tackled the massive forsythia bushes that were spilling over our fence into the neighbor's yard. PS- If your forsythia bushes are in need of trimming, then June is the latest you should trim or you will risk a significant lack of blooms next spring.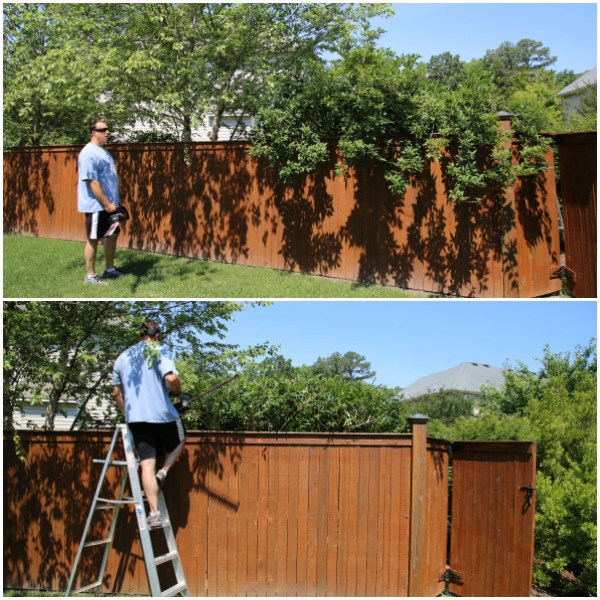 Then it was my turn to trim and onto the front yard we went. The boxwoods received a nicely shaped cut. The trimmer is easy enough for me to handle though it might be a bit heavy for some, especially if you are needing to lift and cut overhead.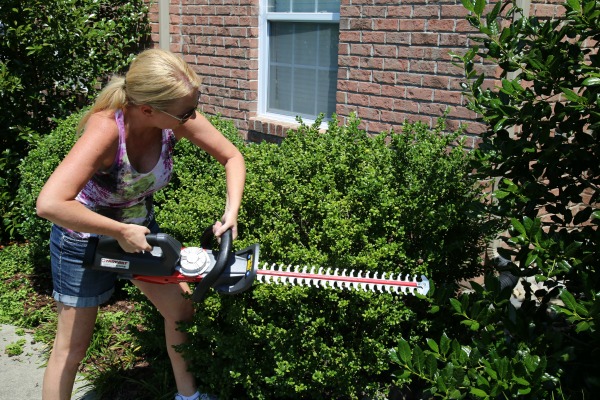 It was quick and easy and so nice to be able to manuever around our yard without any worries of cords. We were able to accomplish so much trimming in such a short amount of time and the power of the hedge trimmer stayed strong. Now for clean up…. 😉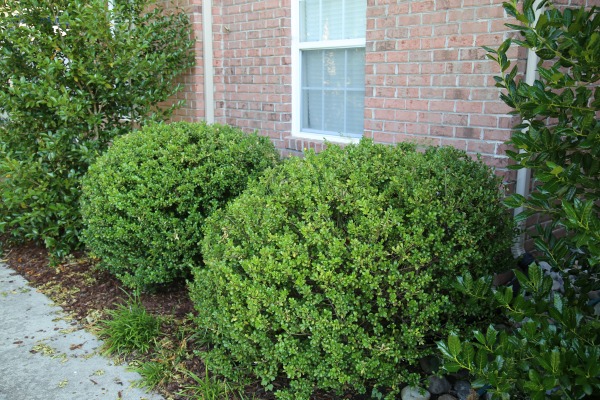 Besides the new hedge trimmer, string trimmer and leaf blower all powered by CORE™, Troy-Bilt has a huge selection of other power tools for your lawn and garden that I know any man (or woman) would love.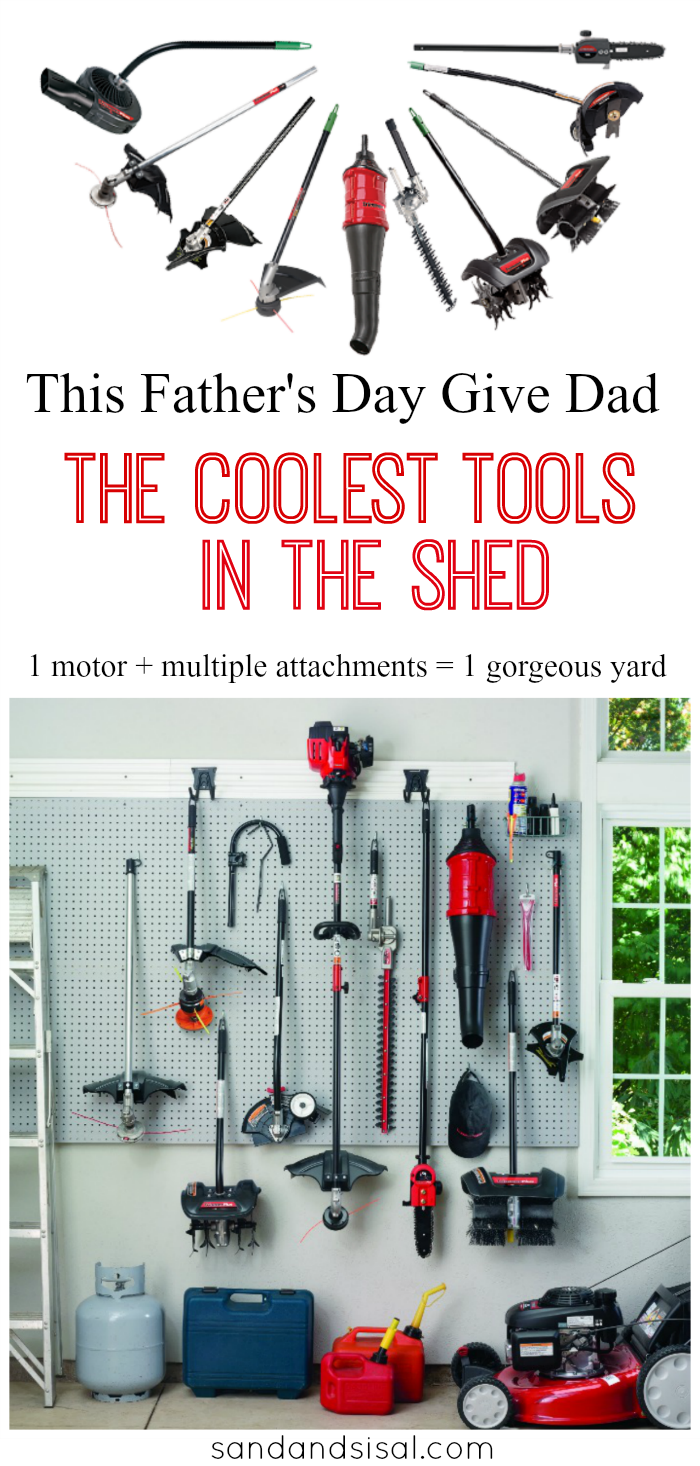 I have several tools from the collection you see above. They are part of the Trimmer Plus collection. It is a trimmer that comes with interchangable attachments, like an edger, power broom, chain saw, hedge trimmer, blower, and more. Click HERE to see my review of each of the tools.
Additionally they also have a large variety of hand tools, shovels, hoes, rakes, loppers, clippers and potting tools. We use our loppers all the time.

All of these tools I've shown today would make a fabulous lawn and garden gift for dad! Both my hubs and I have been very impressed with the quality, power, convenience and ease of use. Also, all CORE tools are backed by a 5 year limited waranty.
You can find the Troy-Bilt powered by CORE™ collection and all these other tools at your nearest Lowes or on TroyBilt.com.
For daily gardening tips and advice from me and the Troy-Bilt team, please follow along with us on social media:
Wishing you all a very Happy Father's Day!
KIM
Disclosure: As a brand ambassordor, this post has been brought to you in sponsorship with Troy-Bilt. All opinions and expressions are my own.