The fun part about my job is that I get to bring you honest reviews of products I love. Our family spends quite a bit of time outdoors and in our yard. Maintaining the yard and landscaping is a weekly chore that I don't mind doing but recently yardwork just got a whole lot easier! I'm excited to share with you The Coolest Tools in the Shed that I know any dad would love for Father's Day and I have a Troy-bilt Garden Tool Gift Package Giveaway just in time for Father's Day too!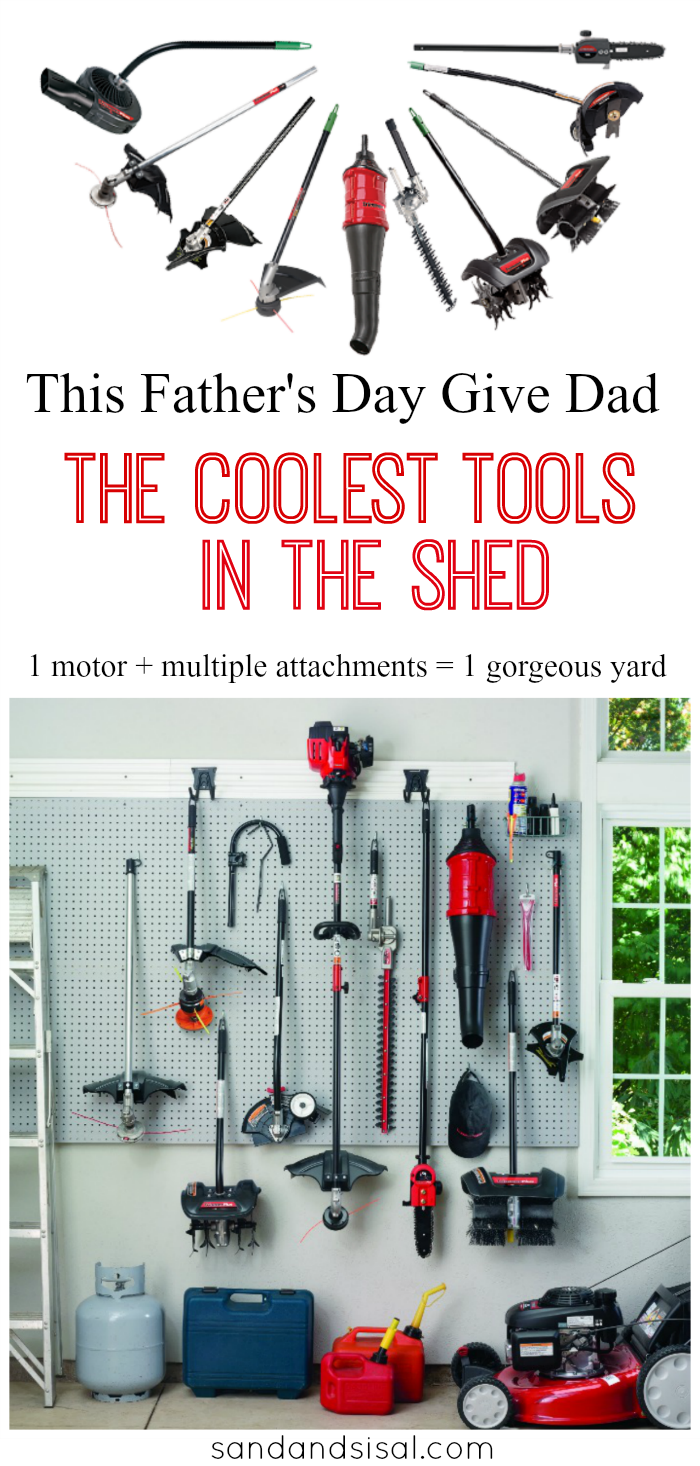 This past March I introduced you all to the Saturday 6 and announced my brand amabassadorship with Troy-Bilt. They have let me try out  and review a few of their power tools for the yard and let me tell you, I was so impressed with the convenience and power of these tools!
The main tool I want to talk about today is the 4-cycle Straight Shaft Gas String Trimmer. The lower half of the trimmer detaches and then you can easily attach on a variety of TrimmerPlus attachments that easily click on. All current and recent Troy-Bilt® 2-cycle and 4-cycle string trimmers are attachment-capable. Which means the trimmers can accept any TrimmerPlus® attachment, allowing you to tackle more chores around the yard without buying a dedicated machine for each task. It comes with a handy support strap which I find very helpful.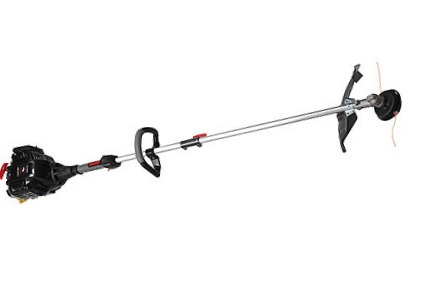 Stop pulling! Squeeze to start! Out of all the tools we have, this little gadget has to be one of my favorites! I love, love, love it! It is the JumpStart™ Lithium-Ion Engine Starter. The most common frustration homeowners have with gas powered yard tools is that they are difficult to start especially for those of us who don't have Thor's Super Hero upper arm strength. I'm constantly begging hubs to start the power tools for me. This gadget eliminates all effort! All you do is insert the starter into the tool's starter port and squeeze the trigger. Voila! In a second, your small engine is revved up and ready to go (and you didn't just pull a tricep muscle in the process)!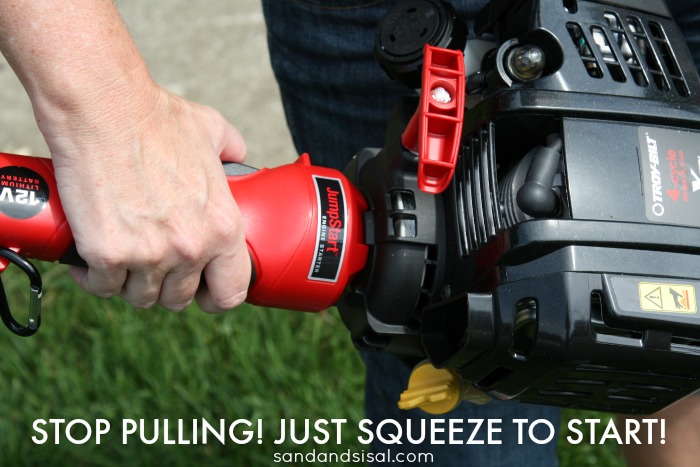 The battery will give you 25 starts between charging. And it charges very quickly too!
Troy-Bilt's Aero-Flex® Glider Trimmer Attachment has to be one of the coolest little inventions. It is a disc that easily glides along the ground which really alleviated any pressure or strain on my arms and back that I normally have with trimmers. It also helps to prevent those accidental yard scalping moments. The glider trimmer attachment also uses flexible nylon cutting blades instead of the normal string.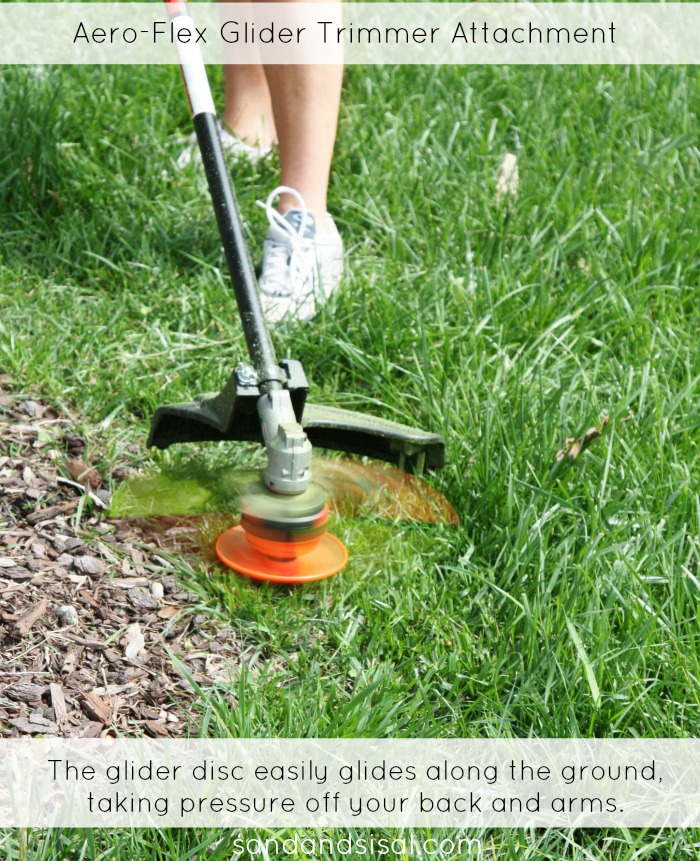 We were really impressed with the power and ease of use of the TrimmerPlus® Lawn Edger Attachment. My husband just kept saying, "This is so cool!" and "Mmm, I like this!". He is very picky and opinionated about his choice of tools. 😉 We own a separate electric edger and it pales in comparison to the TrimmerPlus® Lawn Edger. We were able to edge our entire lawn faster than ever before.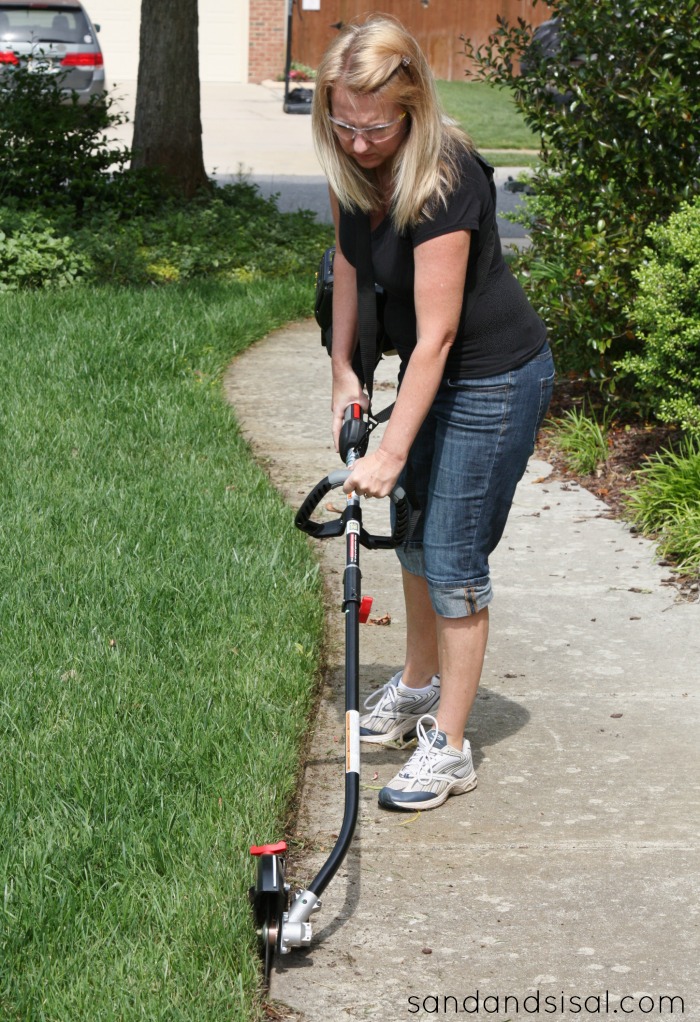 After edging and trimming is when we start the mowing. We have a Troybilt 21″ Rear Wheel Drive Self-Propelled Mower. It is nice and very easy to use! The InStep™ variable-speed transmission naturally adjusts to your walking speed, giving you greater control. I also like that the height adjustment is just one lever instead of two.
We also have a separate blower that is part of our shop vac, but again it is electrical and a pain to use and drag around a cord everywhere. The TrimmerPlus® High Performance Blower Attachment is very powerful and cleaned up my sidewalks and patio in just minutes.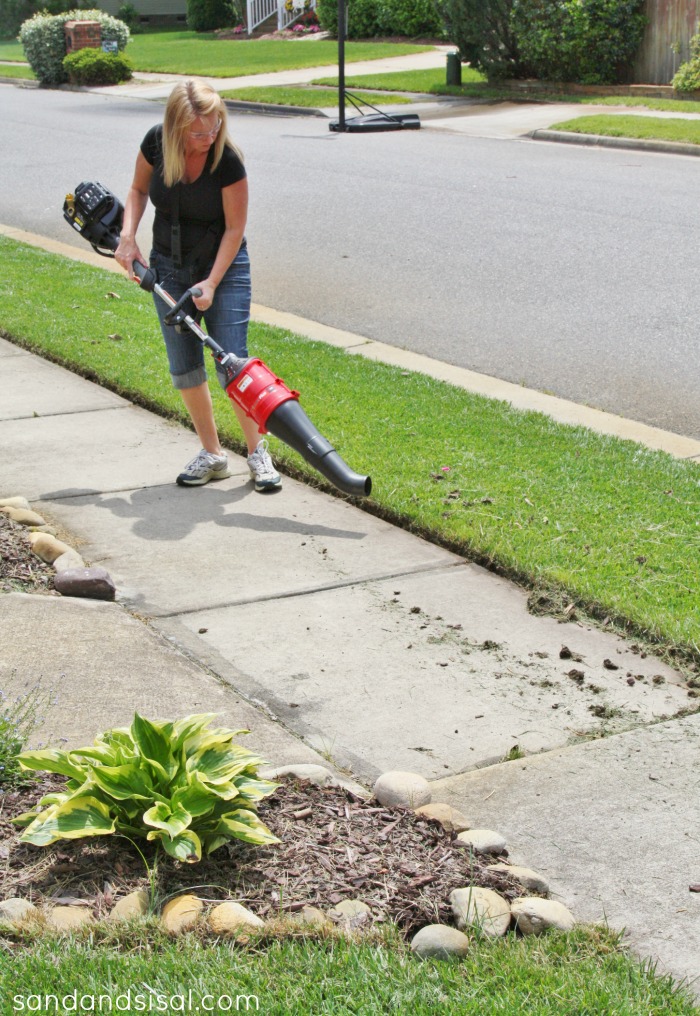 Cleaning up dirt and grime along the street curbs is one of my least favorite job, because by this point in the yard work, I'm exhausted. The TrimmerPlus® Power Broom attachment makes it a breeze! It is great for cleaning up grass clippings and even light snow (if you are in a location that gets snow).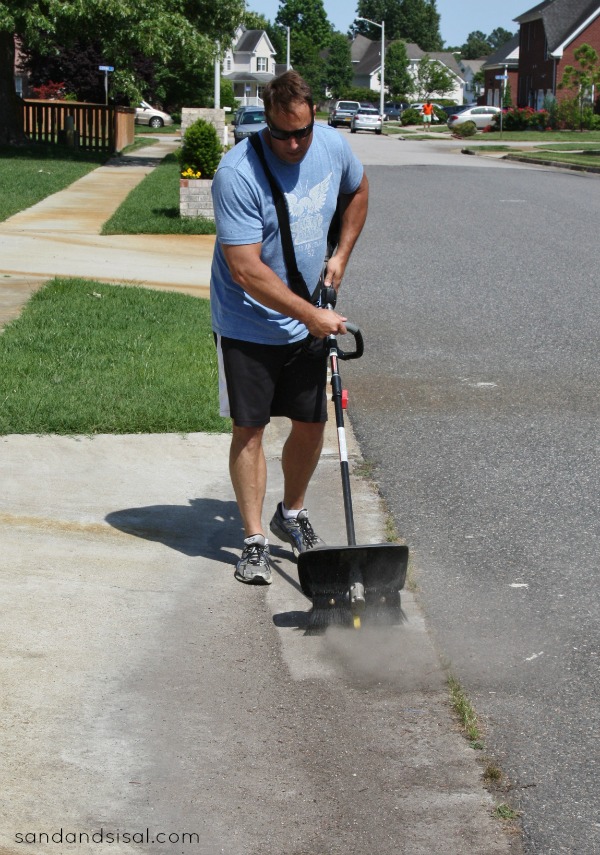 The yard looks gorgeous now and these cool tools from Troy-bilt® helped make it possible.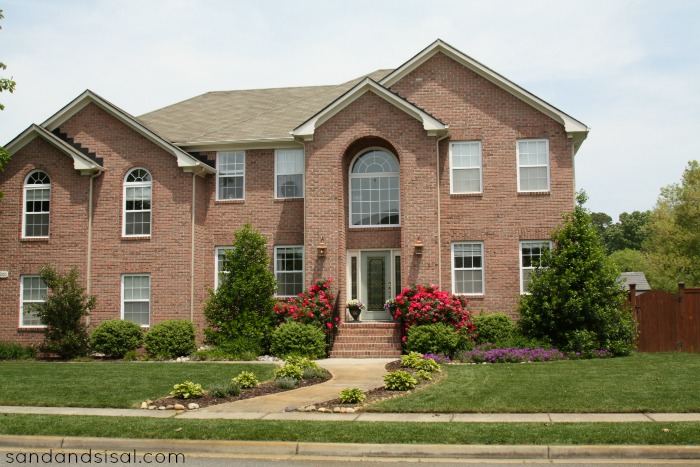 All of these tools would make a fabulous gift idea for dad! Trust me, my hubs was thrilled with these!
Ready for a Troy-bilt Garden Tool Package Giveaway for Father's Day? One lucky winner will receive the following garden tool package of Troy-bilt products listed below (open to USA only):
Comfort Max Anvil Pruners
Comfort Classic Anvil Lopper
Premium Flower Trowel
Premium Planting Trowel
Premium Small Rake

Disclosure: This post has been brought to you in sponsorship with Troy-Bilt. All expressed opinions are my own.