August 10th marks the one year anniversary of our home flood that destroyed our kitchen and familyroom. It also marks the very last nail that I drove into the wall to complete our beautiful Coastal Family Room and Fireplace Makeover! IT IS FINALLY FINISHED! Celebrate with me! I'm so unbelieveably excited to show you the family room and the new DIY wood beam mantel and marble herringbone fireplace that we built ourselves! The room's style is a combination of classic coastal chic with a relaxed vibe of natural, rustic elements, that doesn't take itself to seriously.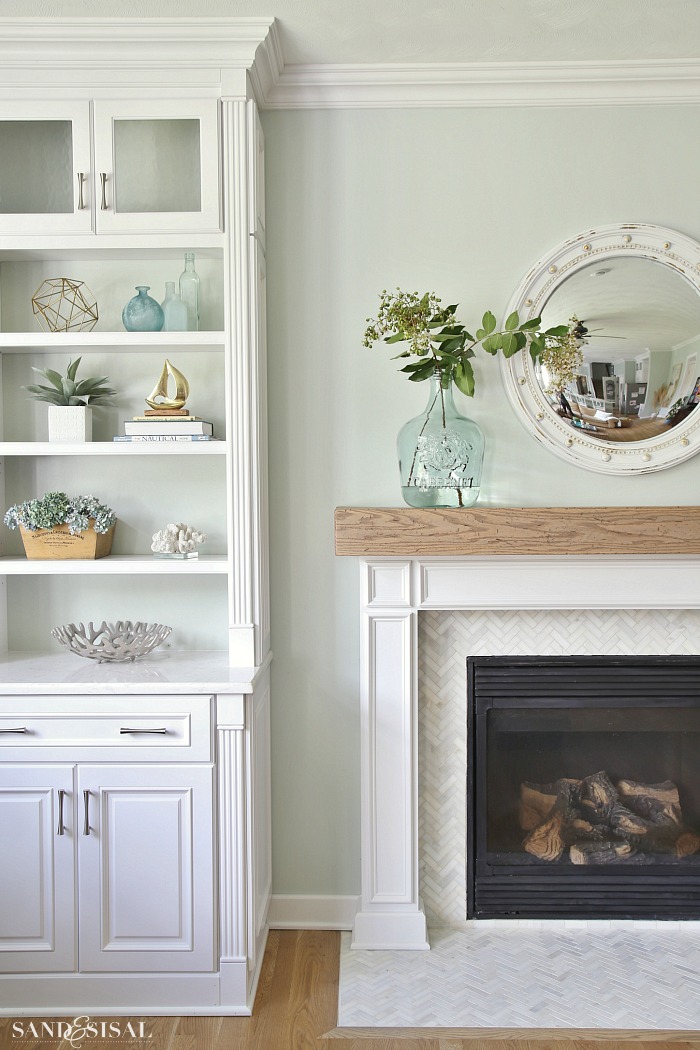 If you forgot, here is a reminder of what the previous fireplace looked like. The fireplace itself was huge. It was not proportional for the room height. The mantel was nearly 6′ tall! I tolerated the brick which I whitewashed the year before, but the overall look of the fireplace was just too traditional and formal for our taste. So we ripped out the brick hearth, mantel, and surround and had our contractor lower the gas insert to floor level.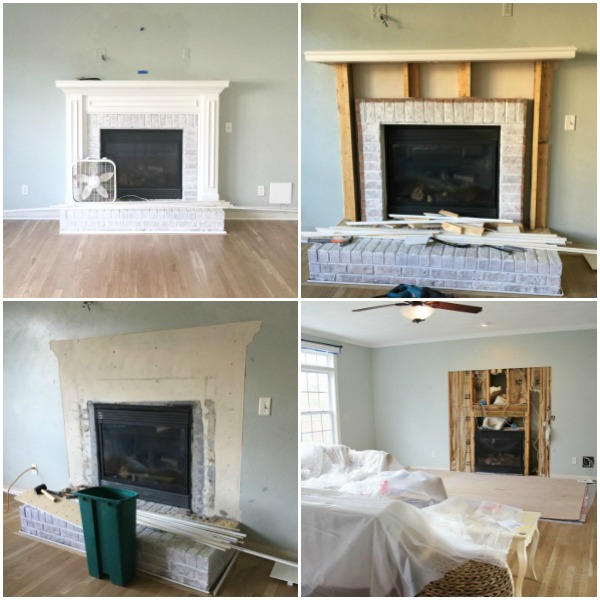 After letting our contractor go… ahem… I decided we could build a fireplace surround and mantel ourselves. I mean why not? They wanted to charge me $1500 for a very plain and traditional looking mantel. Ummm, no… time to get our DIY big girl pants on! So I chose a beautiful marble herringbone tile and got to work. (click the pic below to learn how to install a marble herringbone surround).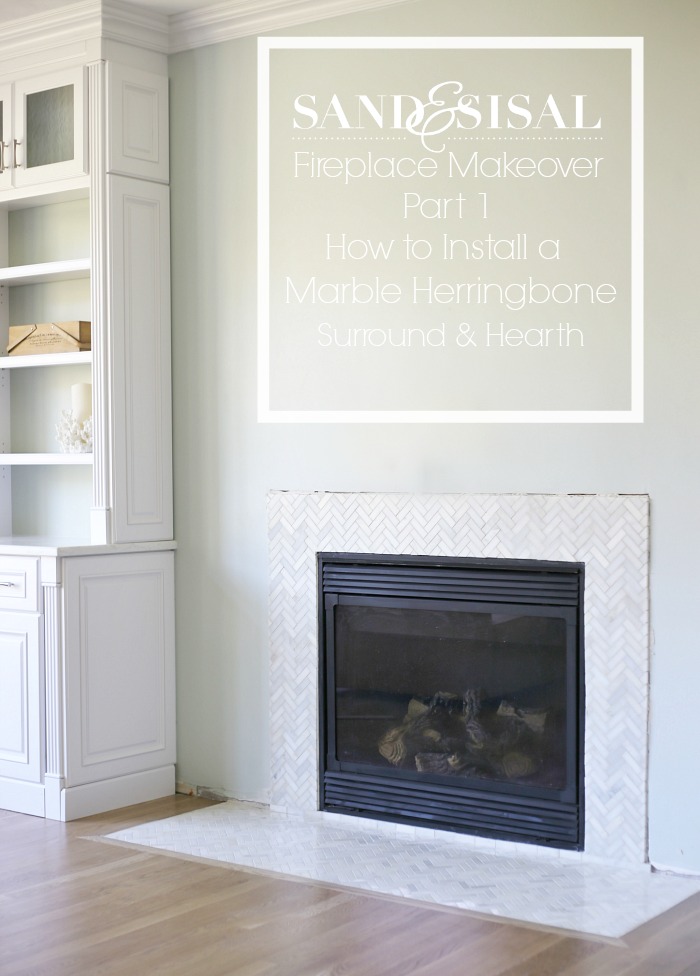 Here it is! I'm in love! We still need a rug, but we're doing a bit of puppy-sitting this summer so I think I'll wait until that is over before I buy a new rug. 😉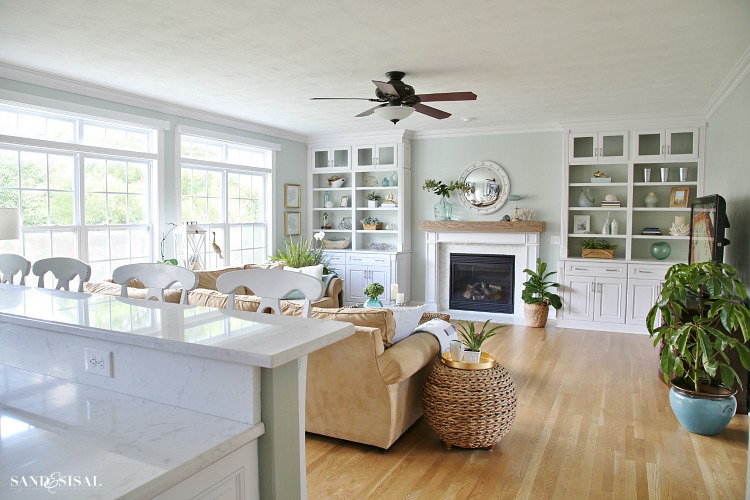 Later this week I will give a full tutorial on how we built the DIY Wood Beam Mantel and the surround but in the meantime this post will simply be lots of eye candy.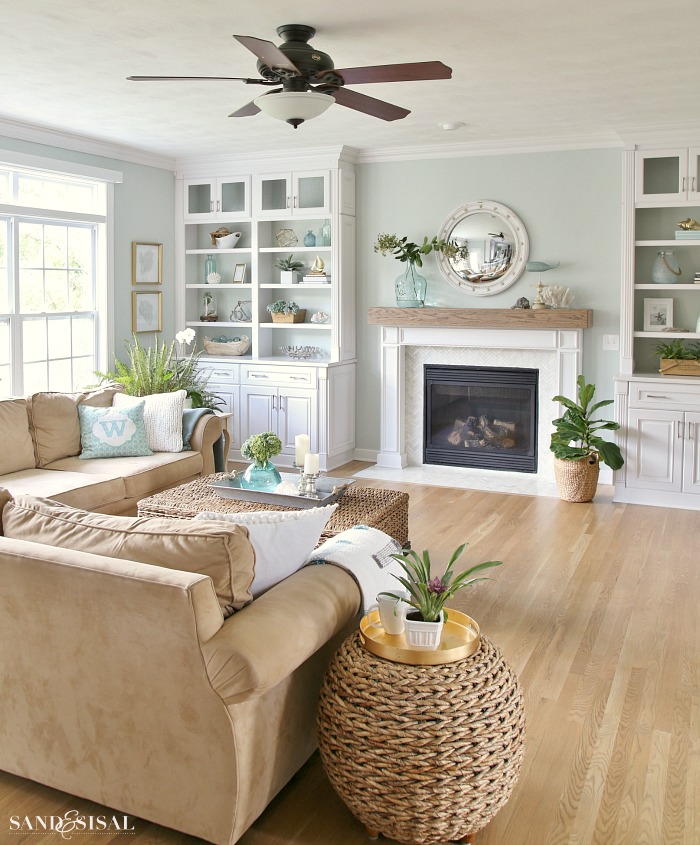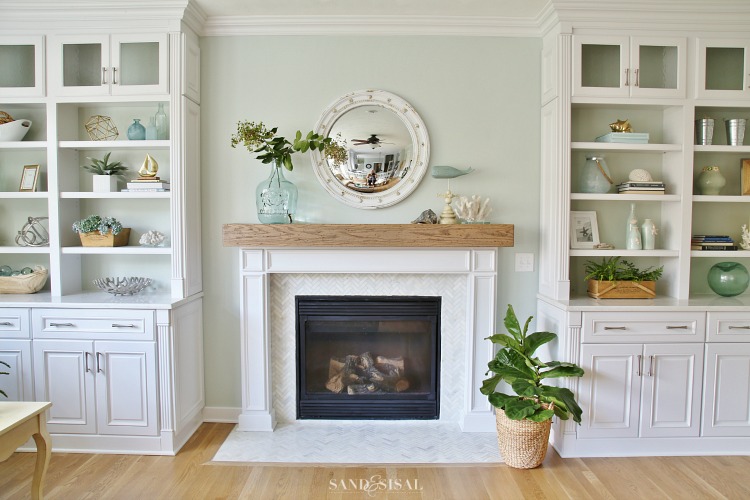 The wood beam is made from red oak, stained with Minwax's Weathered Oak Stain. The fisheye mirror is from Ballard Designs but it was a bit too brassy gold so at the last minute I painted it white and then sanded off the paint to reveal the gold underneath.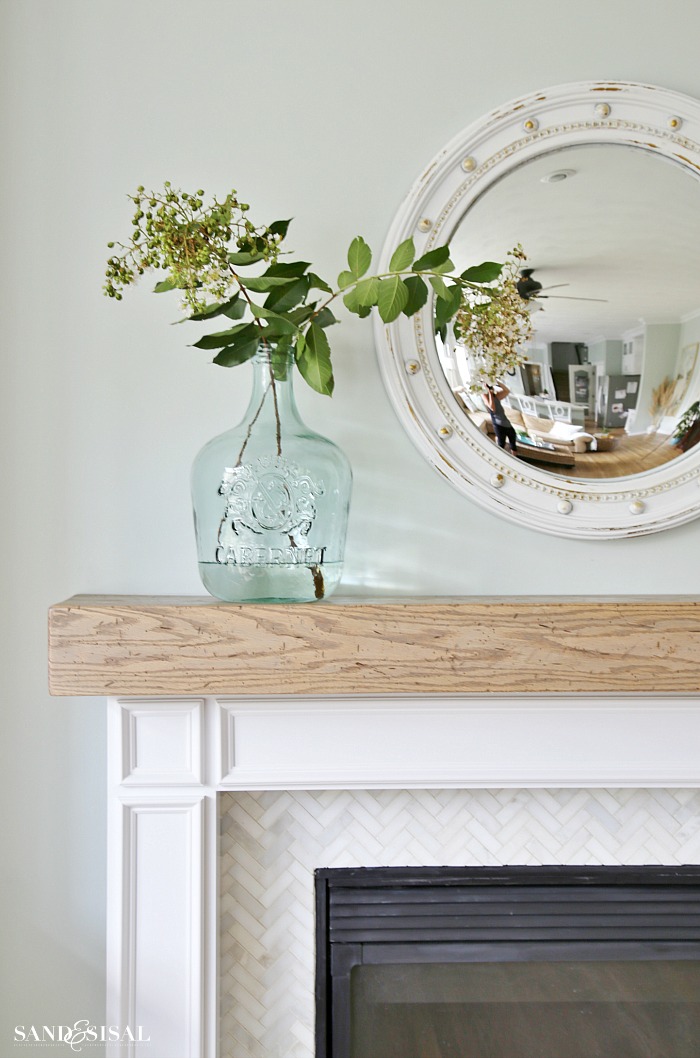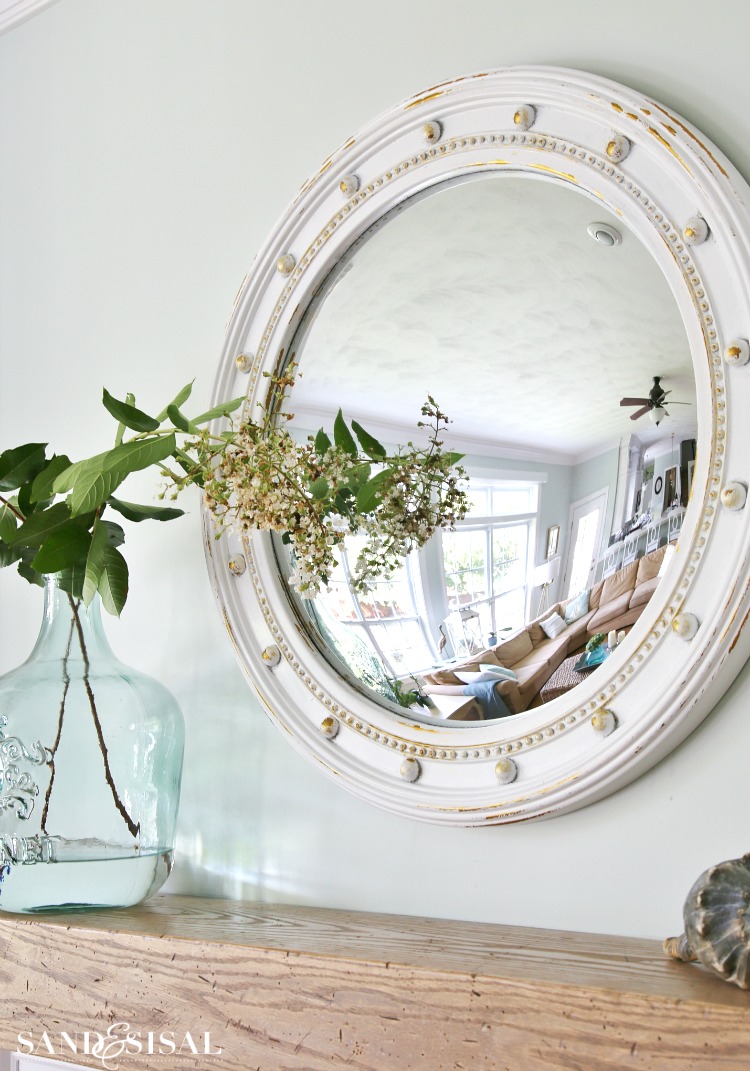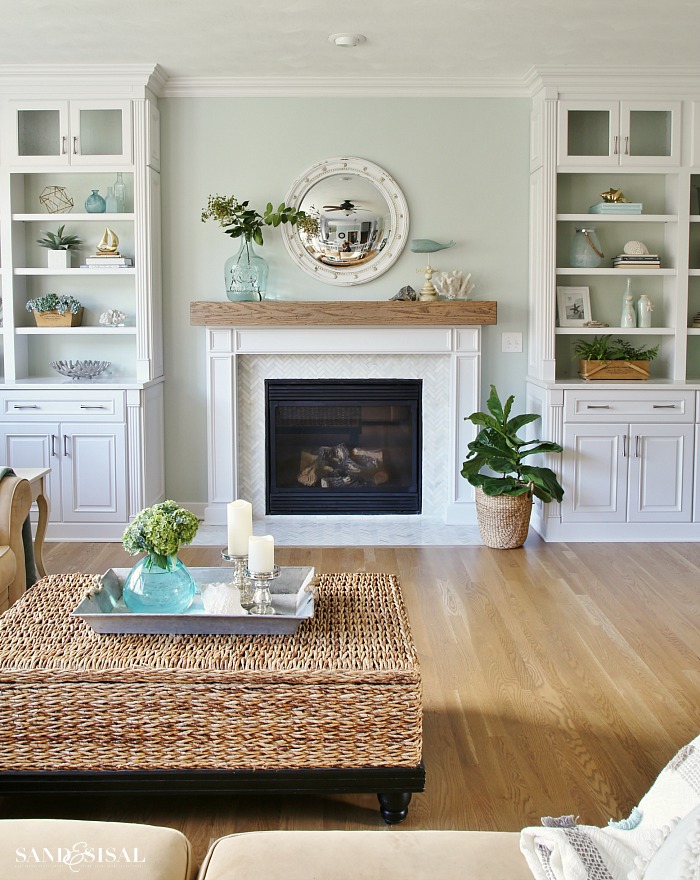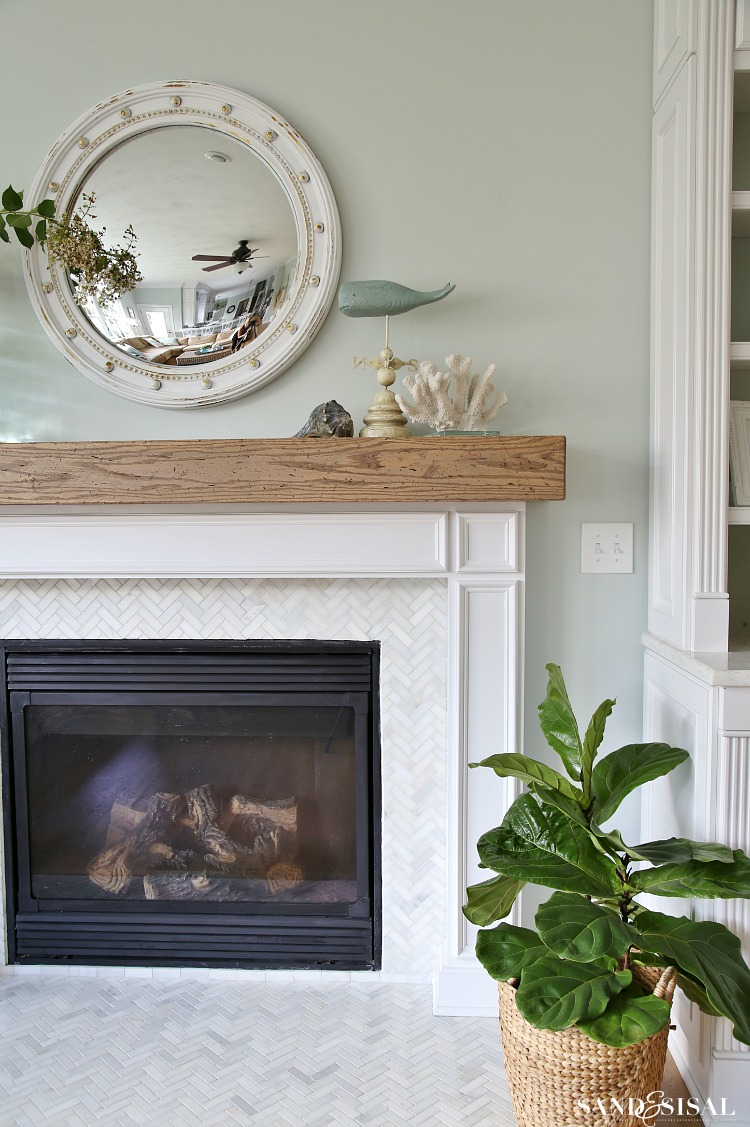 We are thrilled with how our coastal familyroom and built-in bookshelves turned out. I have to give mega kudos to the hubs for making that crown molding look so amazing. We had our cabinet maker paint the backing of the bookcases the same color as the walls: Sea Salt by Sherwin Williams.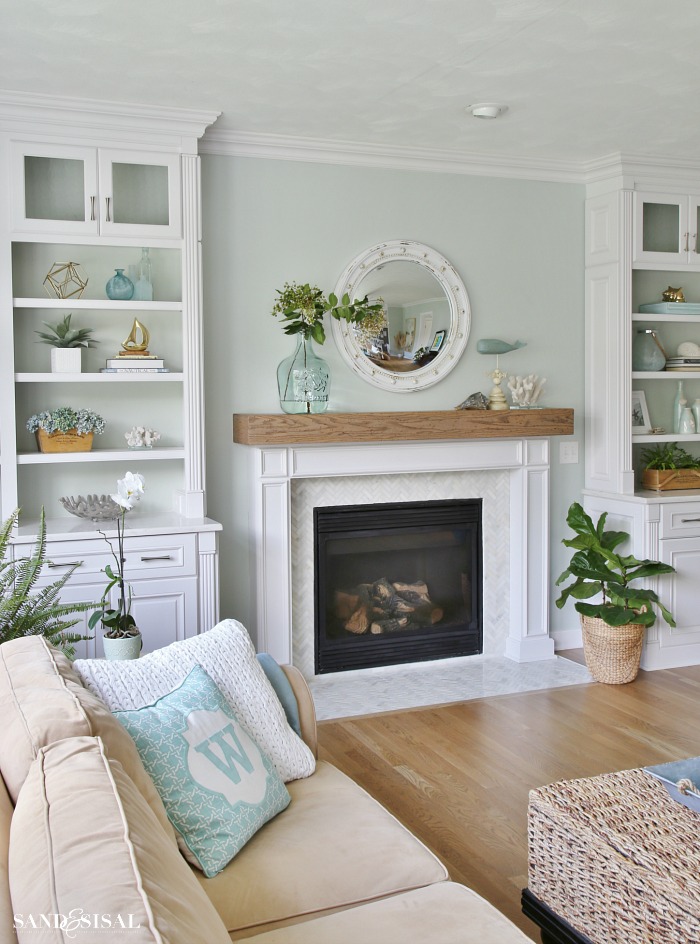 Tonight we are popping the cork on a bottle of champagne and celebrating the END of a very stressful year that brought many tears, hot tempers, frustration, inconvenience, resolution, creativity, design risks, a whole lot of patience and in the end perseverance towards a house that we can completely call OUR OWN!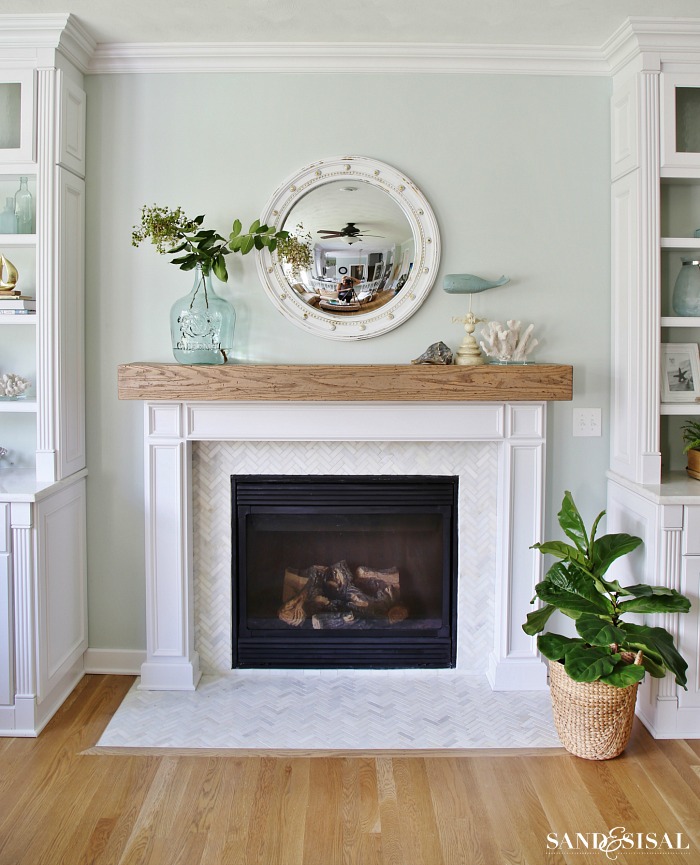 Who knew God would grant me a struggle so that I would learn to trust Him through it all and that the a solution would be more beautiful than I ever imagined! I want to that all of you who have endured this journey with us… all my whining and complaining and to be honest…. neglect of the blog. It's been a hard year but I'm excited to have my home back, better than ever, and start living again without sawdust…. well, maybe just a little less sawdust. 😉
XOXO,
KIM
You might also like related posts: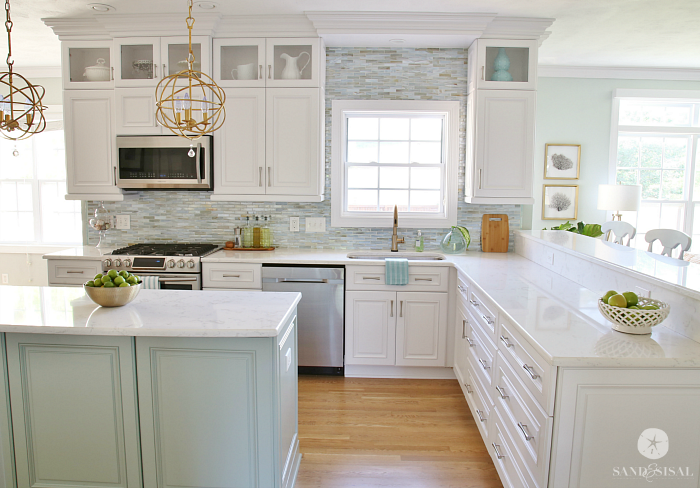 Love this post? Let's keep in touch!
Subscribe for free to have Sand and Sisal delivered straight to your inbox.