Raise a glass with me! Today is the day! I'm so excited I could scream. Today I'm revealing our Coastal Kitchen Makeover! (FINALLY, I hear you say). It's been 10 long months since our dishwasher decided to go rogue in the middle of the night and destroy nearly 1/2 of our first floor level. I won't lie, this has been one of the hardest years of our family's lives, but the results are so amazing and I'm still in disbelief that this is our home! Get ready for a slew of photos my friends!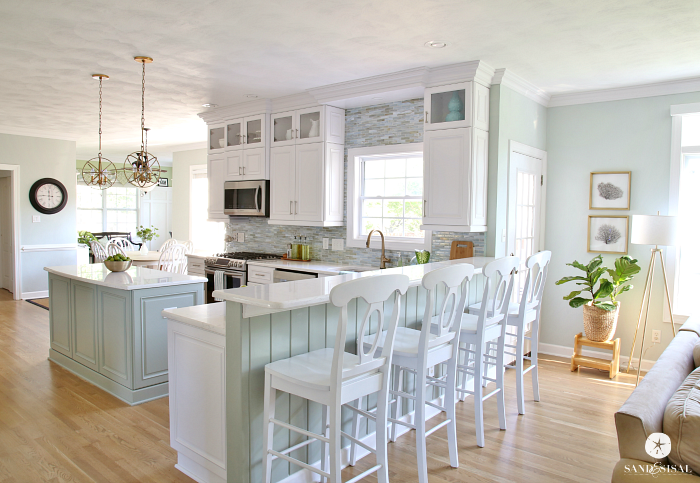 Here's a little reminder of where we were: in complete panic mode. Water half way into our familyroom and under all of our hardwood flooring in the kitchen and eating area. And because our hardwood went under the cabinets, the water restoration people had to rip out everything. Cabinets, counters, hardwood, carpet, padding. It all had to go. I thought my husband would have a heart attack. You can follow the whole "after the flood" and makover journey with the posts at the bottom of this page.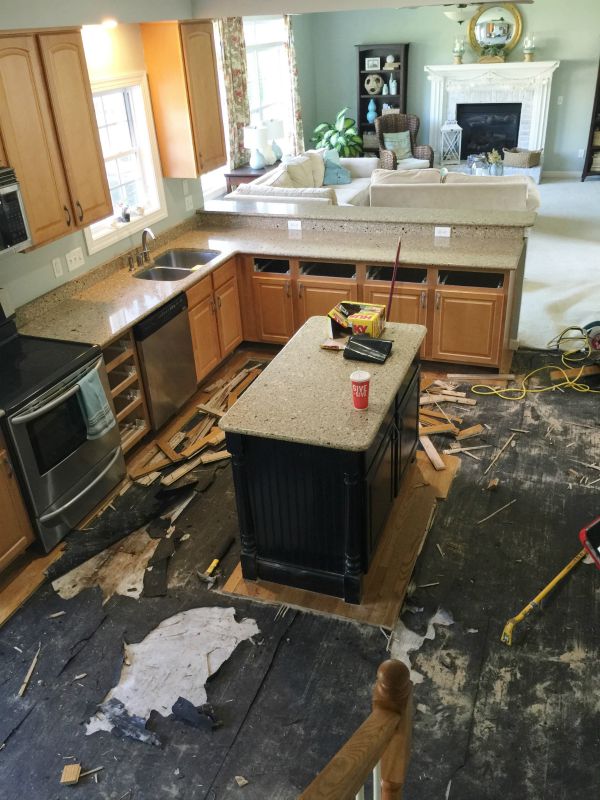 My blood pressure is still too high to write about dealing with home insurance and contractors, but as soon as I can get calm enough without cussing I'll recap all the HARD lessons learned through this awful process. 😉
When you lose everything, then the blessing is that you can start with a clean slate. It was time to make our kitchen the kitchen of my dreams. I created a coastal kitchen design idea board. Putting together all the products you love onto one board or even a Pinterest board is a great way to develop a cohesive design concept.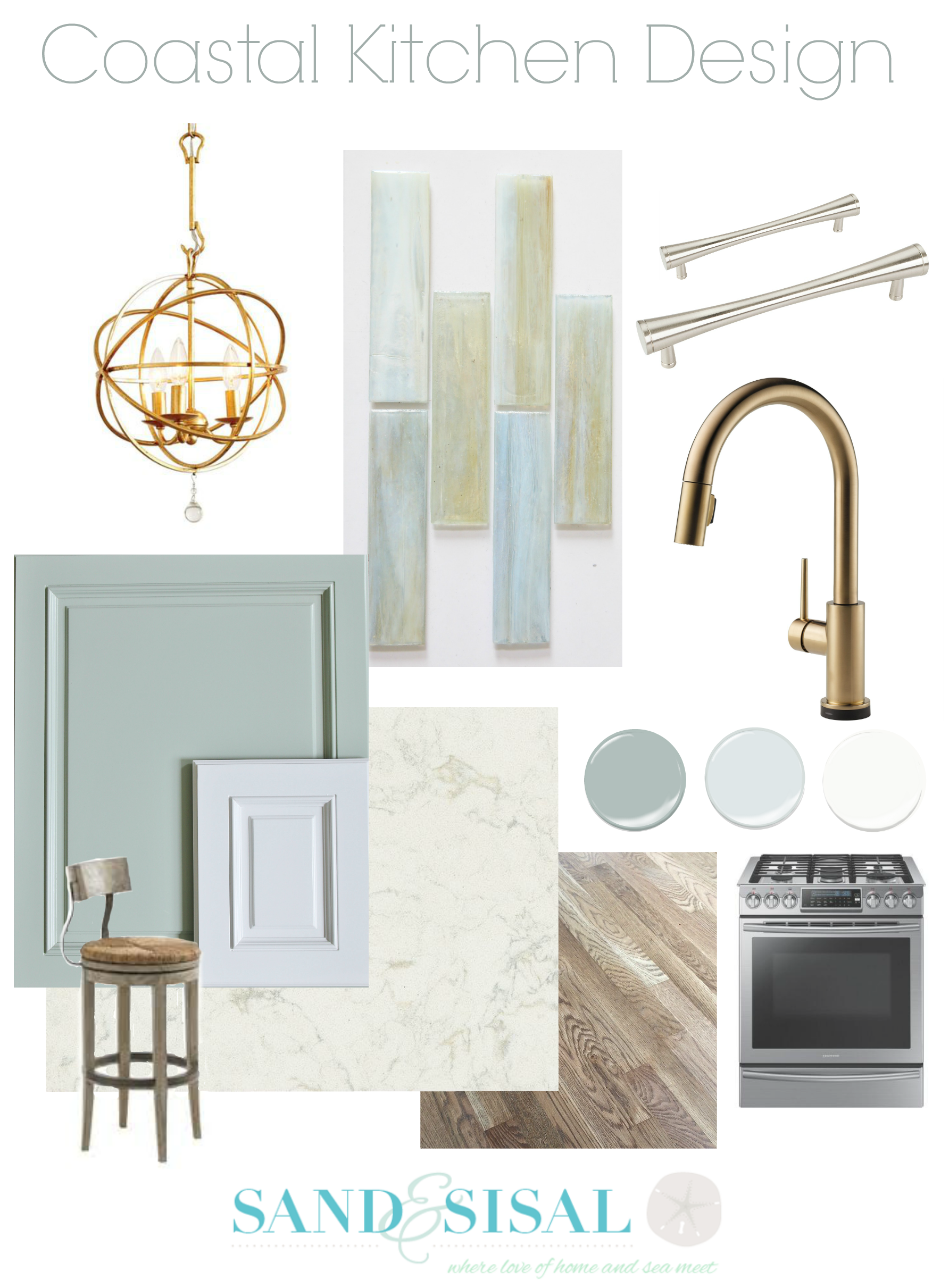 Coastal Kitchen Makeover
Ta-da! The kitchen is exactly what I envisioned.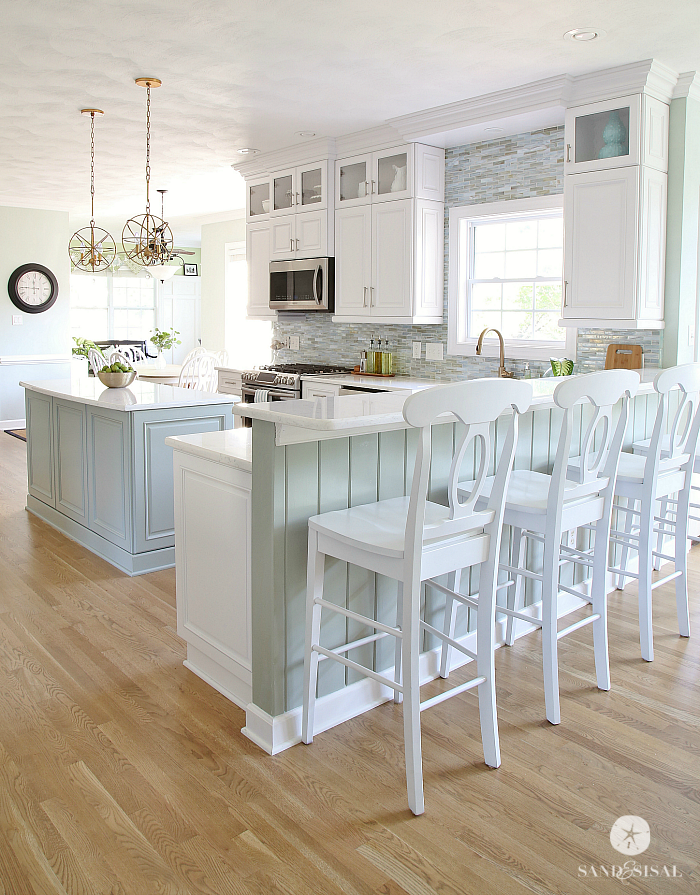 I wanted new stools but they weren't in the budget so we spray painted our old mahogany stools white to match the kitchen. We found the stools at Overstock.com several years ago, but I'm pretty sure they still carry them.
The coastal backsplash is tile from Lunada Bay Tile. The color is Agate Lucca Pearl 1×4 Brick. The color of the tile is a marbled swirl of seaglass blues, greens, and gold, topped with a subtle pearl iridescent glazed finish. It is absolutely stunning in person. I wish the camera could capture the iridescence better.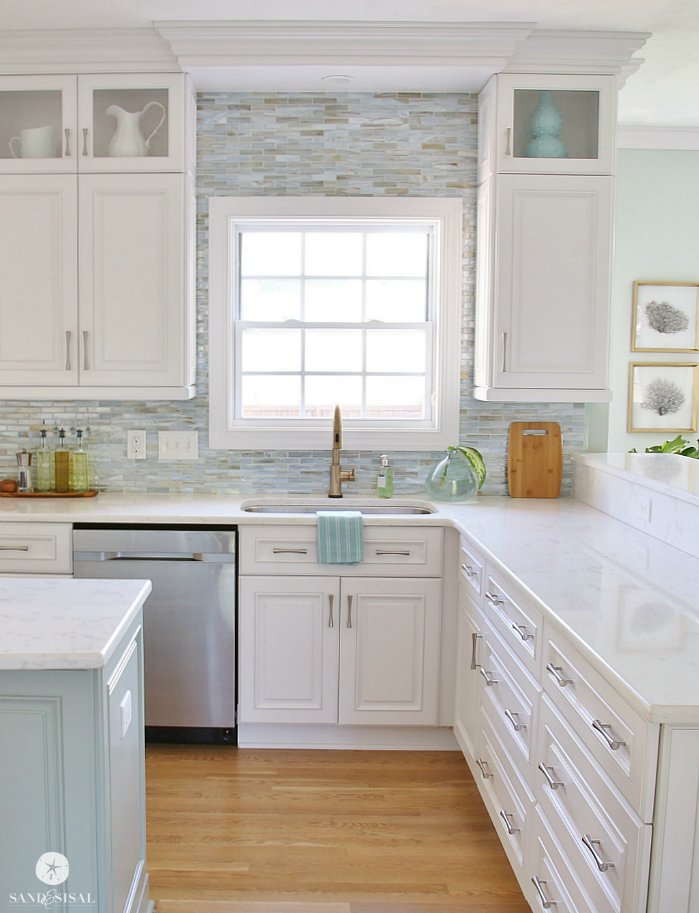 This faucet has been sitting under my bed for the past 3 years. I kid you not! I was a Delta Faucet Blogger back in 2013 and chose this gorgeous Trinsic Touch Faucet in Champagne Bronze. The reemergence of muted bronze and gold tones were just starting to pop up onto the style scene. My personal style is not a "matchy-match" kind of style. Call me a bit of a traditional ruler breaker. I love mixing metals. When it is done correctly, mixing metals can give a room a more intersting, creative, and vibrant energy that people can't quite put their finger on. This faucet is a game changer in the kitchen. My family LOVE's it. Tap on- tap off… awesome.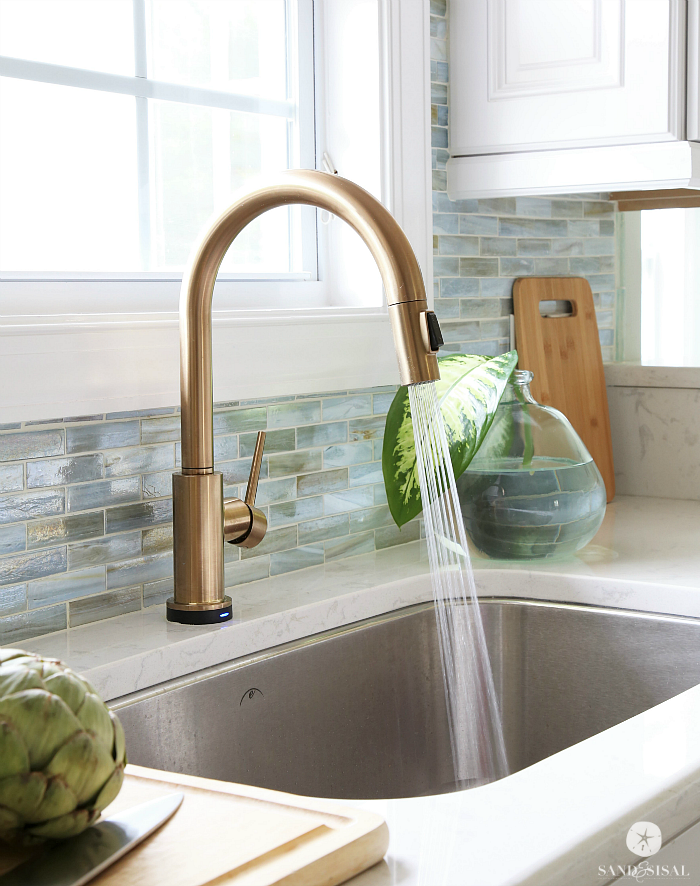 Our cabinets were all custom built from a local custom cabinet company. There are 3 different sizes of hardware I'm using in my kitchen and family room cabinets. Our hardware was provided through our cabinet company and it's called Elements Sedona Collection in Brushed Nickel.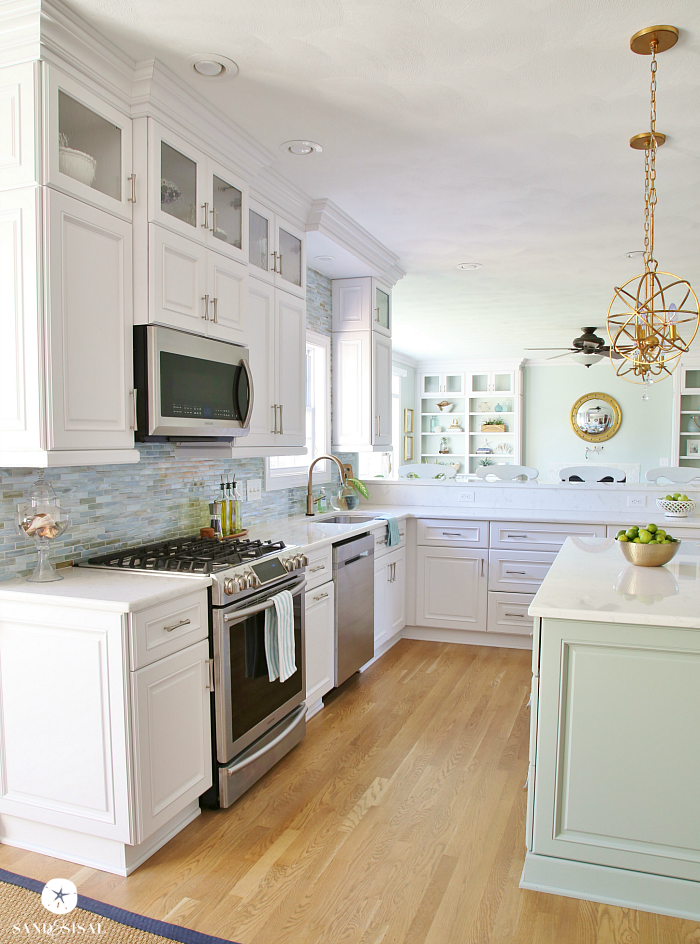 Our overhead lighting was all redone and the 2 Gold Orb Pendants over the bar are by Ballard Designs. They repeat the gold tone of the faucet, the warm weathered oak floors and the gold in the tile backsplash. Gold accents are then brought into and throughout the family room also. What girl does need a little bling in the kitchen? After all this flood drama… I think I deserve it.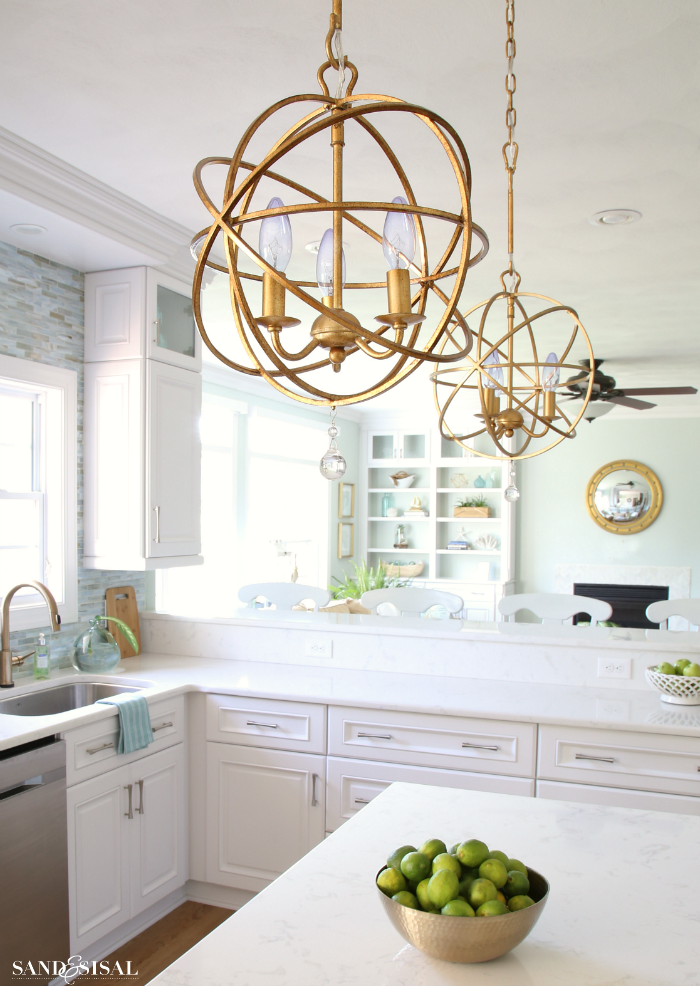 The counter tops are Cambria Quartz (which we had before but in a different color). This beautiful white quartz is called "Torquay". It looks like marble but is so much stronger, non-porous and does not need any maintenance.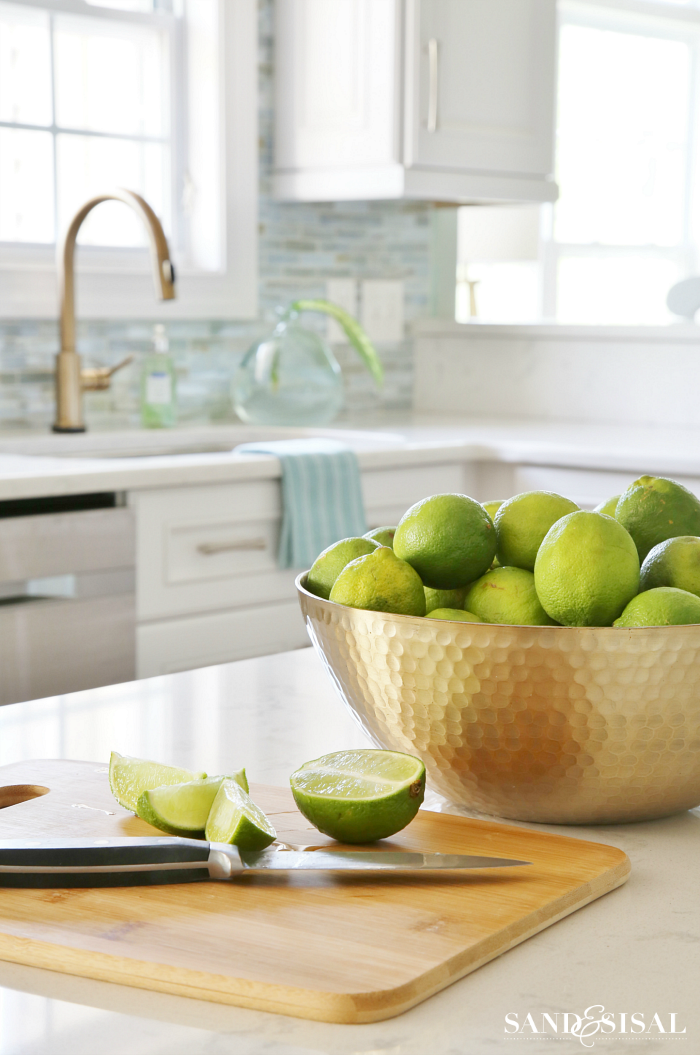 The paint colors in the kitchen are the following:
kitchen walls- Sherwin Williams Comfort Gray
family room walls – Sherwin Williams Sea Salt
white cabinets – Sherwin Williams (custom white color) but closest would be Extra White
island and tongue & groove peninsula color – Sherwin Williams Oyster Bay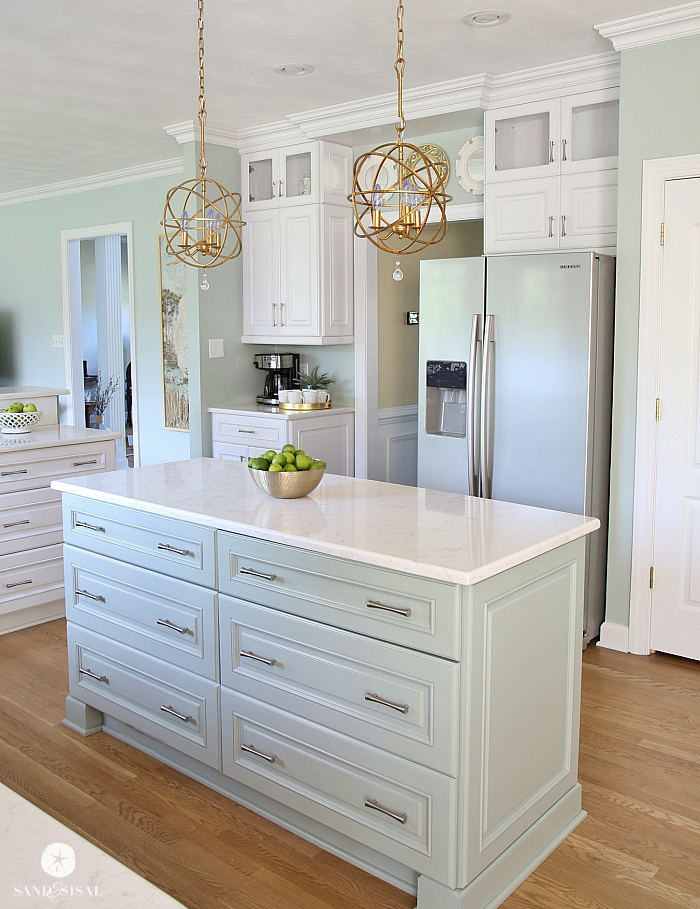 I chose almost all deep drawers for our base cabinets. My mom's home has deep drawers and they are so much easier to use and seem to store so much more. We ripped out all of the existing soffits and added upper glass cabinets and a new upper and lower cabinet in the corner. This area once was an empty and wasted space but now serves our little coffee station.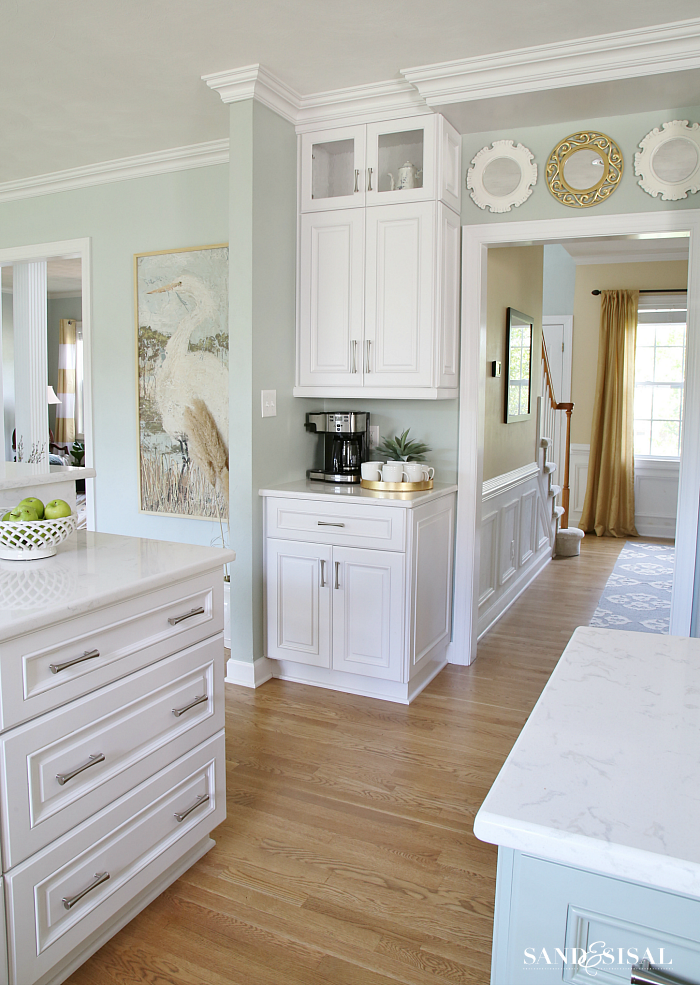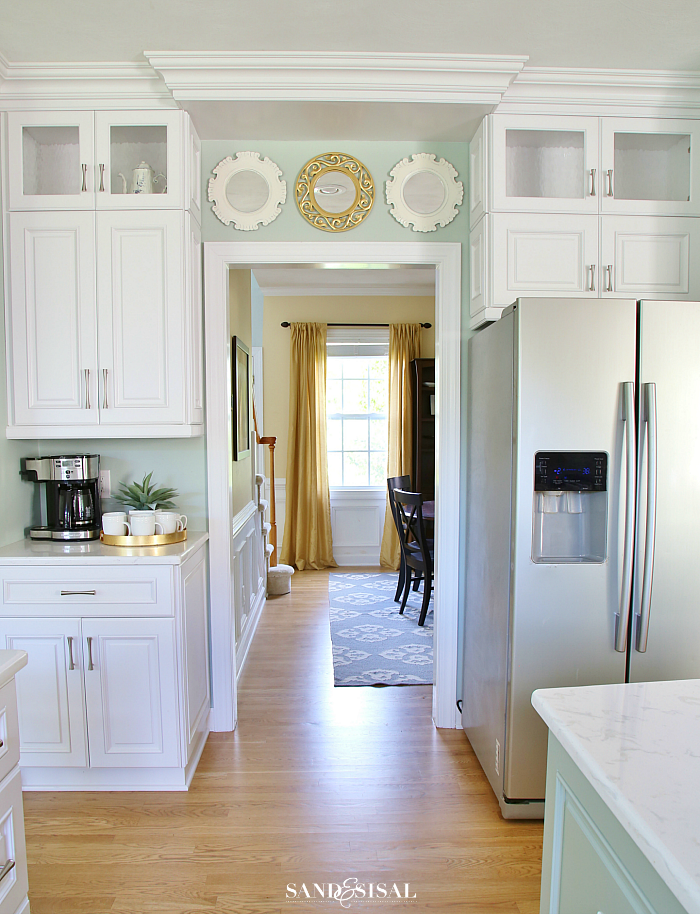 New appliances were a must. Previously we had only electric, but converted over to a gorgeous gas range by Samsung with matching microwave.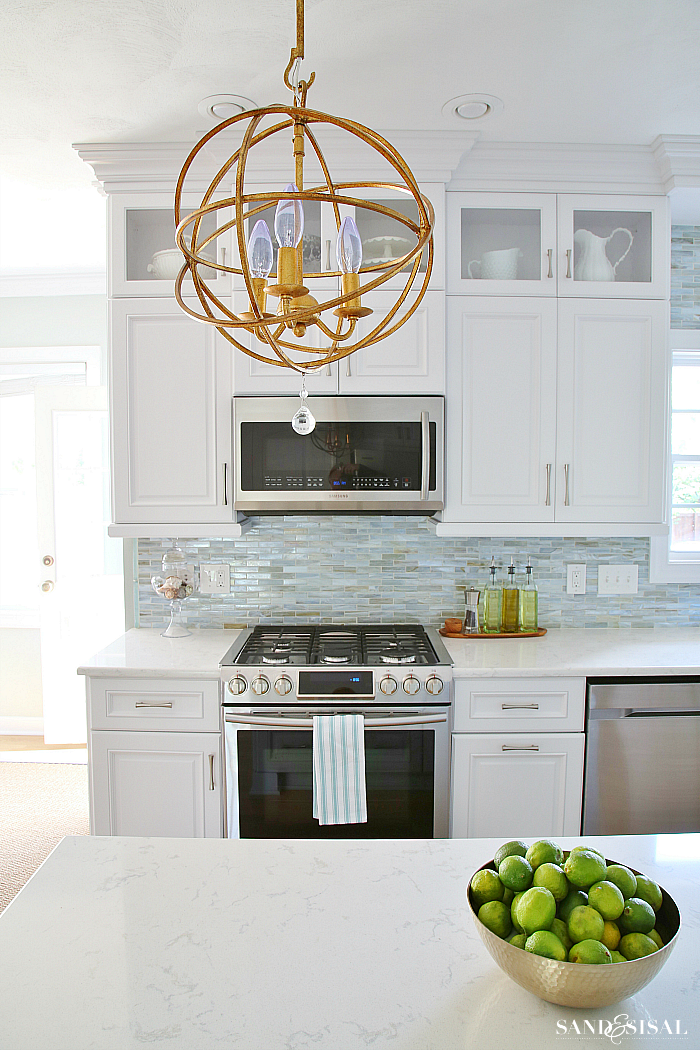 The bad boy dishwasher that caused all of our nightmares was replaced by a new Samsung Waterwall dishwasher. I LOVE IT! It is whisper soft but I'm still watching him out of the corner of my eye. 😉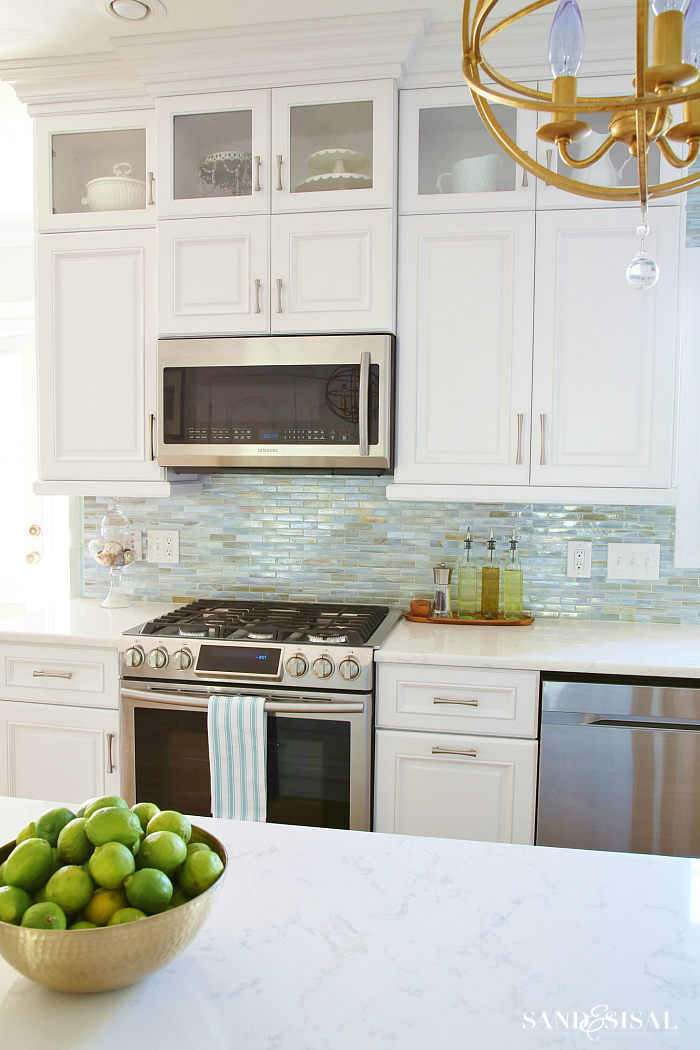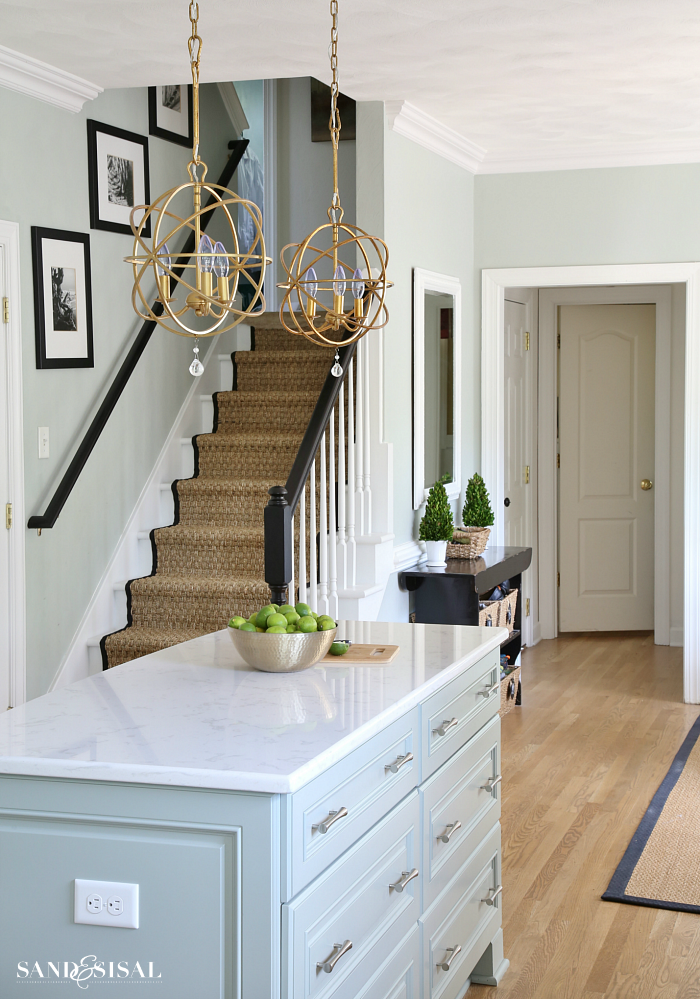 All of the upper cabinets have under cabinet lighting and the glass uppers have LED strip tape lighting.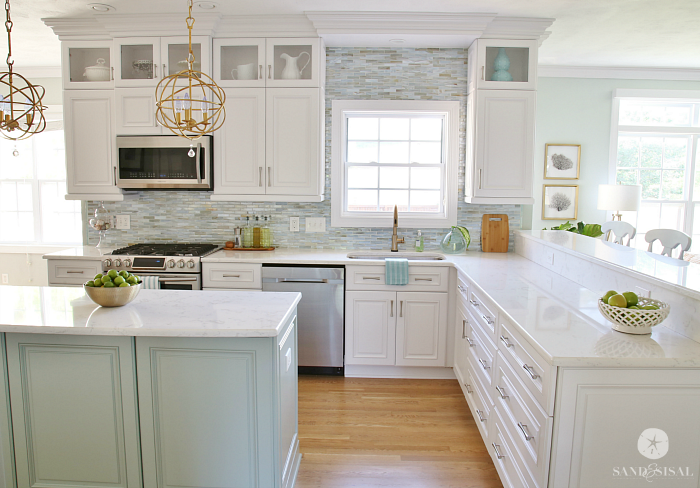 We had to let our contractor go and so the last month has been Alan and I finishing all the crown molding and trim work ourselves. The last thing to do is to build a mantel in the family room. Which we hope to finish in the next few weeks and then I'll show off the family room, though you can see a sneaky peek of it here.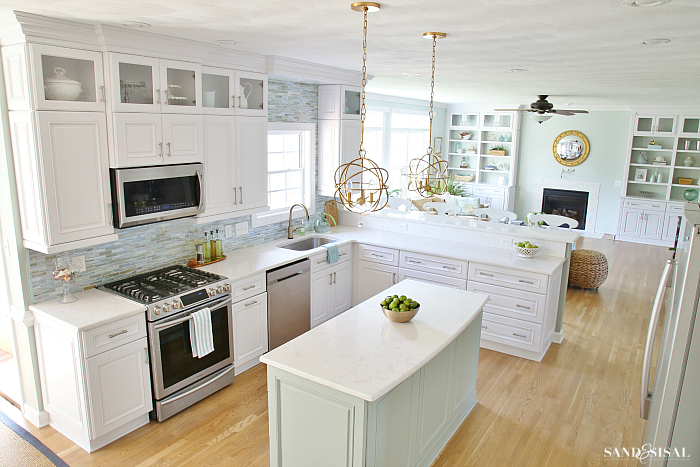 Over all we couldn't be more thrilled with the results. I hope you like it as much as I do!
You know you've made the right design choices when you walk into the space, exhale and say, "This is me. I am HOME."
Love this post? Pin it for later!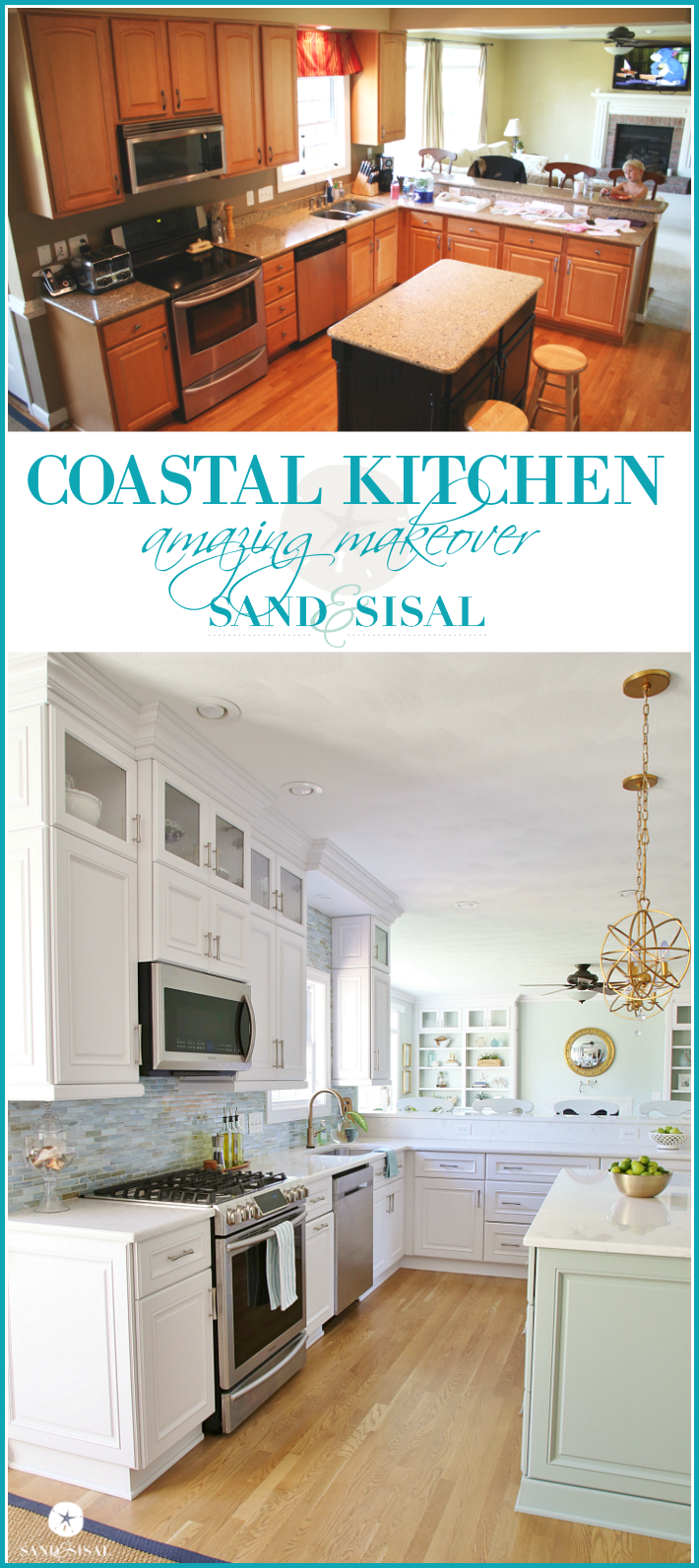 Catch up on the whole flood fiasco & our kitchen renovation progress with these posts: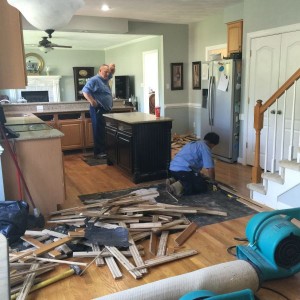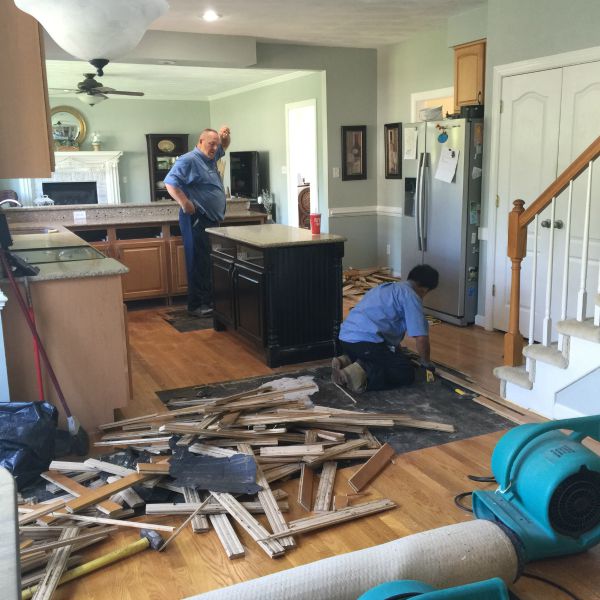 After the Flood – Preparing and Installing Hardwood Floors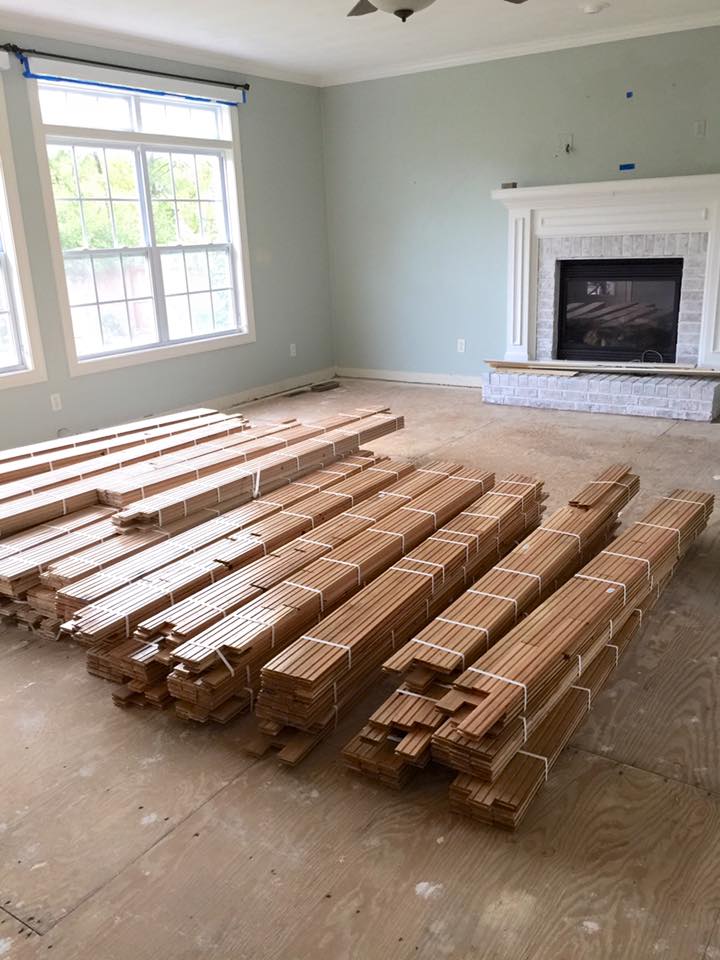 Choosing Hardwood Floor Stains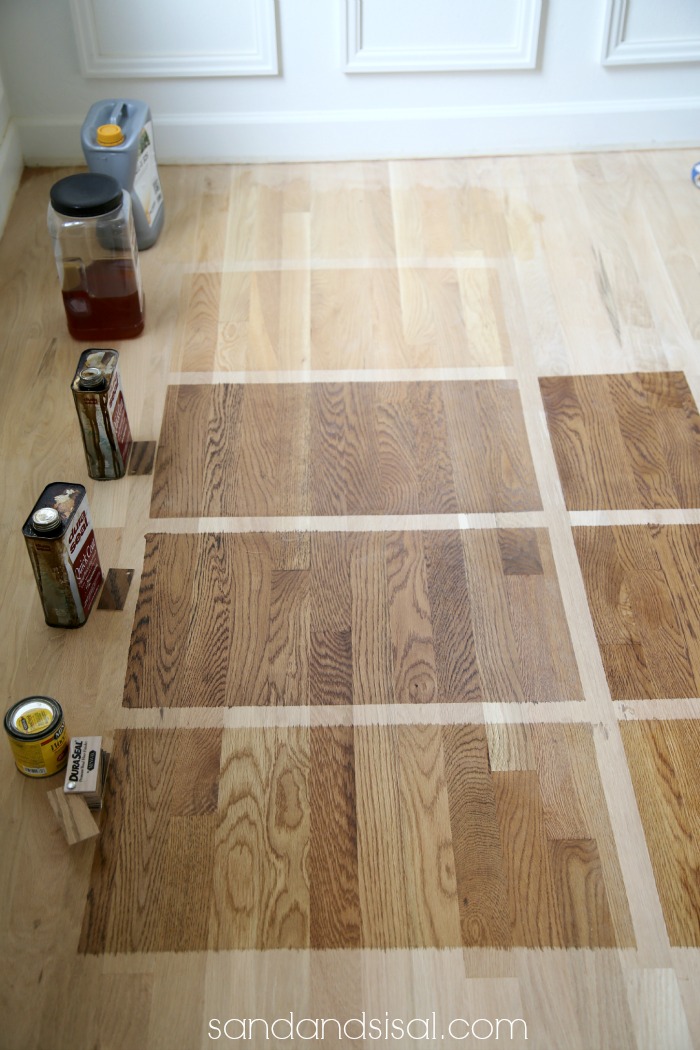 Weathered Oak Floor Reveal + More Demo {After the Flood Update}
Our Coastal Kitchen Design Board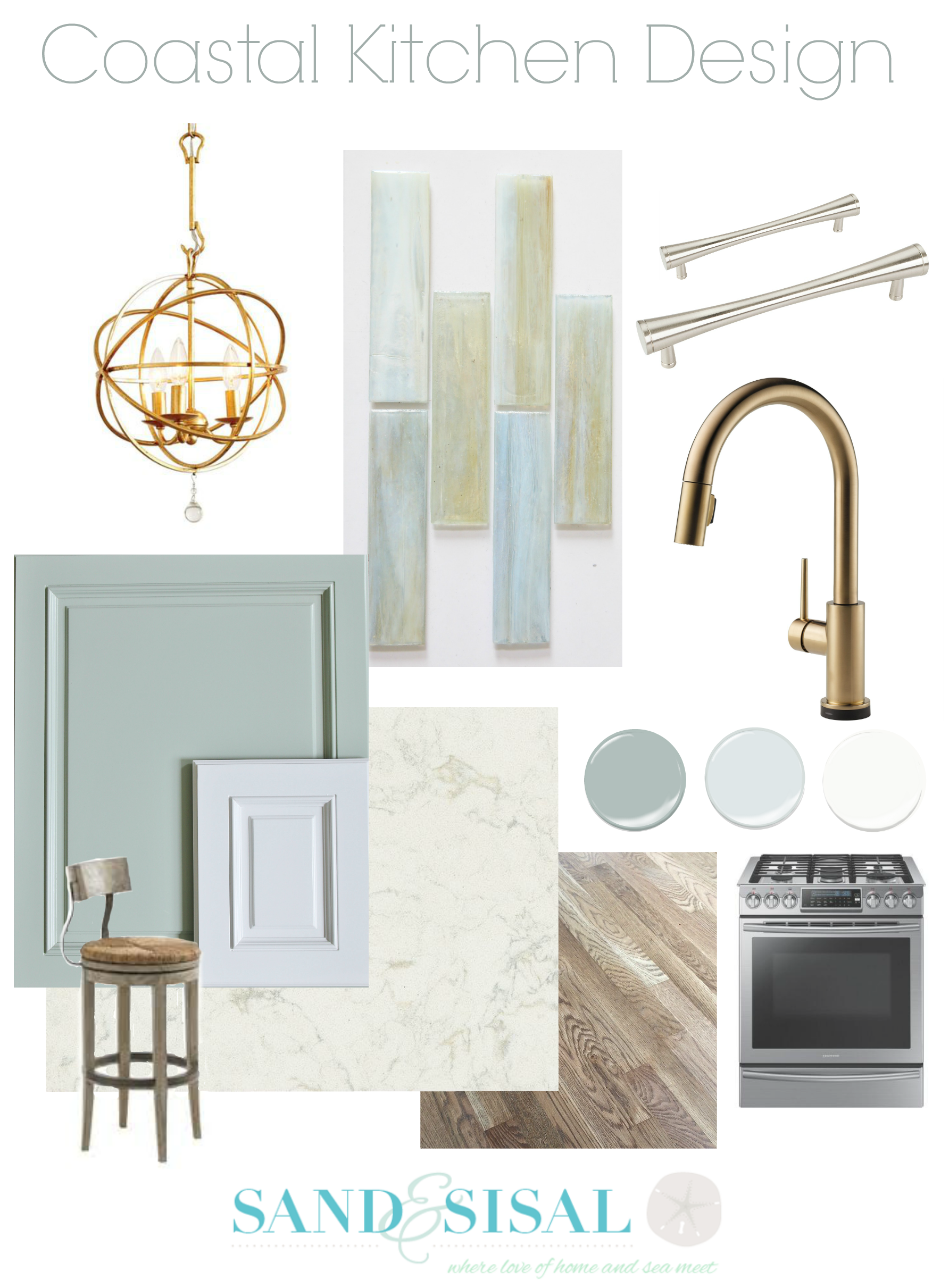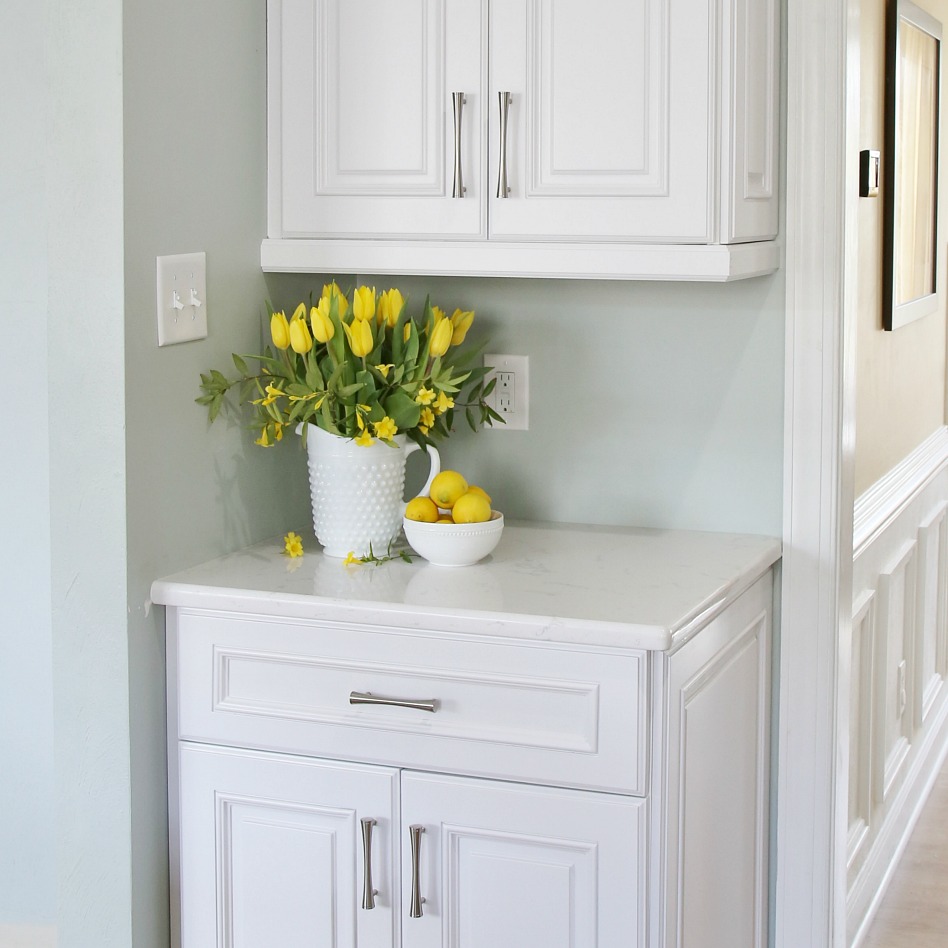 KIM