Are you kidding me? How can one little appliance cause so much havoc in my home? It started like this… walk with me now. Stumble down those stairs. (I am NOT a morning girl all bright-eyed and bushy tailed). I have one focus: Get to the Mr. Coffee machine each morning like a worm escaping a hot southern sidewalk… fast.
Hubs and I are actually coming down the steps together this morning. This is a rare moment because he leaves early and I try to stay in bed for as long as possible until the "you'd better wake up before those teenagers do" thoughts come flooding into my subconscious.
On automatic pilot, we both head directly to the coffee machine and then I see it…
a watery big pond.
Ahh, ponds are pretty. Except this one is in my FREAKIN' KITCHEN!
I gasped. Ok, I kinda screamed. I was like,"Ahhhg!"
Hubs was like, "What the %$ll ?" (Remember we both have not had our coffee yet.)
The water was pooling in front of our dishwasher, the sink, the stove…
around the island and around the bar, and then some…(we'll get to that in a second.)
We dash upstairs to grab every beach towel we can find (10 towels total I think… I lost track) and spread them, sop them, wring them out and drag them across the kitchen solid oak hardwood floors. THIS IS NOT HAPPENING is what was running though my caffine deprieved brain. HOW did this happen? We rip open the cupboard under the sink to check for a leak. The dishwasher maybe?
Exhale. After a bit the kitchen is sopped up. Time to look around. What are those wet spots across the room? Wetness was showing up on the kitchen dining area rug. I pulled back the rug to find water seeping upward through the hard wood joints. This meant that the water was running between the wood and the subfloor and traveling across the kitchen. (Sigh).  By this point I've got to sit down and rest a second.
I step into the adjoining familyroom.
SQUISH, SPLASH, Noooooooooo!
About a third of our large family room was drenched. I wanted to cry. Someone give me a cup of coffee now because I can't deal with this.
The next 12 hours were spent using my Bissel steam cleaner to suck up gallons upon gallons of water out of the carpet. By 10pm you would have thought that I had made some headway, but no. The carpet still felt like we were walking on a soaking wet sponge. It was time to pull the carpet back and remove the sopping wet padding.
You do not want to know what exists under that padding. Trust me. It's disgusting. It makes me want to remove all carpet entirely from our home.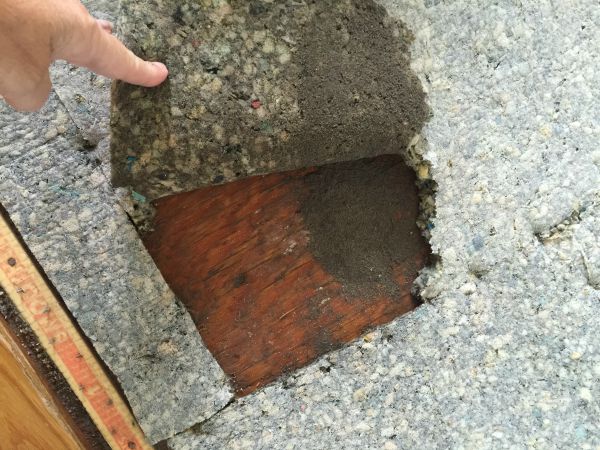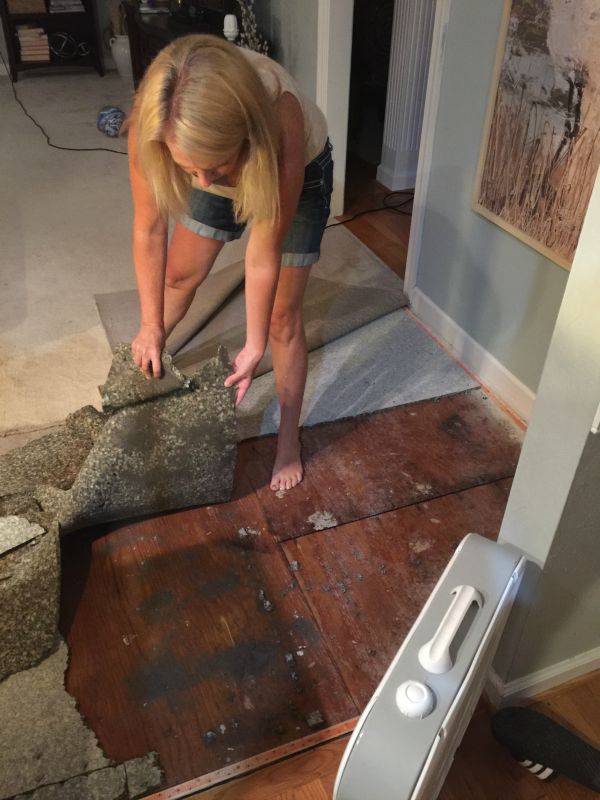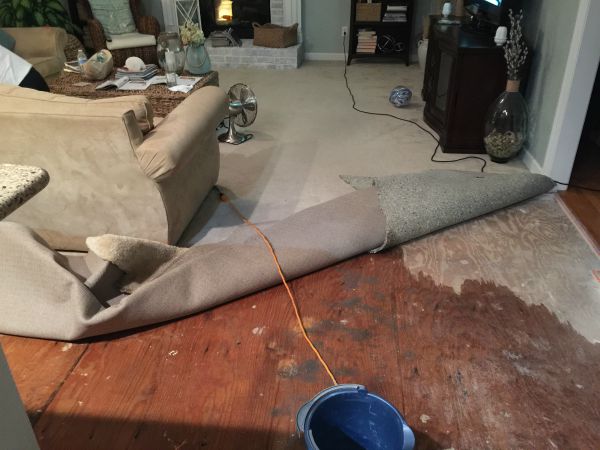 The next day we called our home insurance and they sent out a water restoration company to help. Why I didn't call them on day one is beyond me. I'll be honest, it didn't even cross my mind. In 20 years of home ownership we've never had to use the insurance before.
The restoration guys came out with their moisture meters and started removing all the shoe molding, cabinet kick plates, and baseboards to the check for water under the kitchen cabinets. Yep, more water. By this point the wood boards are starting to cup. The guy mentions that he thinks the kitchen floors need to be pulled up. The hardwood runs under all the kitchen cabinets, which possibly means removing the cabinets.
Oh good Lord please no.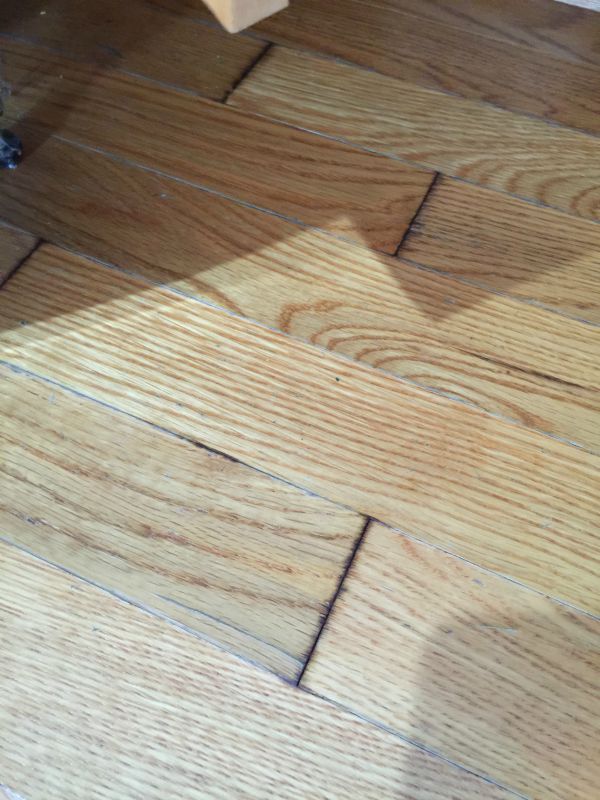 They head into the crawl space under the house (we don't have basements in our area). All the insulation under the effected area is soaking wet and has to be immediately removed before mold starts. Mold is a huge concern.
Large industrial fans and dehumidifier have been running non stop and we wait and watch the floors to see if they start to buckle more. All this from a stupid dishwasher. We still have no clue as to what happened with the dishwasher. No one even remembers it being turned on. I have my theory as to what might have happened but we are still unsure. Regardless, that dishwasher is outta' here!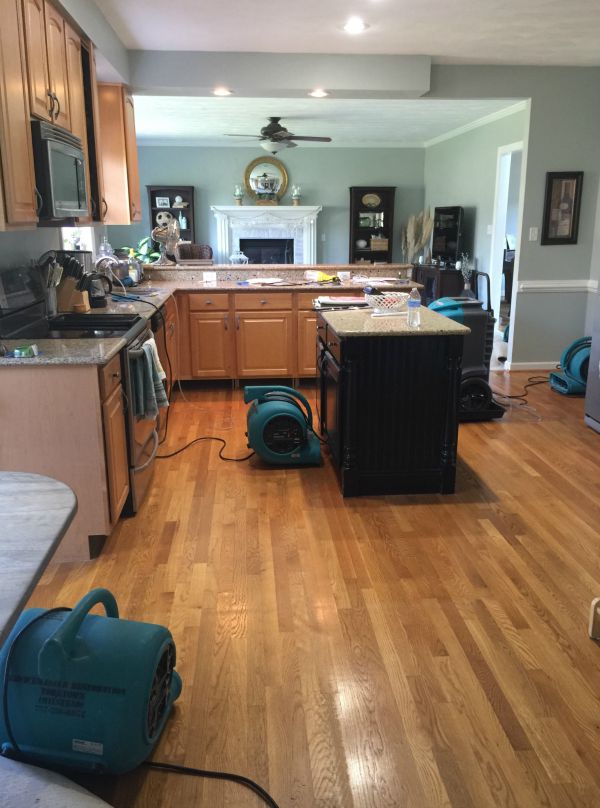 The adjuster will come in a day or two to survey the damage. I guess they prefer things to dry a bit before assessing everything. Our deductable is enormous too. So this is going to cost us a pretty penny out of pocket, no way around that. I know that this is a minor flood and others have experieced so much worse. It's still stressful though and we are exhausted.
If you've all been through a minor flood in your home please feel free to share with me your experience and advice, especially if you have hardwood floors. I'm praying that we can salvage our hardwood floors. I feel like a fish out of water right now.
KIM