I feel like someone has pressed the pause button on my house. We have been in a state of constant chaos and disarray since our house flood back in August. The family managed to get through the holidays even with all the dry wall dust and contractors in and out all day long. This kitchen and family room renovation has taken on a life of its own. You all know the children's book, If You Give a Mouse a Cookie, right? Well if you give a mouse (design blogger) a cookie (insurance money and a chance at a new kitchen) she will want a glass of milk (Mama has opened up a whole slew of new renovations!). But before I get to all those, I realized that I never revealed the color of the hardwood floors. So today is the day! Take a gander at the new Weathered Oak floors!
I absolutely love the variation of color and the contrast of light and dark wood grain. Weathered Oak has been a huge favorite stain to work with. I refinished our kitchen table with it and love the subtle gray tone that it has. The stain looks very different on other types of wood. On both red and white oak it carries slightly tones, whereas on rosewood (like my table) or pine, it allows a slightly grayer, driftwood tone.
The floors in our home are all white oak and we replaced the carpet in the family room with the white oak hardwood.  If you recall, these beautiful floors and coastal kitchen were the inspiration for our new refinished white oak floors. Stunning isn't it?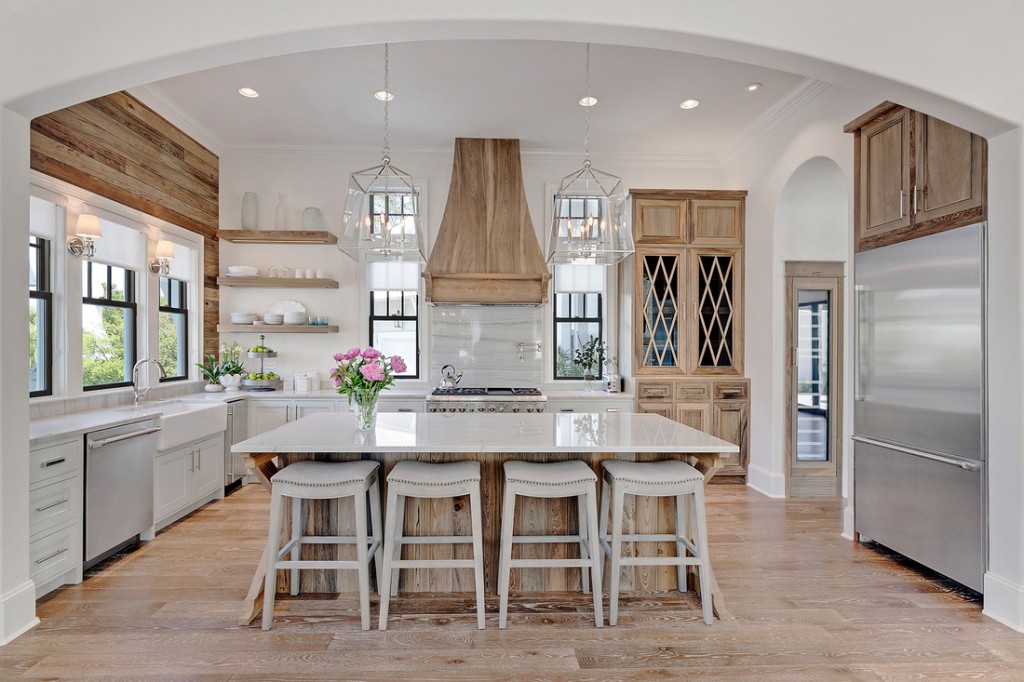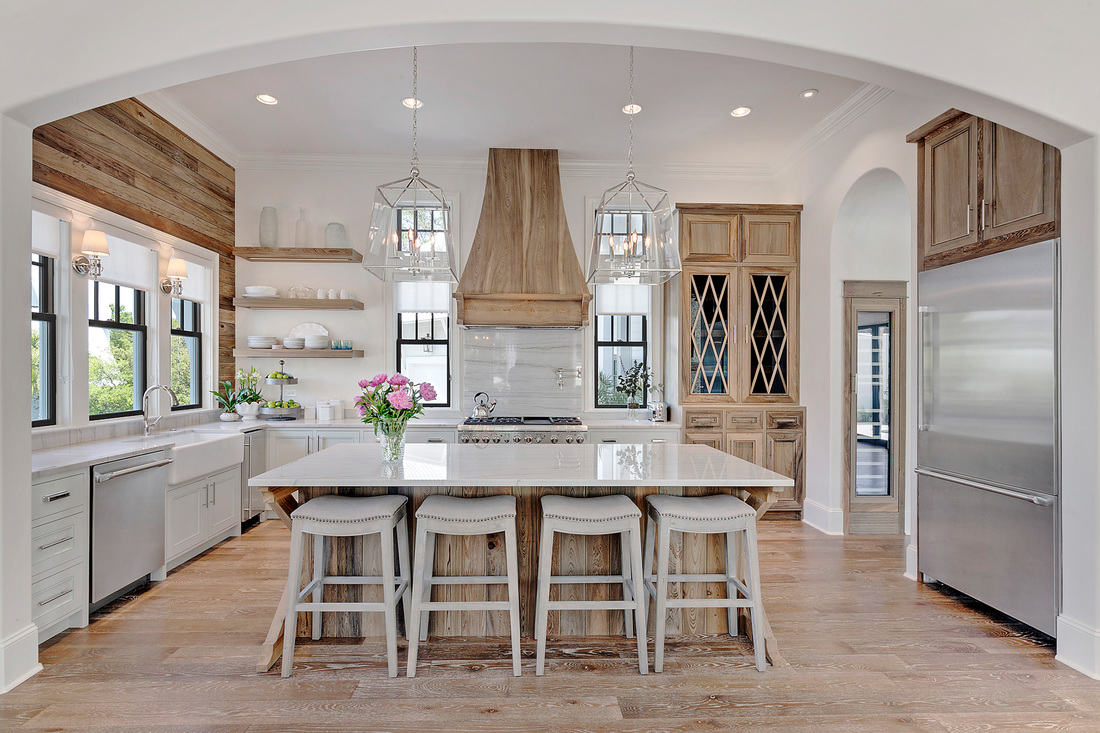 I took a little video tour of the new weathered oak floors on my iPhone. Please forgive my less than impressive video shooting. This video was originally intended to show my mom and sisters the new floors and I didn't realize until later that I totally shot the video the wrong way. Anyhoo, you get a little tour of the weathered oak floors before all the furniture was moved back in.
If you give the mouse a cookie, he's going to ask for a glass of milk…
Here is a shot of the fireplace in our family room and the new floors. I've never been happy with that fireplace. Last year I whitewashed the brick and it looked much better, but it still bothered me. The hearth is a foot high and the mantel is approximately 5+ feet high. Overall the entire design was too high for our ceilings.
Hence comes in the cookies… and milk… and… well since the kitchen is in disarray, then why don't we just change the fireplace too?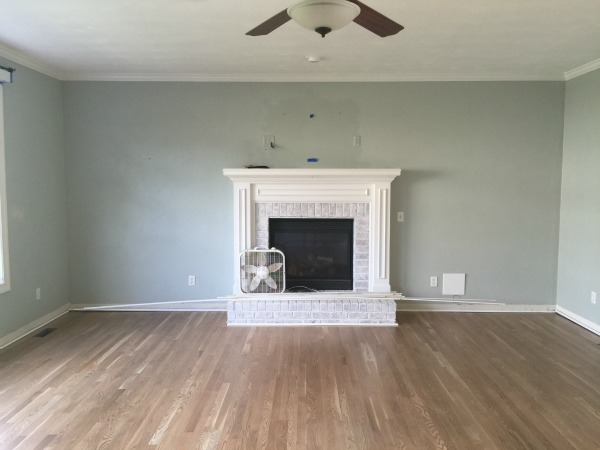 That darn mouse.
My thoughts were to lower the mantel and cover the brick with tile. The surround needed to be removed first so that we could see what exactly we were dealing with. Of course once we removed the surround we realized that the brick was cracked and about to fall down.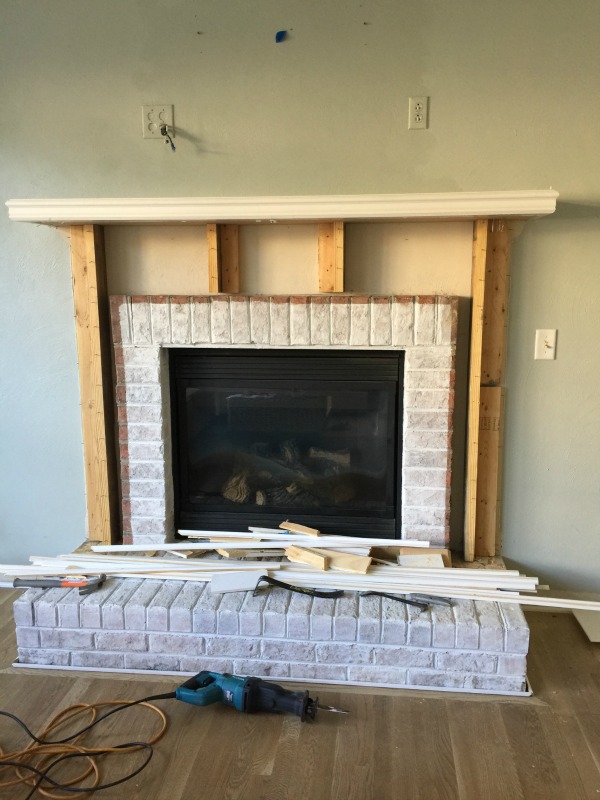 Note ladies: NEVER leave for the grocery store when your husband has a sledge hammer in his hands. Guys LOVE demolitioning things…
Anything.
The next thing I knew, the entire hearth was removed too. Well while we're at it, why now just lower the entire gas fireplace insert too? That's easy right? Ummm no. That involves not blowing up your house… so more sub-contractors needed to be hired, like plumbers who can move gas lines (little details like that).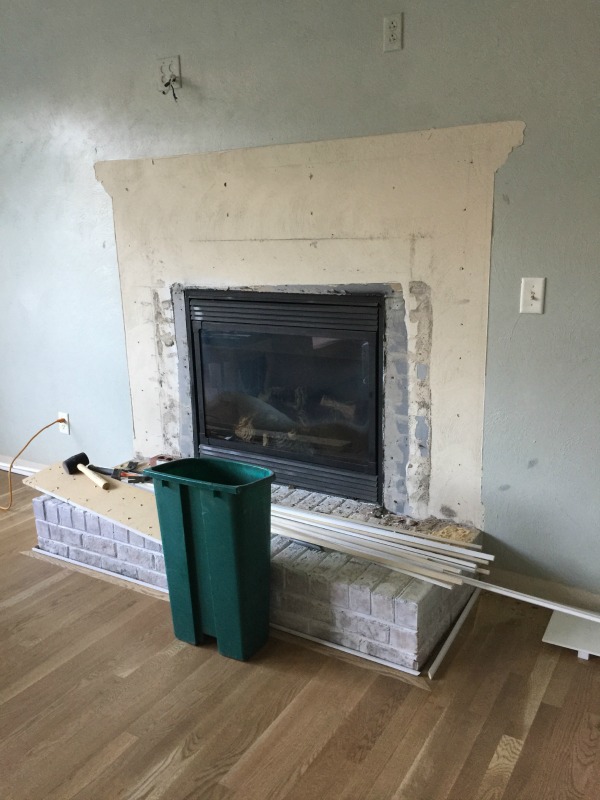 We have changed plans so many times with this kitchen and familyroom it's crazy! We knew that we have ZERO desire to endure a large renovation ever again!
That darn mouse got his milk but now he wants to look into the mirror to make sure he doesn't have a milk mustache too….. 
The kitchen cabinet designer suggested the idea of removing the soffits in our kitchen and take the cabinets up to the ceiling. Hmmmm…. the wheels were turning! Why not? We needed more storage space so let's remove the soffits. This meant scratching our entire kitchen cabinet plan and starting over and going a-la-custom-cabinets.
Lord have mercy. What were we getting ourselves into?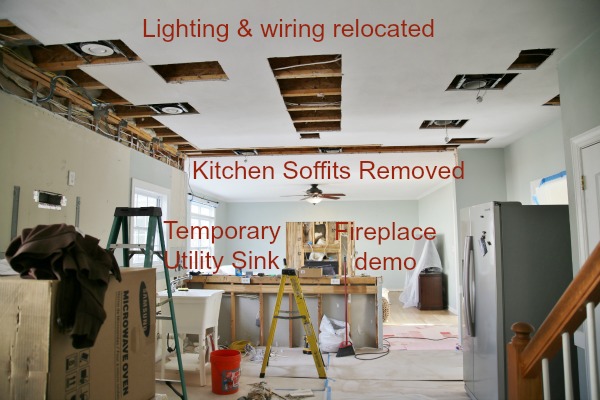 All of Christmas break we had contractors and subs at our home 4-5 days a week. There were issues, of course, that they ran into and all my husband can see is the dollar signs adding up.
Our first floor is covered in perpetual drywall dust. I've lost my temper a few times with the subs and I'm quite sure they don't like my Type A standards but oh well!  😉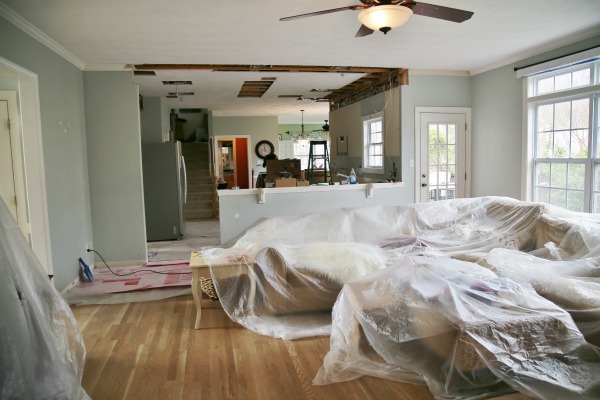 In the end this new kitchen and family room will look fabulous and I can't wait to show you all! The kitchen cabinets are supposed to be finished by the end of the month (fingers crossed). SIX months without a kitchen is about to put me into the crazy house. (deep breaths… all together now.. inhale… exhale… ) 😉
If you have gone through a large renovation, I would LOVE to hear your stories and advice! Please share with me in the comments below!
KIM
Catch up on all the progress after our home flood!
Choosing Hardwood Floor Stains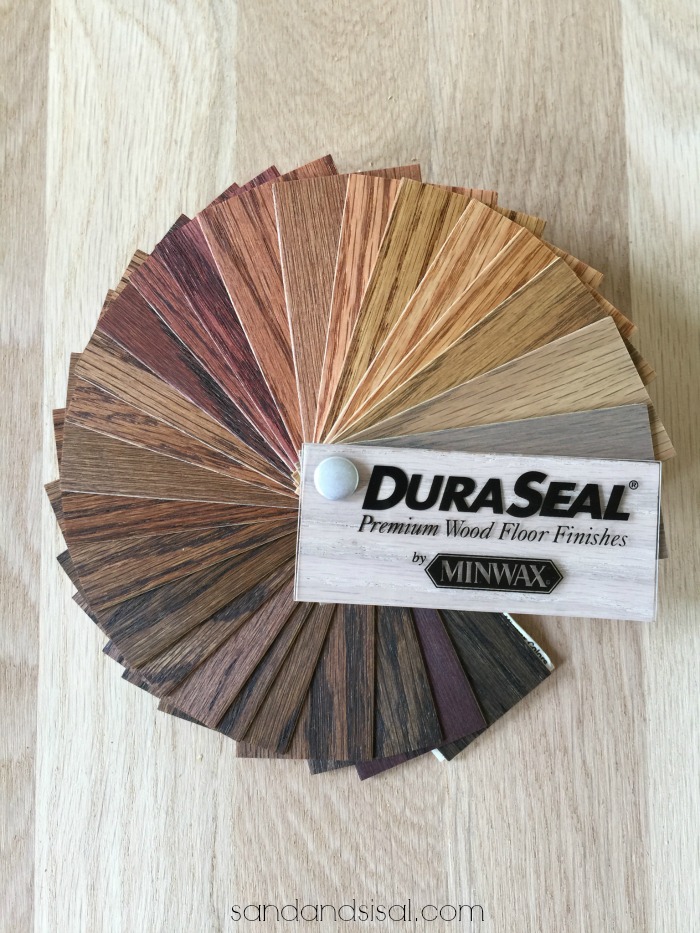 After the Flood: Preparing and Installing Hardwood Floors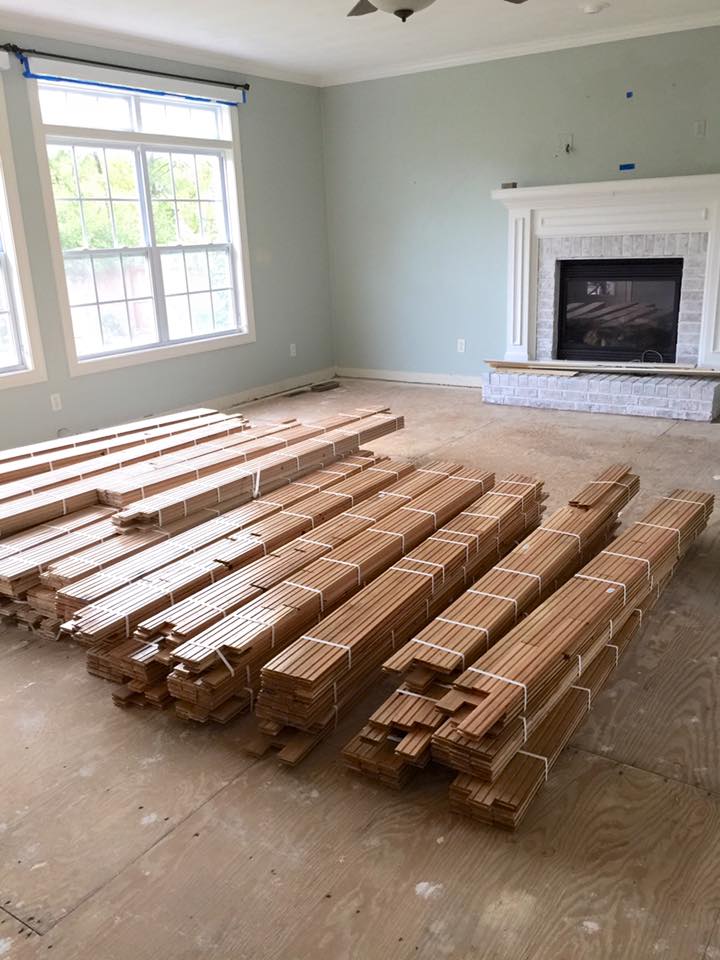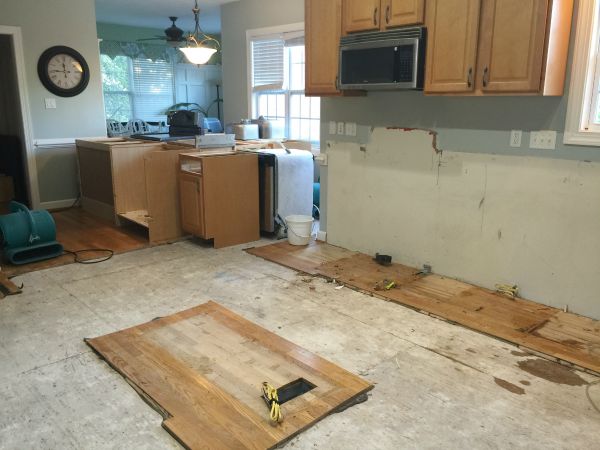 Waking Up to a Flooded Kitchen & Familyroom