This poor table had been begging for a makeover for ages. It was a wedding present from my mom 21 years ago.  There's the saying, "If walls could talk", well, better yet, would be, "If THIS table could talk". It has survived 4 kids with all their glue sticks, glitter, and magic markers, graffiti messages written in crayon, countless spills and watermarks, a few accidental nail gun staples during DIY projects (ahem… ), and a lifetime of family dinners, gatherings and memories made around it. You all know me by now, and if I can try to bring beauty back to something, I will! I'm happy to show you today, my total labor of love, How to Refinish a Table!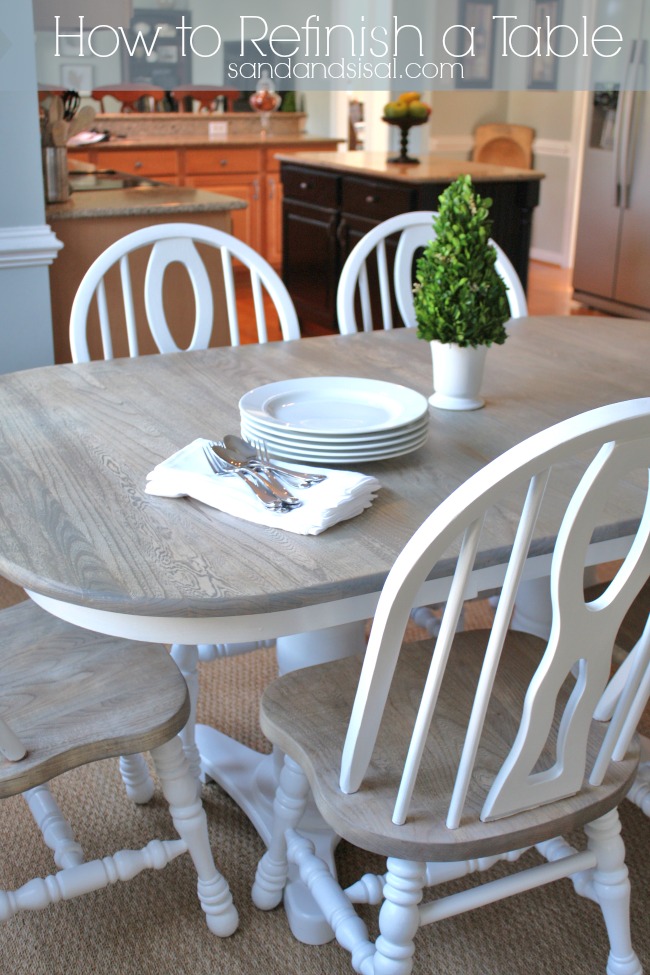 Here is the sad table before. It is a sturdy table that seats 8 with a leaf. It is made of rosewood, a tropical wood. The stain on it though was very golden or orangey, much like my oak floors and kitchen cabinets. I have be drowning in a sea of orange. Yuck. I desired a more natural, brighter table, yet wanted to show the beauty of the rosewood grain. So I decided to stain the table top and chair seats and paint the table base, chair backs and legs in white.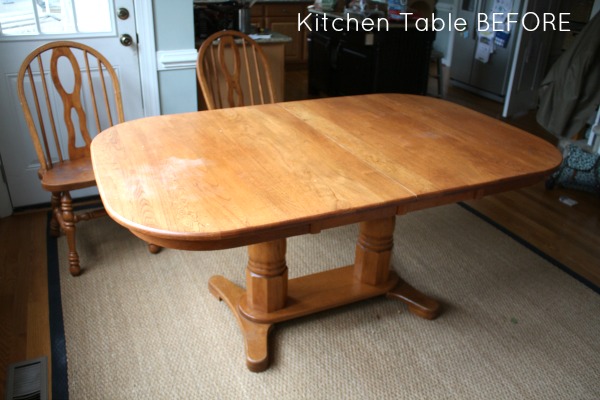 These are the items needed to refinish and paint a table:
3M™ Safety Products (Protective eye wear, protective ear wear, sanding respirator)
Rotary Sander and sanding discs (60, 100, 150 grit)
3M Advanced Abrasives (120 grit and an extra fine grit sanding sponge)
Stain (I used Minwax's Weathered Oak)
Spray Polycrylic
Primer (I used Rustoleum's 2x Extra Cover Primer in white)
Paint (I used Sherwin William's Emerald latex, semigloss, in extra white)
Sponge brushes (multiple sizes)
Flat tipped, 1/2 inch artist paint brush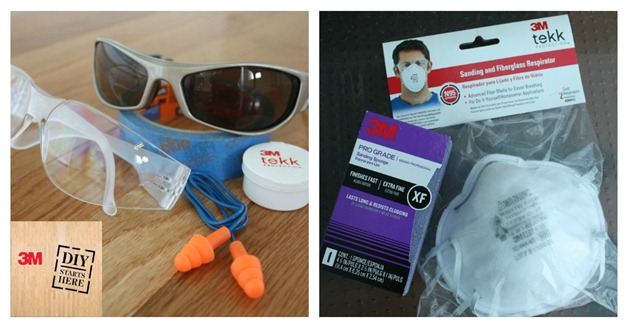 Get ready to start sanding! To be honest, this is the fun part! Take the table outside or into a garage. This process is very messy. Also make sure you have the proper, protective eye wear and ear wear.I really enjoyed using my new rotary sander to strip away all the old stain. It was far easier than I thought it would be. When sanding, make sure you sand in the linear direction of the wood grain.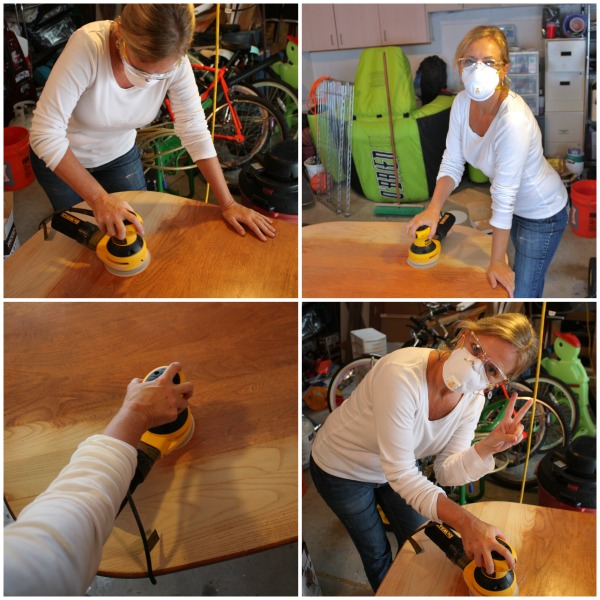 Hubs wasn't convinced that my rotary sander would do the job, so he went and bought a big 'ol belt sander for himself. Men… boys and their toys… hmph… I sanded my side with the rotary sander and he tackled the other side with the belt sander. Well, his side came out rough and scary! My side came out smooth and consistent. Guess what? He had to use MY SANDER to clean up his side. Hee, hee, hee. Big and powerful is not always better.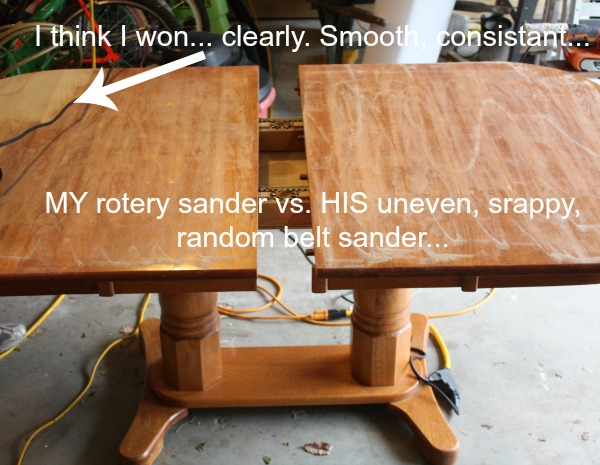 I'm giving him a hard time, but really, I couldn't complain.  He was awesome at helping me sand all EIGHT of the chairs. I didn't think sanding down to the bare wood was necessary at all but he is rather "Type-A" when it comes to projects that I involve him in. Beggars can't be choosers so if he wants to sand… let the man sand.  😉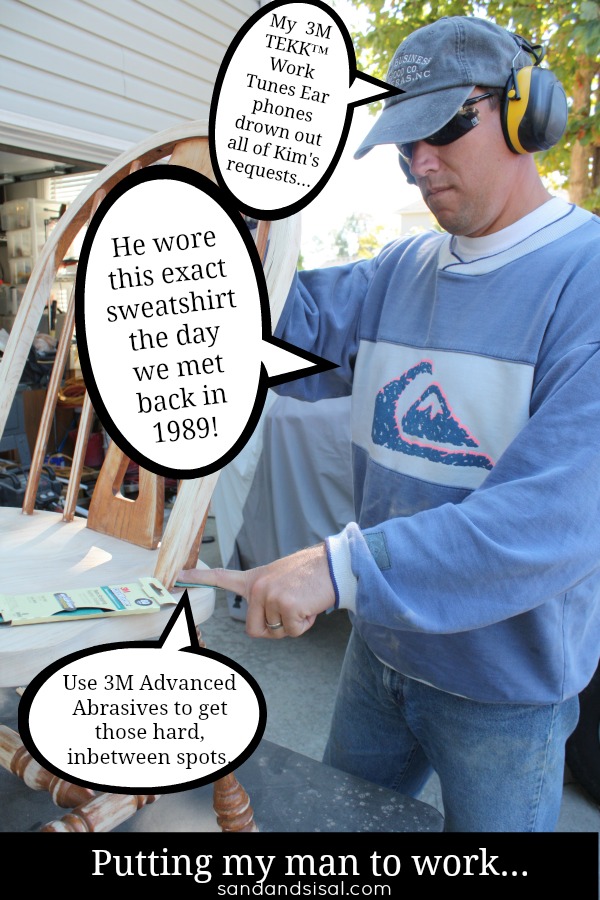 After everything was sanded well, (thanks to hubs),  we made sure to wipe off every bit of dust. First, go over it all with a dry cloth, then over it again with a damp cloth and allow to dry. Now we were ready to stain. My favorite stain color is Weathered Oak by Minwax.  I've used it on my Pallet Shark Art and my Wine Crate Storage Box. It has a beautiful driftwood quality look about it.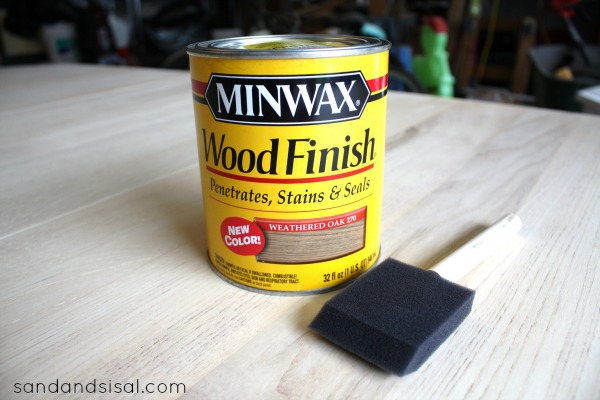 I like to use inexpensive and disposable foam brushes for this project. I applied the stain, in the direction of the grain, and allowed it to sit for about 20 minutes. Then I wiped it off with a paper towel. The depth of color was not what I wanted so I applied a second, thin coat of stain and allowed that to sit for a few hours until dry. I wiped off any residue and reveled in the gorgeous color and grain! I was exactly what I had envisioned.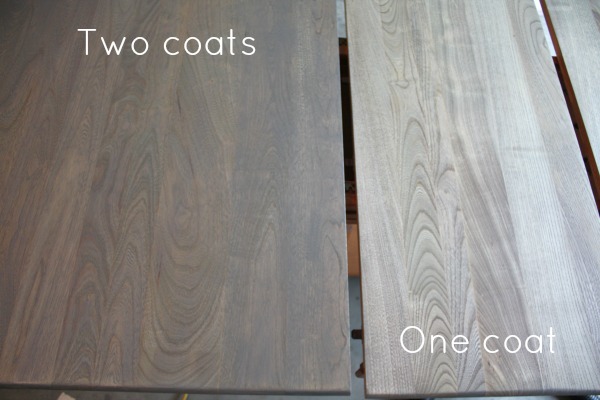 After staining the table top and all the chair bases, I gave the stained areas, several coats of spray polycrylic and used my extra fine grit sanding sponge between each coat. Always follow the directions on the back of the manufacturer's can.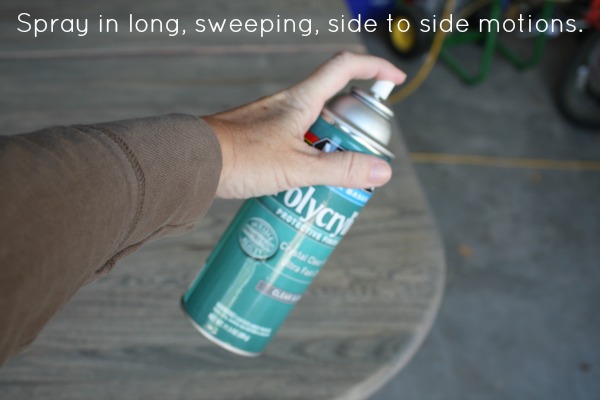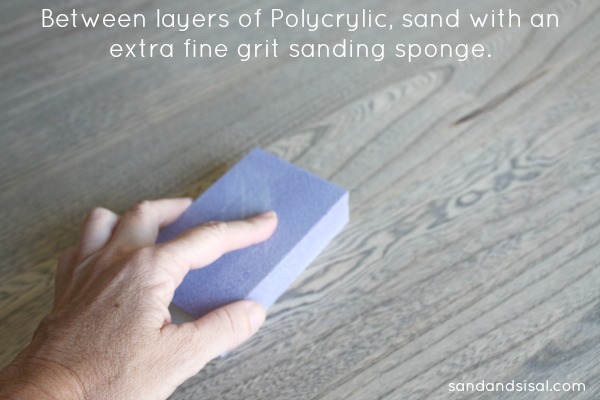 Here is where the this project starts to become a time sucker and labor intensive. I won't lie to you, it took  longer than I thought it would. You need to PRIME! DO NOT IGNORE THIS STEP! I did… and I paid for it in time and labor. I am such an impatient person and tried to cheat by not priming my wood, but the existing stain bled through the paint…. after I had already painted several chairs… grrrrr. I had to essentially start over.
LEARN FROM MY MISTAKES! PRIME PEOPLE… PRIME!
You can paint on the primer or use a spray primer. If you use a spray primer then you MUST make sure you cover and protect the areas that you have stained. Then it's time to paint. Here is another lesson I learned. If you don't like brush strokes then use a sponge brush for your painting. Buy several sponge brushes and in different widths. They don't seem to last very long. Use a high quality paint. I love Sherwin Williams and I already had a gallon of their Emerald line in my garage. So I chose to use that. For those small areas around the spokes of the chair back, where they meet the stained seat, use a nice, flat tipped artists brush to apply the paint.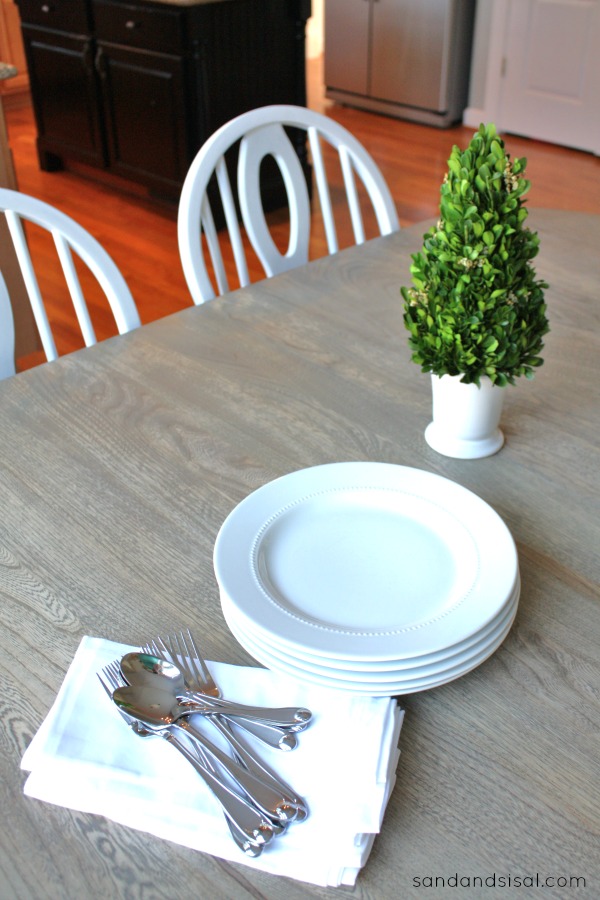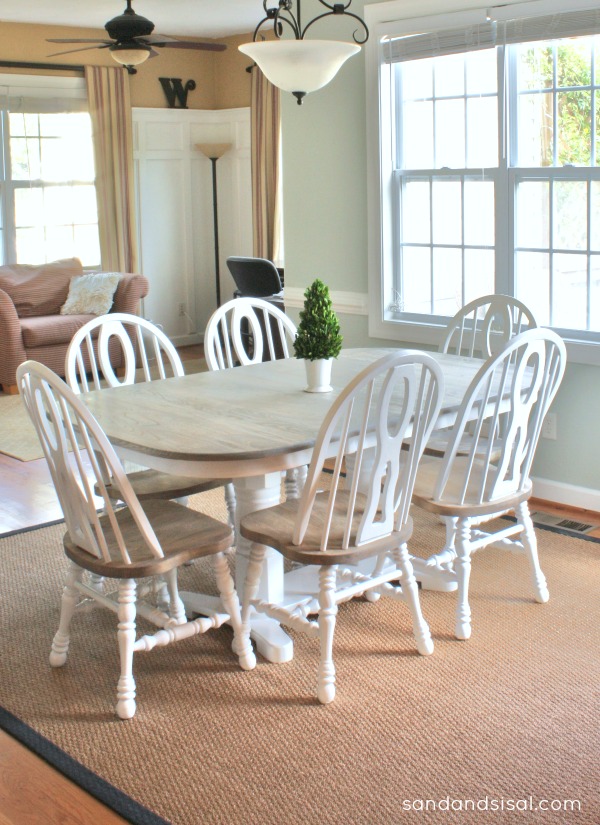 Overall, I've so happy with the results. The table is brighter and lighter, full of rich texture and interesting grain. It blends in beautifully with my coastal decor. Refinishing a table is certainly not my area of expertise, but it is a worthwhile investment of your time and effort if your table is of good quality.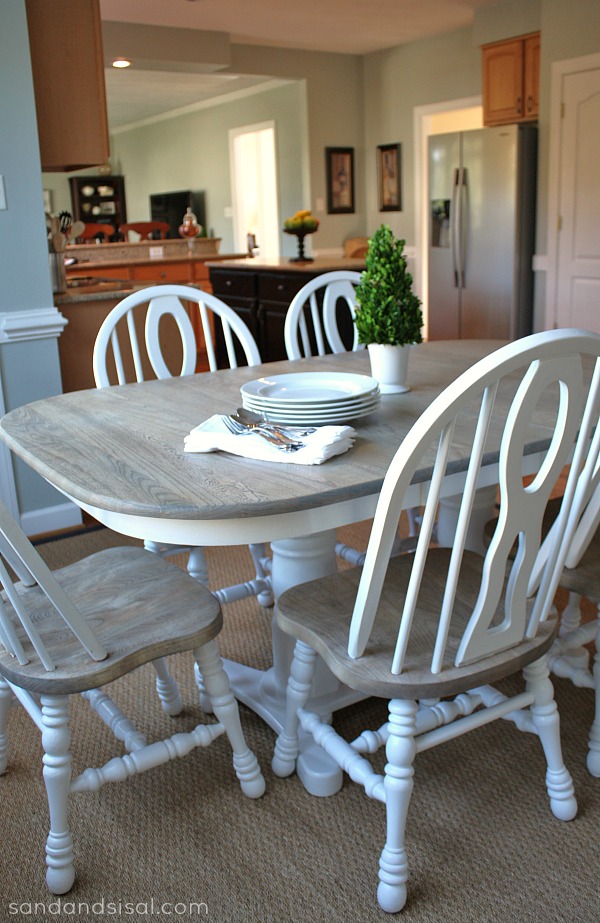 In this era of such materialism and waste, I'm hoping that some of my DIY projects are helping to teach my kids how to preserve, reuse, yet renew the items they already have, so that they can be enjoyed by generations to come.
Now to tackle those orangey kitchen cabinets! (Hubs just rolled his eyes… haha!)
Happy DIY-ing  my friends!

This post is a collaboration with 3M DIY. To keep up-to-date on projects, products and sampling visit 3MDIY.com.
Kim