This is where I last left the update after the flood, without a kitchen or floors. Dealing with the aftermath of a home flood has been an exercise in patience (which is not one of my virtues). It took a month for even an appointment with an insurance adjuster and then another 2 weeks to before we received the quote and a check. The amount from the insurance was 1/3 less than expected. After talking privately to many of you who have been in this same situation with home owner's insurance, I discovered that this unfortunately seems to be the norm.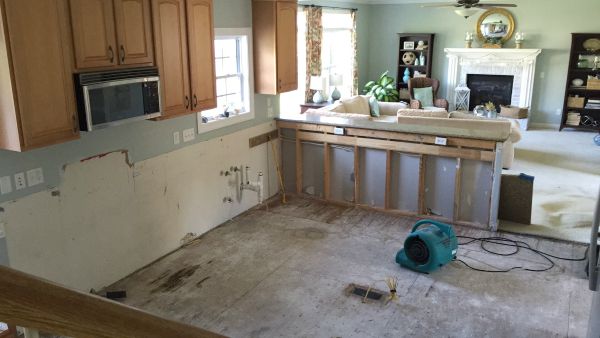 To say things have been a bit chaotic would be an understatement. The first floor has been a hot mess. The kitchen base cabinets are residing in kitchen dining area. The kitchen table and chairs are in my office. All the kitchen cabinet contents are piled in the dining room. And there are massive slabs of broken quartz countertops, weighing 600+lbs, resting along walls in my family room and in the music room.
This wasn't exactly the fall home tour I had in mind. And for that I thank you for your patience. 😉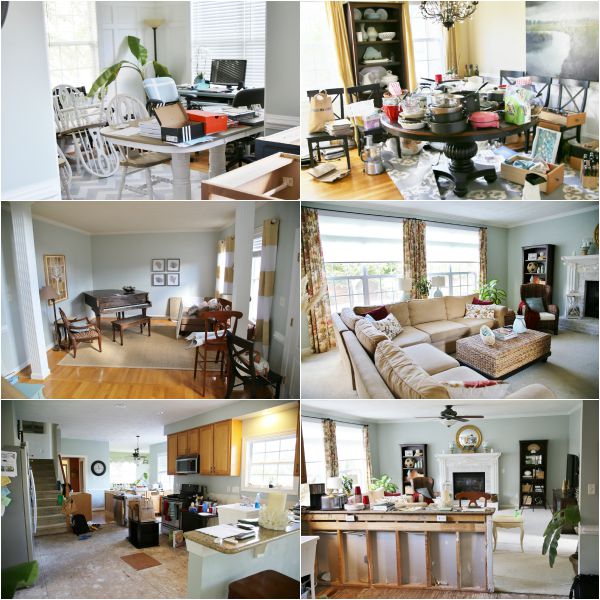 Hubs was able to hook up the oven again and he bought a utility sink and intalled that in the kitchen. Yay! This meant we could cook once again and no more washing dishes in the tiny powder room!
If you have never refinished hardwood flooring, you need to understand something first. Unless there is a natural break in the flooring between rooms (like where a tile floor meets a wood floor) then the entire wood floor has to be refinished. Because our wood floors flow from room to room, and we wanted to replace the carpet with wood then this meant every floor (bathroom, closets, pantry, etc) needed to be refinished. When floors are being refinished you have to remove every item from them…. ie: Time to move out!
Now came the time for ALL of it to be packed up and moved out into the garage, a 16 ft. POD and our upstairs. I hate moving. We have moved so often over the years and it never gets easier or less unenjoyable. We moved 75% of everything ourselves and then called in the pros to do the rest. My biggest concern was for the baby grand piano. It has been in my family since childhood and is over 120 years old. Thankfully Triumph Moving and Storage came to my rescue with only 24 hours notice! They carefully wrapped the piano and all our large furniture pieces and moved them safely into the POD.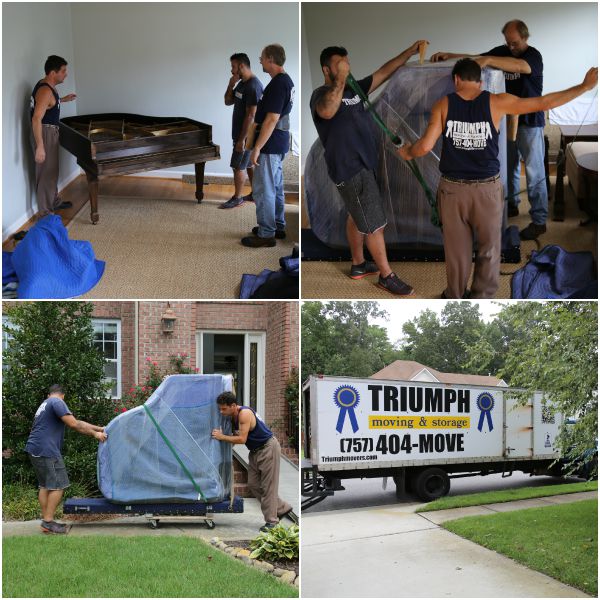 Preparing and Installing Hardwood Floors
The one good thing about having to move everything out in preparation for repairing and refinishing the hardwood floors is that it forced me to purge and donate items we weren't using. Once everything on the first floor was moved out (and I mean everything…. window treatments artwork even), then the white oak hardwood could arrive!
Our flooring professionals at Nu-Tech Flooring, removed all the old and damaged family room carpeting, carpet tacks, and existing shoe moldings on the 1st floor. Hardwood needs to aclimate for about a week inside your home. The wood is kiln dried and has a very low moisture content. There needs to be less than a 4% difference in moisture readings between the subflooring and the new hardwood before it can be installed, otherwise buckling can occur. Our flooring contractor Steve Herrit was very particular and took moisture readings each day until it was safe to lay the flooring.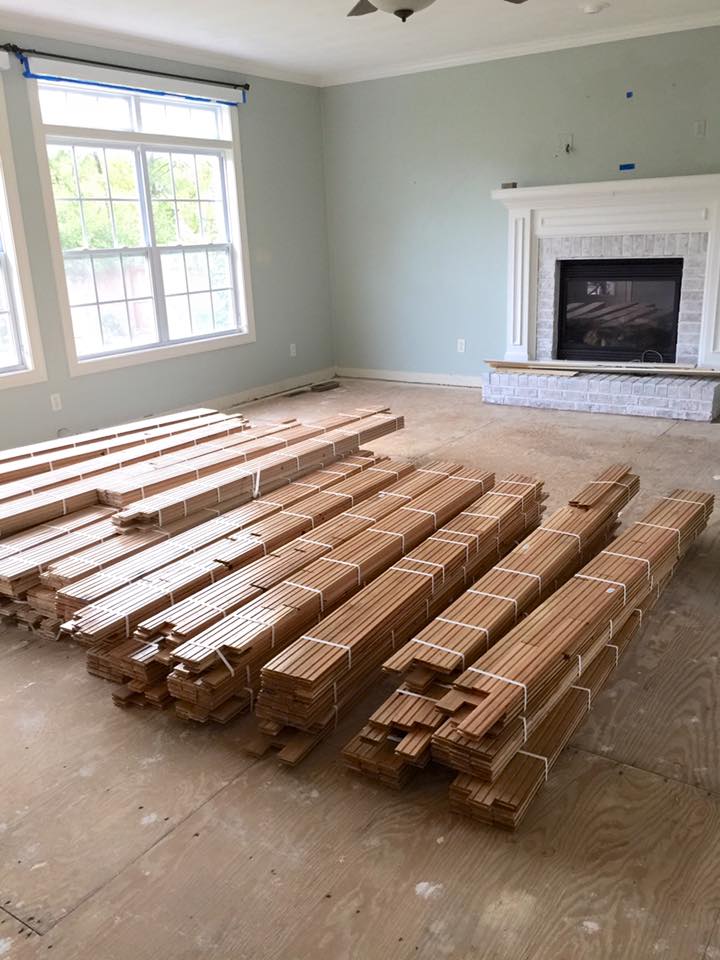 The kitchen floors and areas around the two back doors which lead to the deck were installed with pre-sealed white oak. This oak is pre-sealed on all 6 sides at the factory. The pre-sealed wood helps prevent any warping or buckling in the event of a minor flood again in the future (someone knock on wood for me please!). The rest of the flooring in the family room was un-sealed 2-1/4″ x 3/4″ solid white oak.
Below is a picture of the two types of treated wood. Do you see the sheen/reflection on the end joint of the left piece of wood? That is the sealant. This pre-sealed wood does cost a bit more per square foot, but it is a miniscule amount and worth every penny.  Both types need to be sanded after installation before staining, so don't let the darker appearance dissuade you. Once it is sanded you won't be able to visibly tell which is pre-sealed and which isn't.
(PS- feel free to pin this photo below for future reference)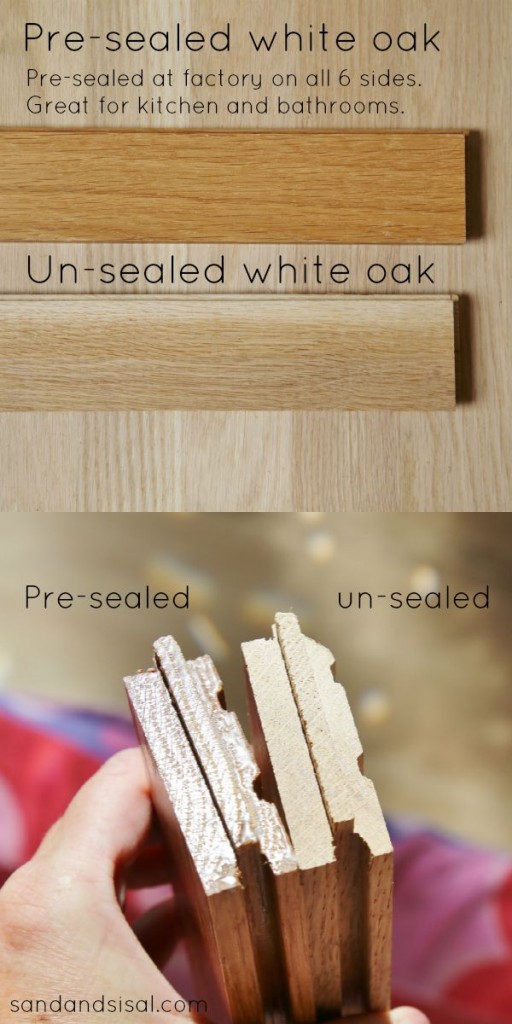 Our kitchen floors were ripped out because of the water damage. The new flooring needed to be "feathered in". The flooring installers need to carefully remove select boards in a random pattern so that the new boards will look perfectly blended. This is a job that should be left to the pros and not the average DIY-er (even I know my limits).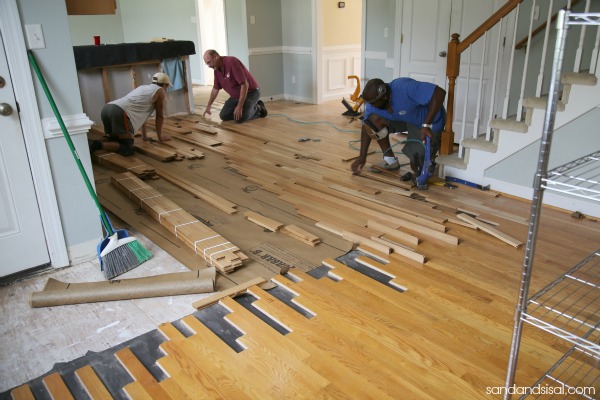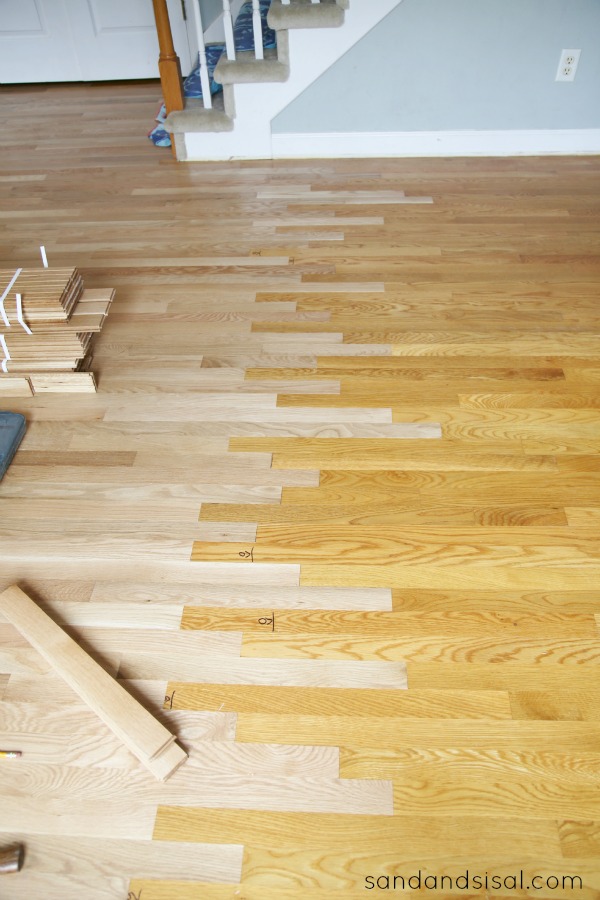 This process is moving fast and I'm excited to share what is coming next!
Are you on Instagram? I'd love for you to follow along with me if you are! I often share instant sneak peeks of what I'm working on exclusively with my Instagram friends. 😉
Stain color exploration is coming next…. oh my… there are so many choices. Stay tuned!
KIM