I bit the bullet, held my breath and took the plunge! I said buh-bye to the orangey-salmon brick fireplace and gave the it a lighter, brighter, fresher update. Yep, I whitewashed the brick! We have lived in our home for over 6 years and since day one, I've never liked it. Yes, I had hopes it would eventually grow on me, but is hasn't.  Today I want to share with you how to whitewash brick.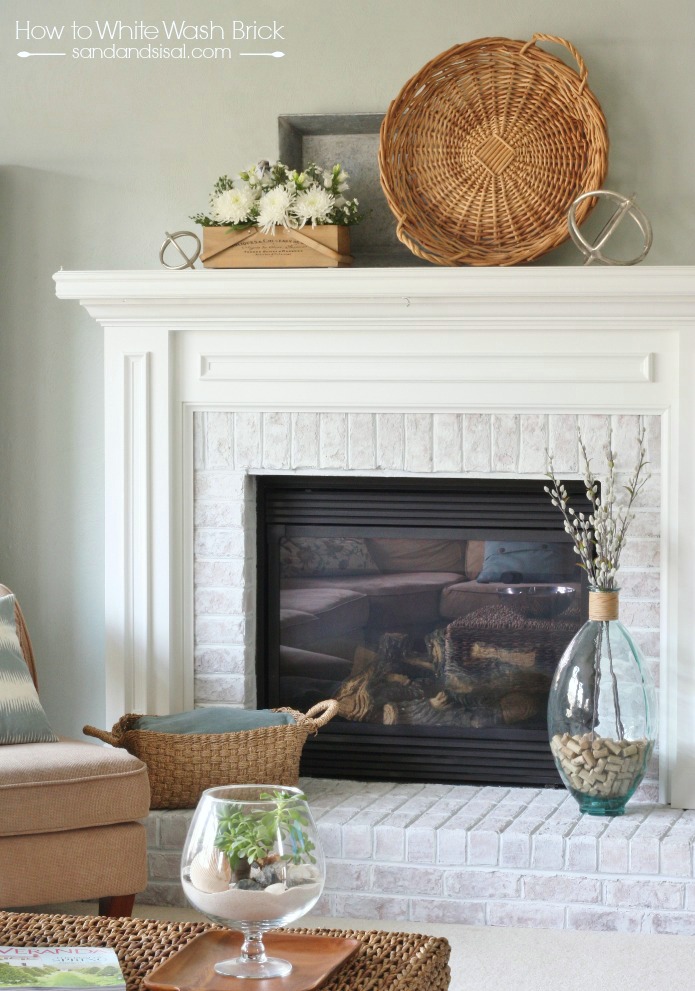 Here is a before pic of our fireplace. Now don't get me wrong, I know that painting or whitewashing brick is a very controversial subject and a personal decision. My hubs was dead set against it for years (he's a purist… no paintin' nothin' kinda guy) and this girl wanted to stay married. But he too had grown tired of the salmon pink and finally  (thank God!) after showing me several before & after pics of other whitewashed projects, he gave me the thumbs up for approval to go for it! We have plans to eventually resurface it with fancy stone tile, but that will be a ways off.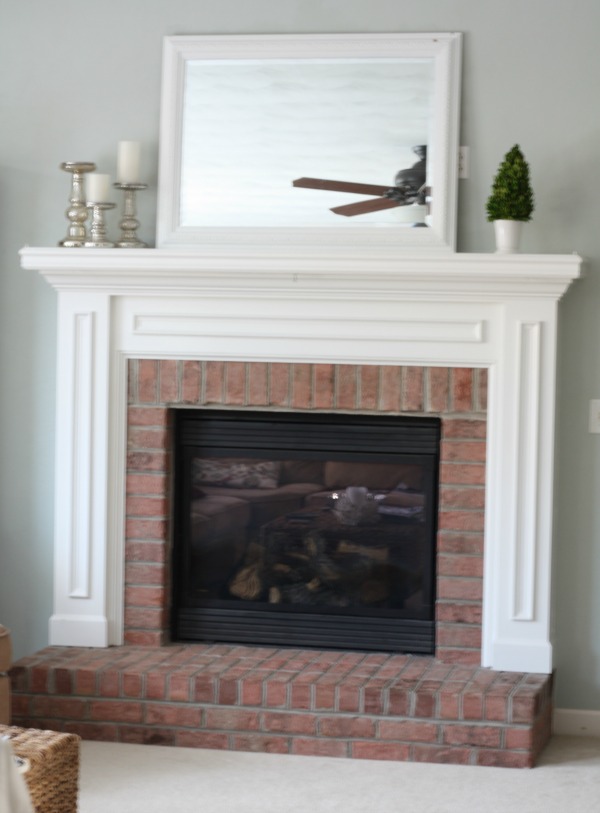 Whitewashing brick is a rather simple project that can be accomplished in a day.
Step 1: The first step is to tape off the carpet or flooring all around the hearth, the walls along the brick and completely mask off the actual fireplace itself, covering all glass & metal. I used a trashbag, printer paper and painter's tape. Then lay a tarp down to protect the floor. Expect quite a bit of splattering. Wear some gloves if you are worried about your manicure. My nails are pathetic, so if I'm slathered in paint…. so be it. 😉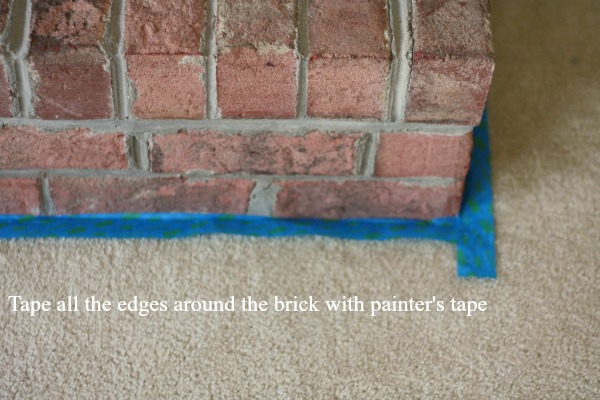 Step 2: Mix up your whitewash. For the first coat you will want to mix together 1 cup of latex paint (egg shell or satin sheen) with 1 cup of water. I mixed my whitewash up in a disposable plastic container.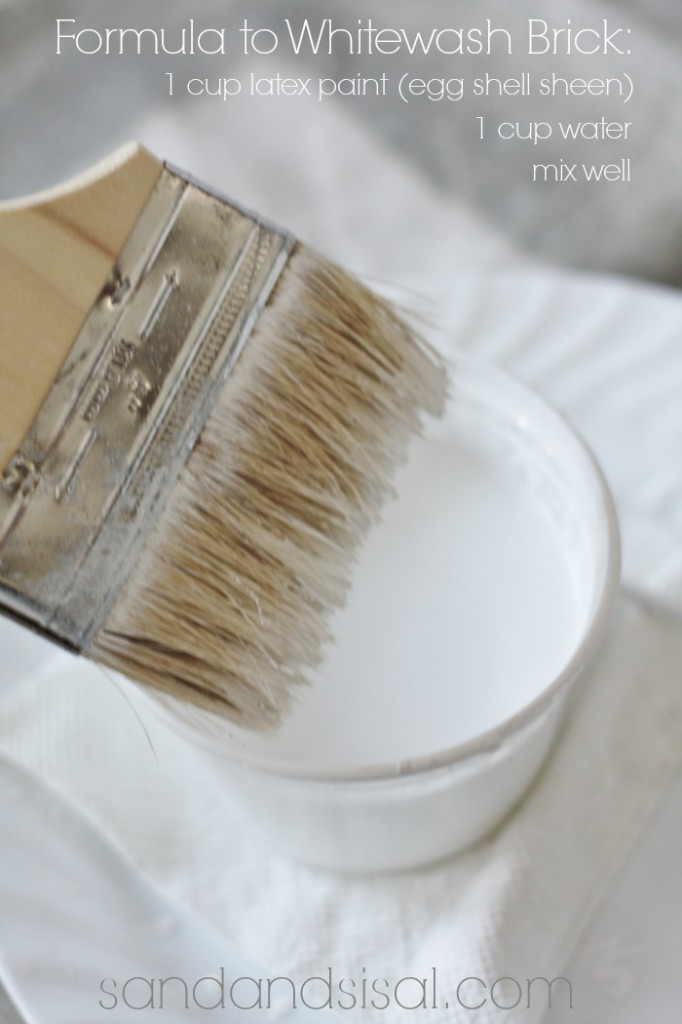 Step 3: Dip just the tip of your paint brush (1/4-1/2 inch) into the whitewash then stipple and blot the paint all over a brick, then swirl and work it into the nooks and crannies. You will be shocked at first (I was for sure!). This is where you might want to pour a nice glass of wine before you proceed.  Take a sip and a deep breath…. and repeat… "It's all good…(exhale)…  It's all good…" (breath and then sip again).
It looks very bright white. Don't panic! In a few minutes the whitewash will soak into the brick and will appear more translucent. If you really think you applied too much paint, then feel free to dab the paint with a rag or add a tiny bit more water to the solution.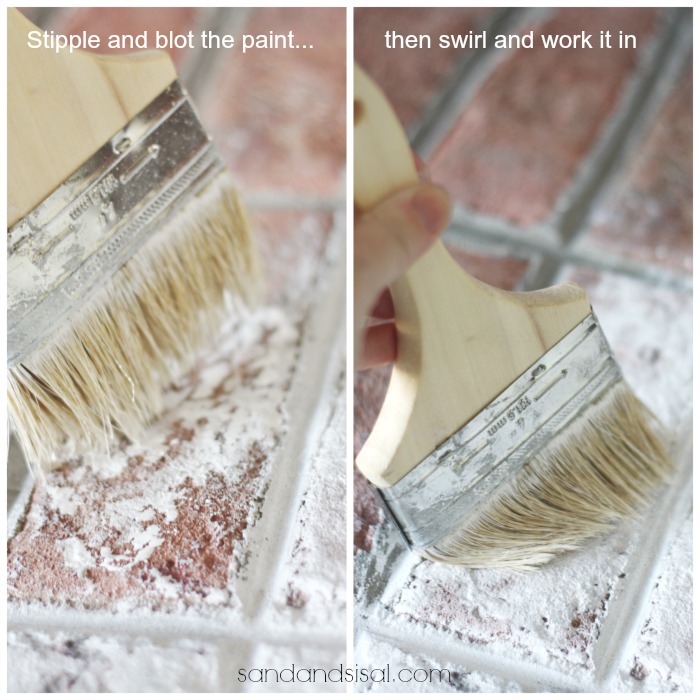 Below is a picture of my progress. Note how the integrity of the brick still shows through and the whitewash is not opaque.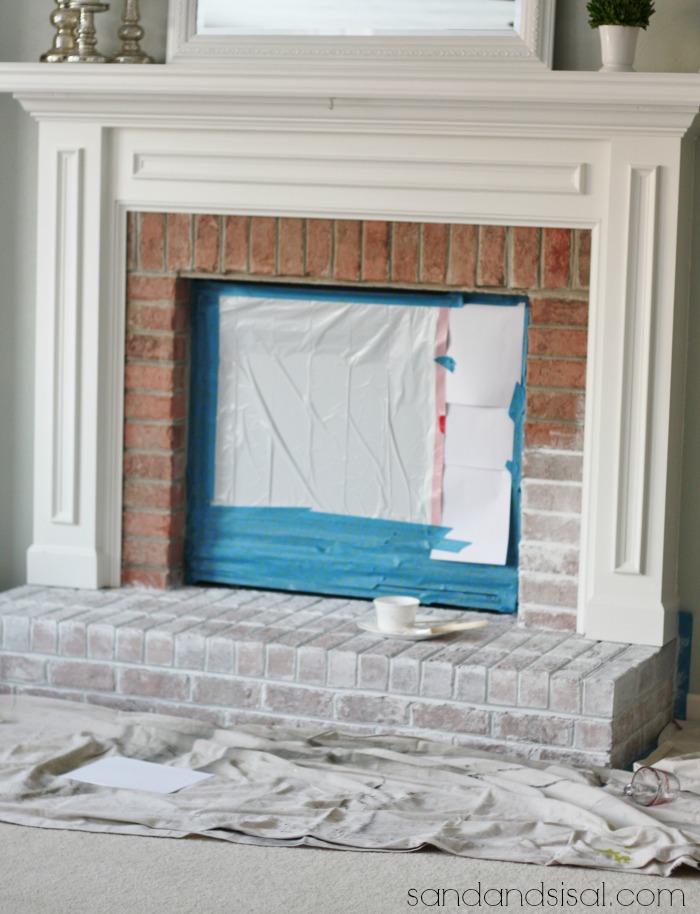 I started this project late in the afternoon and after one coat I decided to walk away from it until the next morning. This is how the brick looked the next day. It was very spotchy and uneven. Different types of brick will absorb the paint in different ways. Our brick had areas that were very smooth and other areas that were very rough. The areas that were smooth were quite white and the rough, porous areas were still salmon.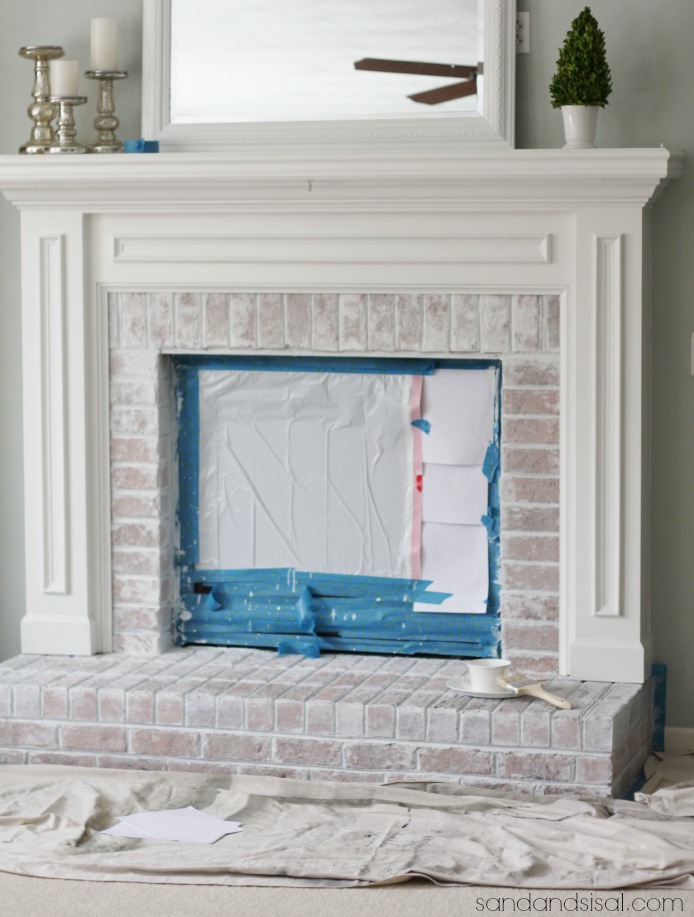 So what do you do now?
Step 4: Time to mix up another batch of whitewash for a 2nd coat. Only this time your 2nd coat whitewash solution ratio should be 1 cup of paint : 2/3 cup of water. Apply the 2nd coat only to the areas that need it. Some areas on my fireplace took up to 6 coats of whitewash! Be sure to step far back to get a better view of where you need to apply more whitewash.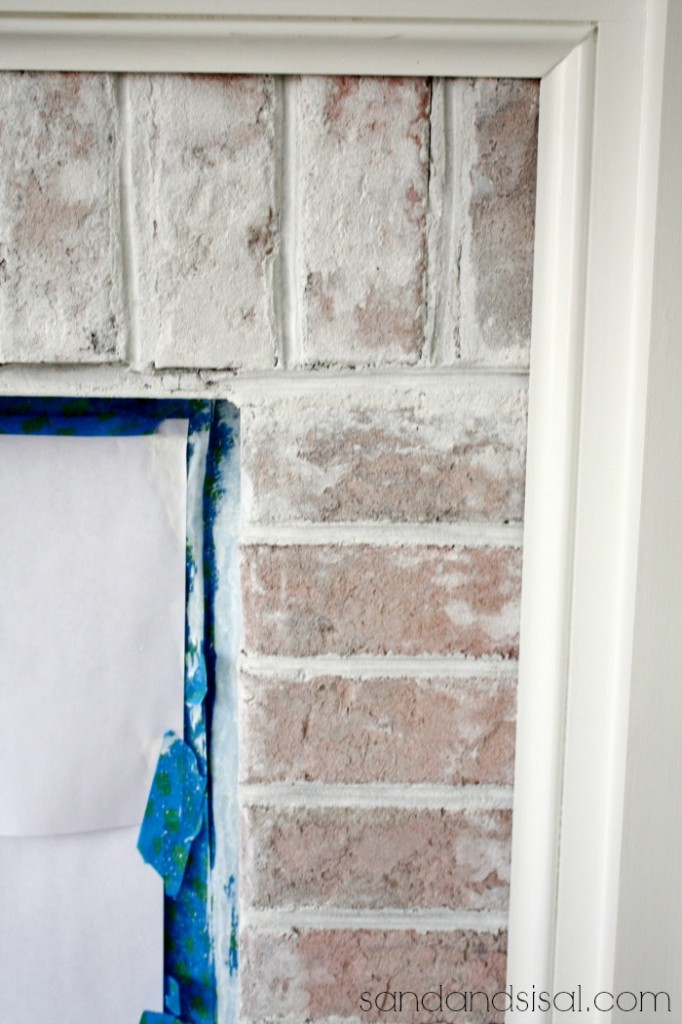 Be patient. Allow the whitewash to dry and soak in before you go too crazy applying coat after coat.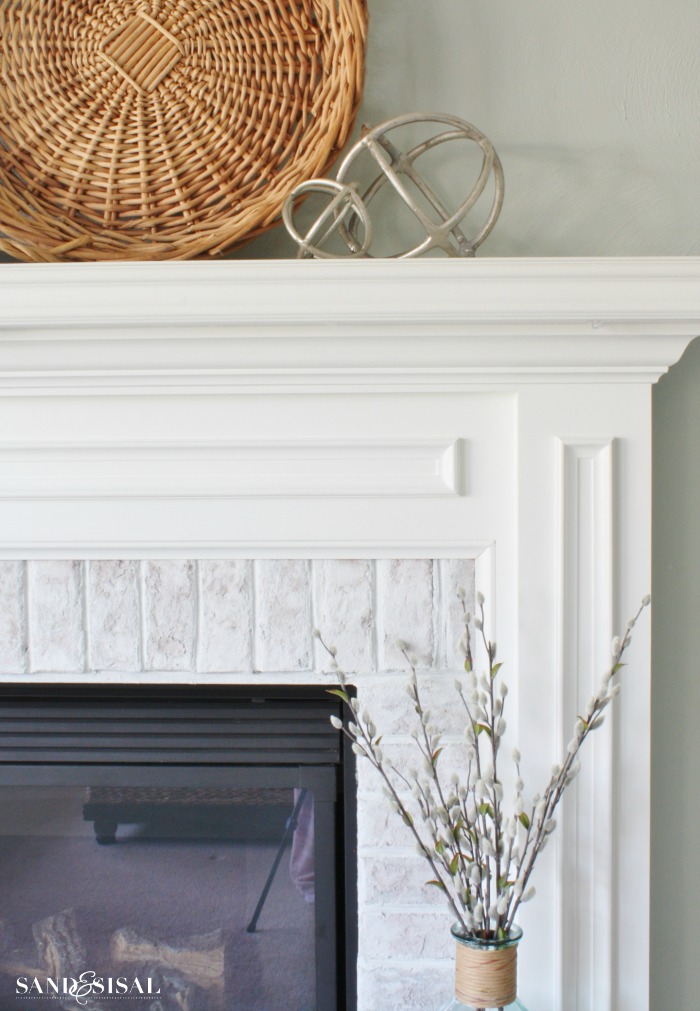 The pictures of the finished results look much whiter than they actually are. For some reason I was having trouble getting my camera's white balance correct. Trust me when I tell you that the brick color shows through much more than how it appears in these pics.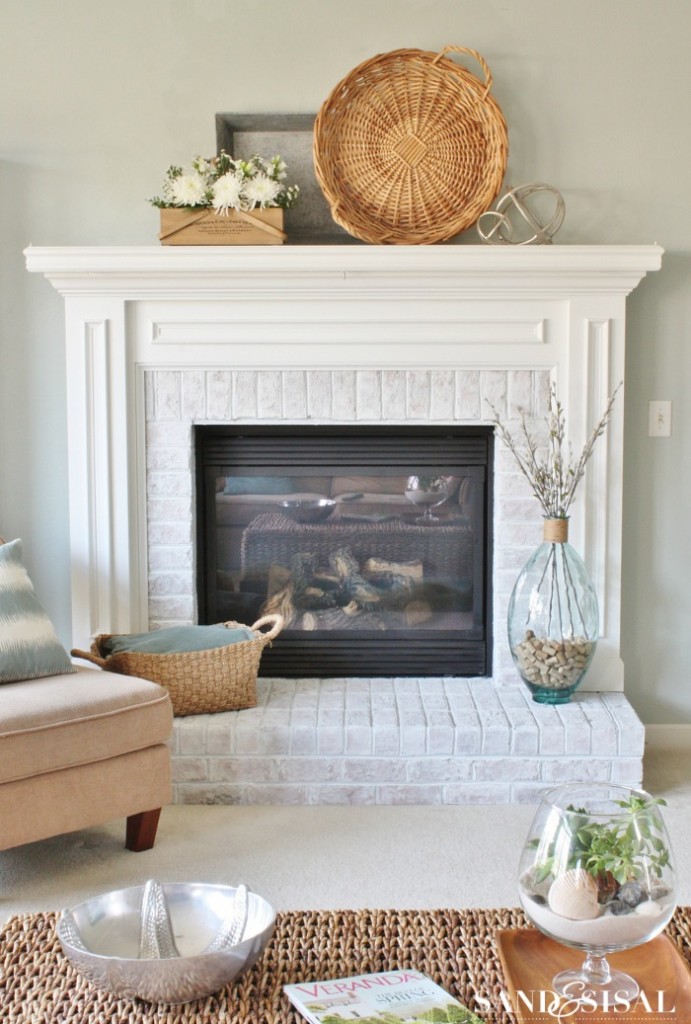 I'm happy with the results and wow, our family room appears so much lighter now!
And because I know someone is going to ask…. the wall color is Comfort Gray by Sherwin Williams (one of my favorite paint colors of all time!)  😉 Check out my DIY Project Gallery for more painting projects!
Happy Painting! 
KIM