Our coastal kitchen makeover is complete and our favorite part of the kitchen is the coastal backsplash! I found this gorgeous mosaic tile about 6 months ago from Lunada Bay Tile Company and asked Lunada Bay if they wanted to partner with me on our kitchen renovation. They graciously agreed and today I'm happy to show off their tile and our process for Installing a Paper Faced Mosaic Tile Backsplash.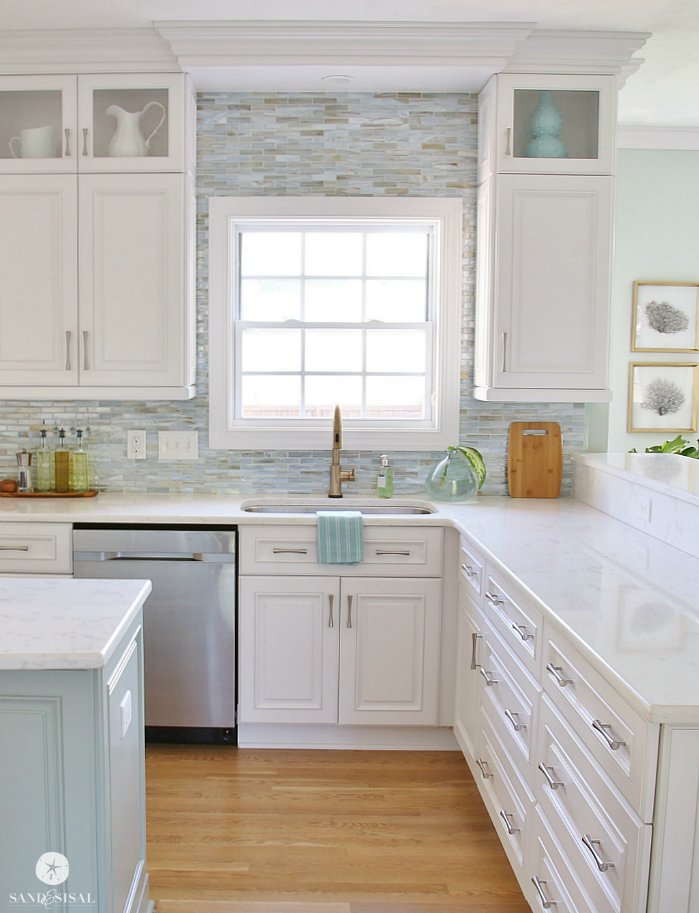 Here is a peek at what our kitchen looked like (almost finished) before the installing the backsplash. The kitchen is still nice but it's a bit boring, lacking pizazz.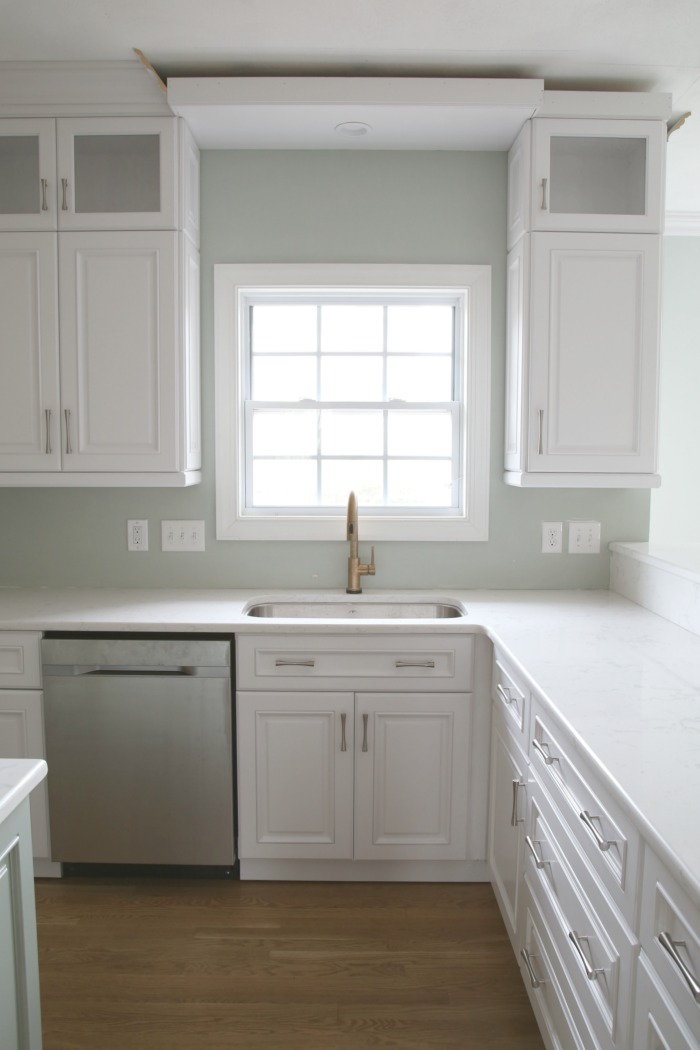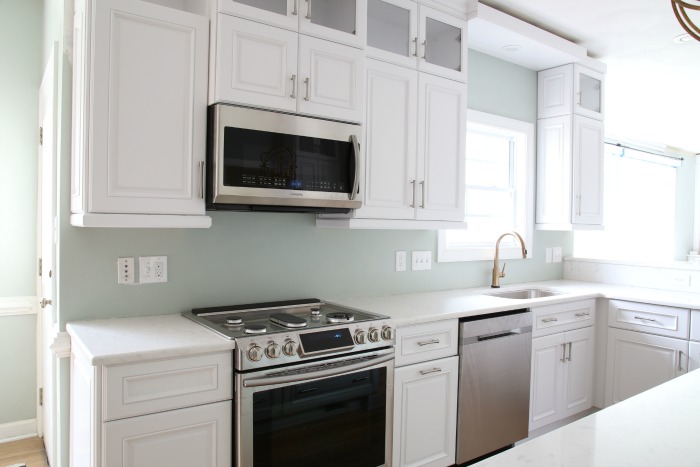 The tile we chose was from Lunada Bay Tile Company, located in California. You have to find a dealer near you who carries Lunada Bay. We have two tile shops in our area that carry it. The specific name of our tile is Agate Lucca Pearl 1×4″ brick. It is a paper faced mosaic of thin glass tiles. Each tile is a beautiful mix of seaglass greens and blues with swirls of gold and finished with a subtle pearlized irridescent glaze. It is gorgeous!
Each sheet of mosaic tile is approximately 12×12″. When preparing to order tile, be sure to bring the exact measurements of the open area that you want to tile. The tile company can help you determine exactly how much you will need. They will often include 10-20% more tile in your order. This is necessary! Don't order too little!
Installing a Paper Faced Mosaic Tile Backsplash
Our glass tiles were paper faced mounted with a water soluble glue. Paper faced tiles allow for the fullest coverage of bonding materials and because they can be translucent, a mesh backing could be visible through the tile.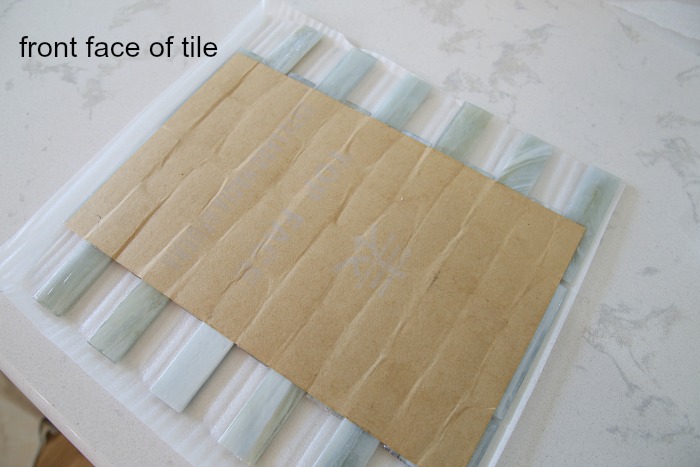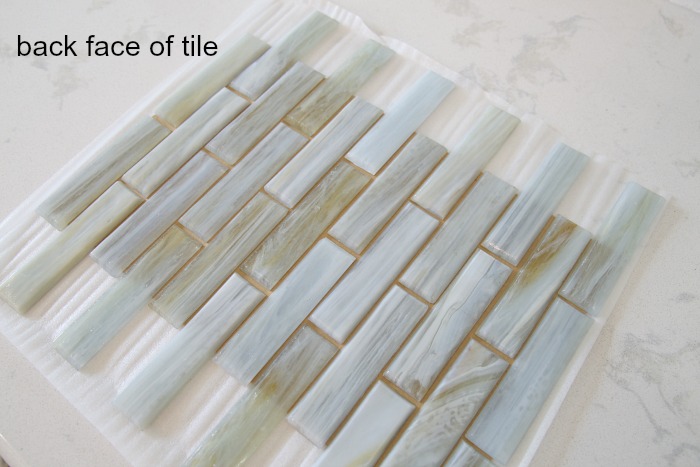 Lunada Bay sent over some clear glass bars with a pearl glaze which we used at both ends of the backsplash, simply to give it a finished look. I painted the backside of the tile bars with my favorite Martha Stewart Glass Paint to make them match the rest of the mosaic tile.
Here are the items you will need for installing a paper faced mosaic tile backsplash:
quality white thin-set mortar
small toothed 3/16″ x 5/32″ V-notced trowel
wet saw
glass cutting nippers
polymer-modified grout
rubber grout float
spray bottle of water
bucket of water
large sponges
gloves
protective eyewear
The first step is to mix up your thinset mortar. Be sure to follow the manufacturers instructions exactly. The thinset should be the consistency of peanut butter. Apply the thinset to the wall with a V-notched trowel. Comb the mortar to the wall and place the tiles and then "seat" them, by pushing the tile sheets perpendicular to the combed mortar, wiggling a bit. This helps set the tiles and eliminate trowel lines behind each tile.
A straight board can be temporarily screwed in the wall area behind the stove to help support the tile sheets above. Work in small sections at at time, only applying enough mortar for one sheet of tile and then move on. Be sure to check that your sheets are lining up correctly.
Tip: Make sure the printing on sheets of tile are all reading in the same direction. This will help ensure proper alignment.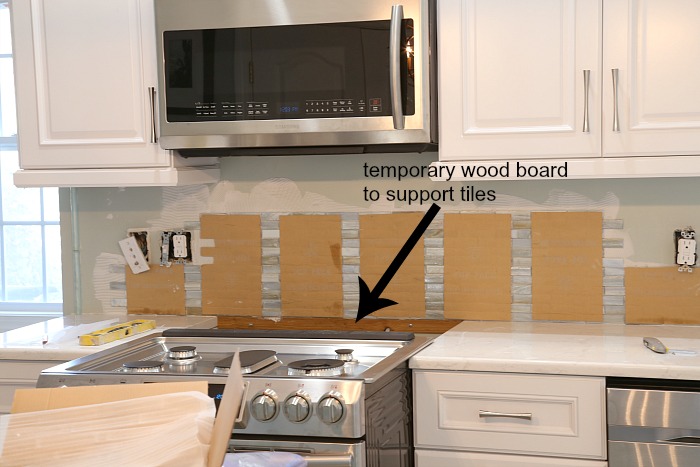 CUTTING TILE: When it is time to cut tile for areas around outlets or at the ends of the backsplash, then use a wet saw with a diamond blade. You can also use special glass cutters or nippers as they are called. Those are available at most big box home improvement stores. A wet saw will give you the most straight cuts. Follow all the instructions and safety recommendations set forth by the tool manufacturers. Your tile should also come with a specific set of recommendations from the tile manufacturer about best practices for cutting the tile.
REMOVING PAPER FACING : After 15-30 minutes, while the thinset is still pliable, you should start to remove the paper facing. I apologize I don't have a picture of this step. Simply spray the paper faces lightly with a warm water filled spray bottle, dampening the paper. You can also use a wet sponge if you don't have a spray bottle. The paper should be ready to remove after a few minutes and has turned dark brown. Peel the paper off gently, pulling diagonally. Clean up an remaining soluble glue residue with a damp sponge. Repeat process until all paper is removed and tile is clean. Scrape out any excess thinset mortar that might have oozed up to the surface.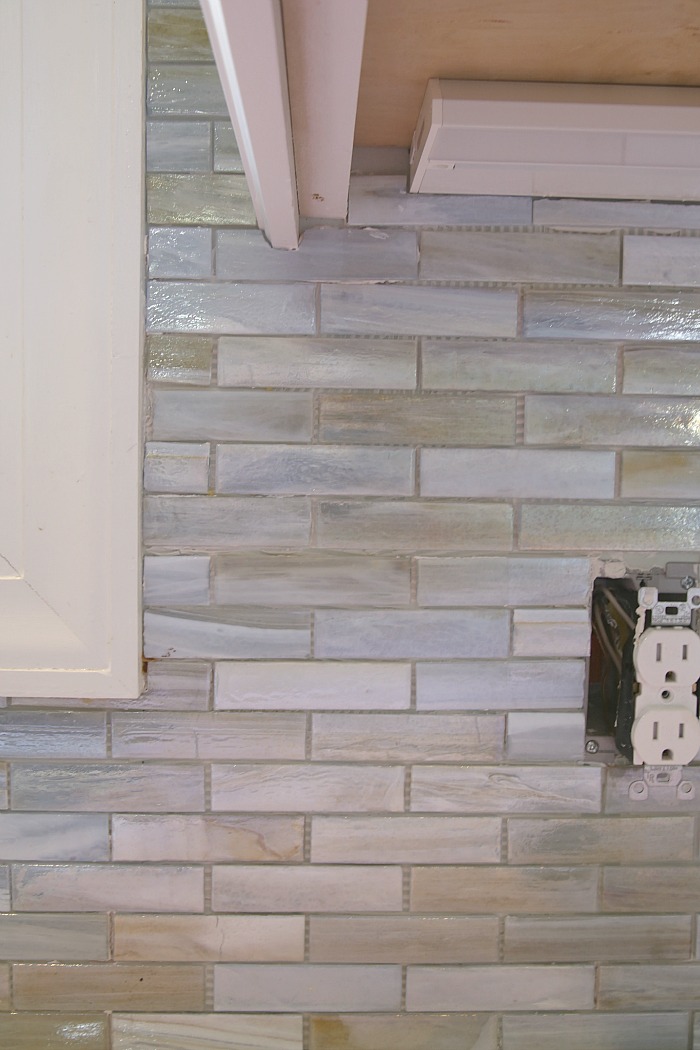 GROUTING THE BACKSPLASH: Grouting can be applied after the mortar is set which is typically after 24-48 hours. Choosing the color of the grout is important. Grout color can drastically change the overall appearance of the tile and backsplash. I chose pure white grout. Some glass tile manufacturers will allow sanded grout, others will not. Again, check what your manufacturer recommends for your specific tile.
Apply the grout with a rubber float, pressing the grout completely into the spaces between the tiles. Scrape of excess with the edge of the rubber float, holding it at a 45 degree angle.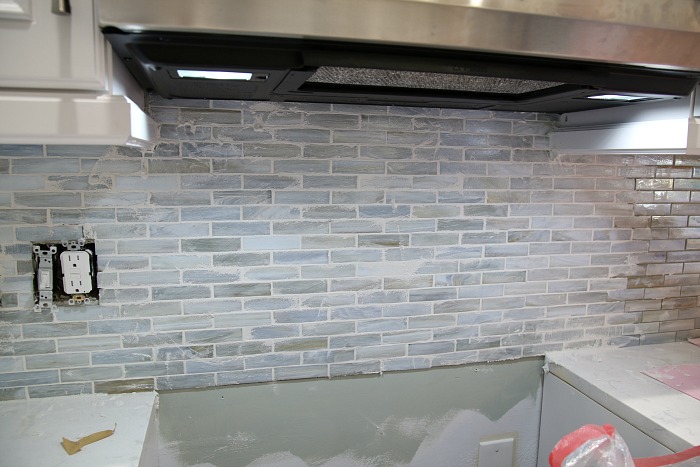 Wait about 10 minutes and lightly shape joints and remove surface residue with a damp sponge. Have a large 5 gallon bucket of fresh water to rinse out your sponge. I like to make one stroke over the tile in a diagonal direction, then I flip over my sponge and wipe in that same direction again. Rinse out your sponge before wiping a new area.
Allow grout to set. If it has a very light residue on the tile then that is fine. Use a soft, clean cloth to then buff off any haze and polish the tile to a glossy shine.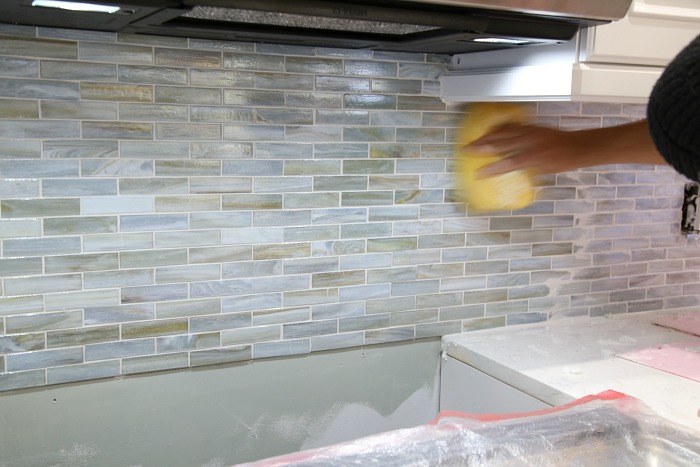 Isn't is beautiful? The white grout made the blue tones in our mosaic tile beam! Before the tile had a much greener appearance. Like I said, the color of your grout can change the look of your tile. Some grouts have built in sealants and other's don't. I think for a backsplash, adding a grout sealer is a smart choice.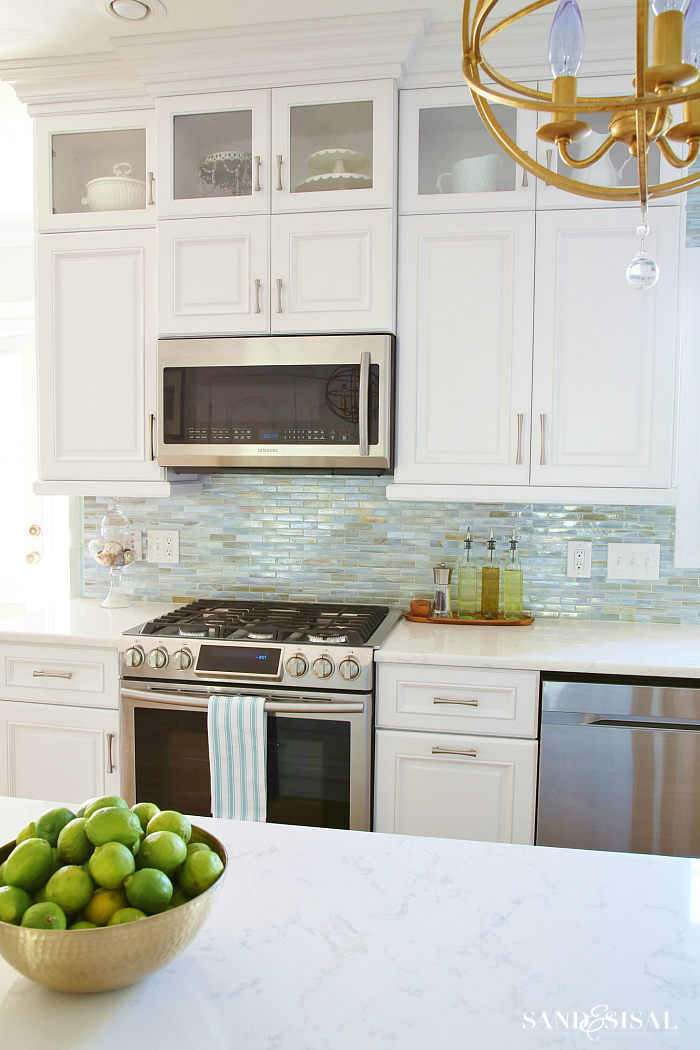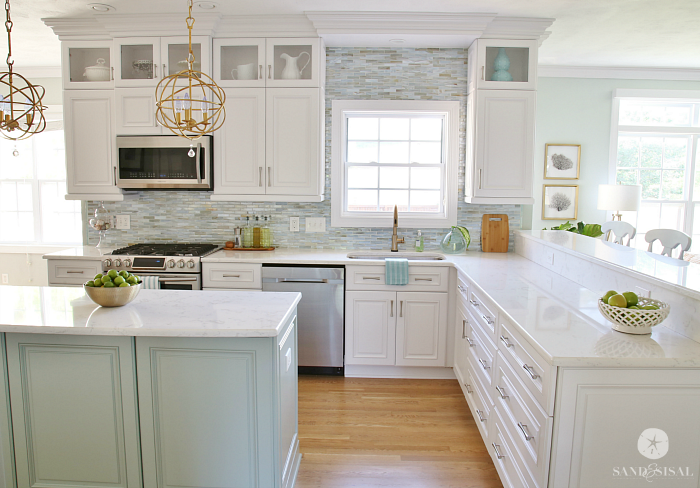 Special thanks to Lunada Bay! Their tile has made our coastal kitchen complete! Click here to see our full kitchen makeover.
You might also like these posts:
How to Install a Marble Herringbone Tile Fireplace Surround and Hearth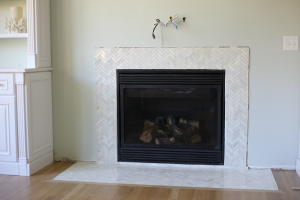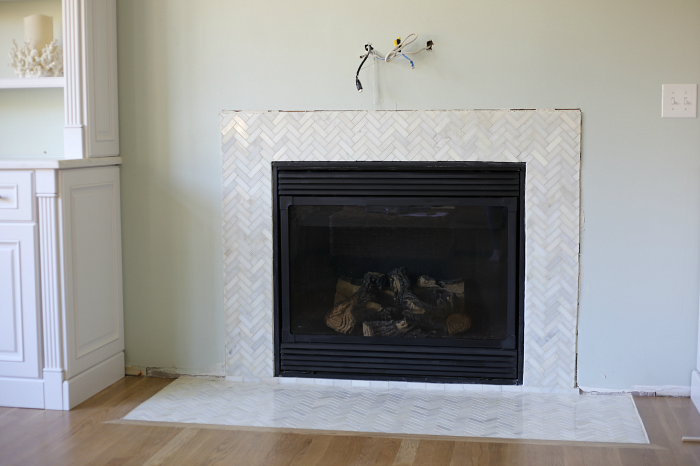 10 Beautiful Beach Backsplash Ideas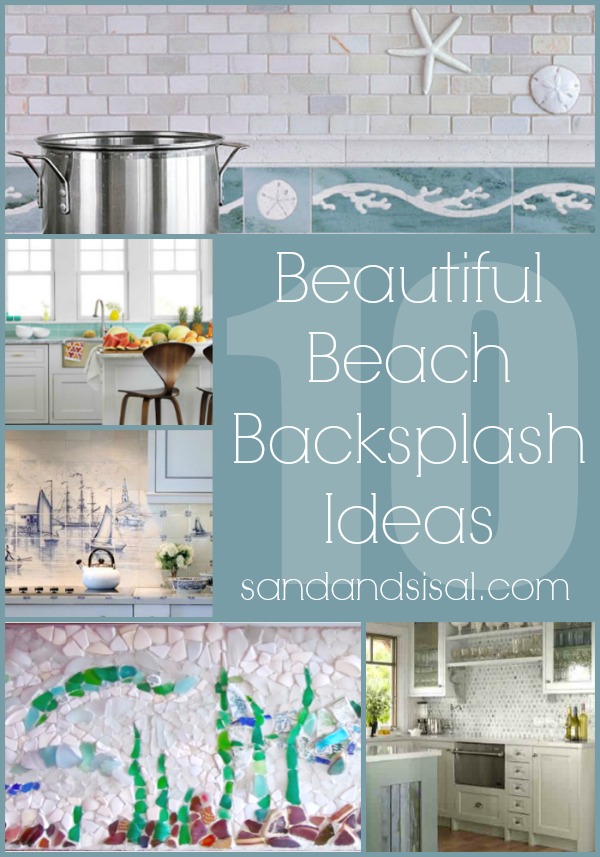 Adding a Glass & Stone Mosaic Tile Border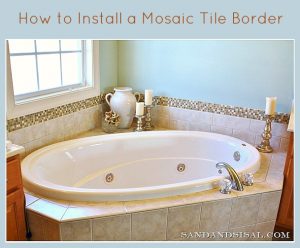 How to Decorate a Mirror with Tile