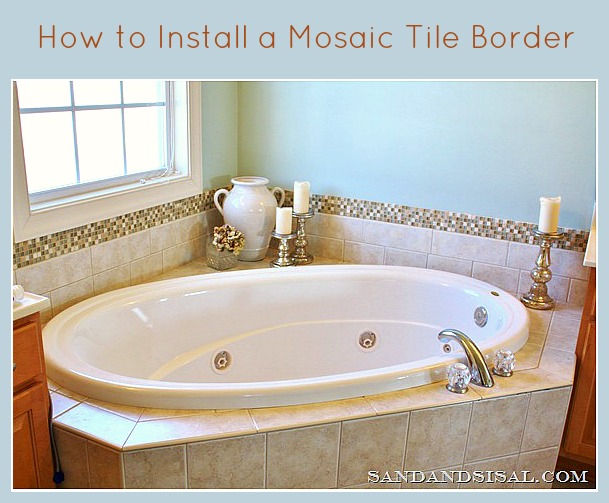 Glass and stone tile are all the rage right now in bathroom design. The sparkle of clear watery glass and the organic warmth of stone is a favorite combination amongst designers and homeowners alike.
The master bathroom in our home is phenomenal in my humble opinion, but it did lack detail. Adding a decorative tile border is an easy project that delivers a big impact. Below is a pic of my master bath. I adore that Jacuzzi tub but it needed a bit of bling!
Lowe's has a nice selection of stock 12×12 glass mosaic tile. This particular one is called "Seabreeze".
To save a ton of money on premade borders, cut the 12×12 mosaic into strips. Peel off the spongy backing.
I then applied prepared white thin-set to the back of the border with a trowel. This method is kind of backwards, normally you apply the thin-set to the wall but a tiling friend of mine suggested just "buttering" the tile for small projects. Getting the appropriate amount of thin-set on the tile is a bit of trial and error. You do not want the thin-set to ooze to the surface of the tiles but to stay half way back. If you apply too much, then just remove it with a thin screwdriver or skewer.
I rested the tile border above the existing tile, pressed it firmly, and wiped off any extra "ooze". Below is a pic of the border tile without any grout. It only took a few hours to put on the tile. Allow it to cure for 6-24 hours, depending on how large your project is. Follow the adhesive manufactures recommendation. Mine recommend 6 hours.
Now it is time for grout! I chose a sanded grout in a linen color.  Why a sanded grout and not the non-sanded kind you ask? The non-sanded grout will stick in all the knooks and crannies of your stone tiles and will not come out, resulting in an ugly finish. DO NOT WORRY ABOUT SCRATCHING THE GLASS! I can not scream this loud enough. It is so hard to scratch those tiny glass tiles. If you are using purely glass mosaic tiles, then yes, use a non-sanded grout, but when using the combination of stone and sand, trust me, you'll be happy you used sanded grout.
Ok, go ahead and scoop out a big blob on your rubber float.
Apply the grout to your tile with a 45 degree angle. Don't worry about this part, just slather and work it into the grooves. Wipe off excess with your float on the 45 degree angle. Then take a big grouting sponge, get it wet, and with circular motions rub off all excess from the surface and edges. In about 4 hours you can buff the haze off the surface with a dry soft towel.
Below left is a close up of the tile grouted and dry. And below right is my view from inside the tub. Yes, I had to lay down in it to experience the full effect !!!
This project cost $50 for the tile and supplies.
The results are amazing and I'm loving how it blends so well with my bathroom colors of Rainwashed and Urban Putty by Sherwin Williams.
I will be adding this above the shower tile also this week.
Click here to see the color inspiration for this master bath and bedroom.
Have you tiled before? I'd love to hear about it! Feel free to leave a comment and give me what you think!
 Kim