Are you afraid to tackle DIY projects because they seem time consuming and overwhelming? I have 5 weekend DIY Projects for the Bathroom to show you. Most of the projects can be accomplished in just one day! Get ready to spruce up your bathroom and turn it into a beautiful and relaxing oasis.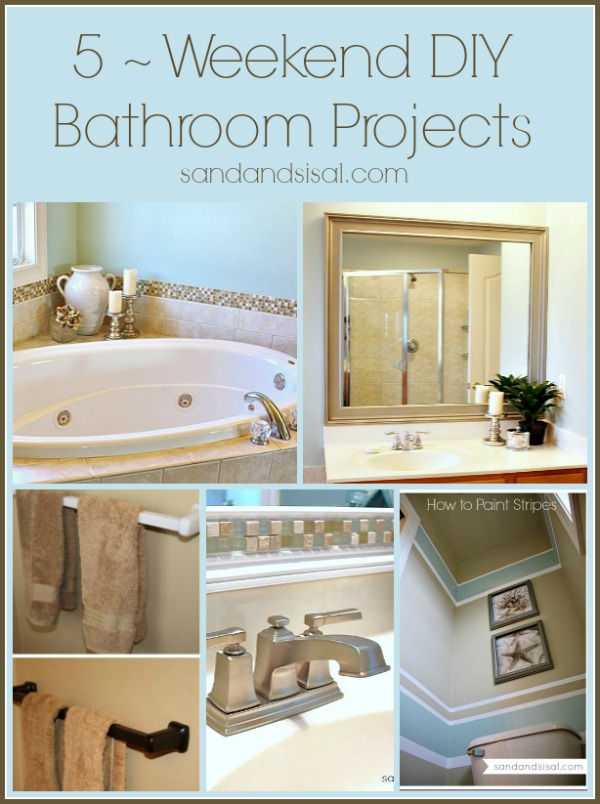 One of the easiest weekend projects is to add a custom frame to your plain, builder grade mirrors in your home. This project is so simple and inexpensive, that once you complete one mirror, you will so be wanting to make frames for all your mirrors in the house! Click on this post I did back in January of 2011: How to Frame a Mirror for a step by step tutorial. To be honest, I think this was one of the best projects I ever did for all of my home bathroom mirrors (5 mirrors!). It gives your bathroom appearance an instant upgraded feel!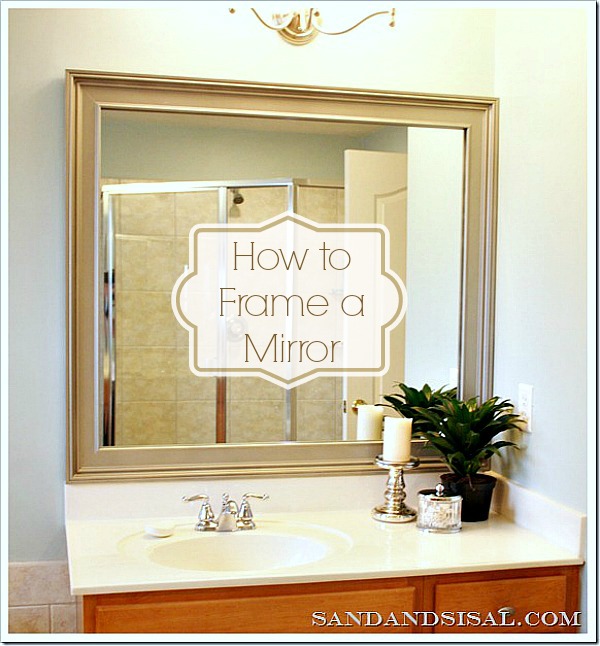 Have you ever worked with tile? You can Add a Mosaic Tile Border around your tub or top of your shower with this easy tutorial.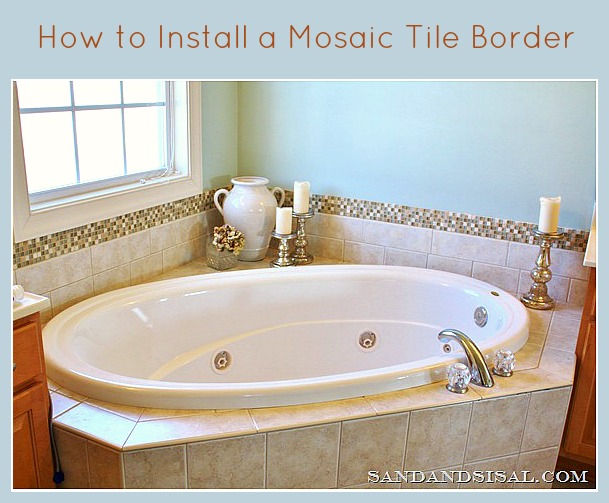 Another weekend DIY project is upgrading your faucets. Click on my tutorial  A Girlfriend's Guide to Installing a New Faucet. I wrote it for all my girlfriends out there who don't want to have to wait for a man to install a faucet for them or pay a plumber. We woman can accomplish anything we put our minds to and this tutorial is to help you out! If I can do it, then you can too!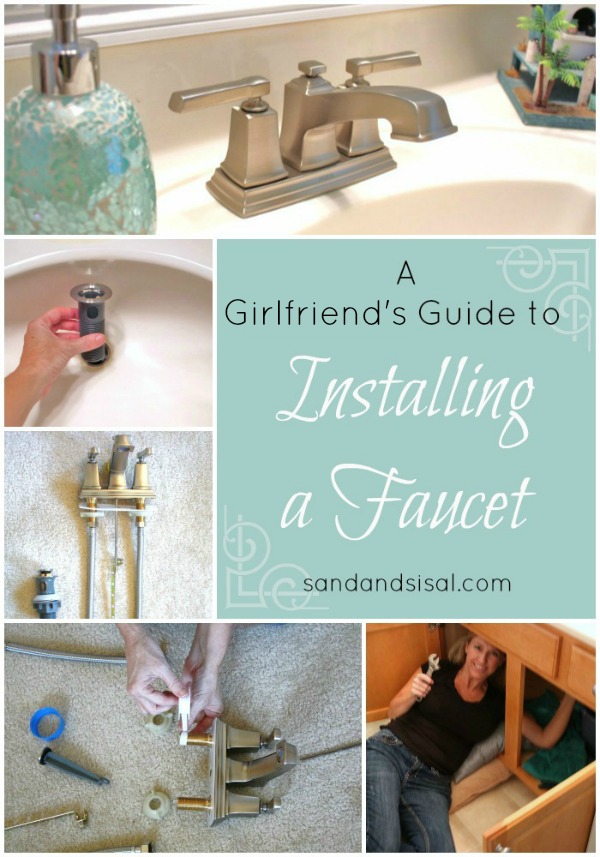 I'm dying for warmer weather to come my way. Why? Because that means spray paint time! Give your bathroom's builder grade hardware and fixtures a makeover using metallic spray paint. Click the link to find out my all time favorite, all surface spray paint brand! You will be amazed at what you can transform and upgrade with just a little bottle of this paint! It comes in so many new metallic colors now also, compared to when I 1st wrote this post years ago. After all these years, this specific brand of paint is still looking fabulous!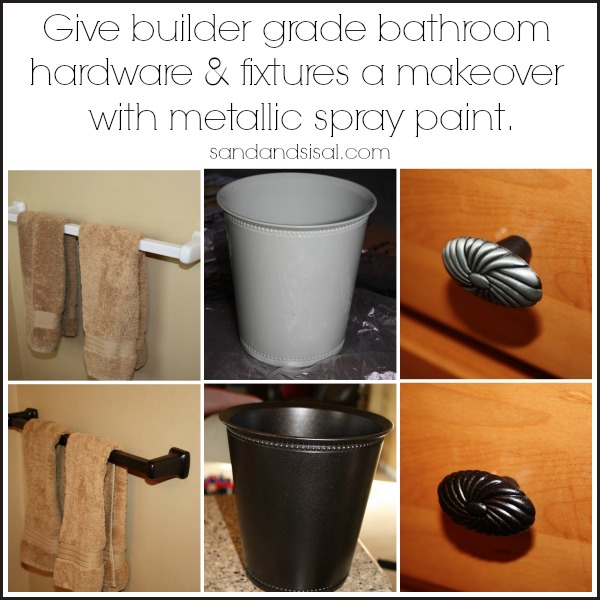 Paint, paint, paint… the most inexpensive and effective way to transform the mood and appearance of a room. Try sprucing up a small power room with sophisticated stripes. Click over to discover how DIY bloggers make Painting Stripes Made Easy!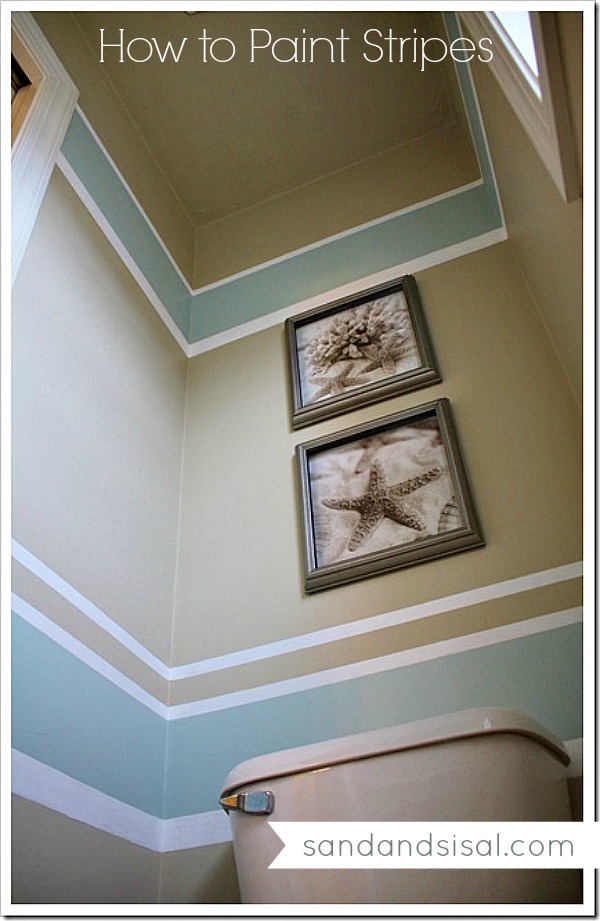 Give these 5 Weekend DIY Projects for the Bathroom a try. Choose one to tackle or choose all. You will love the results and your friends will soon be asking "Who did you hire to do THIS? It's beautiful!!". You can sit back, smile, and proudly let them know,  "Why thank you, I did it MYSELF!"
Happy DIY-ing!
Kim