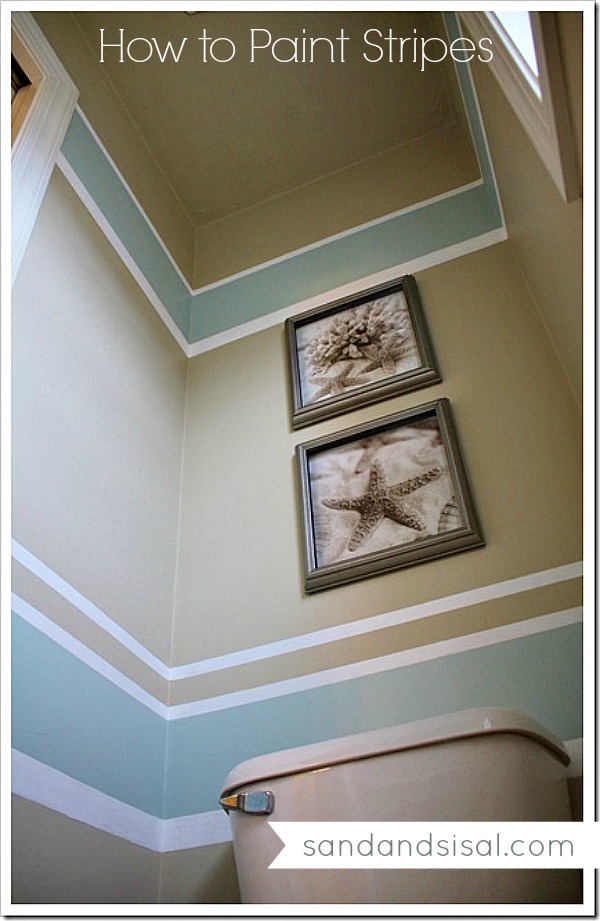 Love the idea of beautiful panels of color sweeping across your walls, but fear is holding you back from attempting it?
Don't let the idea of painting straight, clean, level stripes intimidate you.
There is an easy way with NO measuring!
Start with a few rolls of painter's tape of varying widths and a level. These will help determine the widths of your stripes.
Choose a height and hold your level against the wall. Adjust level so bubble is level and hold in place. Then place your tape under the level and continue to run it across the wall horizontally. Recheck for level every foot or so. Next, place a strip of tape (largest width) directly under your first. This is a guide for how thick your stripes will be (no measuring!). Finish the bottom with another skinny tape strip.
Once you have all your tape in place, you might want to lightly label with pencil where you want certain colors placed.
Tips to prevent "bleed through"
Make sure your tape is secure to the wall.

Put a VERY small amount of paint on your BRUSH, almost a dry-brush consistency.

Place the brush half way on the tape, then stroke toward the center of your stripe in diagonal "X" strokes. Allow it to dry just a few moments. This step seals your edge.

Now with ample paint on your brush or roller, fill in the color then remove your tape before the paint is dry.
Fill in your color. Painting overtop the tape if desired.
Work in sections so you can remove your tape before the wall is completely dry.
Peel off your tape. Now Oooooo & Ahhhhh at your beautiful stripes!
Stripes of varying widths and limited color will give any boring room a clean, contemporary look.
Give it a try now that you know how simple stripes can be!
Kim
Amendment: 4/23/2012 – So many have inquired as to the type and color of paint used in this project. It is Sherwin Williams in Urban Putty and Rainwashed.