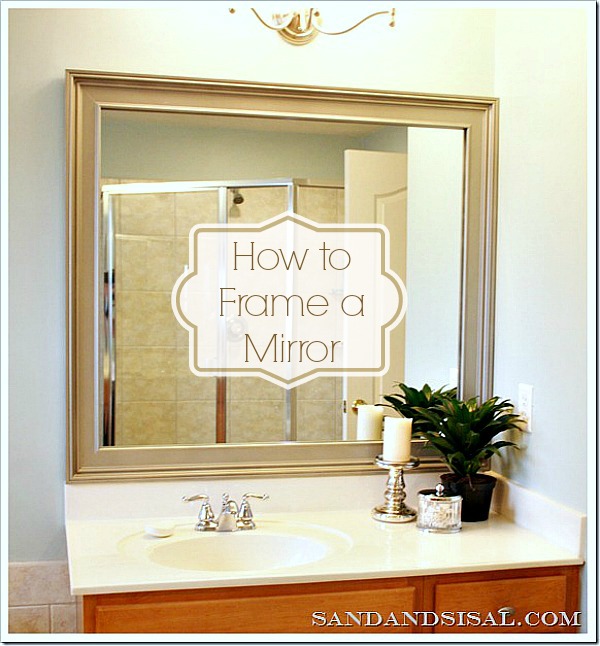 You all know my master bed/bath is undergoing a facelift and adding framed mirrors is part of the process.
Most homes have these huge behemoth mirrors and mine is no exception.
Don't get me wrong I love mirrors!
Is that vain to say?
Mirrors magnify the light in a room, and I love lots of natural light, but they tend to look a little big and naked.
(I'm talking about the mirrors now, not necessarily what they're reflecting!!!!)
Let's dress that mirror!
This project was so unbelievably simple and inexpensive that I kept giggling while making it!
Step 1: Measure the height and width of your mirror, including mirror clips, adding 1/2 inch to account for my desired overlap.
Step 2:  Choose your molding (at least 3" width). Base board moldings work great! I chose PVC molding (strong, light, inexpensive). Where to find the molding: Home Depot has this in their "Decorative Finished Moldings" section. It is next to some of the dark stained looking finished molding. This molding is their Celucor vinyl interior molding. For all my mirrors in my home I used HDRB3 Casing in the color bone white, for one exception and that was my one seen in my girl's bathroom (blue/gray distressed mirror)and that molding number was LWM390 Creations Chair Rail.
Step 3:  Take your width measurement and mark the width on the molding. Cut a straight (90 degree) cut. Label the back of that piece "Mirror Top". Repeat the cutting process with another piece of molding and label that piece "Mirror Bottom". Do this also for the sides of the mirror, using the height measurements.
Step 4:  Lay the outer edge of molding against the saw fence and cut a 45 degree angle inward at each end. Repeat with all pieces. Make sure both side pieces are exact same measurement and the top and bottom are exact. If not, cut tiny amounts off to make it exact.
Step 5: Lay the 4 sides down on a large covered surface to form a box.
Step 6: Glue your edges together, one corner at a time, holding for 1 minute, and allowing glue to set for 5 minutes, before moving to next corner. I used clear PVC glue. It was crazy-easy to glue and the bond is so strong!
Step 7: SPRAY PAINT TIME! (my favorite part!) Choose whatever you love! The possibilities are endless. I chose another Rust-oleum Universal Metallic Paint, this time in Satin Nickel. Don't forget your inner and outer edges and also you'll need to spray  1"-2" of the inside edge of the frame back (mirrors reflect).
Step 8:  Apply small 1" pieces of strong double-sided tape to all corners and the middle of all sides. My tape said only 4" of tape are needed for every pound! I tend to always do a bit more.
I had to apply a double stack of the tape to account for the center dip in the moldings.
Step 9: Carefully place your frame against the mirror and press to adhere. You only get ONE SHOT at this part, so having a friend help you is a good idea.
Step 10: Enjoy your dressed up frame and your fabulous reflection!!
I'm so pleased with the cost ($30) and outcome, I can't wait to start framing the other bathroom mirrors in the house!
Amendment to this post 10/12/11
Hi everyone! I have received numerous emails asking about how I dealt with the existing mirror clips.
My mirror had the big, chunky, clear plastic clips on each top corner. I removed those, kept the screw that held it in place and replaced the plastic clips with 2 sizes of washers. I stacked the washers to fill in the space needed and the large washer holds the mirror. Trust me, the mirror is very secure. BUT if you can find flat mirror clips then use those. I could not find any at the time.
I hope this picture helps explain how the mirror is held in place!
To embellish your mirror in other ways, check out these posts "How to Decorate a Mirror With Tile" and Painted Custom Mirror Frame Using Paint and Glaze
Kim