Finally! It's done! Well, let's say it's done enough. After running into several setbacks, delays and a round of pnemonia with my youngest, I'm happy to post our Coastal Dining Room Makeover for the One Room Challenge! Walk with me from our kitchen into the new, lighter and brighter, chic coastal dining room.
This post contains affliate links your home shopping convenience.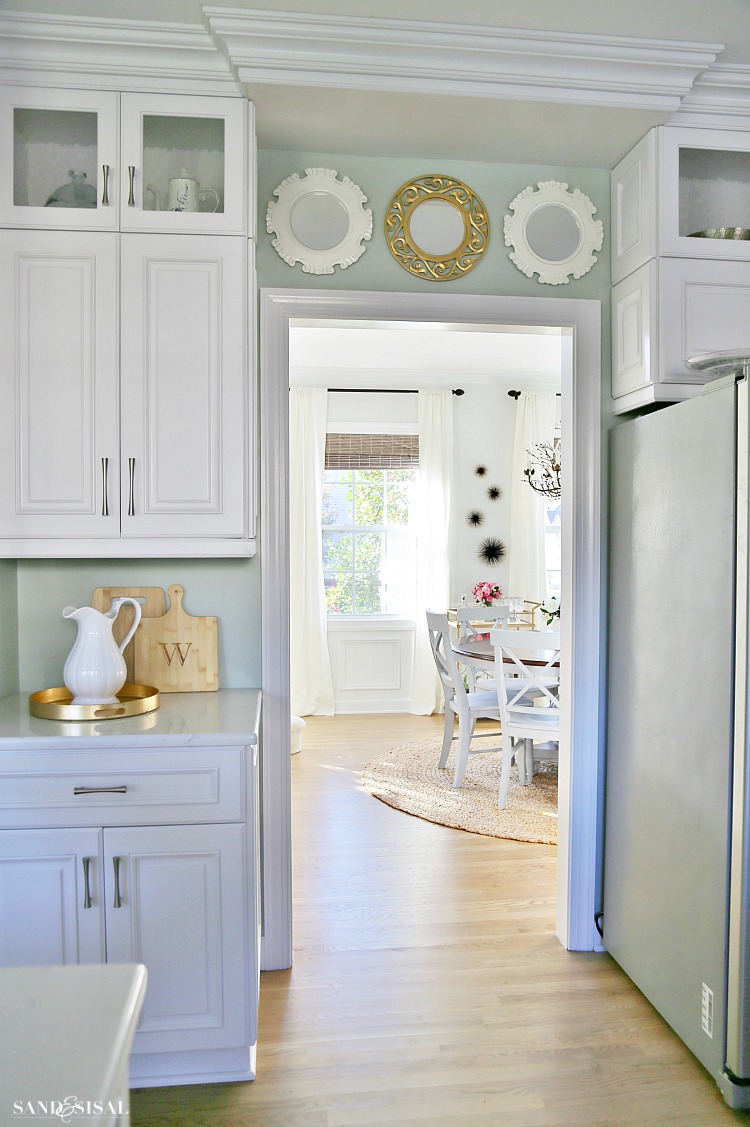 This is how I decorated the room when we first moved in ten years ago. Not too exciting was it? The table and chairs were a $125 thrift store find.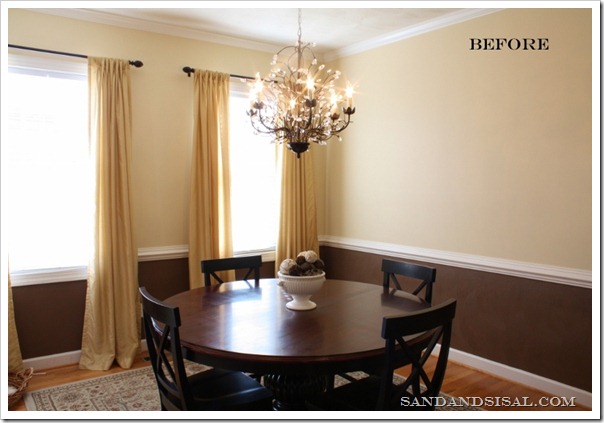 A few years later we painted the dark chocolater brown a bright white and added the picture frame moldings, a new rug and finally some artwork. I was quite happy with this color scheme for several years but I was getting tired of the buttery gold walls (Ivoire by SW) and the starkness of the black table in the space.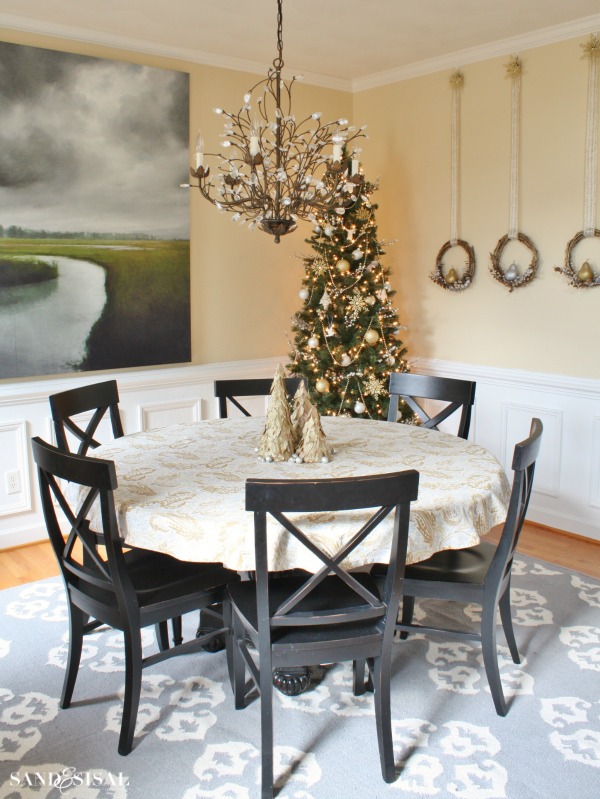 I asked you all to help me choose a color on Facebook and wow! Over 400 different opinions came in! Thanks for all your help! The choice was between A) Silver Strand and B) Reserved White. The winner was Reserved White by Sherwin Williams.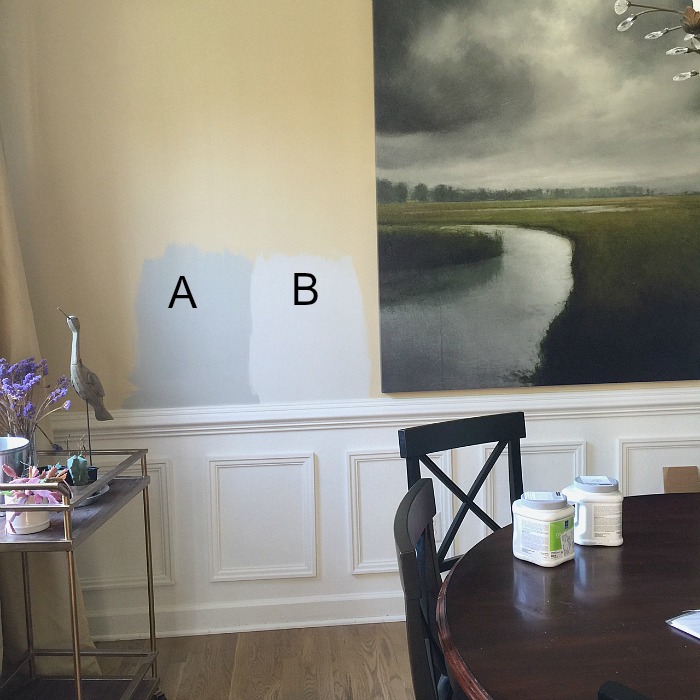 Ta-da! Here is our coastal chic dining room! The Reserved White is a very light gray with faint blue-green undertones. It blends perfectly with the adjoining rooms which are painted in Sea Salt and Comfort Gray.
I kept the same oil rubbed bronze window hardware but raised them higher to just below the crown molding. The hand made curtain panels are a beautiful white linen. I'll share a tutorial on how to sew your own panels soon. The previous plantation blinds were broken and would not work so I replaced those with bamboo roman shades in a driftwood finish. They coordinate nicely with our new refinished weathered oak floors.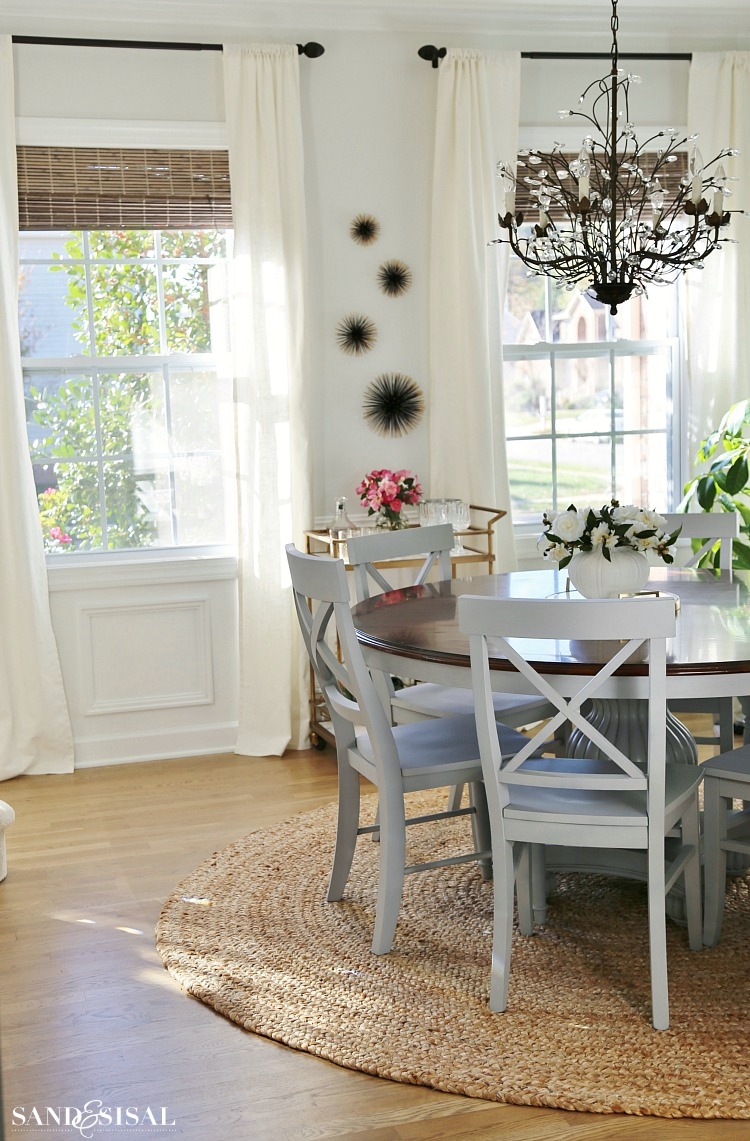 The ceilings received a fresh coat of bright white paint. That gave an immediate illuminating effect like turning on a light switch! I think the new color palette makes the twig chandelier stand out look even more beautiful! The beautiful painting Storm Over the Marsh is so very special to me. It looks exacty like the marshlands and rivers in our area. The scene is so peaceful and serene. The painting was the inspiration for the rest of the room.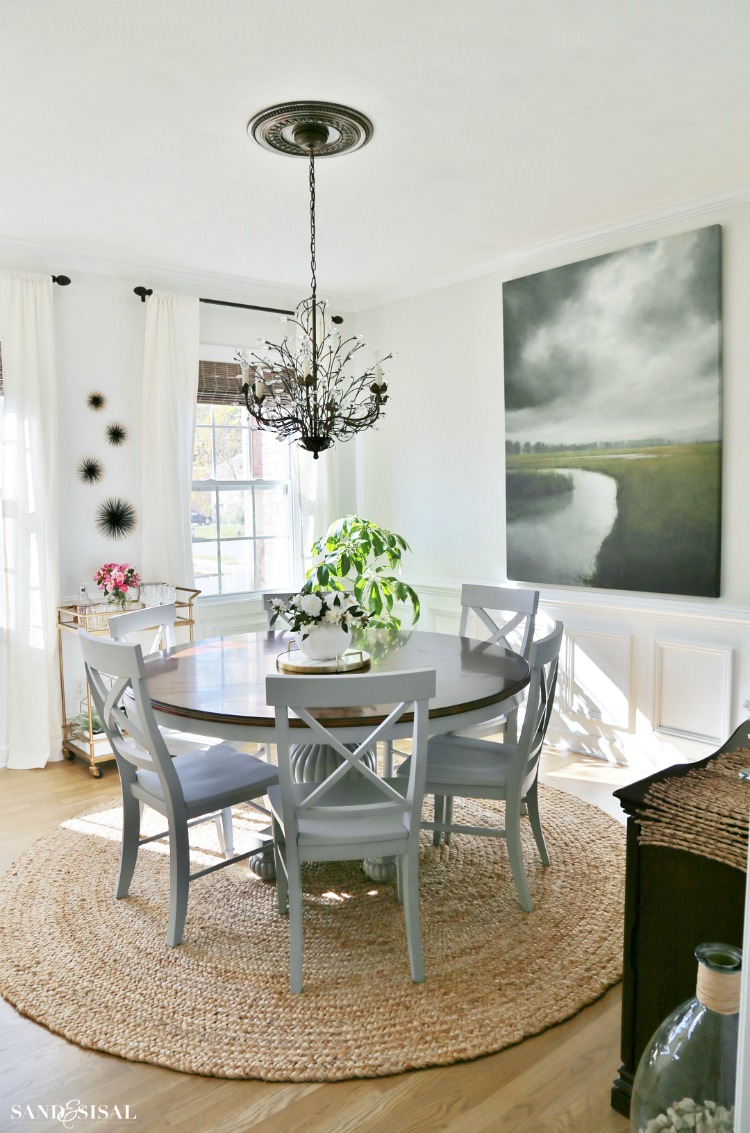 The project that took the most effort and to be honest, some frustration was painting the table and chairs. I tried a newer brand of chalk paint and ran into some issues. The light gray table base and chairs partner better than the black did with the dark wood tabletop. I'll share the table makeover post later this week and give my review on the paint.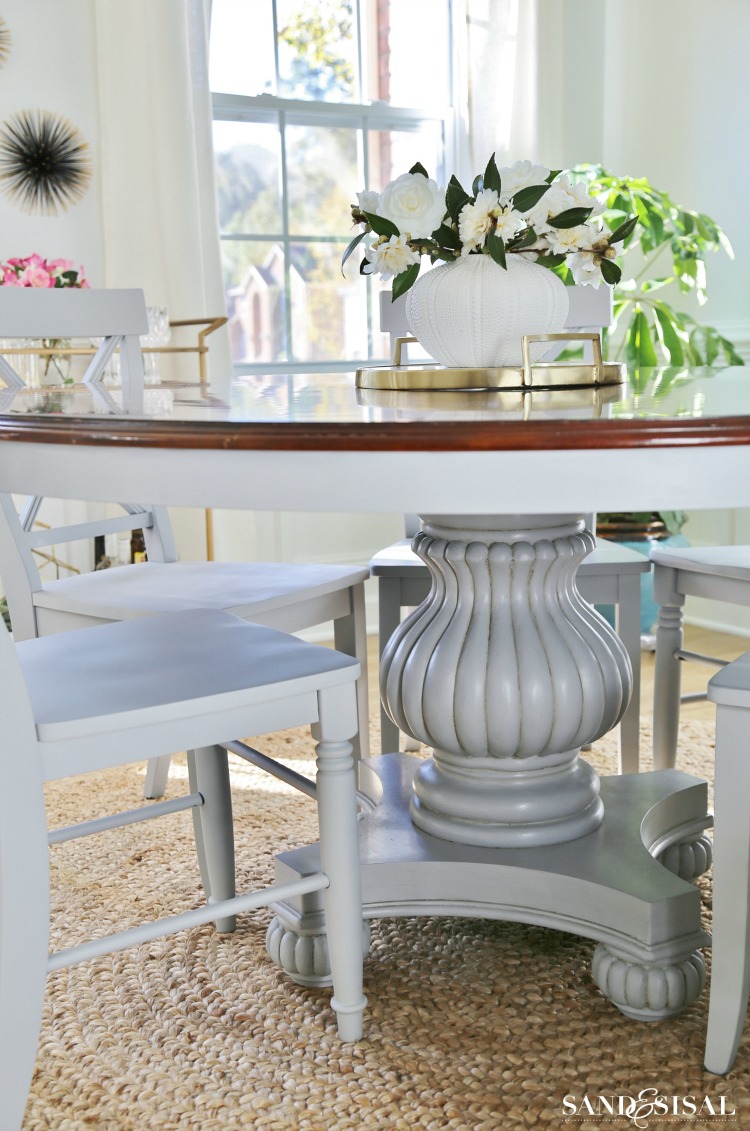 We moved the previous rectangular blue-gray rug into the family room and replaced it with a round jute braided rug from Pottery Barn. Surprisingly it's very, very soft underfoot.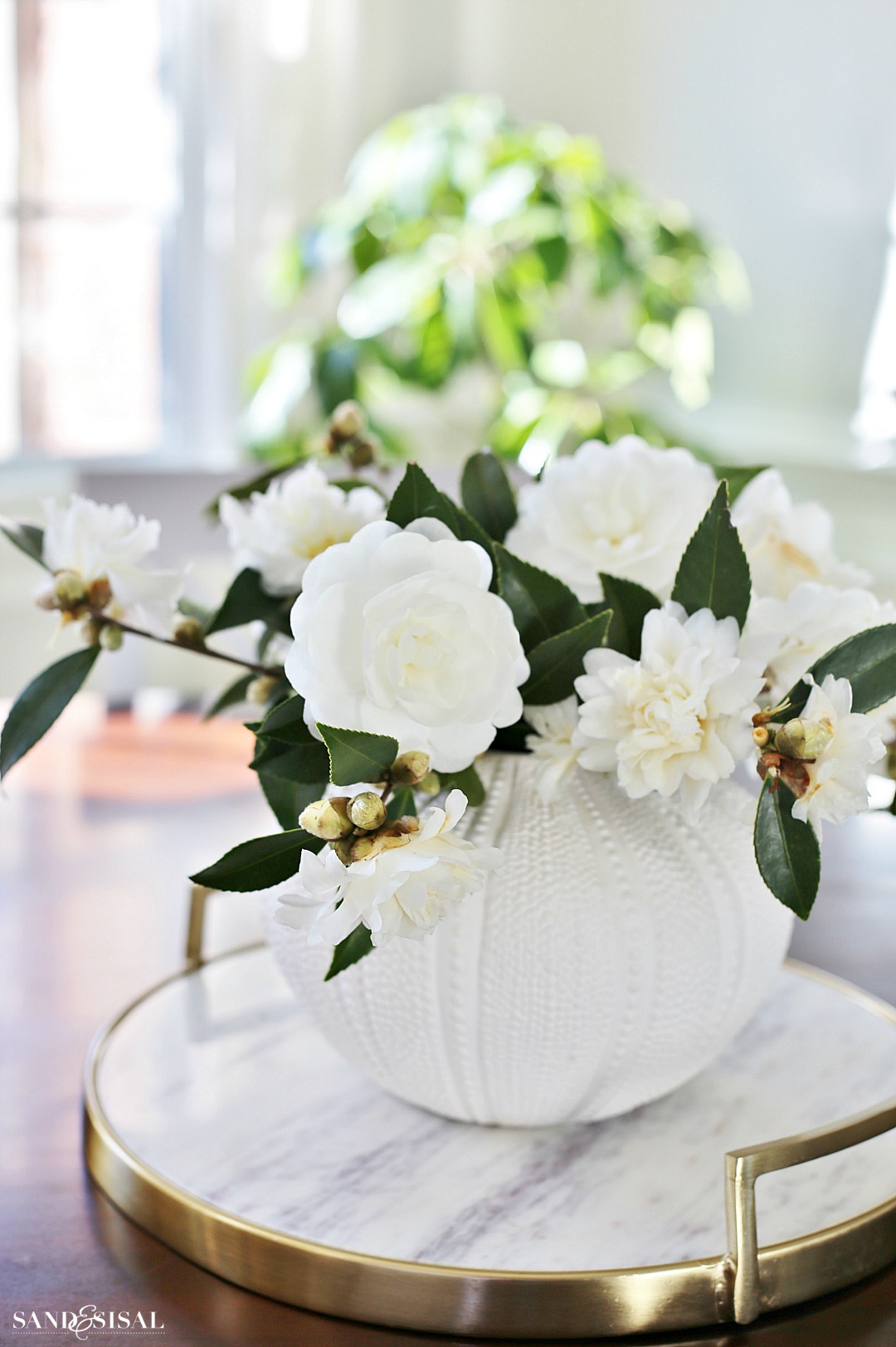 I used a mix of accessories I already owned and a few new. I love this marble and gold tray from Target. The sea urchin vase was from there also. I headed out into the yard and picked two types of white camellias for a centerpiece. Our camellias are loaded with blooms right now!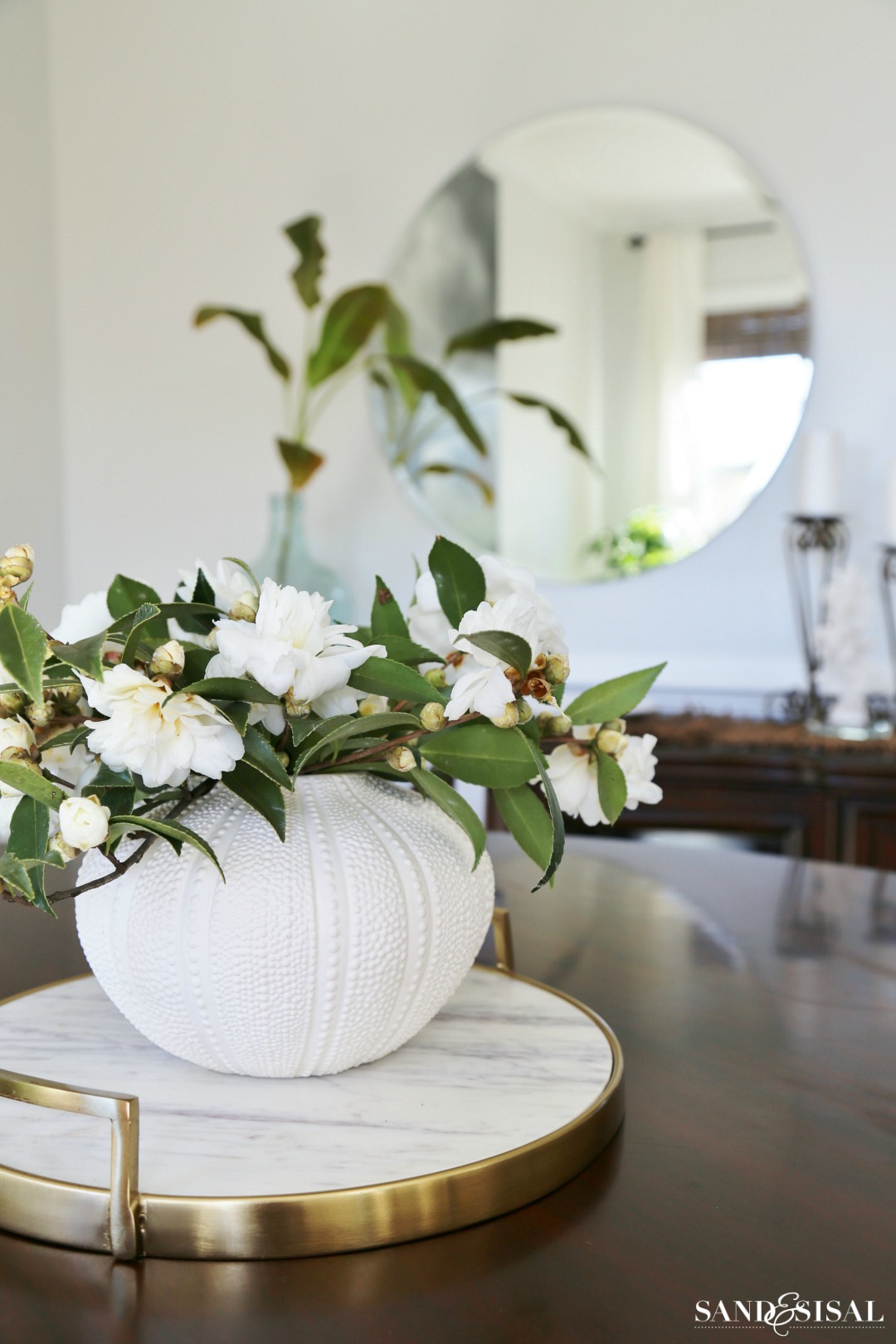 If I had unlimited funds I would buy a new table, new chairs, and a new buffet table. But let's get real, most of us don't have that amount of money so I needed to try to use what I had. We've never had a buffet table and trust me, I've searched and searched for one that I could afford or even makeover but I haven't one yet. So what's a girl to do? Well, I told hubs that our family room entertainment unit was going to become a buffet table! Why not? Nothing I do seems to shock him anymore so down the TV went and he willingly moved the unit into the dining room.
The drawers that once held videos now store cloth napkins. The shelves said goodbye to DVD players and now hold platters and dishes. The "buffet" is not perfect but it works for now and not a penny was spent! A new 36″ round beveled mirror reflects the light and views out the windows.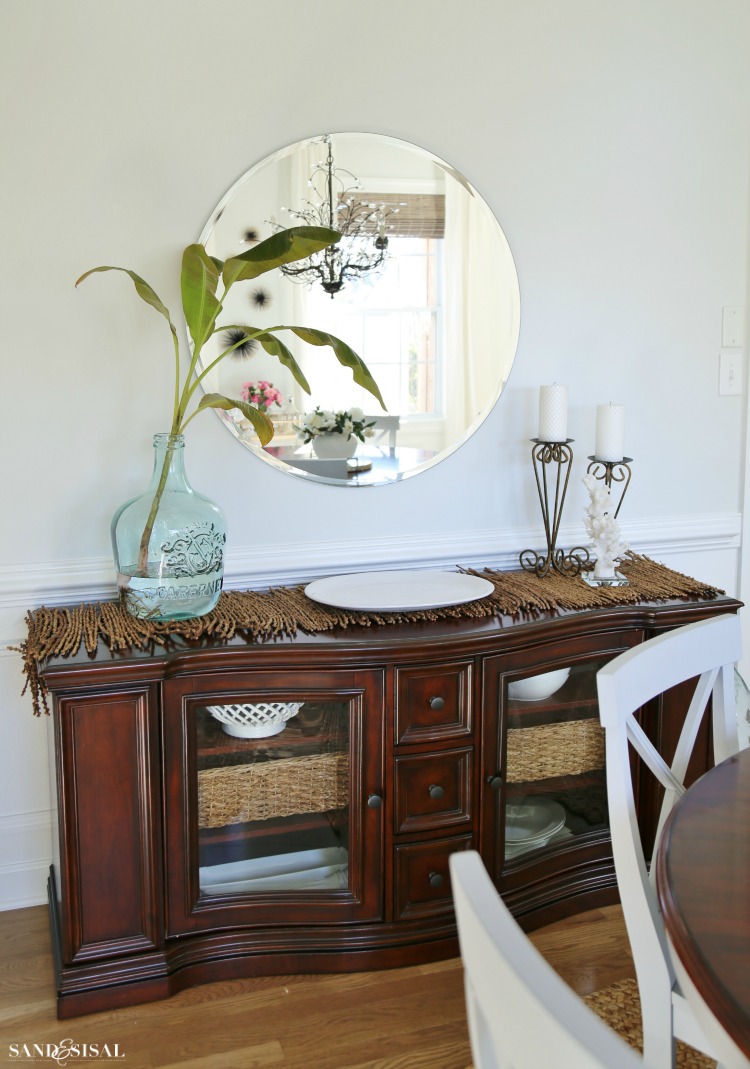 Across the room I stationed the bar cart. If you read the previous post then you saw how the boring bar cart got a faux marble makeover! I love how it turned out! Quirky bronze sea urchins hang above the cart and add a bit of unexpected whimsy to the space.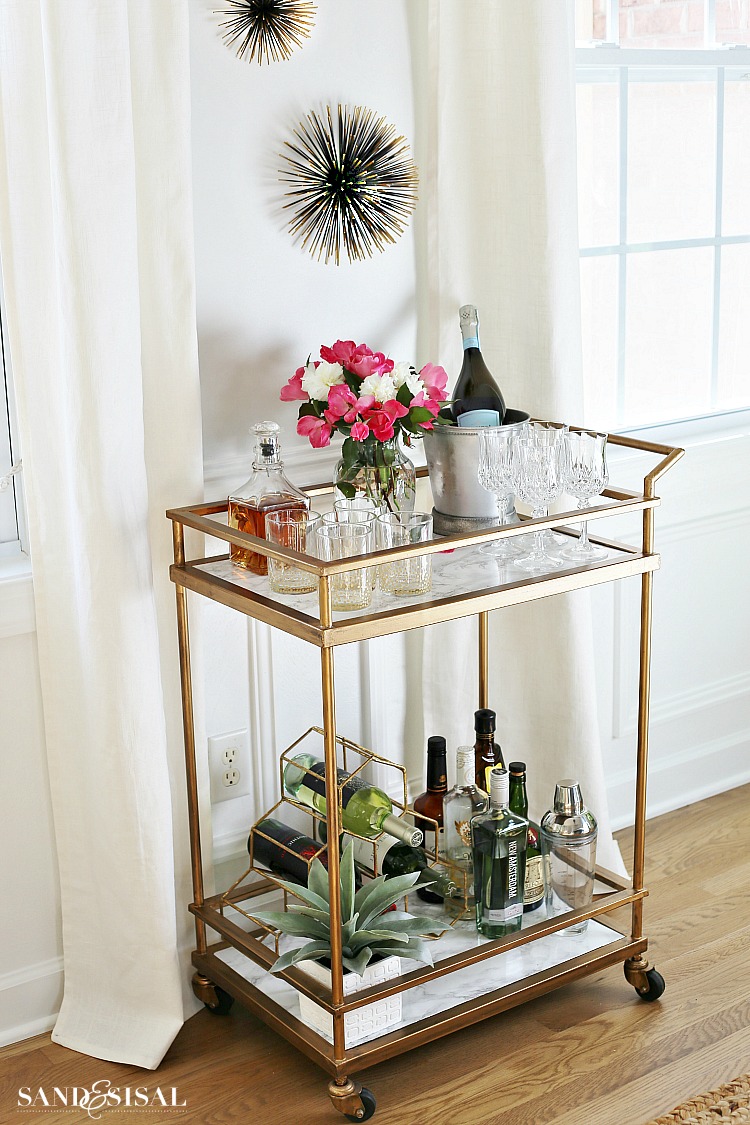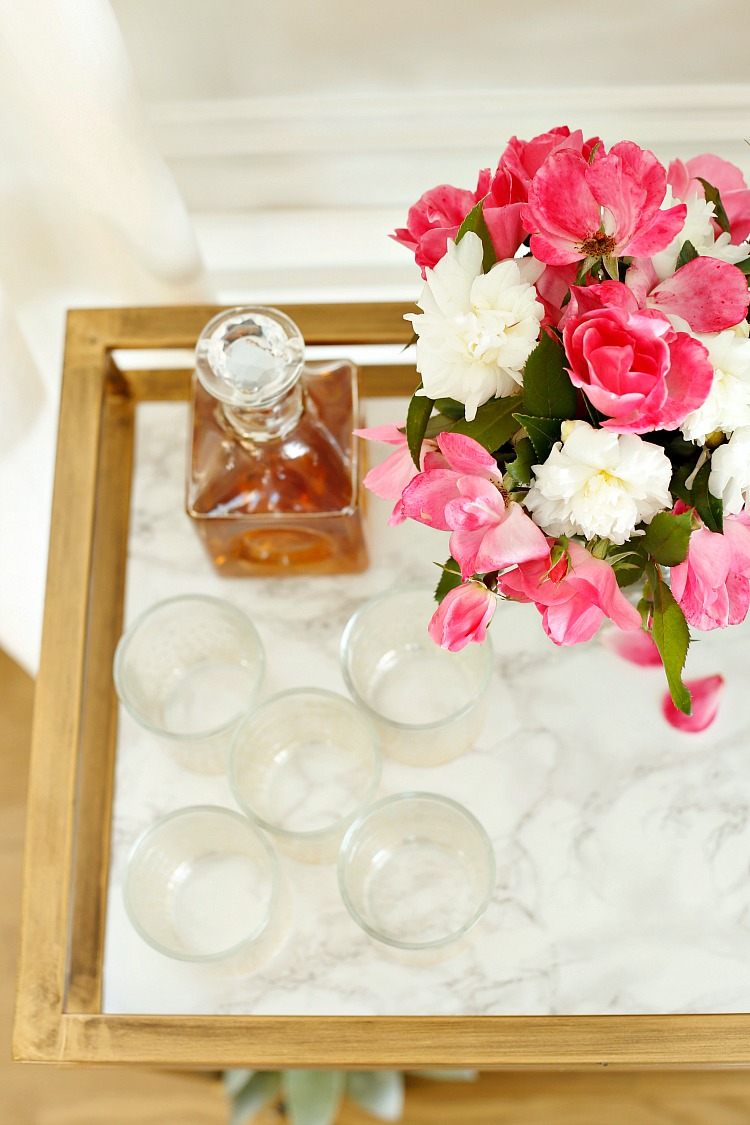 Here's a view from the foyer.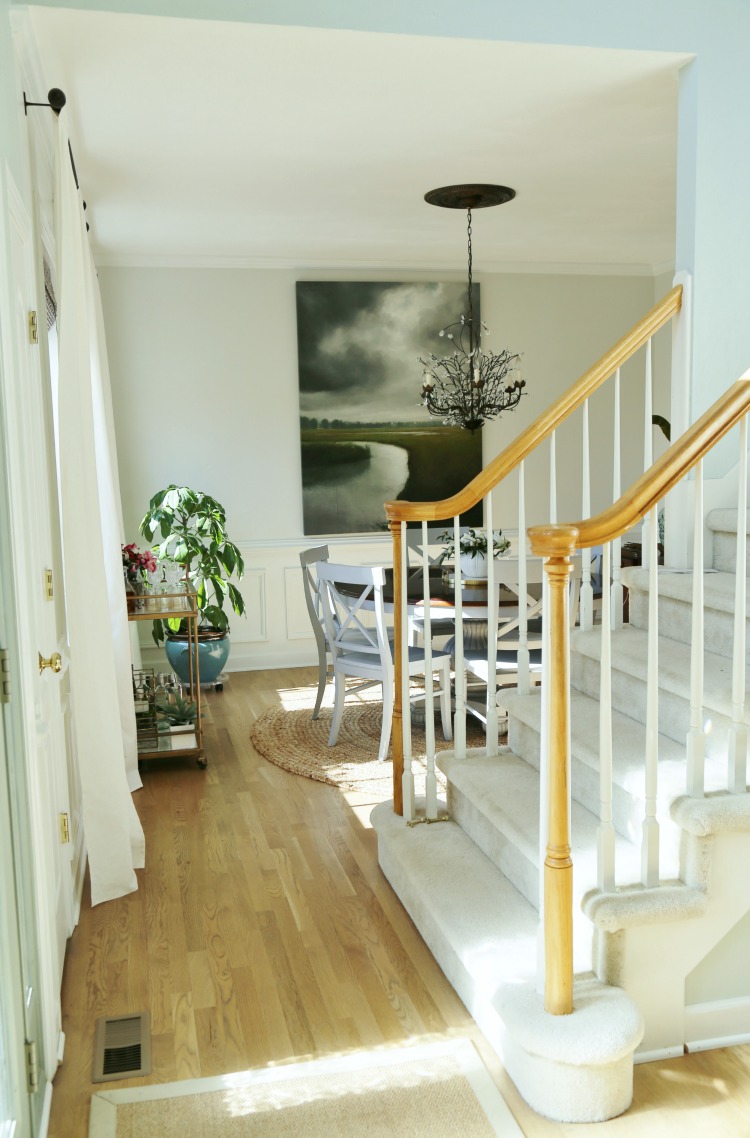 The room still needs a bit more art work which I plan on painting myself, sometime after the holidays, after life slows down. I hope you liked the tour of our little coastal dining room makeover!
Love it? Pin it! 
 Happy Decorating!
KIM
You might also like these posts: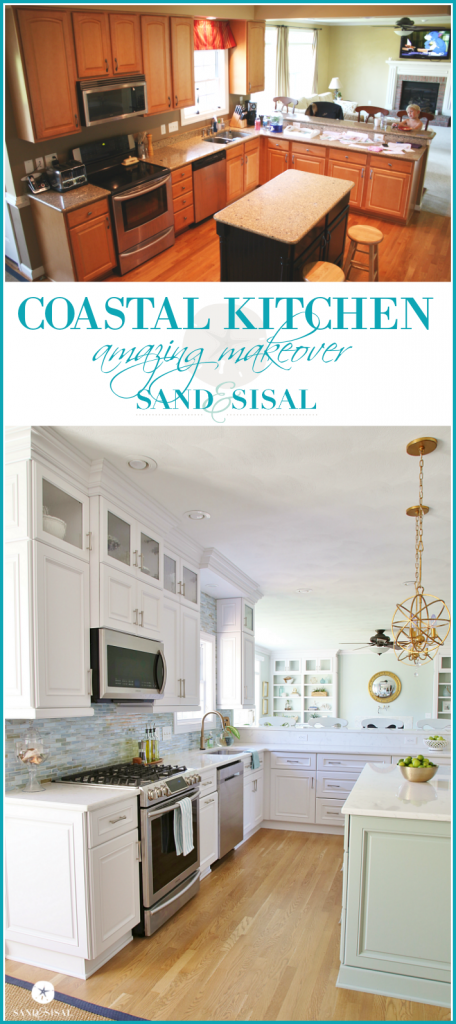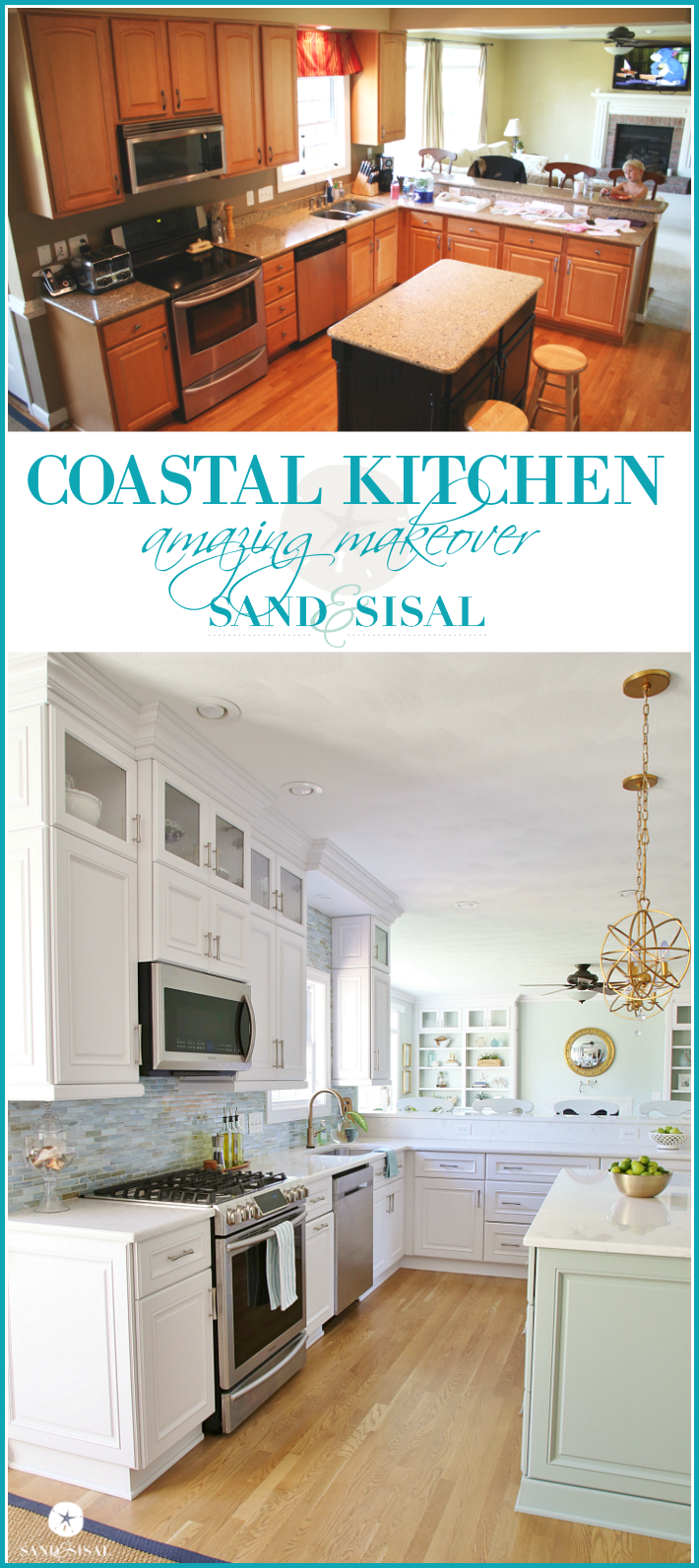 Coastal Family Room & Fireplace Makeover