Last year I bought a simple brushed gold and wood toned bar cart from Target. I wasn't thrilled with faux dark brown wood. It especially didn't coordinate well with our new family room and kitchen and the new lighter and brighter dining room makeover that is almost complete. All the countertops in our kitchen and family room are Cambria quartz Torquay which looks like Carrera marble, so why not add marble to the bar cart? I'm so excited to share with you my DIY Faux Marble Bar Cart Makeover!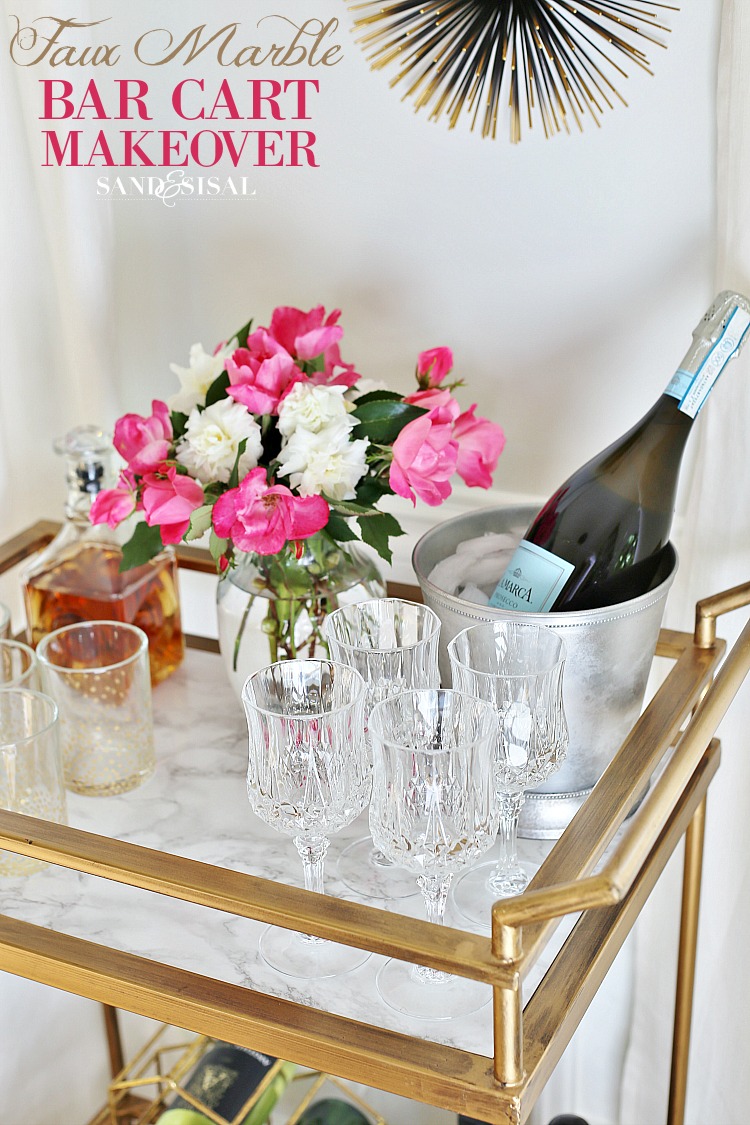 Below is a pic of how the bar cart looked like before its mini-makeover.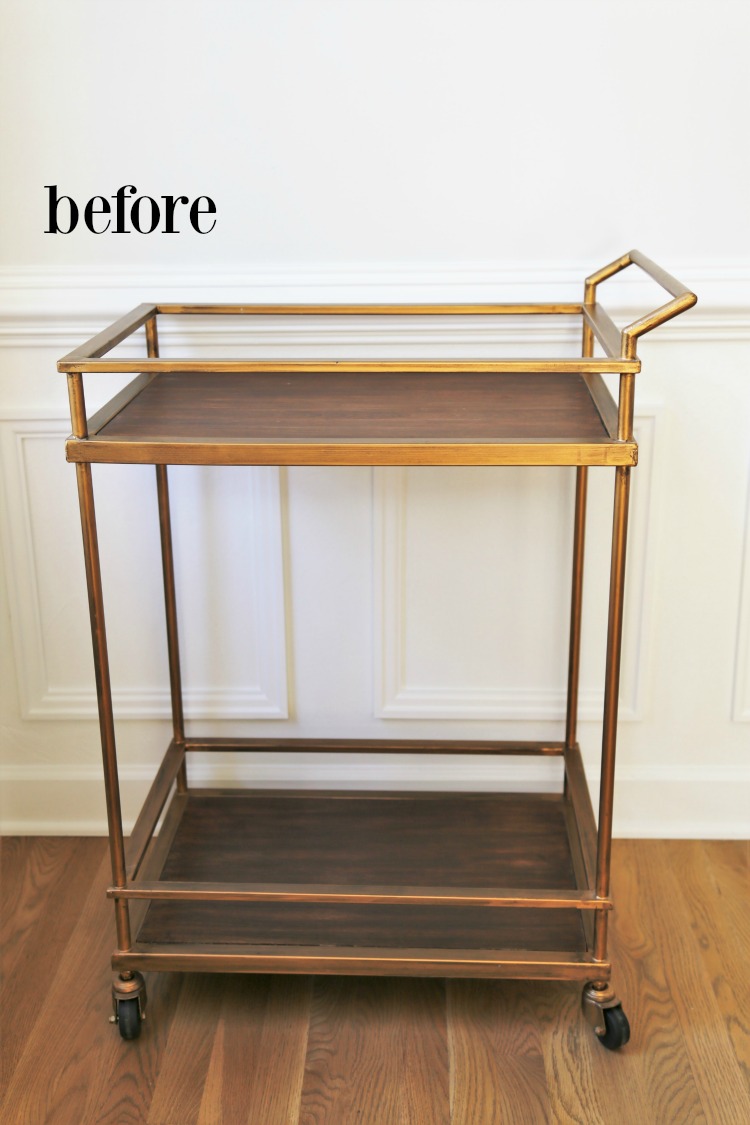 DIY Faux Marble Bar Cart Makeover Supply List:
(affiliate links provided below for your shopping convenience)
I have to tell you, this was one of the most fun and esay projects I've done in ages! I LOVE IT! The secret to the faux marble is high quality gray marble adhesive film! Think of the possibilites. You could use this marble film to cover side tables or console table tops, dresser tops, shelves, etc.!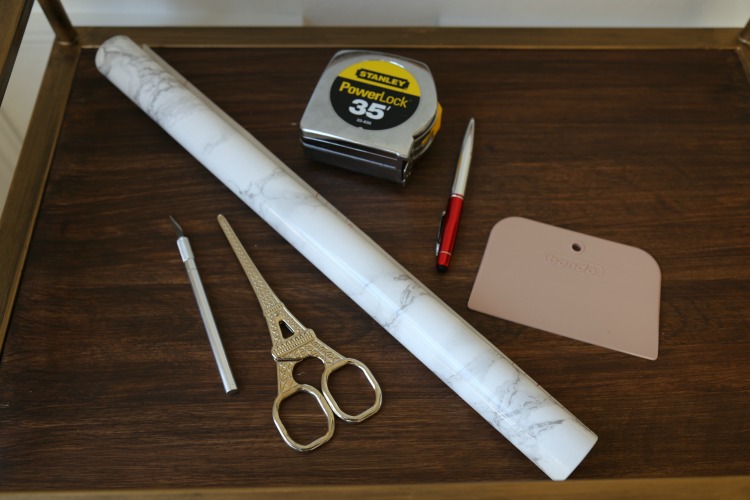 The marble adhesive film comes with a grid patterned paper backing which makes for easy measuring. All you need to do is to measure the area you need to cover and cut that measurement out on the vinyl. I left a 1/4″ -1/2″ allowance on two sides which I will later cut off.
Start with a clean and dust free surface. Peel back a corner of the vinyl and set it on the corner of the area you want to cover.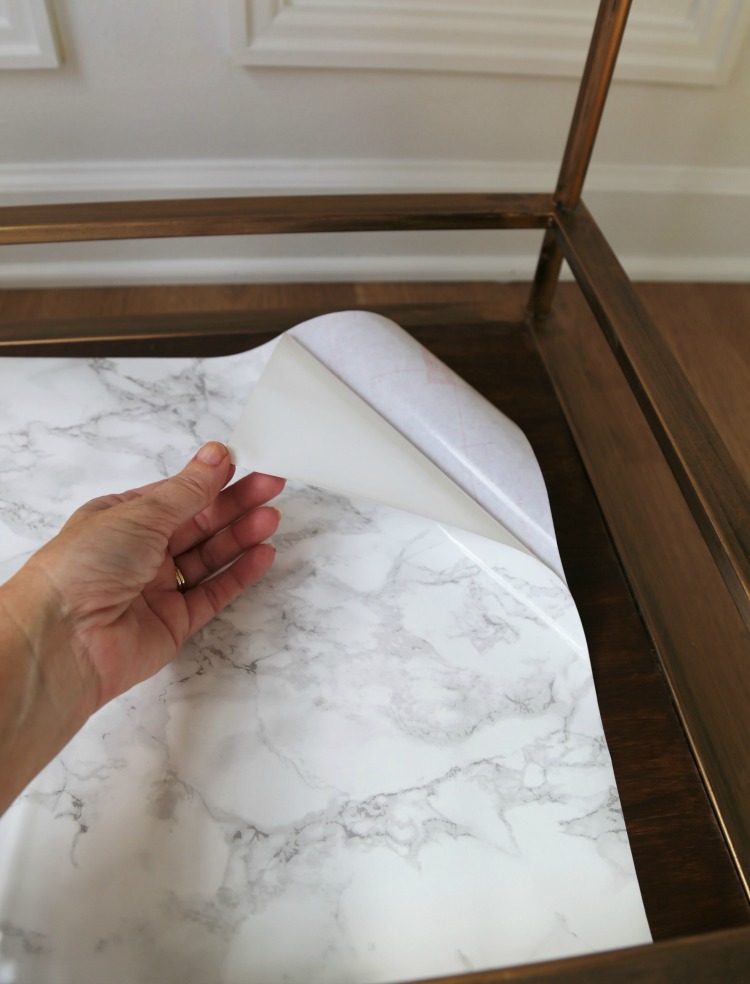 Now don't worry, if it isn't in the right position you can easily peel it up and place it correctly again. The vinyl is very forgiving.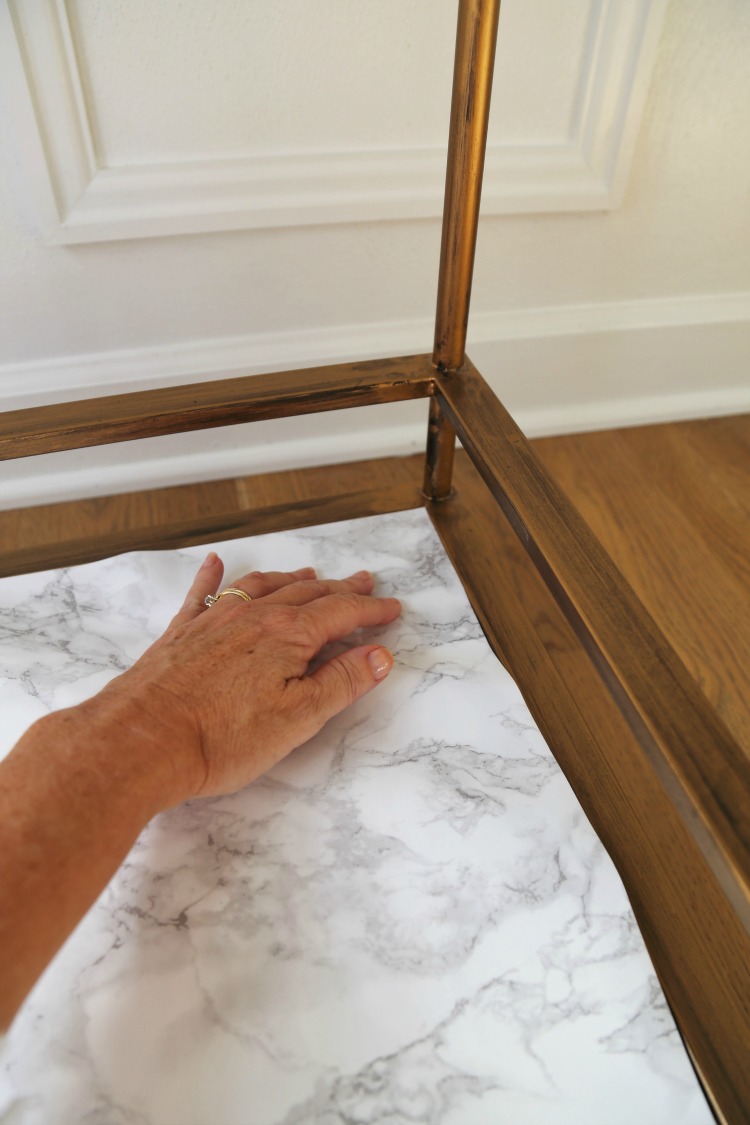 Slowly start smoothing the vinyl with the plastic spreader. Pull the paper backing back a little bit as you continue to smooth any air bubbles out.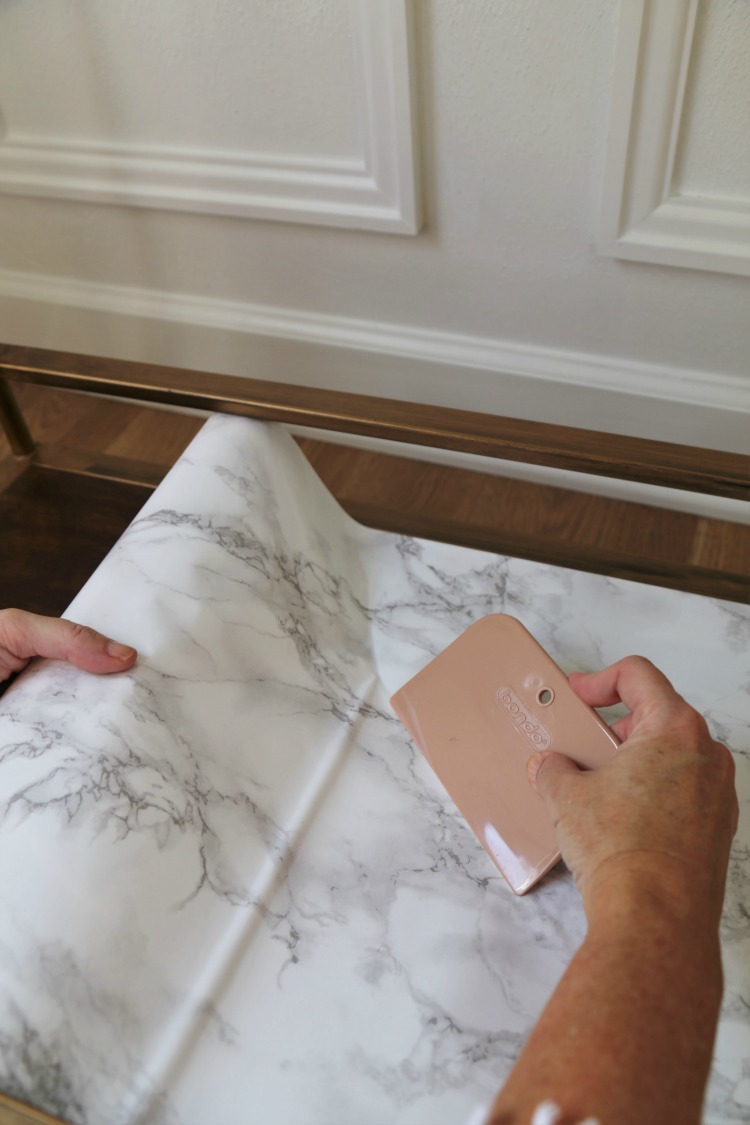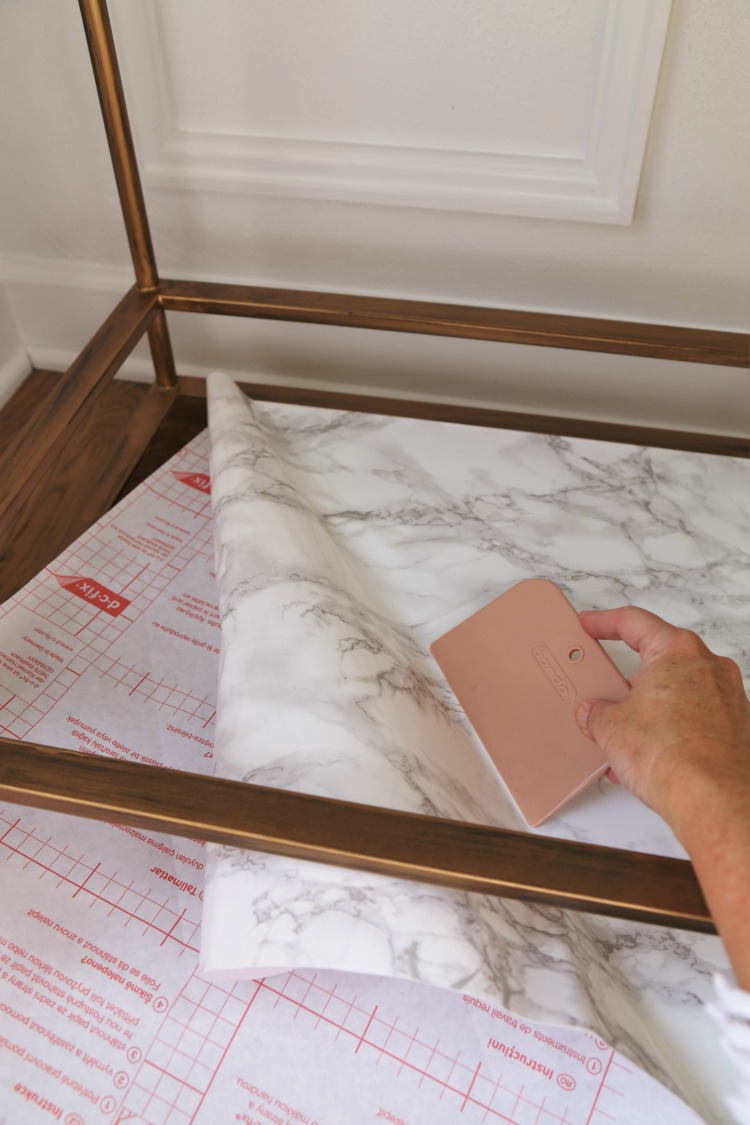 Carefully use the x-acto blade to cut off any excess vinyl. Keep smoothing until all air bubbles are out.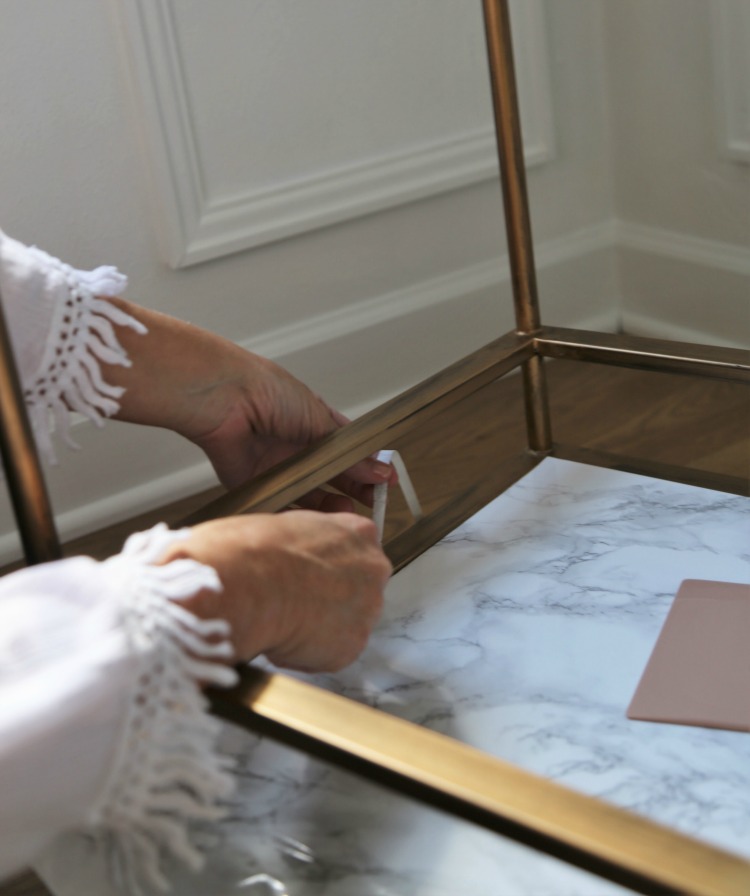 Ta-da! Doesn't it look so much better?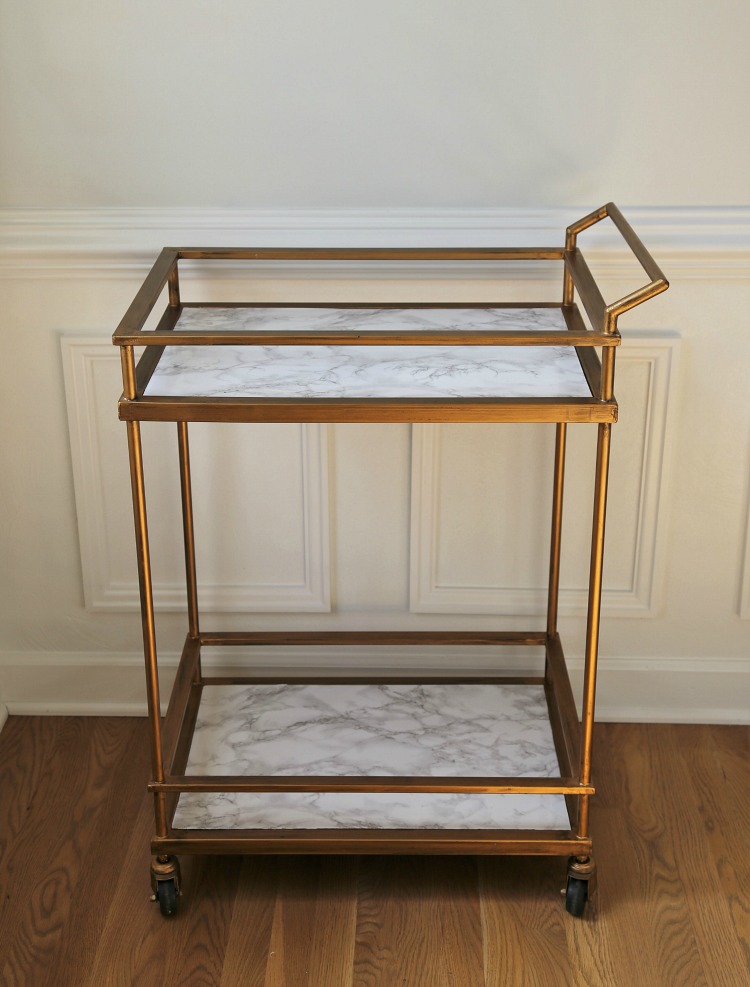 Let's dress up the DIY faux marble bar cart for some entertaining!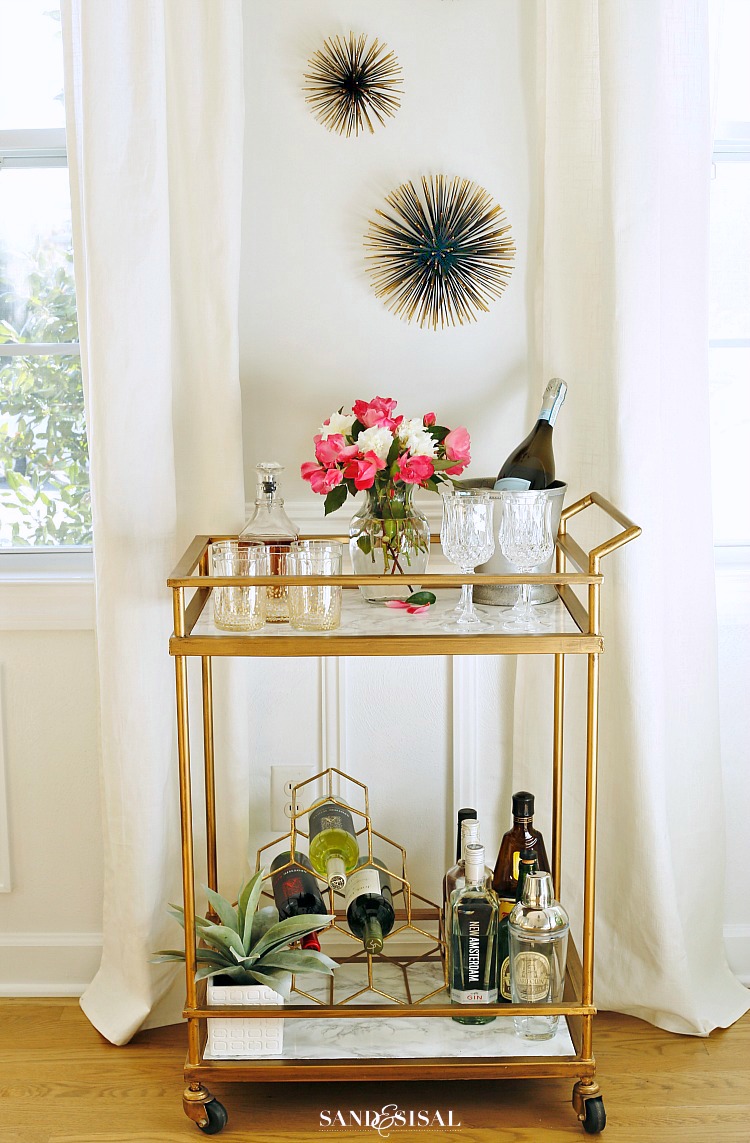 The Cristal D'Arques Longchamp goblets (real crystal) were an amazing thrift store find, only $1.85 each, but you can buy their new line HERE.
I found some gold confetti glass tumblers from the clearance section at Target for $1.25 a piece.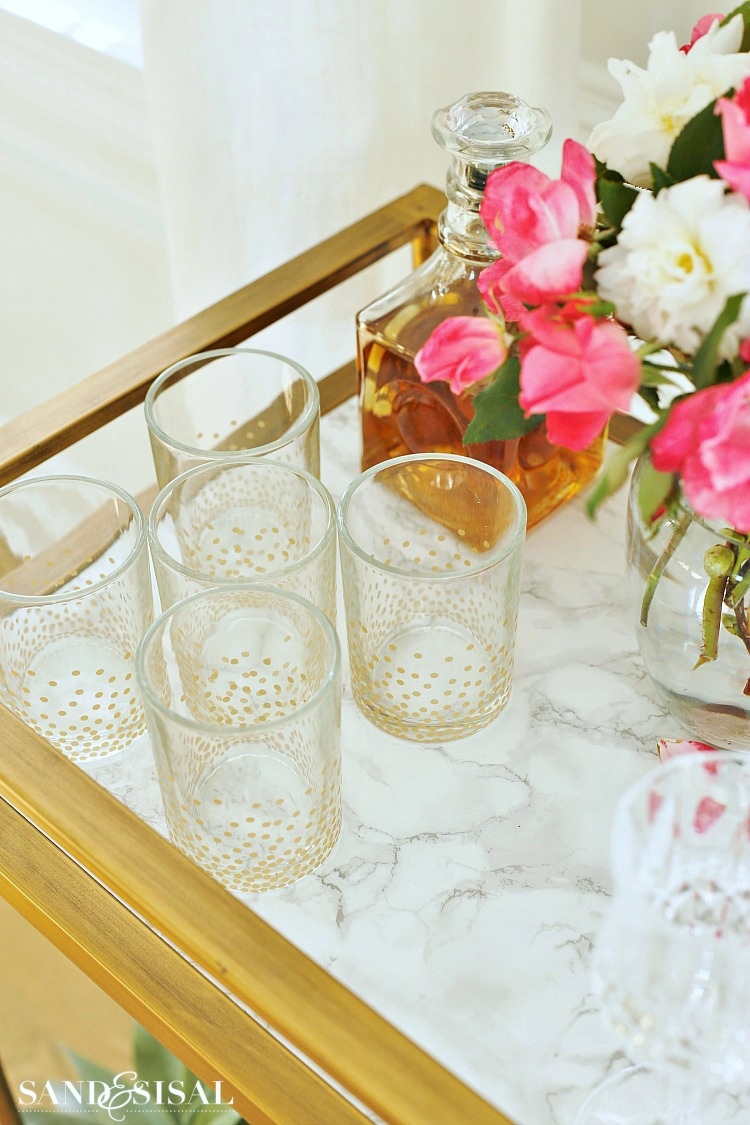 Aren't the flowers lovely? The roses and white camellias are from my back yard.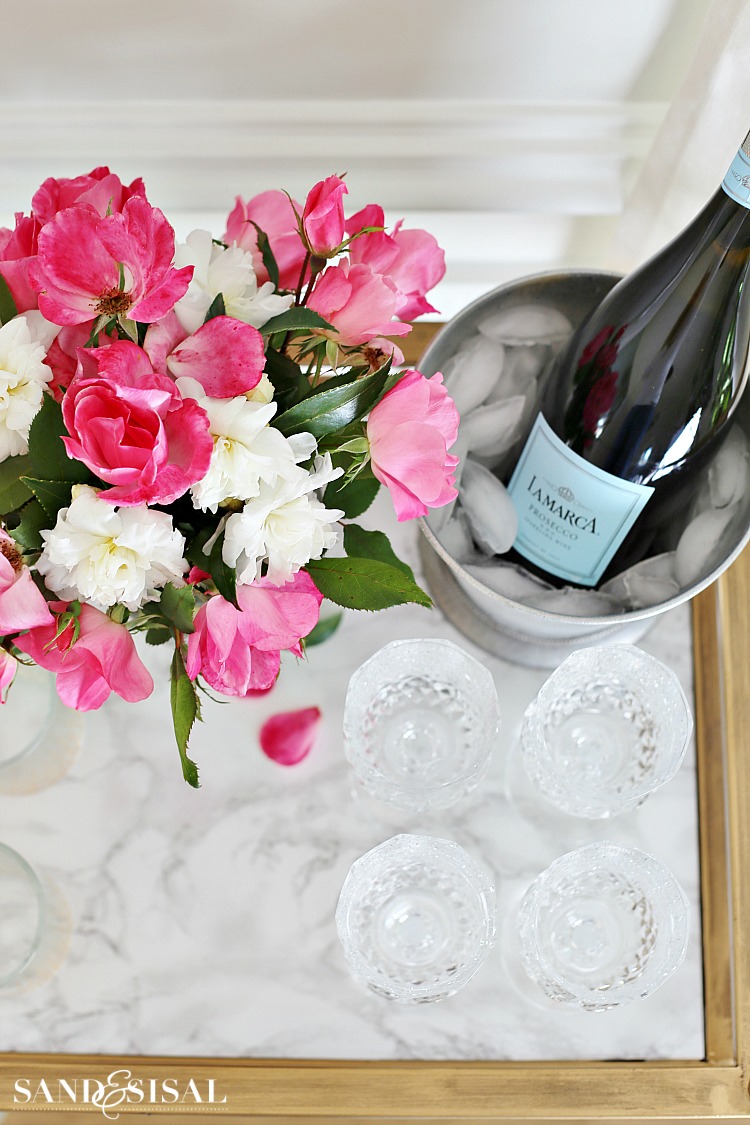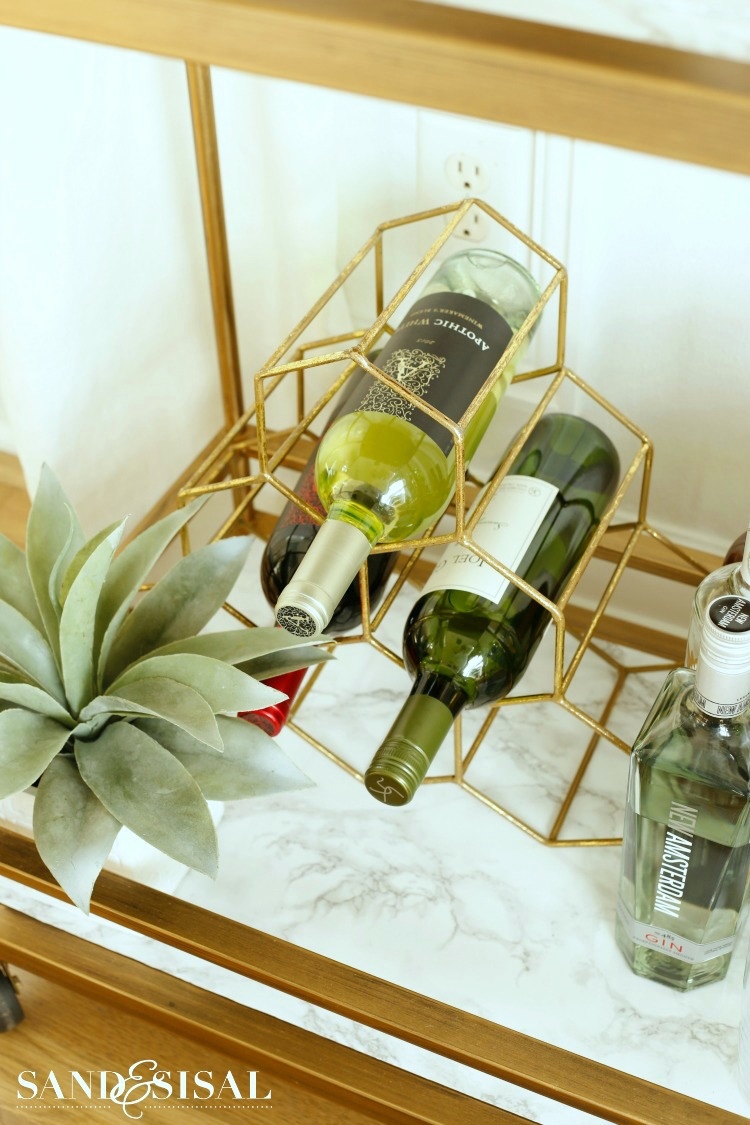 You are getting a sneak peek of my dining room makeover for the One Room Challenge. I don't think I'll have the room finished on time but oh well. I'm happy with how it's turning out.  The brass sea urchins on the wall are an unexpected dash of whimsy, keeping the room from getting to formal and stuffy.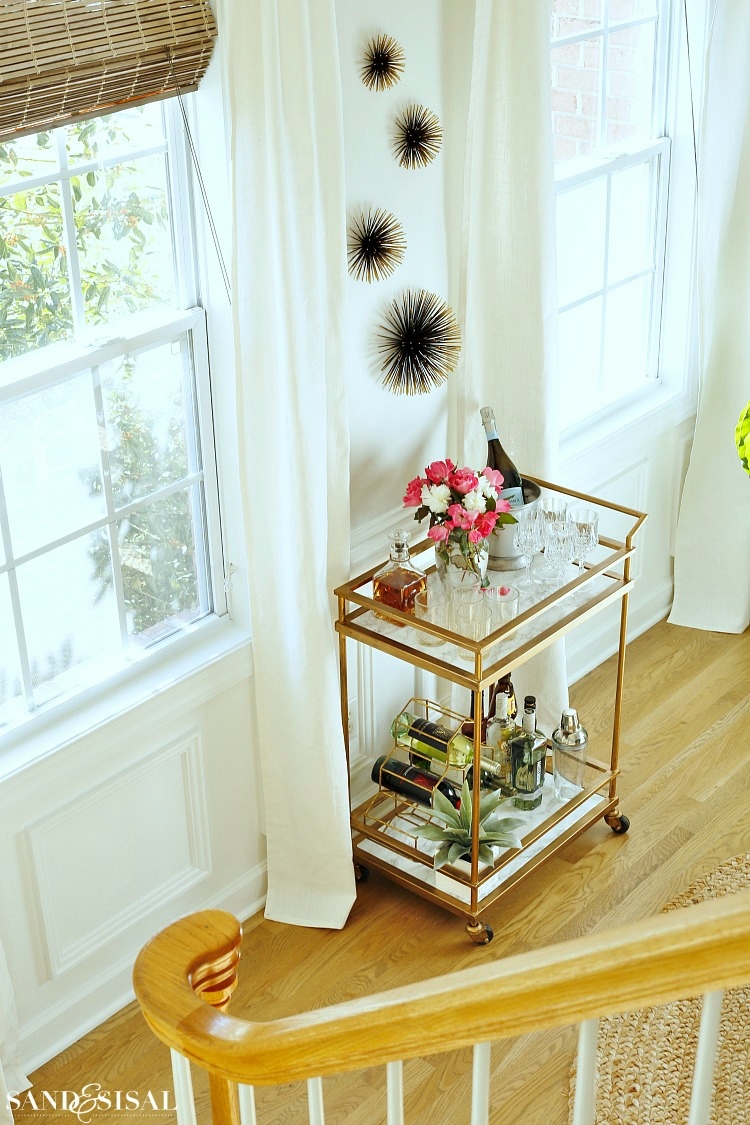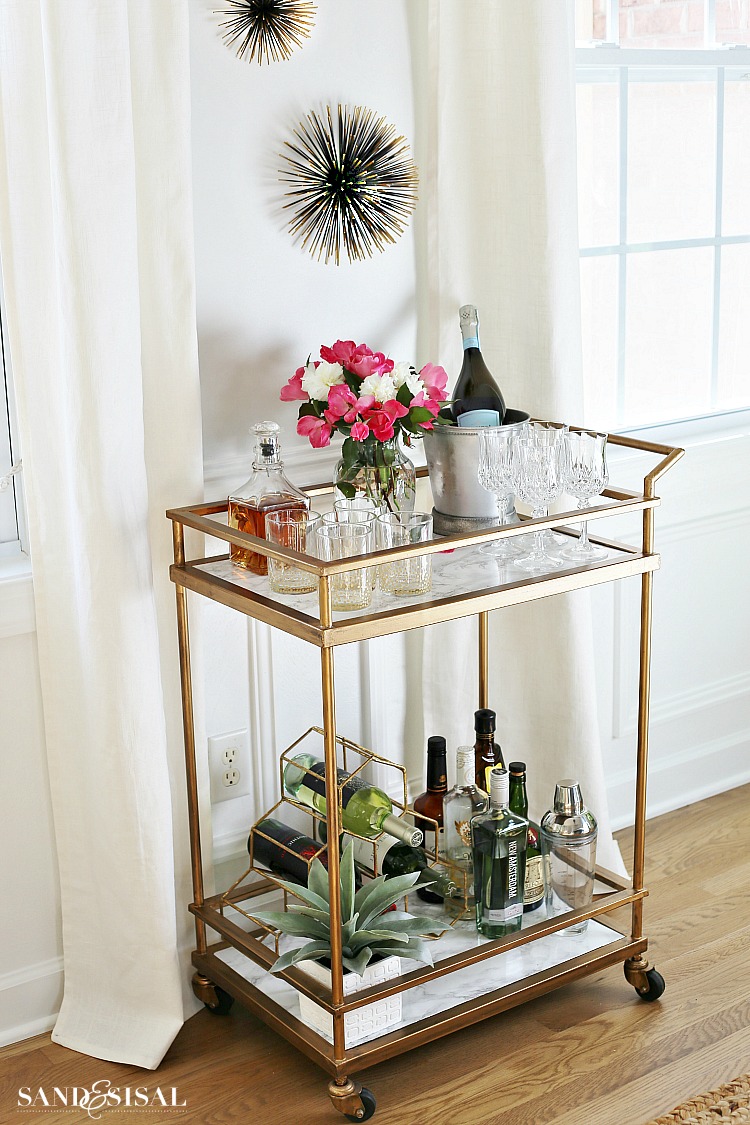 If you've loved this little DIY Faux Marble Bar Cart Makeover then I hope you'll pin it or share it with a friend!

Cocktails and dreams will be served at 5:00 PM. I hope you can join me!
Cheers!
KIM