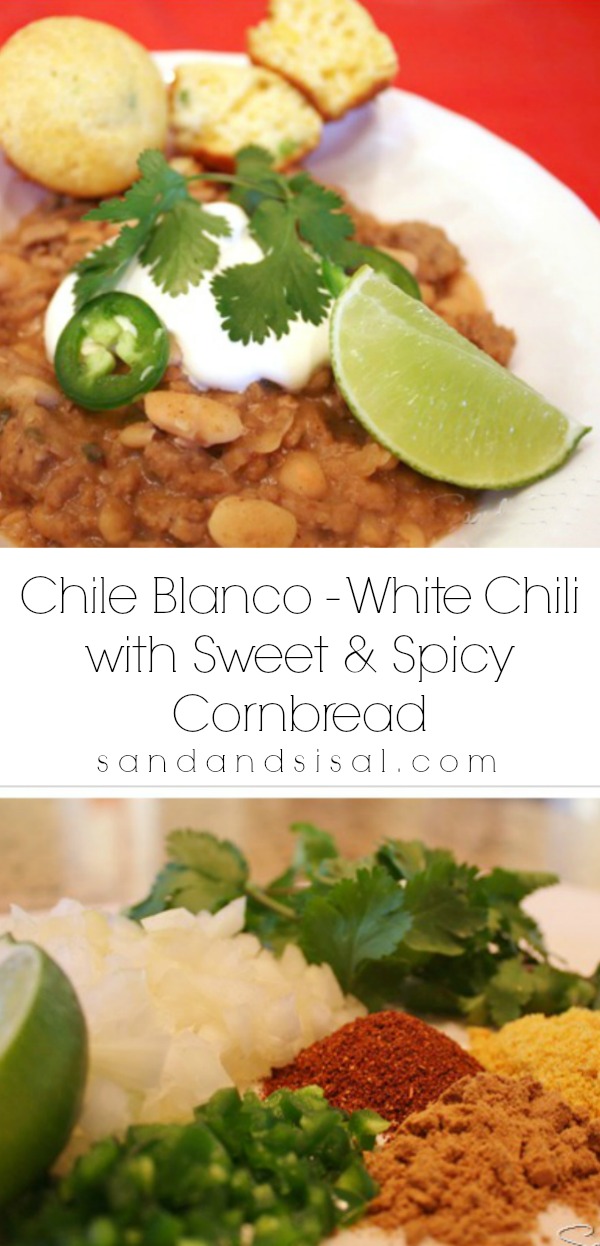 Nothing will warm you from within on a cold winter's day like Blanco Chile (White Chili).
Blanco Chile cooks up in 25min. and is a breeze to make.
Gather your spices:
1/2c. chopped onion
2-4 medium jalapeno peppers, seeded and finely chopped (be careful not to touch your eyes!)
2 tsp. instant chicken bouillon granules
1 1/2 tsp. chili powder
1 tsp. ground cumin
1Tbl. lime juice
Then gather 1lb. lean ground turkey
2 cans (drained and rinsed) Great Northern Beans
1 bottle of beer (or you may substitute 12oz of chicken broth)
1 cup water
Brown the turkey meat and onion until the turkey is no longer pink
Add all your spices, beer, and water and bring to a boil.
Reduce heat and simmer for 15 minutes, stirring occasionally.
Add beans, stir, and if desired, mash half of the beans with a masher to thicken the chili.
Cook an additional 5 minutes until heated through.
While your chili is simmering, gather your cornbread ingredients.
1 1/2 cups cornbread mix (I used Jiffy)
1 egg
1/2 cup milk
1/2 cup corn
1 1/2 Tbl minced jalapeno
1Tbl sugar
Stir together until combined and spoon into a well greased mini muffin pan.
Bake for 12 min. in a preheated oven set at 400 degrees.
Serve Blanco Chile with sour cream, cilantro, jalapeno slices, and lime wedges.
And don't forget those scrumptious muffins!
Enjoy!
Kim
Linking up to: