The Coastal Christmas Tree needed a special tree skirt. Burlap was the perfect choice for the tree skirt, natural, textural, and the color of sand! Not owning a sewing machine, I looked for a no-sew option instead. This burlap tree skirt couldn't have been easier to make! Today I'll show you how!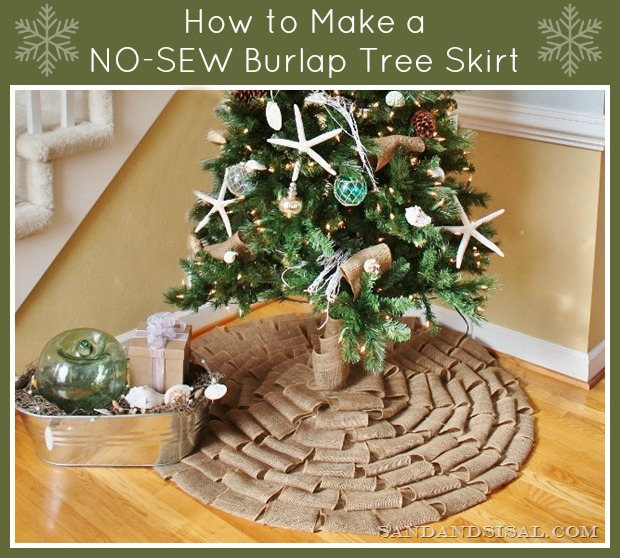 How to Make a No-Sew Burlap Tree Skirt
What you'll need:
Start by spreading your tablecloth out on the floor. Find the center, and with a pen, trace around a small saucer to make a circle. Cut a straight line to the center and make a series of cuts from the center to circle you just traced. At a later time you will fold those little triangle flaps under and glue.
The burlap garland is very inexpensive. I had used the garland before, to make a big bow on my Coastal Holiday Wreath. The next step is to cut the burlap garland into approximately 9 inch pieces.
Make a loop out of each burlap piece and secure ends with a few dots of hot glue.
Once all your loops are made start laying them around the perimeter of the cloth. Run a line of fabric glue along the top edge of your loop and secure to the table cloth. Lay out your second row, glue, and repeat until all the fabric is covered.
My tree is an artificial tree, and I did not like seeing the green metal "trunk", so to remedy that, I simply loosely wrapped a piece of the garland around the trunk and tucked it into the skirt.
The kids commented that all the burlap loops make the tree skirt look like a gigantic Christmas bow! I love all the ruffled texture the loops create.
This No-Sew Burlap Tree Skirt was the perfect finish to my favorite Coastal Christmas Tree! And all it cost was an inexpensive tablecloth and a few rolls of burlap garland! Tree skirts are so easy to make I don't think I'll ever purchase one again.
Kim
For more easy DIY ideas, join me today on Facebook, Twitter, or RSS Feed!
Linking up to: