This post brought to you by Avocados from Mexico. All opinions are 100% mine.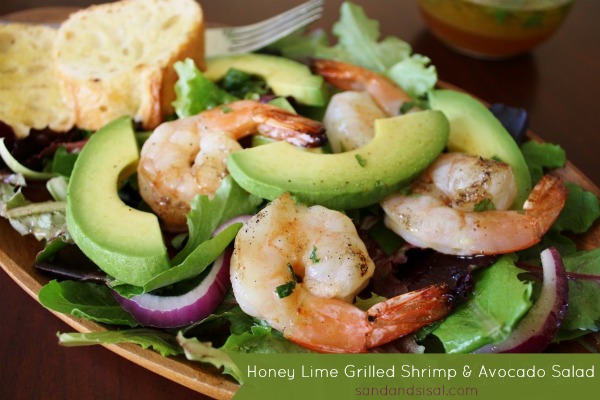 Ever since I was a preschooler, I've eaten avocados. It was the groovy 1970's and we were living in Southern California.  My mother adored avocados! She served them all the time in different dishes. I remember toothpick skewered avocado pits balancing over half filled water glasses, perched in our windowsills. She was always growing avocado plants. Even our appliances, book case, and living room rug were avocado green! It's safe to say I come by my love for avocados quite honestly!
Besides being delicious, Avocados from Mexico, are incredibly healthy! I'm talking, knock your socks off healthy! Did you know that they provide nearly 20 essential vitamins and minerals: potassium, folic acid and other B-vitamins, as well as vitamins E and K. One ounce of avocado has 50 calories, 3 grams of monounsaturated fat, no cholesterol, and 1 gram of dietary fiber. But an extra bonus is that recent research shows how avocados aid in weight loss! Great news since I'm working at losing those few holiday pounds!
Our family loves making fresh guacamole, and turkey sandwiches with thick avocado slices, but today I'm excited to share my recipe for Honey-Lime Grilled Shrimp & Avocado Salad with you! It's tangy and sweet with a touch of heat! It'll soon be one of your favorite salads ever!
Honey-Lime Grilled Shrimp & Avocado Salad
2 Hass Avocados (peel, pit, and slice right before serving)

1 pound of peeled & deveined shrimp

baby spring salad mix

thinly sliced red onion
Honey-Lime Vinaigrette (makes 1 cup)
1/4 tsp. salt

1/4 tsp. cayenne pepper

1.5 tsp. minced garlic

1/2 tsp. lime zest

the juice of one lime

1 T chopped cilantro

2 T honey

1/4 cup rice vinegar

1/2 cup extra virgin olive oil or canola oil (or a mix of the two)
Directions: For the vinaigrette, whisk together all ingredients (except for the oil) in a small glass bowl. Continue whisking and slowly pour in the oil. Allow to sit for one hour so the flavors can develop. Rinse the shrimp, place in a bowl, and pour 1/3 cup of the vinaigrette over the shrimp. Marinate for 15 min. Skewer shrimp and grill over medium heat, 2 minutes on each side. Place baby greens on a plate, top with thinly sliced red onion, grilled shrimp, and slices of avocado. Drizzle salad with remaining honey lime vinaigrette. Serve with fresh, grilled baguette slices. This recipe should serve 5 people.
Want to know more about avocados and get more great avocado recipes? Click this link: I love avocados on Facebook.  To download your own badge just click on the embed button on the Facebook page and add to it to your site.
So why do you love avocados? Tell the world on Twitter @guacgrl #iloveavocados because….
Kim
linking up to: