I find great relaxation being outdoors and having dirt under my fingernails! How the heck did this happen to me? As a kid my mom would make my sisters and I work in the yard by either picking up bags and bags of acorns or sticks, raking leaves and the worst… picking weeds. Uhg. I hated every minute of it. Now I can't wait to get outside in the sun and work the ground. I'm a rather conventional girl when it comes to containers, but I thought it might be fun to see what you can do with a bit of  imagination and make some Creative Container Gardening. Let's take a look!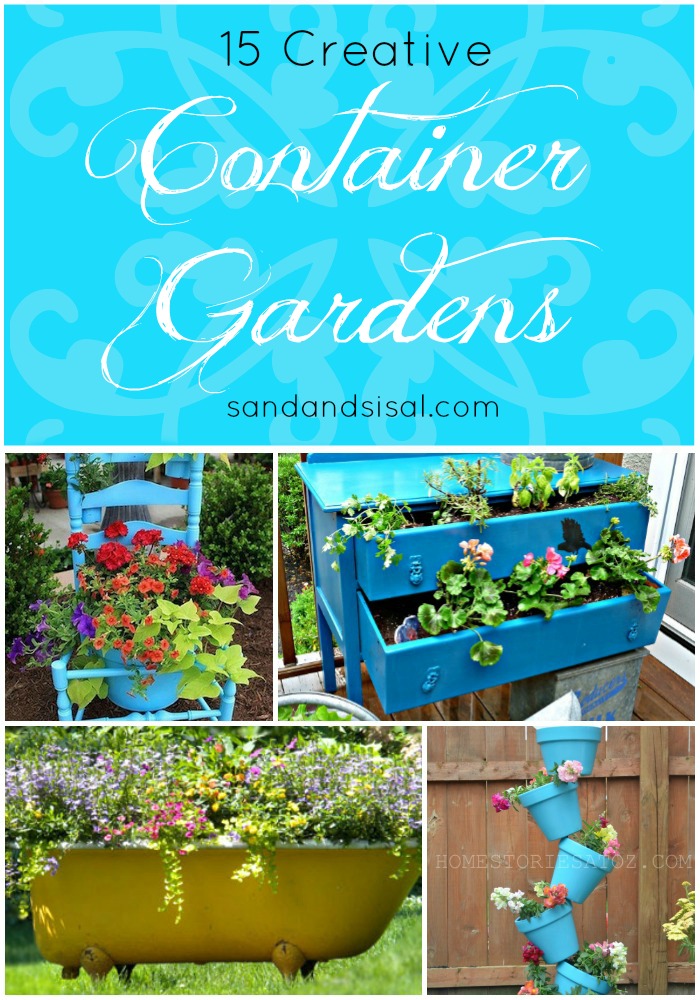 I adore this turquoise chair planter! What a stunning piece this would be in your garden.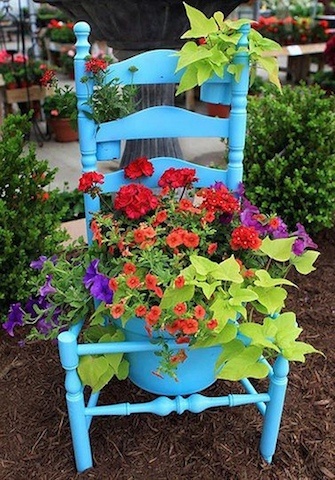 Source
Not ready for permanent window boxes? How about these window frames with attached boxes?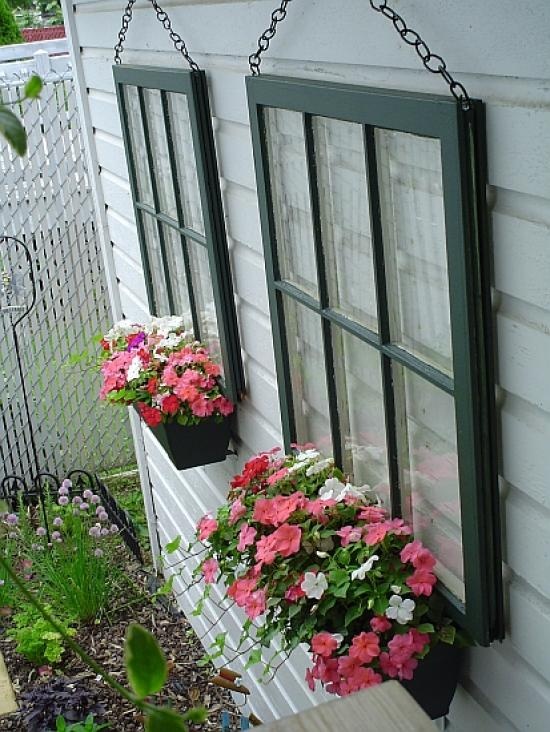 source
Plant herbs or flowers in galvanized containers.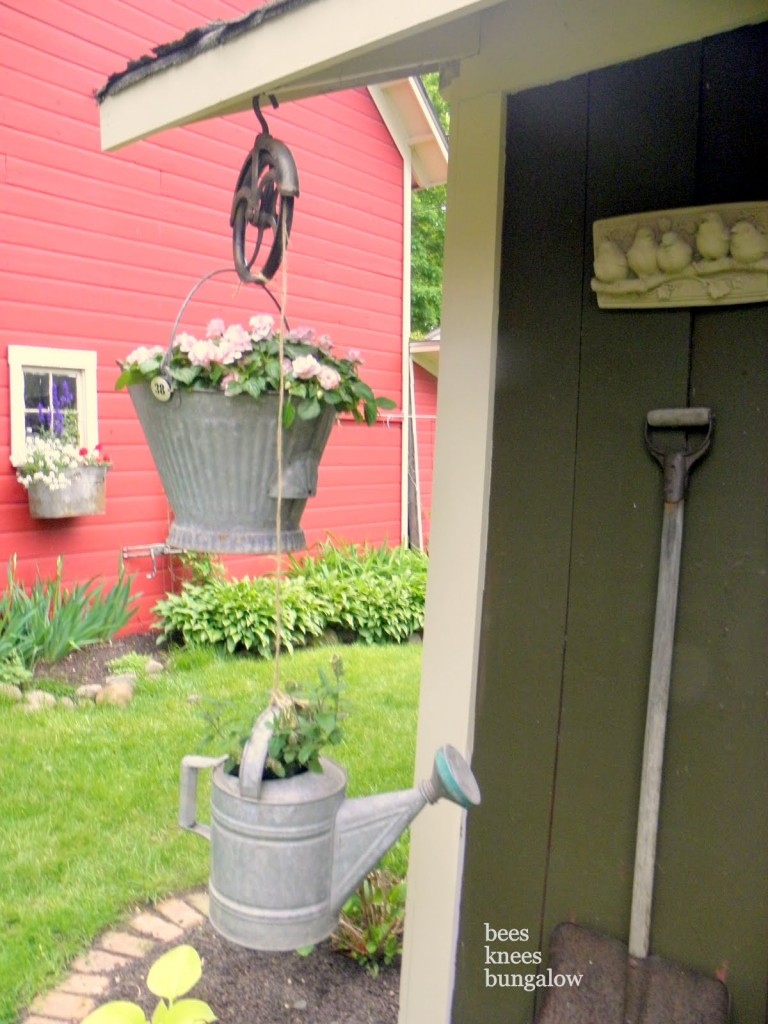 Bees Knees Bungalow
These rain boot planters are just adorable. Use your children's old rain boots for a memorable display. Get your kids involved in the garden by letting  each child plant a flower in their own boots.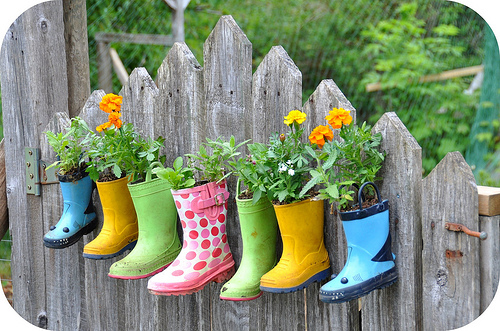 Rosy-Posy
Collect thrift store colanders and give them a bright coat of spray paint, then fill them with colorful flowers or herbs.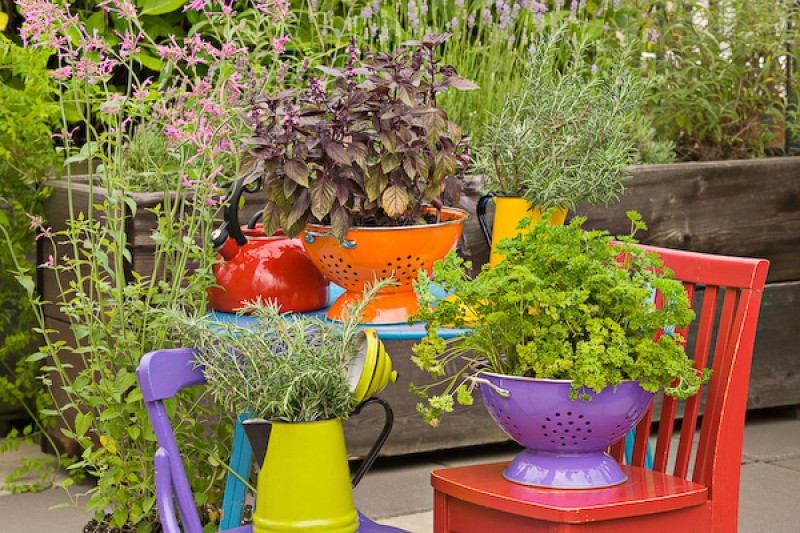 Bonnie Plants
Imagine how pretty this chandelier planter would be hanging from  a porch or pergola?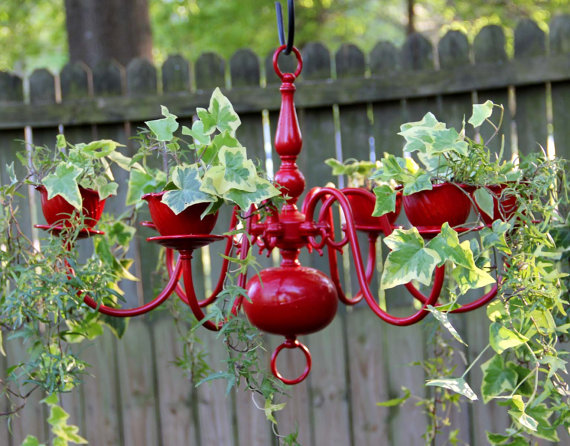 Etsy
Don't throw away the junk… use it! These old rusty funnel make for a very "countrified container"!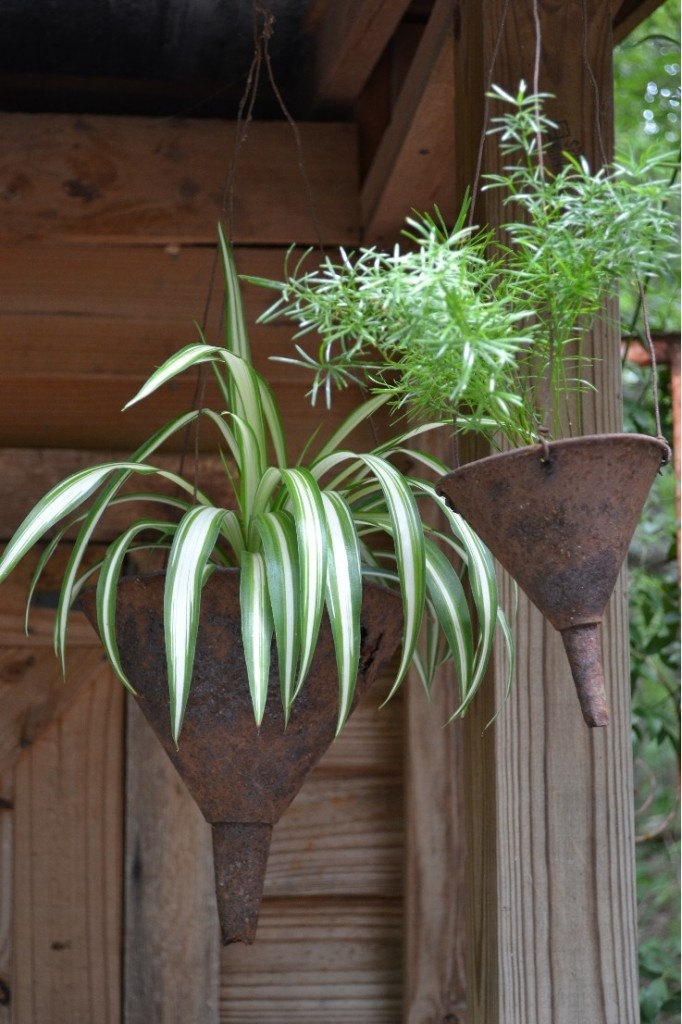 Hidden Hills Garden
Are the babies too old for their wagon? Recycle it and place it in the garden full of summer veggie plants.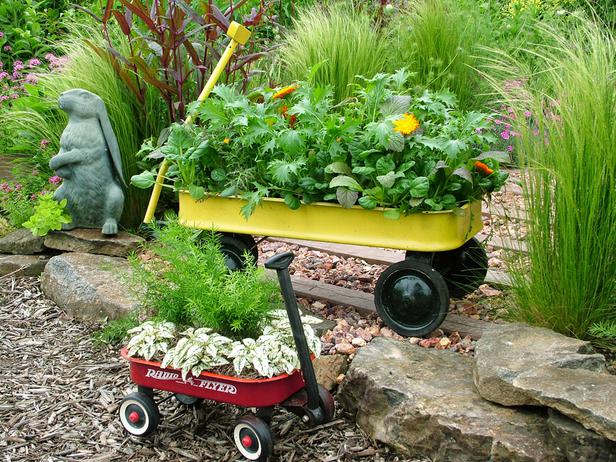 HGTV
My friend Kelly from Eclectically Vintage took an old dresser and transformed it into a whimsical vegetable and flower bed.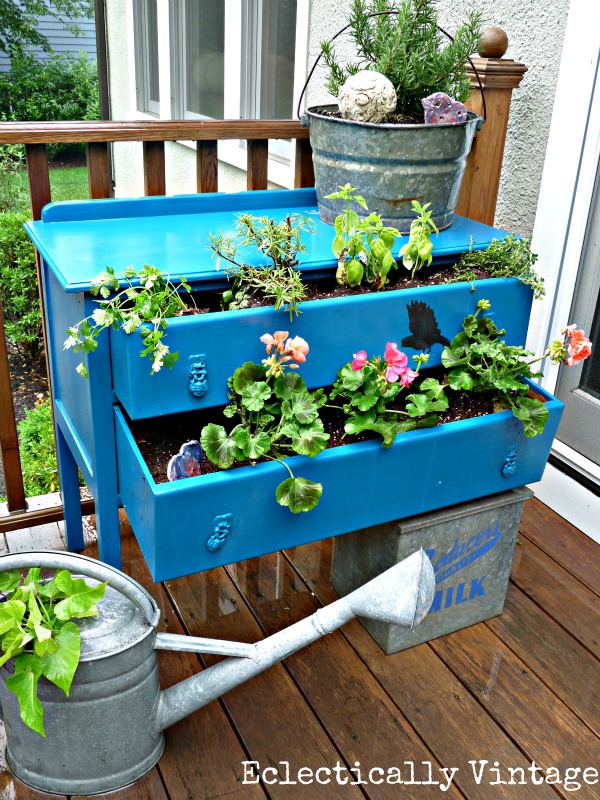 Eclectically Vintage
We all some some beautiful soup terrine that rarely gets used… right? Well take it out of your cupboard and plant some no-fuss succulents in it for an elegant and easy display.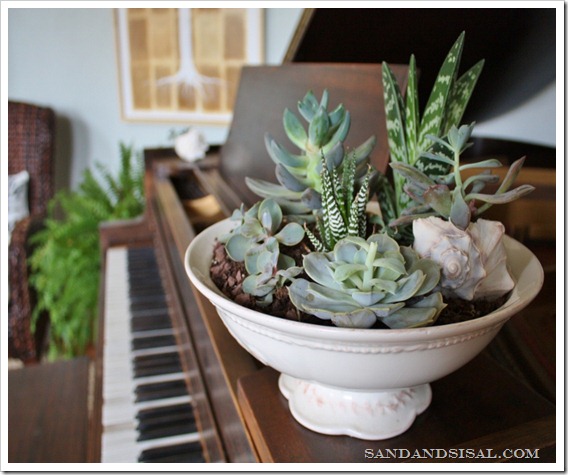 Sand & Sisal
Turn your terracotta pots into something stunning! My sister Beth from Home Stories A to Z stacked painted pots in a topsy-turvy arrangement and topped it off with a cute little bird bath.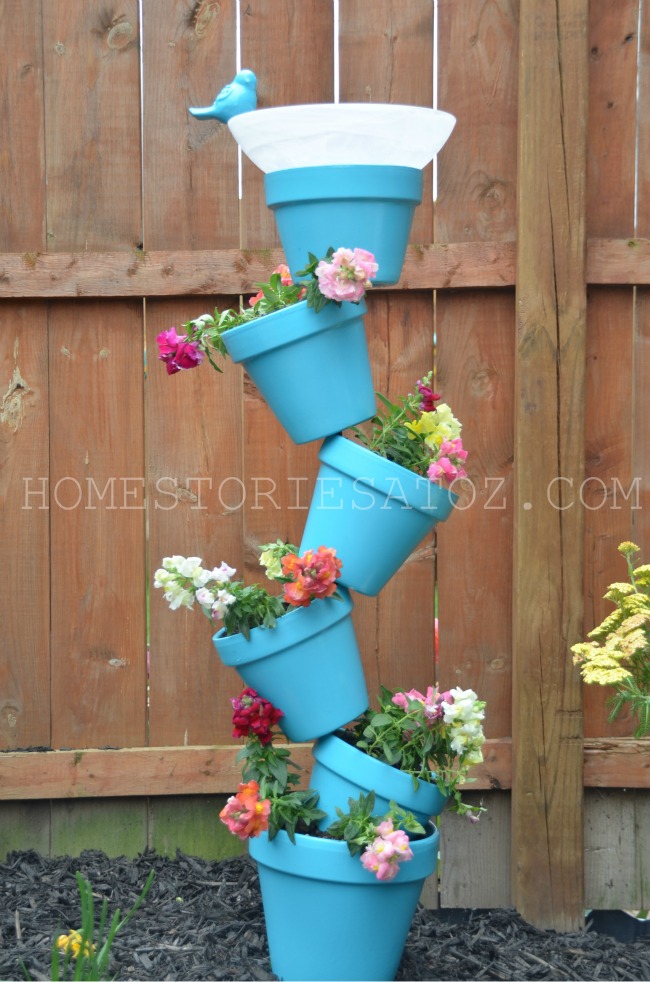 Home Stories AtoZ
Your containers can be a small as you like. I took a whelk shell we found on the beach and planted 2 small succulents in it.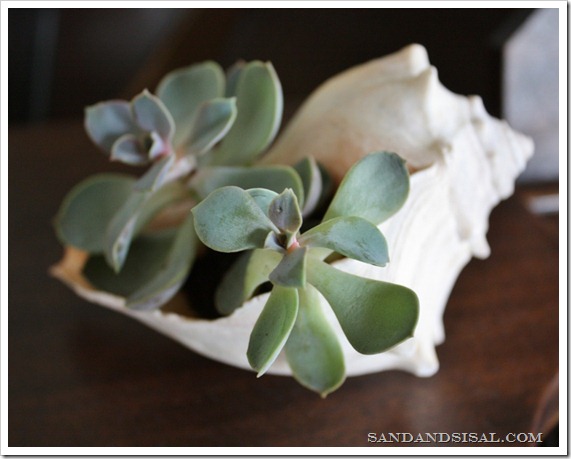 Sand & Sisal
Have a rusty old bike? Place it in the garden and fill the basket with greens.
News Times
And these last two just made me laugh! I guess it gives a whole new meaning to planting a "Flower Bed".
Original Source unknown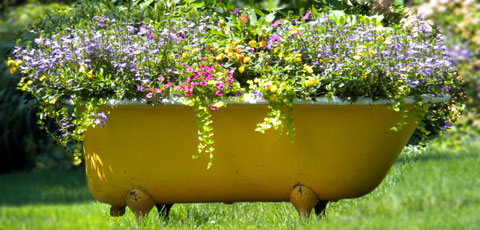 I hope you enjoyed these creative containers for gardening. It just shows, you can have a beautiful garden in the most creative and strange places!
For more gardening ideas be sure to check out the Gardening Tab up top!
Kim