Gasp! Oh no! He didn't! How could he?
Why would he do such a thing?
Our mouths hung open as we drove by the massacre.
This scene of mutilation warranted yellow "CRIME SCENE" tape surrounding it.
How old were they? Ten maybe 15 years? All brought down in their prime.
It was a sad, sad day in the hood.
We shook our heads and silently remembered their blooming glory, and the joy they brought to everyone.
THOU SHALT NOT COMMIT CREPE MURDER!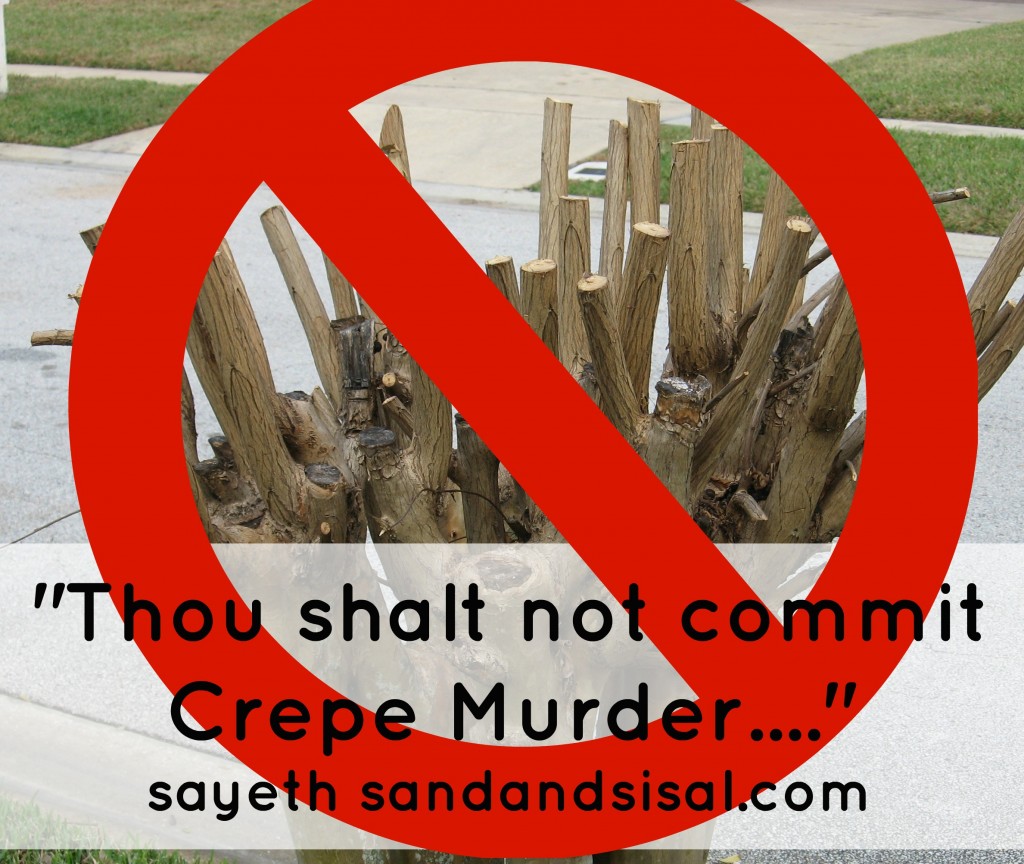 My husband often uses the classic catch phrase with my kids: "Well if your friend jumped off a bridge would you?"
And they predictably answer, "Of course not dad!"
Yet many southerners seem to follow in a robotic annual repetition of "jumping off bridges just because their friends did".
For some crazy reason every March – April, people emerge from their homes and start the spring yard work and commit a huge gardening sin:
CREPE MURDER!
Crepe murder can be defined as topping off a crepe myrtle tree or removing all large branches or severely cutting it back to the trunk. When asked why people do this, many have absolutely no clue. They've just always seen their neighbors do it, so they figured it's what you are supposed to do.
In the words of my dear Phoebe,  "It's madness! Madness I tell you!"
I BEG YOU!!!
DON"T DO IT!!!!
Let's take a look at a few (ahem…) crime scenes.
Will someone pass me a tissue please?….
I just can't take it! The horror!
Oh my… yes, truly, please bow your heads in a moment of reverent silence…..
Crepe myrtles do need pruning but not topping.  I recommend this great tutorial by the Grumpy Gardener on How to Prune Crepe Myrtles.
We love our crepe myrtles here in the south. They provide months of gorgeous, colorful blooms (June-Sept.).
Crepe Myrtles come in so many varieties and sizes for every planting situation. So be a responsible gardener and research what you are buying BEFORE you buy it. Understand how quickly it will grow and how large it will get.
Then leave it be! Let it live and prosper!
If you are guilty of crepe murder, know that I hold no ill will towards you as long as you promise to repent of your misguided cropping-sin and promise to prune responsibly.
Together we can end the violence and crimes against crepe myrtles.
🙂
hee,hee,hee
KIM