I have to admit, I've been in a bit of a creative funk. Now that all my 4 kiddos are home for summer, I'm finding it very difficult to work or get anything productive done for that matter! But hey, summertime is a chance to relax and play and I don't have too much time left with the children, right? My oldest is off to college in one year!  Well today I had a sudden urge to create something nice.
I was doing laundry. Let's be honest. I-am-ALWAYS-drowning-in-laundry!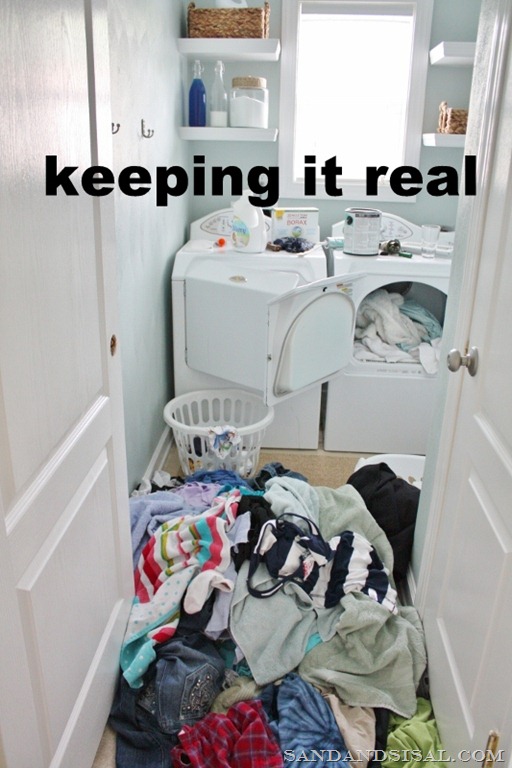 As you all know I gave my laundry room a coastal mega makeover about a year ago. It was so worth the effort and was even featured in First for Women Magazine!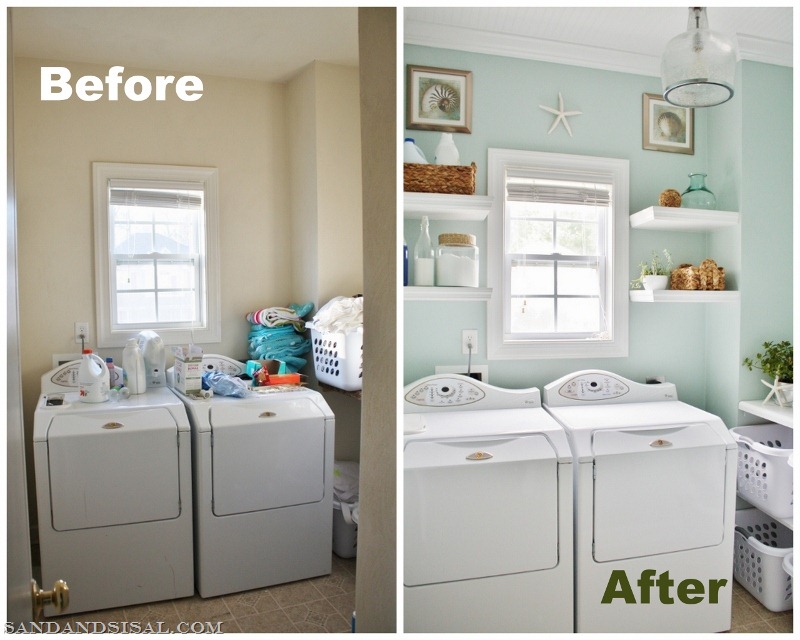 But everything needs a little re-vamp time from time, but it has to be FAST & EASY.
I wanted to change out the artwork. I'm a  fine artist by trade, so I feel very guilty whenever I purchase artwork from a store… yes, that is another subject for my therapist to deal with… anyhoo, the point is, I try to create all my art myself. I mean, after years of expensive art school, wouldn't you?
Now, before you click off, let me tell you ANYONE can do this artwork. It is so scary simple. If you can hot glue then WAH-HOO!!!! You can create this too! (No fine arts degree required!)
 You will need the following items:
burlap table runner 

burlap garland
starfish
scallop shells
hot glue/ glue gun
dowel rod or pvc pipe
soda can tabs
Step 1) Cut your burlap table runner and burlap garland to desired lengths
Step 2) Hot glue starfish and shells to the burlap. You can see how I hot glue shells in this Shell Art post.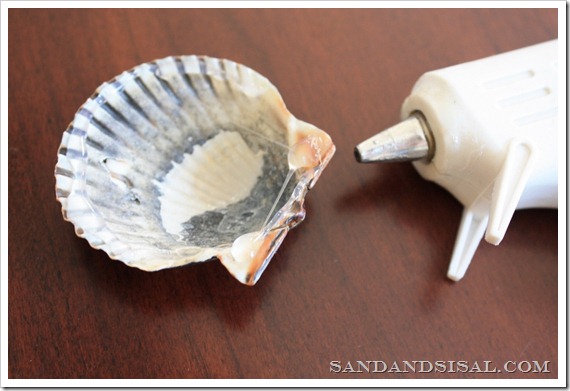 Step 3) Wrap burlap around dowel rod or PVC pipe, painted broom stick… whatever you have and hot glue to secure.
Step 4) Use 3 soda can tabs as picture hangers. Secure with hot glue well. (I completely believe in up-cycling any chance you get! Go Green!)
Step 5) Nail 3 small finishing nails into the wall and hang! Voila!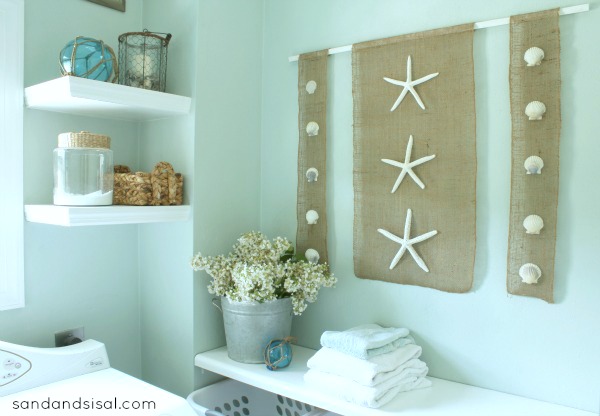 Once you gather all your supplies, this DIY wall art will take you less than 30 minutes. 
The burlap adds a nice organic texture to the walls and fills the space with a fun and easy coastal vibe.
Give it a try yourself.
Kim