As you head off to the garden center this fall to pick up your mums and grass seed don't forget that fall is also the time to plant bulbs for spring. Every spring I see pots filled with gorgeous tulips and daffodils and I kick myself for not remembering to plant them each autumn! So today I bought a variety of bulbs and I'm going to show you how easy it is to plant them in containers and pots.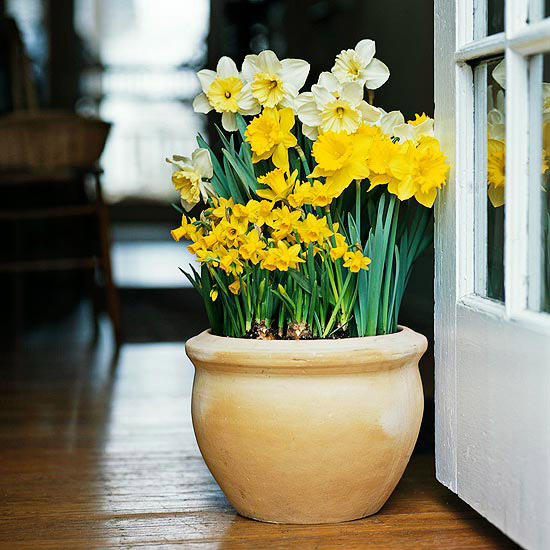 BHG
Where to begin: choose your bulbs. Look for large, healthy bulbs without any soft or bruised areas. The larger and healthier the bulb, the more likely your flower will bloom and produce a large bloom!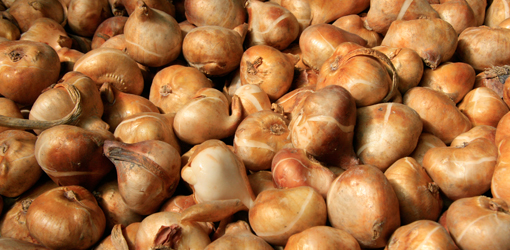 What to look for on the package: When planting a pot full of bulbs, make sure that you have chosen bulbs that will bloom all around the same time, or at least close.  Bulbs will come with very explicit directions on them and guidelines, which is great because it takes the guess work out of it all. If you want your pot to have a flourish of blooms in early spring then look for the "bloom time" on the package that says early spring. I live in the south and so spring comes very early here. I like to plant a mix of early spring along with mid-spring blooming bulbs in one pot. This staggers the blooming season a bit and yet allows for a gorgeous pot full of beautiful flowers.
How to plant bulbs in a pot: Imperative! Start with a good quality, well draining soil, enriched with lots of compost. Bulbs love a nutrient rich soil. Always follow the instructions on the bulb package. Different types of bulbs need to be planted at different depths to result in the optimal blooms. Follow the diagram below but also visualize how your pot will look after it blooms. You don't want the tall tulips to dwarf the crocus. So an easy tip is this- Place a piece of tape on the "front" of your pot. Add a layer of soil and plant your bulbs that grow the lowest around the back rim of your pot. These are usually your tall tulips.  Next, apply another layer of soil and plant a full amount (6-8) bulbs in the center of the pot. For example these would be daffodils. Apply another layer of soil and then add bulbs to the outer rim of the pot. These would be your lowest blooming bulbs, like crocus or miniature daffodils.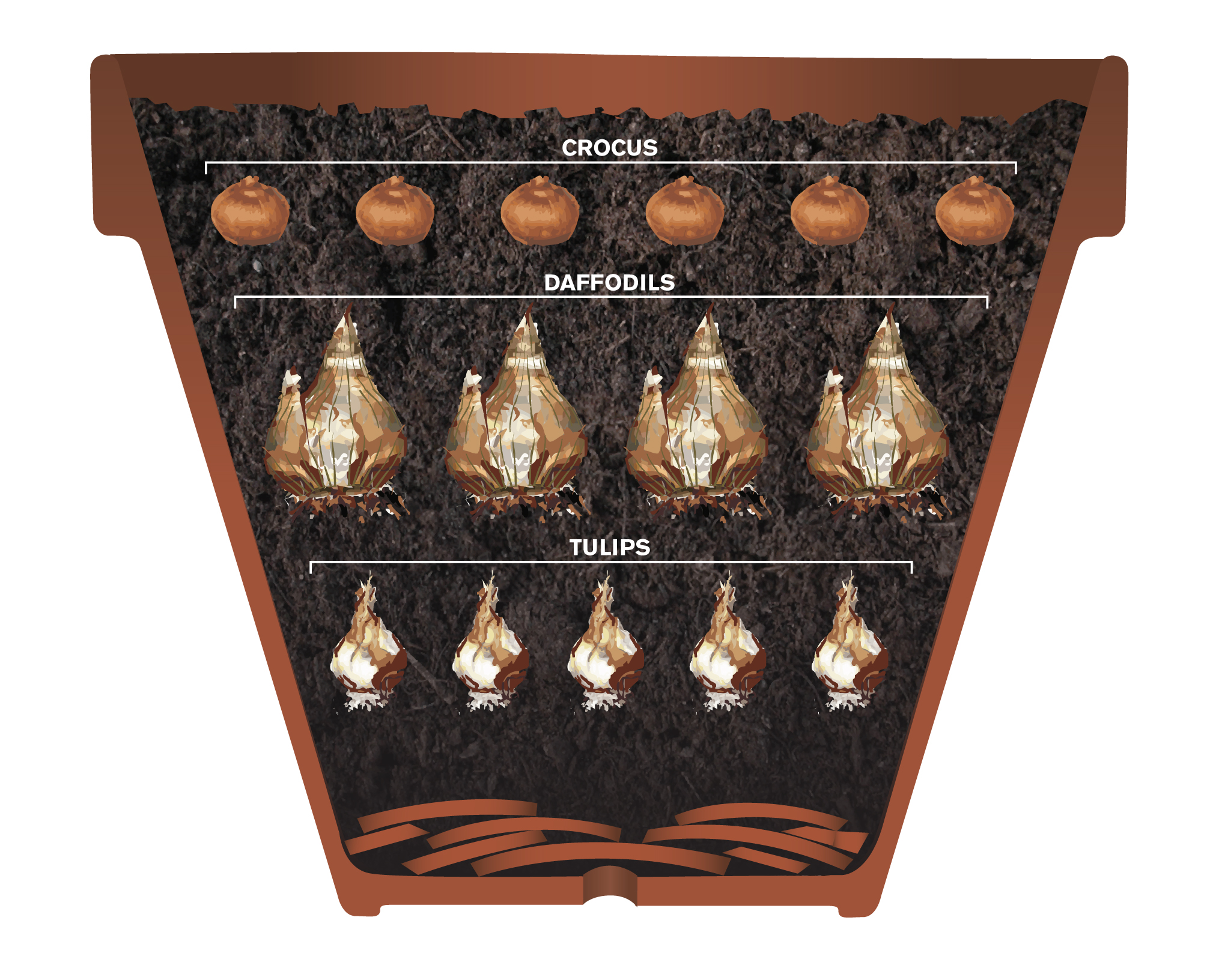 Pic source
Where to store during the winter: Tulips need about 12 weeks of cold chilling to bloom properly, but there is a risk of freezing when bulbs are planted in pots left outdoors. Use a freeze-proof pot to provide enough protection. Place it in a protected area, such as inside a garage, inside a shed,  or near a house foundation, until the bulbs sprout in spring. Here in the south, they are safe and sound most of the time outside or bring them into the garage for those hard freeze nights. You can also group large pots in a protected area and wrap them with burlap or other insulating material.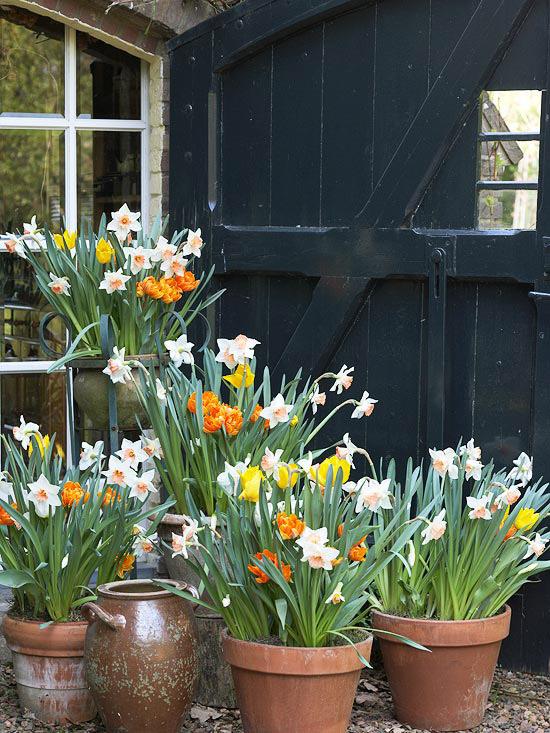 BHG
You don't have to use only pots to have gorgeous spring blooms. Get creative with your containers. Try using a basket, lined with plastic. Cut a few holes in the bottom of the plastic to allow for drainage.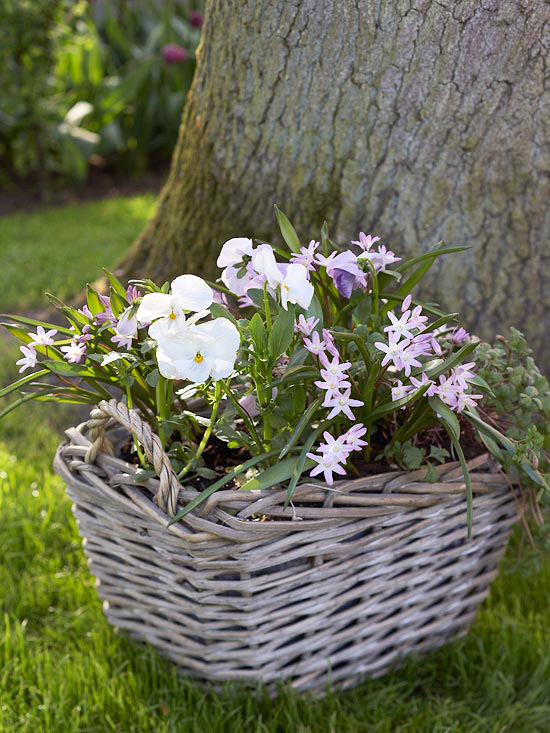 BHG
If you live in the south like I do, then you can fill the top of your pot with a coordinating color of pansies. I've seen pansies covered in inches of snow here, and they amazingly survive and blossom in spite of the temporary freeze! When your bulbs begin to bloom, they will push up through and past those beautiful pansies and you will have a full and bountiful pot worthy of any gardening magazine! And just think, you planted these months ago and forgot all about them! It doesn't get any easier than that!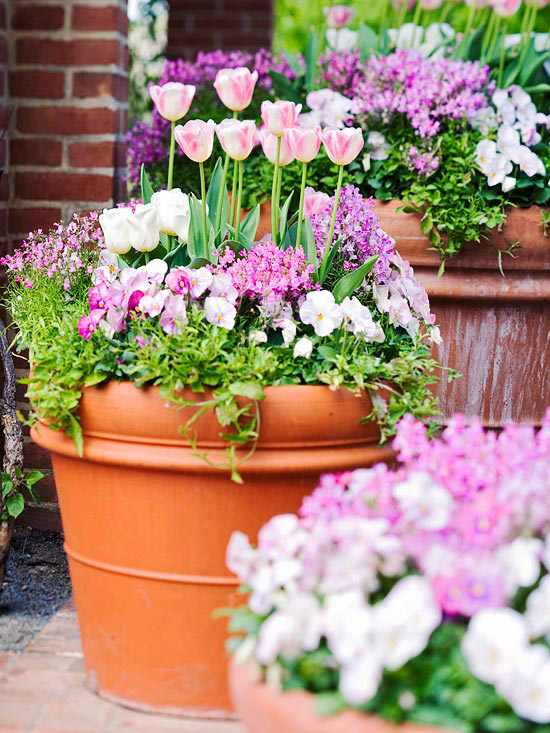 BHG
Planting bulbs in pots takes only a few minutes, yet results in weeks of glorious blooms come spring time. Take the time now, sit back and enjoy the flora to come!
Kim
For all you impatient peeps (like me) you will love this post: