This post is part of a compensated campaign with ProFlowers, a Provide Commerce brand. All opinions are my own.
Thanksgiving is approaching quickly, but I'm ready to celebrate and reflect on how blessed we are with friends and family.  Our neighborhood is alive and bursting with glorious, vibrant fall foliage! I've been taking the long way out of the neighborhood, just so I can slowly drive by all of my neighbors' firey red, orange, and golden hued trees.  Being inspired by the vivid colors of autumn, I wanted to bring that bright intensity into my dining room for my Thanksgiving Tablescape. Pulling a holiday tablescape together can seem a overwhelming at times, but I made it easy on myself with a bit of help using ProFlowers fall arrangements and I'm absolutely LOVING how it all turned out!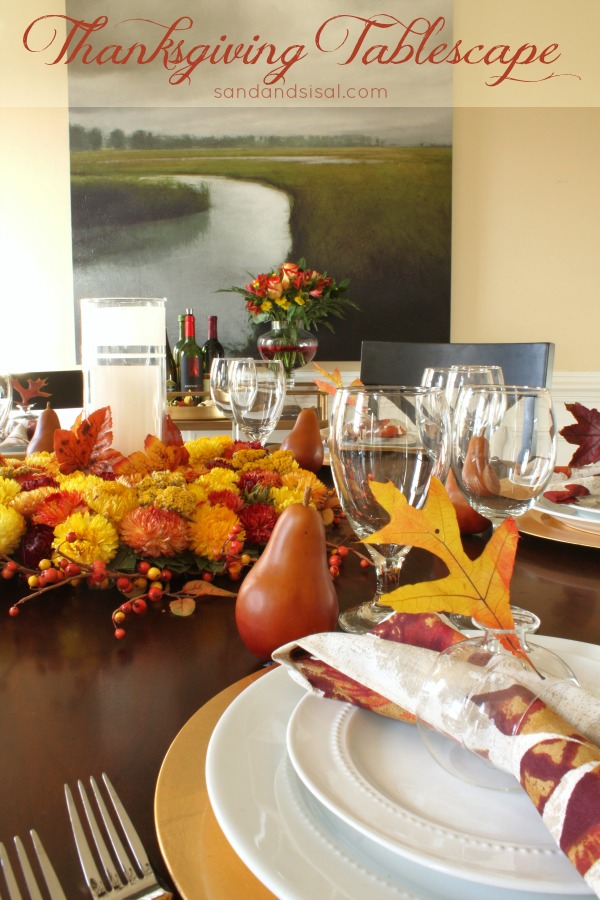 We all want to relax and enjoy our holidays right? I set my table with my everyday white dishes from Target, but to spruce them up, I added a metallic gold charger underneath each plate.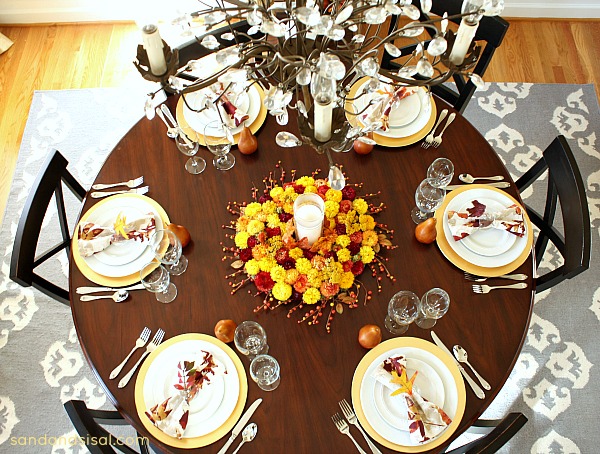 Years ago, my little sister gave me these mini glass vase napkin rings. They were the perfect vessels for showing off fall foliage finds from the back yard!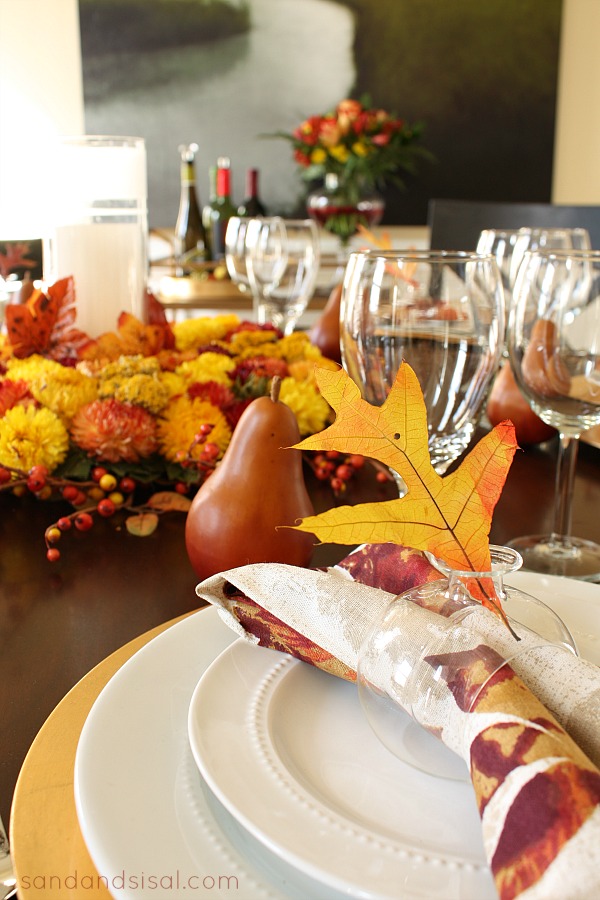 I sent the kids outside and told them to collect mama some pretty leaves. Looks like they did a great job!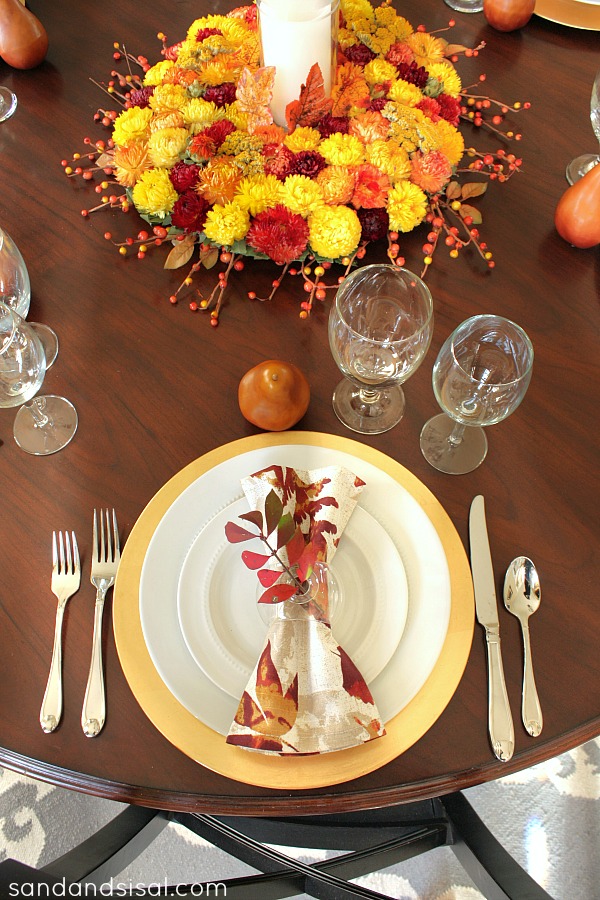 You all know me by now, and know that I like thinking outside of the box. I saw this beautiful Dried Flower Fall Wreath and I instantly knew I loved it. Why?
1) It's dried flowers…. meaning it will last forever essentially!
2) Who says it has to be used as just a wreath on a wall?  It can be used multiple ways!
So I removed the silk ribbon, placed a faux berry ring I already had on the table and then just laid the wreath on top, placed an etched glass hurricane (diy post to come soon!) and candle in the center and voila! Easy-peasy! My Thanksgiving Centerpiece was done in less than 3 minutes!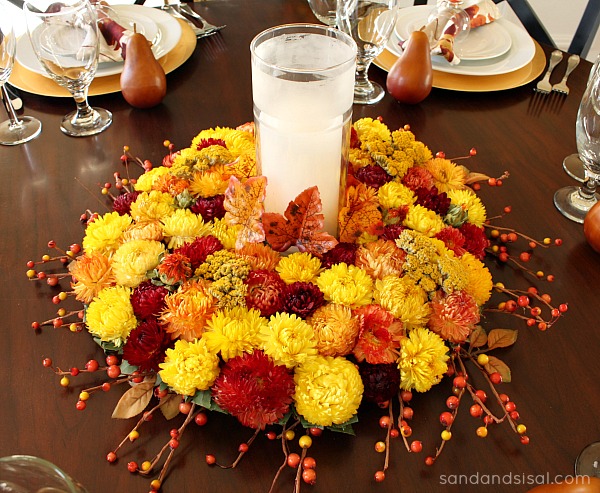 The bookcase turned hutch received the honor of a fresh green harvest Thanksgiving Cornucopia from ProFlowers. Oh my… the wonderful, warm woodsy scent that came out of the box! Luscious!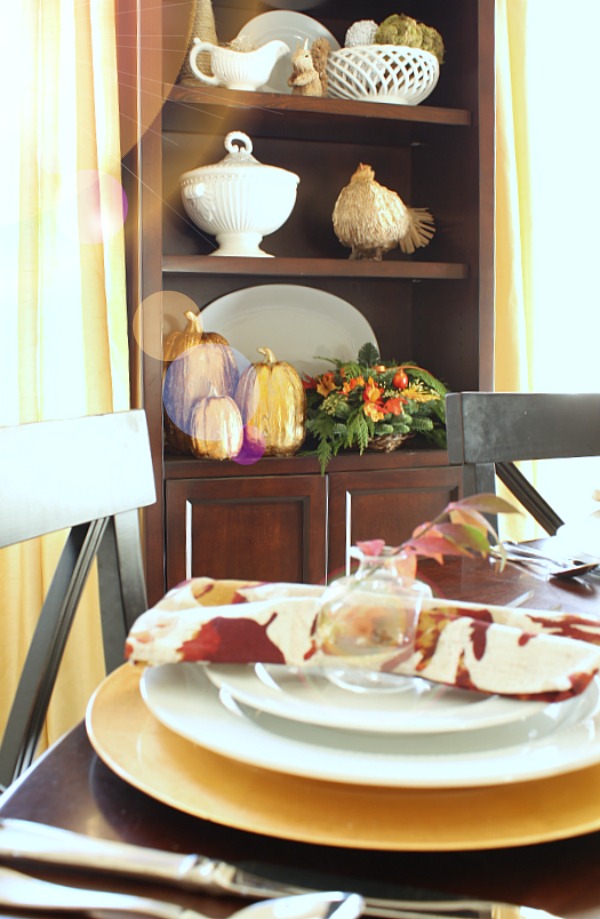 I placed it on the shelf with my copper pumpkins.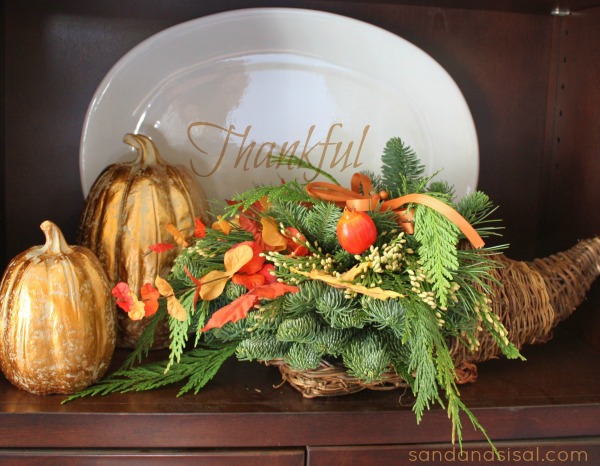 Ok, I'll admit, I did splurge a tiny bit this holiday season for myself. Call it an early Christmas present to myself. I bought a bronzed bar cart. I have been wanting one of these for 2 years now, and Target had it for an affordable price. I dressed the bar cart with an assortment of wines and another beautiful floral arrangement from ProFlowers.  I arranged the flowers in a glass apothecary vase I had and added a sprinkle of fresh cranberries to the water. I absolutely think it's stunning! Don't you? When doing your flower arranging, look in your home for unique vessels and use them! Clementine oranges would have also looked stunning in this vessel. Always think, "How can I do this differently?".
If you want to order any of these flowers then click any of these links for a sweet discount!  You will love your Harvest bouquet for Thanksgiving!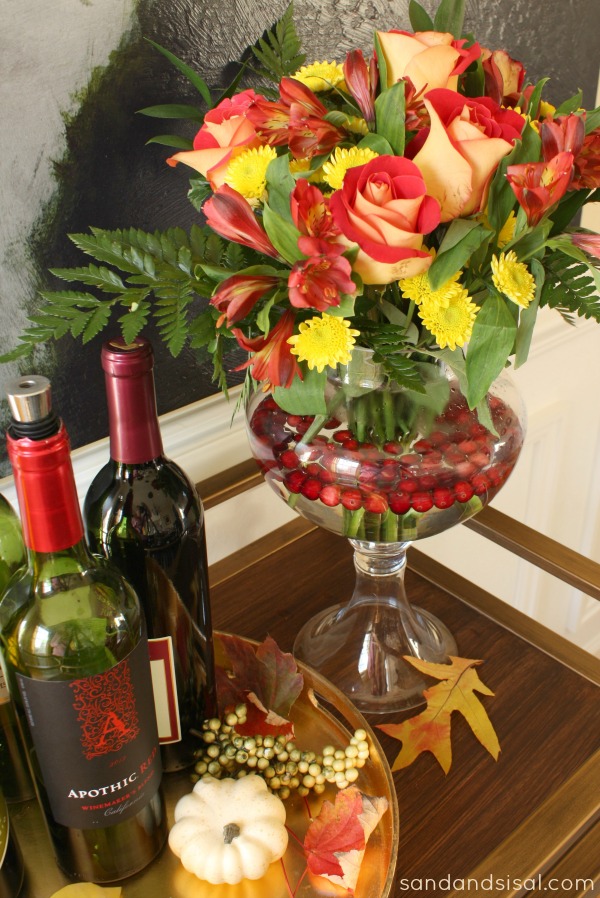 Next to Christmas, Thanksgiving is my favorite holiday. It's a wonderful time for family and friends to gather, laugh, and enjoy each other's company. If you want your holiday planning a bit less stressful, then consider using ProFlowers. It certainly helped mine! For more holiday tablescape ideas, check out this pin board below.
Follow ProFlowers Be Thankful on Pinterest
Kim