Just a few weeks left until Christmas and I think I'm almost done decorating! I try to focus on the rooms where we spend most of our time, and the kitchen definitely qualifies for that!  For our family areas, I like to keep the look relaxed and casual and welcoming. So with the help of a few fresh items from ProFlowers I created a Casual Christmas Tablescape and turned our chaotic kitchen and dining area into a festive family space.  (This is a sponsored post with Provide Commerce & the Social Media Chicks. All opinions are my own.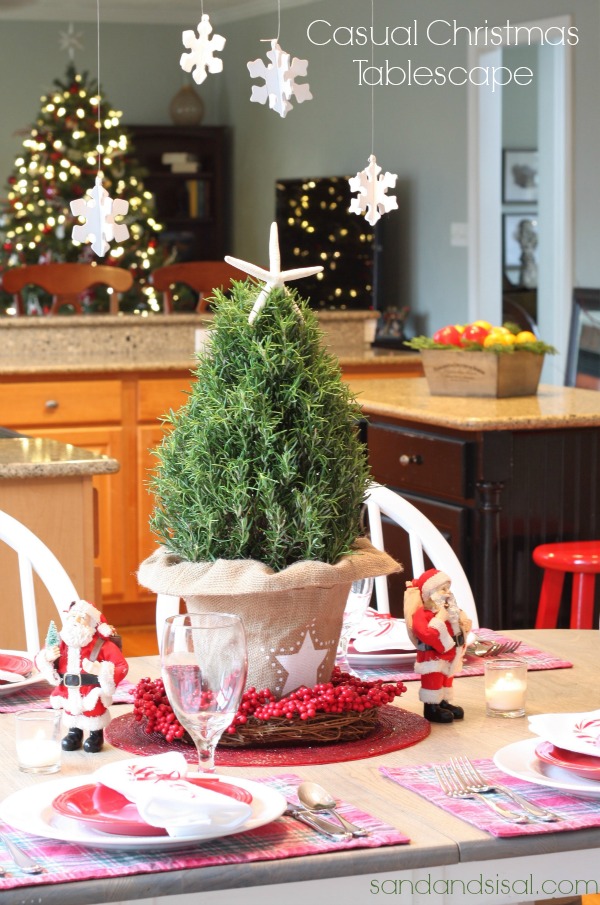 I absolutely love the smell and flavor of rosemary! I liked the casual and rustic look to this Burlap Potted Rosemary Bush with a painted star on it. I placed it inside an inexpensive 2.50 wreath I picked up from Target last year. I like using wreaths as parts of a centerpiece, just like I did for my Thanksgiving Tablescape which used a gorgeous dried ProFlowers wreath. To just brush you hand across the soft needles of the rosemary and smell the magnificent aroma is amazing! Best of all I can plant this outside and have fresh rosemary all year long (It thrives in our area). A plant that keeps on giving… how could I resist? Of course I had to give the rosemary tree a bit of my coastal touch, with a starfish tree topper!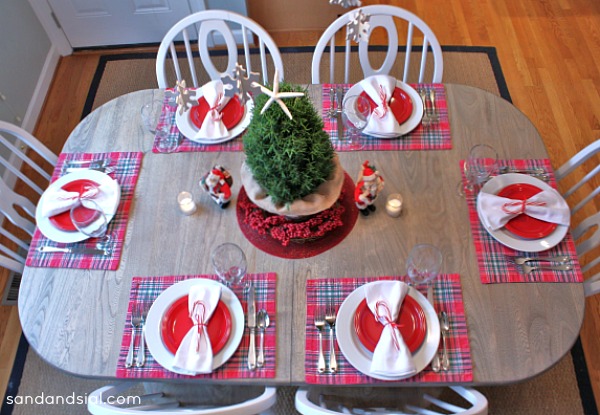 The season can get hectic enough, so why complicate it more with fussy-mussy table settings? These white and red plates are what our family uses year round and the place mats are probably over a decade old! Shhh! Yes, they are faded and have been washed a gazillion times, but we're going for relaxed and casual, right? No fuss napkin rings made from simply a red ribbon and a candy cane gives the plate a sweet and special touch.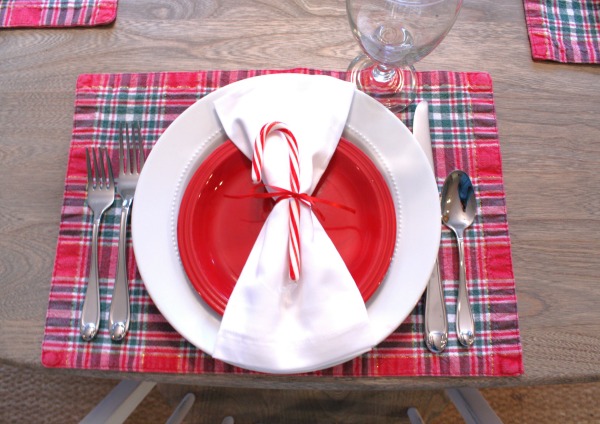 Here's a look from my office, across the kitchen. I'd show you my office, but it's a total disaster, and there is a pile of dishes in the sink that I'm sure you do NOT want to see. I took this photoshoot opportunity to dump each one of the kids' baskets in their rooms (they are not very pleased about that! ha!). That little black thrift store console table with the baskets has been my favorite solution ever to the clutter. It solved the issue of my disastrous staircase tsunami! Now instead of shoes and books, and clutter on the staircase I can actually place some poinsettias.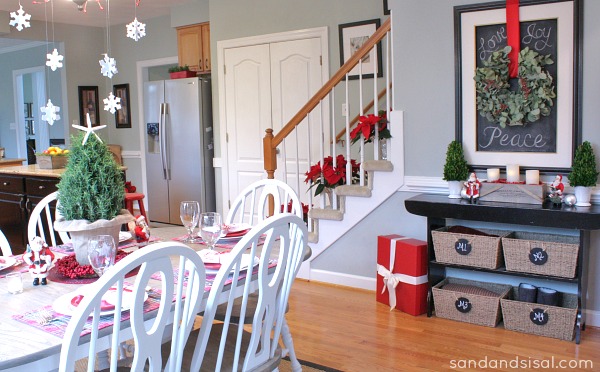 One of our family's communication hubs is our wall painted chalk board. (It's painted directly on our wall and then just surrounded by a recycled frame). I fell in love with this fragrant and beautiful Eucalyptus Wreath with Red Berries  and placed it in the middle with a few inspirational words around it, love-joy-and peace. This is another wreath that will keep on giving because it comes delivered to you fresh but will dry and look exactly the same! I can use it year after year! Now that is a great investment!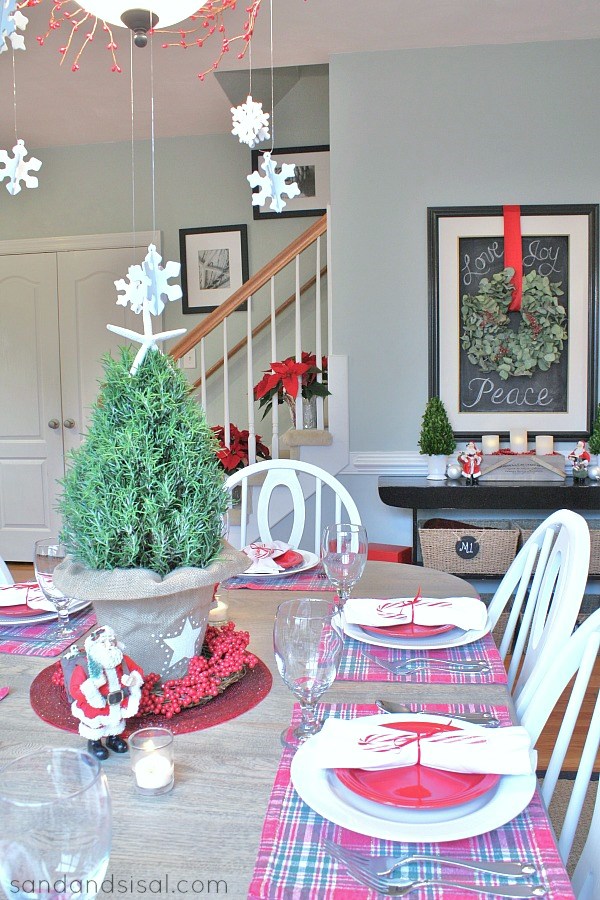 And to keep the overall look whimsical and light, I found a bunch of natural balsam wood snowflake ornaments, spray painted them white with spray primer and hung them from the table chandy with hub's fishing line! So simple!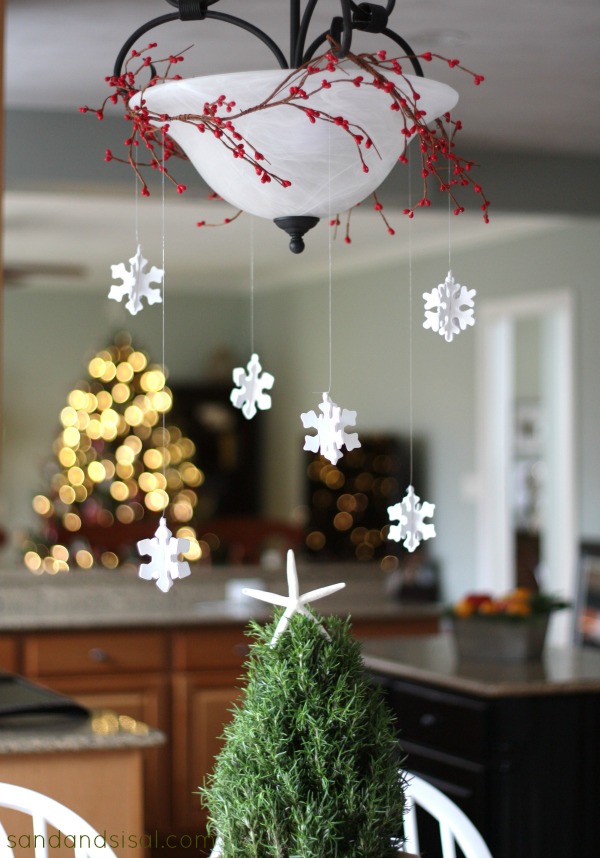 The Casual Kitchen Tablescape has gotten my kids' approval so I must have done something right! That is worth celebrating! Feel free to check out our Red & White Christmas Mantel and family room too.
Sand & Sisal readers can get an exclusive 20% discount off of all of your RedEnvelope and ProFlowers purchases through 12/31/13.
Start shopping at RedEnvelope here or order from ProFlowers here. The 20% discount will be applied to your shopping cart once you click the colored links.
Follow ProFlowers's board Deck the Halls on Pinterest.