We have been experiencing rare and record snow fall this week. I love how beautiful the snow looks, but I'm not necessarily a fan of being cold. So while the kids are all out sledding, I figured I'd start cooking up some hot, crunchy and savory appetizers for my little snow bunnies. Today we're making delicious Homemade Wontons!  You'll be surprised at how simple they are to make.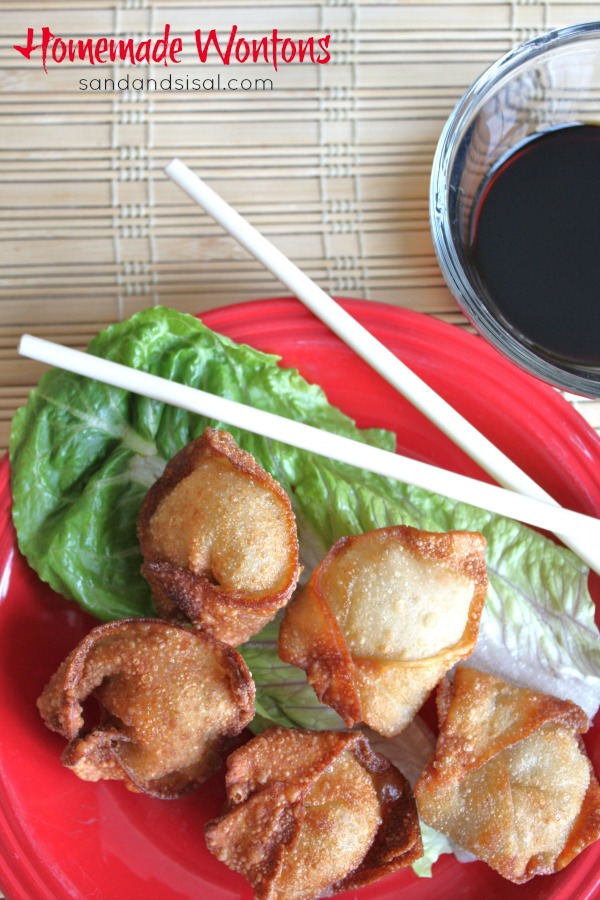 Stuffed wontons are one of my favorite foods to eat, whether fried or boiled in a soup. Of course frying them is not the healthiest I know, but they certainly are delicious! When I was a very little girl I remember my mom would take my sister and I to the mall for back to school shopping and as a special treat we went to a small Chinese restaurant inside the mall with amazing quality food.  She would order us either wonton soup or fried wontons, and Mu Shu Pork. We would sip green tea out of tiny Asian tea cups and attempt to use chopsticks. We rarely ever ate out, so this was special. (Thanks for the memory making MOM!)
You can find wonton wrappers in the produce section of most grocery stores. They are usually stocked over by the organic salad area and where the tofu is. When it comes to wontons, you can put almost anything inside them. I'm using ground pork sausage, but you could also use ground turkey, chicken, or firm tofu if you don't eat pork. You will have to adjust the spices a bit though.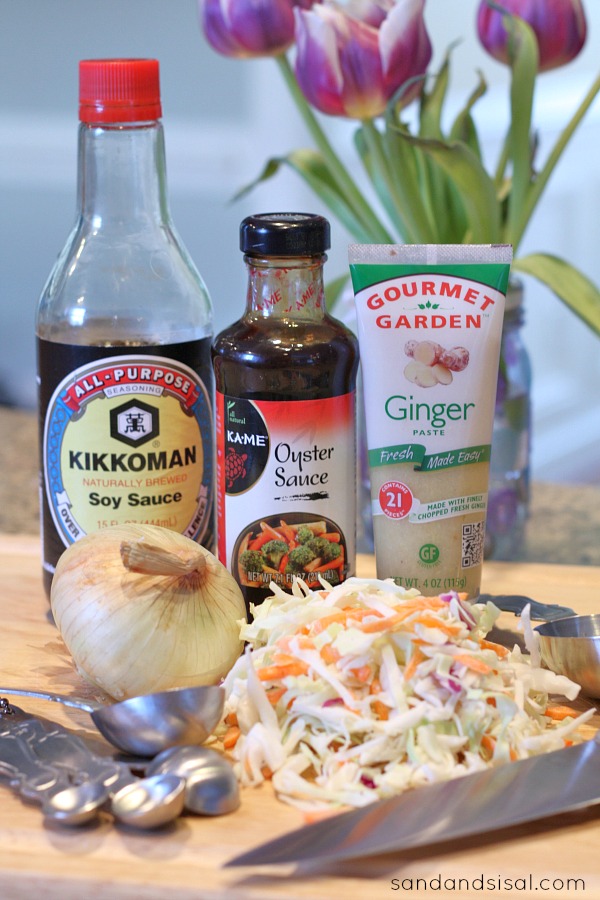 The key to the filling is to have all your ingredients finely minced or they could tear through the wonton wrapper. So even though the cabbage is shredded, you need to chop it up more. I used minced sweet onion, but feel free to substitute some of the sweet onion with a bit of green onion. Now when you look at my wontons, you will notice they are fatter than most restaurant wontons. Why? Well I like them stuffed to the gills! I use a small melon baller which holds 2 teaspoons, to scoop the filling. You can stretch out the amount of wontons you make by reducing the filling from two teaspoons inside to 1 1/2 teaspoons.
You can fold these any way you like, really there isn't going to be a wonton police coming after you. But here is how I like to fold the wontons. First dip your finger in a dish of cold water and rub along the edges of the wonton. You want them moist. Fold one corner over to the opposite corner. Press to seal well and be sure to press out any air pockets. Next moisten the points of your triangle along the longest edge and bring those points together, overlapping a bit. Press to seal well.
Fill a medium sized pot with a couple inches of vegtable or peanut oil. Heat to 350 degrees. Slowly and carefully place a few wontons into the hot oil. These will cook very quickly, as in just 2-3 minutes. You want to cook them until they are golden brown and you should flip them over half way through cooking. I like to use long wooden chop sticks to flip them. Remove from oil and allow to drain on a paper towel lined plate. Serve hot and enjoy!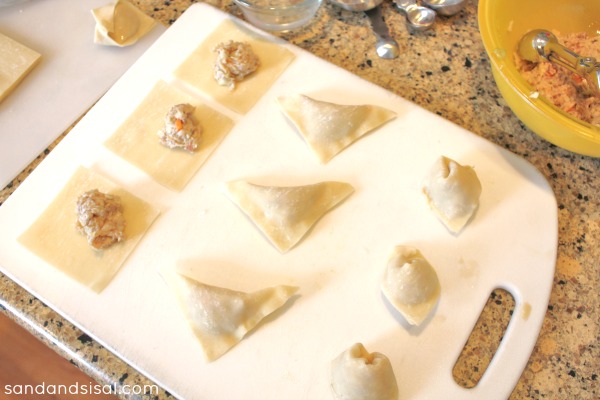 Homemade Wontons
Author:
Kim Wilson - Sandandsisal.com
Prep time:
Cook time:
Total time:
Ingredients
½ pound mild ground pork sausage
1½ teaspoon ginger paste or finely minced ginger
1 teaspoon oyster sauce
½ teaspoon soy sauce
2 teaspoons rice vinegar
¼ cup finely minced sweet onion
½ cup shredded cabbage and carrot slaw, finely chopped
1 package of wonton wrappers
oil for frying
Instructions
Mix all the ingredients (except for the wonton wrapper and oil) in a bowl until very well combined.
Lay wonton wrappers out on a cutting board.
Place 2 teaspoons of the sausage mixture onto the center of each wonton wrapper.
Dip your finger in a bowl of cold water and run it along the edges of the wonton wrapper.
Fold one corner over the the other to form a triangle and press edges to seal, being sure to press out any air pockets.
Bring the 2 outer corners together, dampen again with water, press and seal.
Heat a few inches of oil in a pot to 350 degrees.
Deep fry a few wontons at a time until golden brown (appx. 2 minutes).
Remove from oil and drain wontons on paper towels.
Serve hot.
Makes approximately 20 wontons.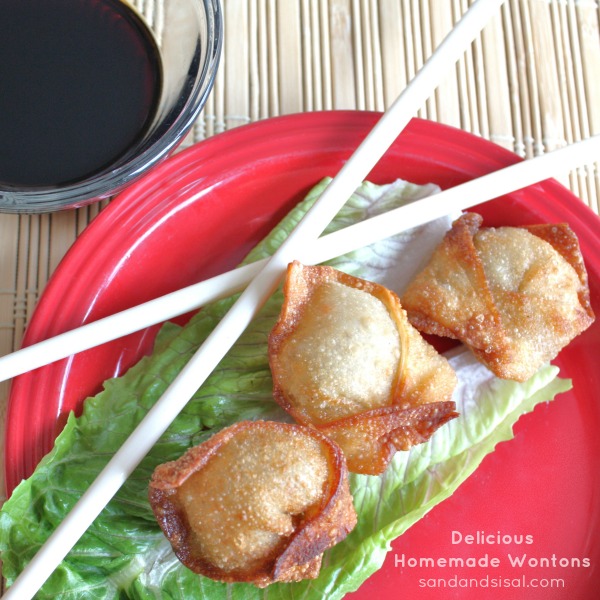 I hope you enjoy them as much as our family does!
KIM