It is no faux pas that Faux Bois is a super hot trend with lasting power. If you aren't familiar with the term, faux bois referrers to the artistic imitation of wood or wood grains in various media. I am so happy to introduce the new Mod Podge Rocks Peel n' Stick Stencil line by my friend Amy at Mod Podge Rocks. You can find these stencils exclusively at Michaels right now. I will be totally honest, I love these stencils. I have recently tried a few other so called "sticky stencils" and ended up with about 4 mega craft fails. So, I must admit I was hopeful, but skeptical when she asked me to review her stencils.
VERDICT: THEY WERE AMAZING!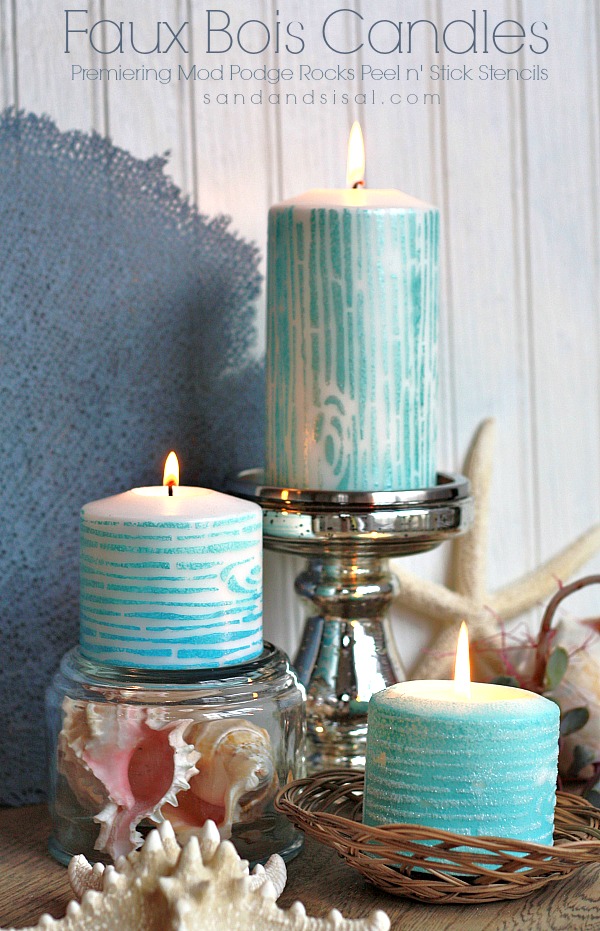 I chose the faux bois stencil to try out. What is nice about this stencil is that you can use it over and over again. I must have experimented with it over a dozen times and washed it and dried it and yet, it still sticks as secure as the first time! Why do you want it to stick so well? Why THIS brand of stencil over others? BECAUSE BLEED THROUGH IS NOT AN ISSUE! Amen to no bleeding hearts! Seriously, I kinda squealed when I tried it out and there was zero bleed through!  Yay AMY! You ROCK!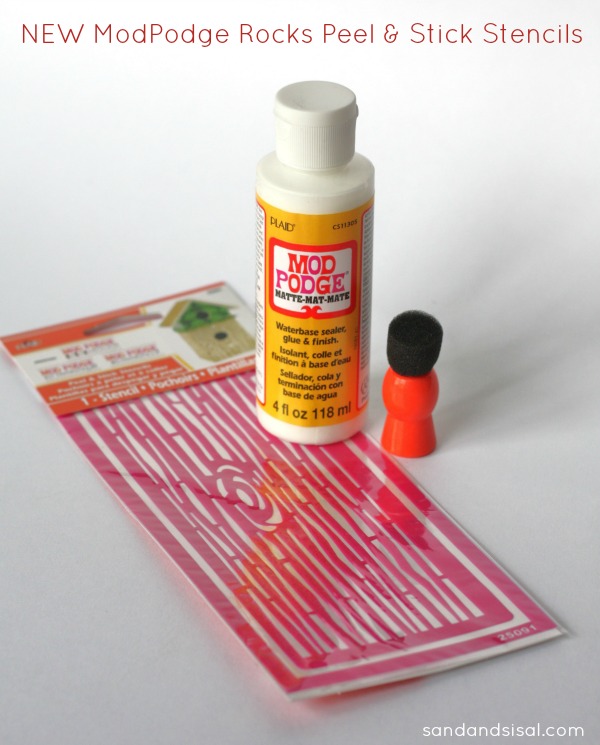 So let's put this puppy to the test. I removed the stencil from its backing carefully, ensuring not to accidentally rip it. The stencil was very tacky. My experimental guinea pigs were a few candles I had laying around house.
The Mod Podge Peel and Stick Stencil clung immediately to the candle like the annoying polyester skirt around your thighs on a Sunday church morning in February, when you wish you had a bottle of hairspray in the glove compartment.(Oh yes, I see all your knowing and nodding heads…. been there haven't ya?). But in this case, that is actually what we want!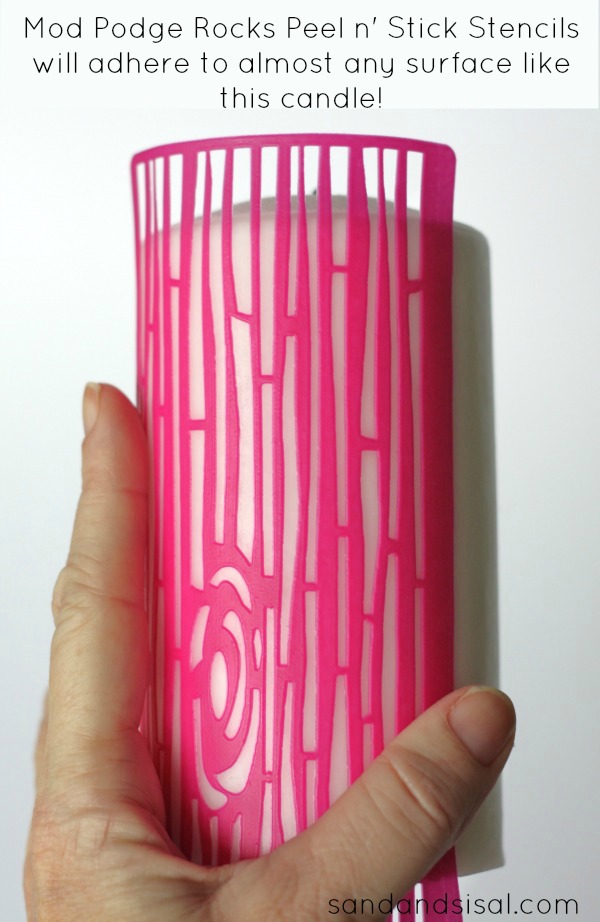 Let's test the stencil with paint. Because we are painting on wax, I chose to use Martha Stewart All Surface Paints. Martha will not lead you astray! These paints (also by Plaid, the makers of Amy's stencil) are the absolute best paints I have ever used. I dabbed the paint onto the candle with a sponge dabber and immediately peeled off the stencil. Wash off the stencil. Allow the paint to dry then re-position the stencil again and repeat the process until the entire surface of the candle is covered.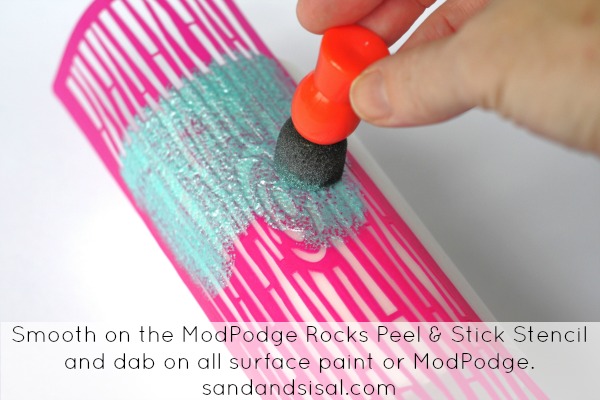 To create an ombre effect on a candle I wrapped the Mod Podge Peel n' Stick Stencil around a small pillar candle and dabbed on 3 tones of aqua blue (all MS all surface paints).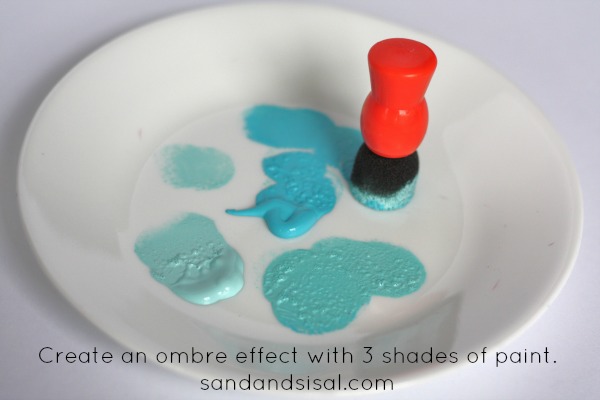 This soft and subtle ombre effect can be achieved in just minutes.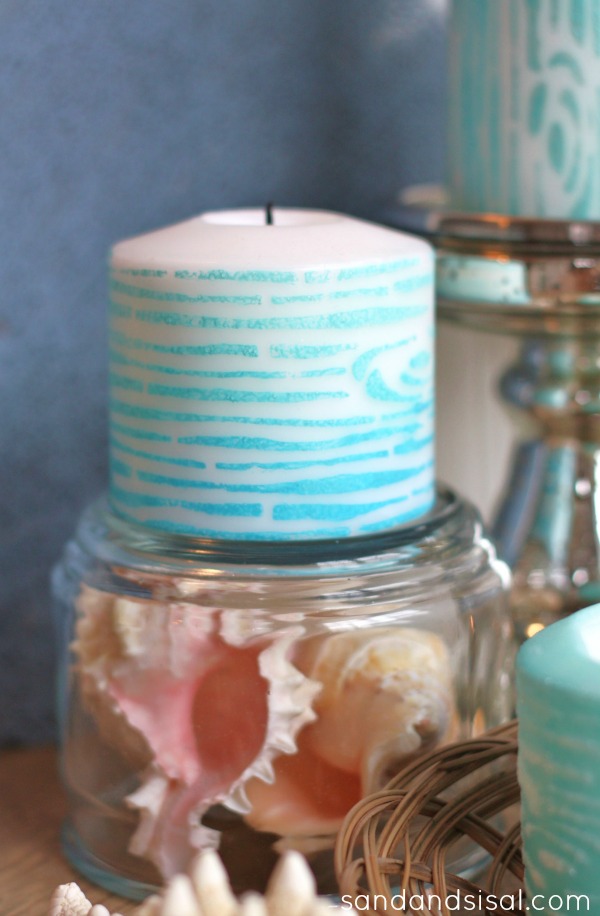 For a final bit of experimentation, I wanted to see how it worked with a textured medium like glitter or sand. I first painted a small candle with the MS paint and allowed it to dry. I then applied the stencil to the candle, dabbed on Mod Podge medium in a matte finish, and then sprinkled on the sand. I tried using white pool filter sand but found that the size of the sand grains were too large. Craft fail.
Let's try again. I washed off the candle in cool water (yep water! Remember we used ALL-Surface paint. It won't wash off!), dried it and then tried a new approach. Let's use ultra fine white glitter. The results are exactly what I expected…. beautiful! After you apply the stencil, dab on the Mod Podge, and just sprinkle on a generous amount of fine glitter, then remove the stencil. Voila! Pretty sparkly faux bois!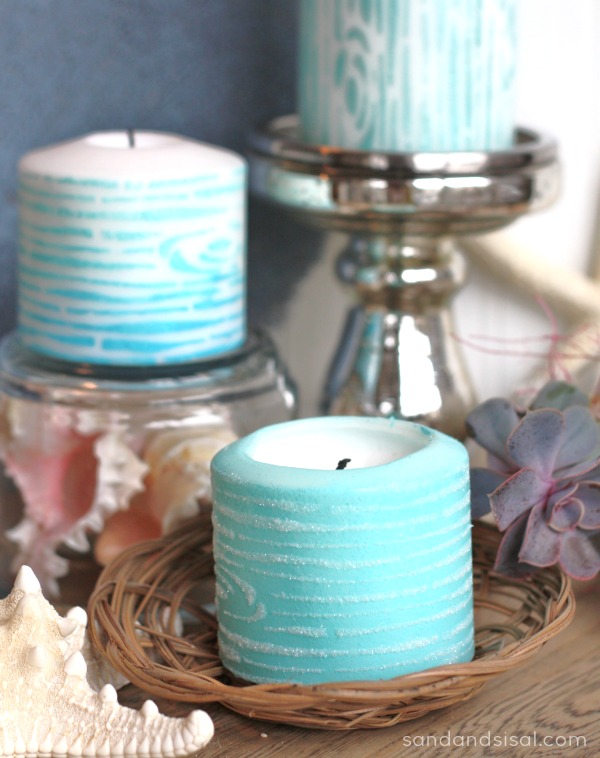 Isn't this a fun way to dress up some candles? And what is so nice is that these stencils can be used over and over again.
Ready to give these adhesive stencils a try? You can find them at Michaels crafts stores throughout the USA. You can choose from these 9 different designs. OR YOU CAN WIN ONE!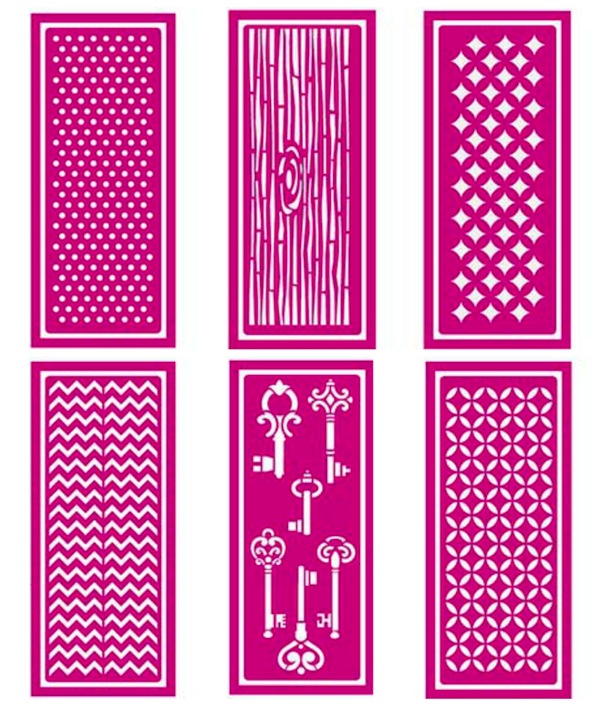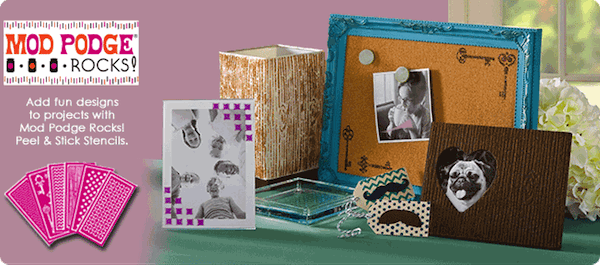 AMY IS GIVING AWAY YOUR CHOICE OF ONE STENCIL TO ONE WINNER (USA RESIDENTS ONLY). ENTER IN THE RAFFLECOPTER BOX BELOW.
Happy Crafting!
KIM