The southeast is being pounded with rain, ice, and snow which is downright depressing. I yearn for the warmth and vibrancy of springtime. Do you desire to bring a touch of spring into your home? It is simple and doesn't take a green thumb to do it either. Each winter I stock up on succulents! Indoor succulent gardening is simple and perfect for all you self acclaimed brown thumbs! Let's do a bit of up-cycling and make a Succulent Wall Hanging.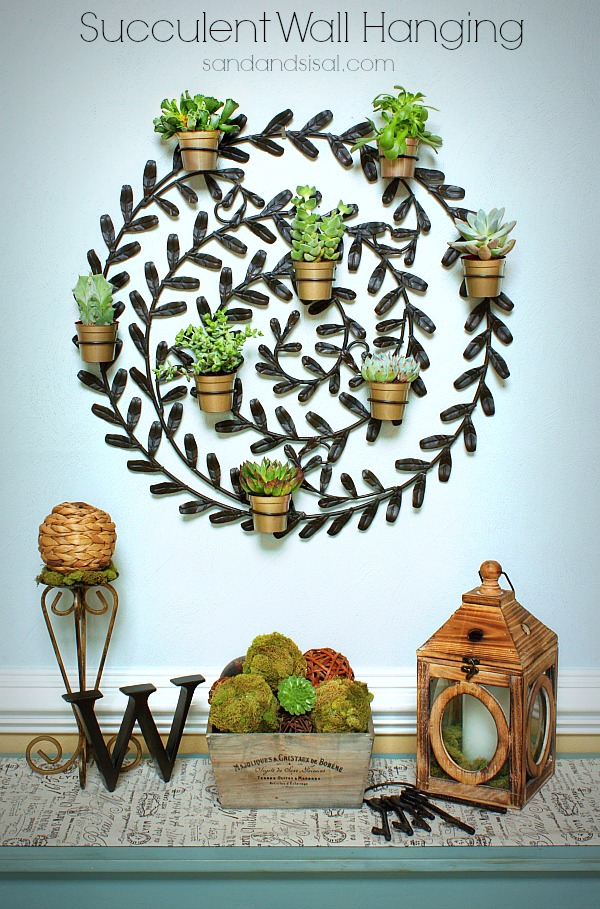 We all have some type of old wall fixture from the 90's or early 2000's, somewhere in storage, that was supposed to host candle votives. My boys had destroyed many of the glass votives on this metal wall hanging years ago with their footballs and soccer balls (by the way which are NOT allowed inside… ahem…). I pulled out the metal wall hanging the other day and had one of those bright lightbulb upcycling moments!  I realized I could easily replace the votives with small pots of succulents! So I headed out to HD and found a new supply of winter succulents. They were planted in their typical, ugly burnt orange colored plastic containers. Yuck, those simply would not do.
Spray paint time! DIY-ers and Graffiti artists have 2 things in common,
1) We LOVE to create and
2) We LOVE using spray paint!
I popped the succulents out of their pots and gave the plastic pots a quick spray with Rustoleum Universal spray paint in metallic Champagne Mist. Put a can of spray paint in my hand and I might just paint everything I see! I was tempted to paint the ORB wall hanging itself! I still might.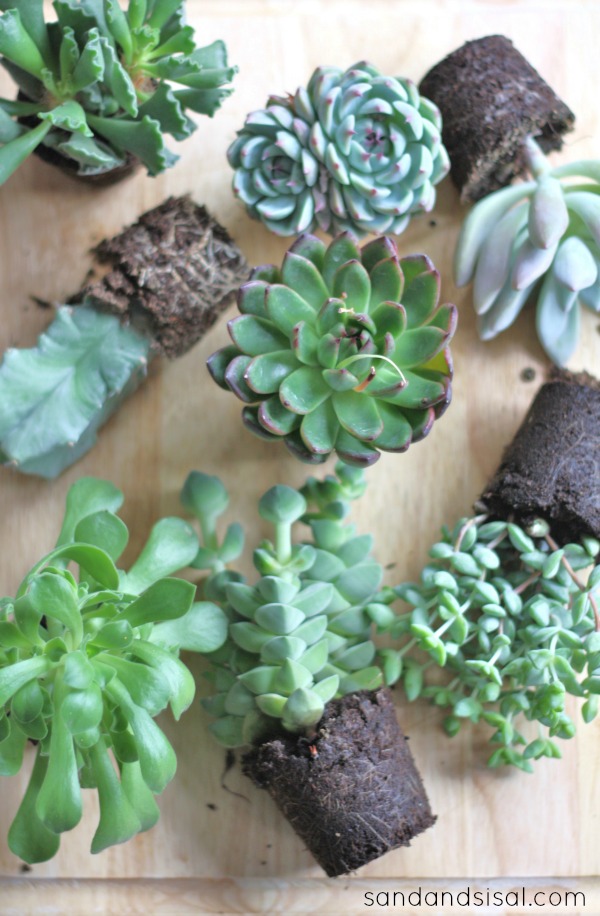 I just can't get over how beautiful succulents are. Each small succulent is so very unique, and are like small sculptures in and of themselves. Just look at them! STUNNING, SCULPTURAL, GRAPHIC! God is an amazing artist, isn't He?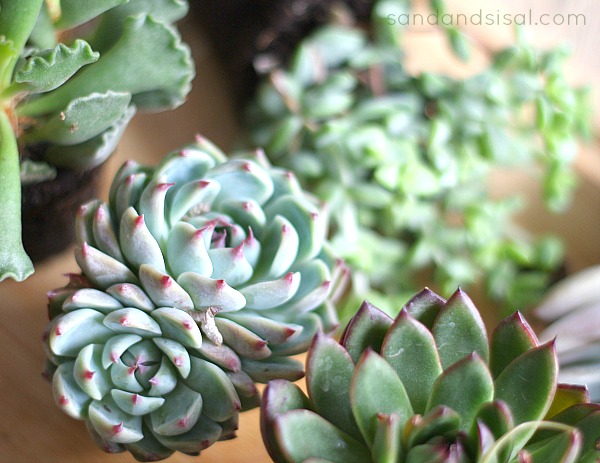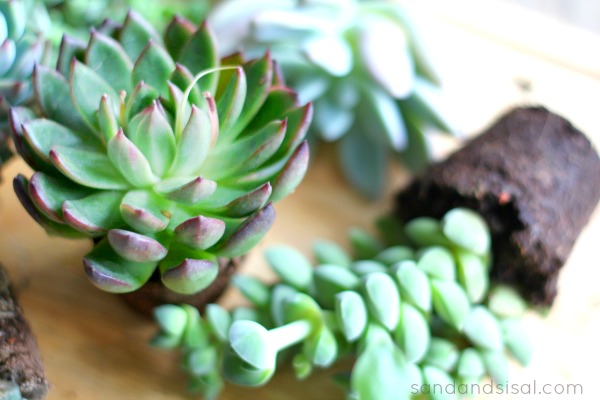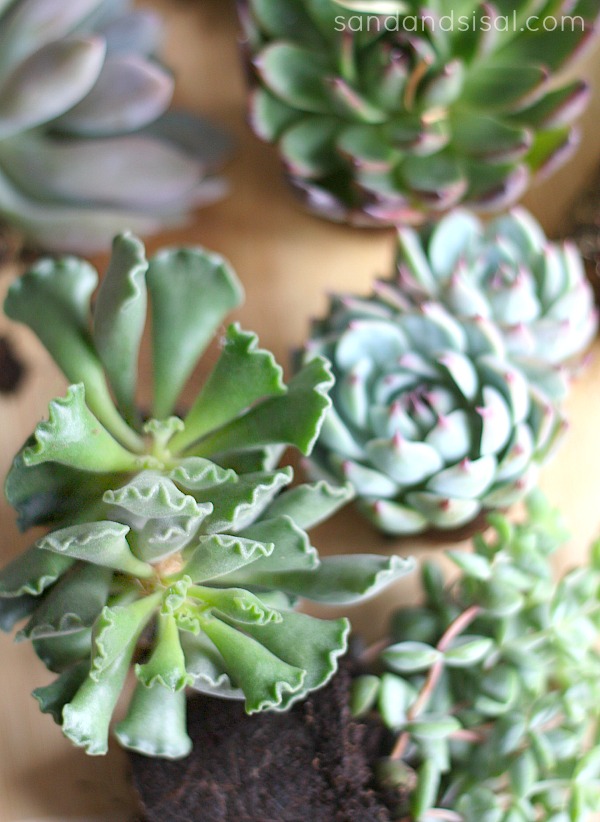 I enjoy using succulents in decorating, especially in unexpected places. Tuck a tiny succulent in a spring green arrangement of DIY moss balls.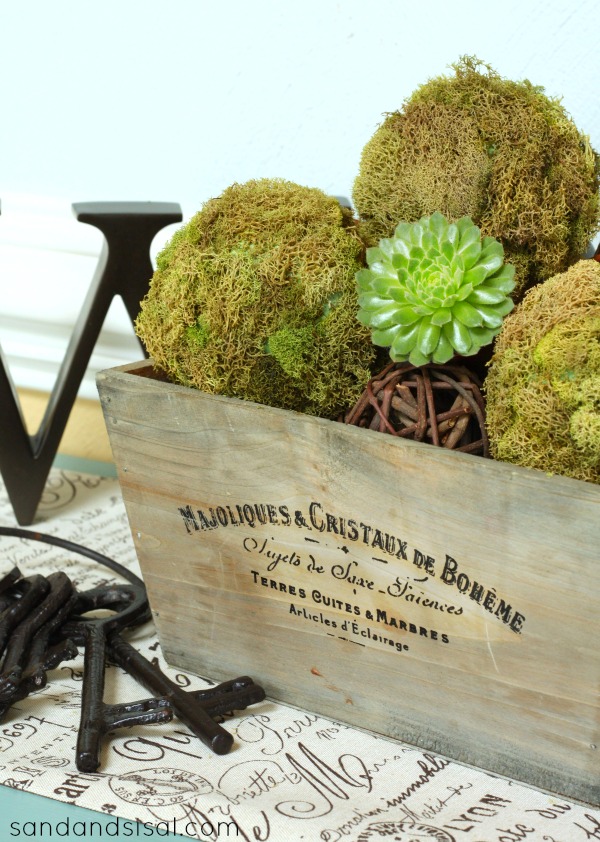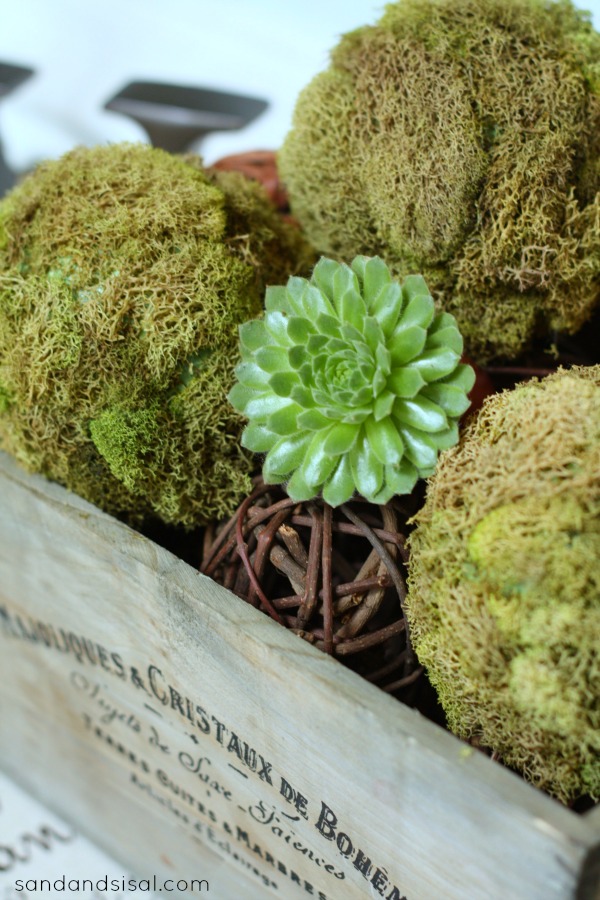 Or tuck a succulent inside a whelk shell, a tea cup, anything you can think of. They are so easy to grow and maintain. Be sure to read Succulent Gardening for step by step advice on how to grow and care for succulents.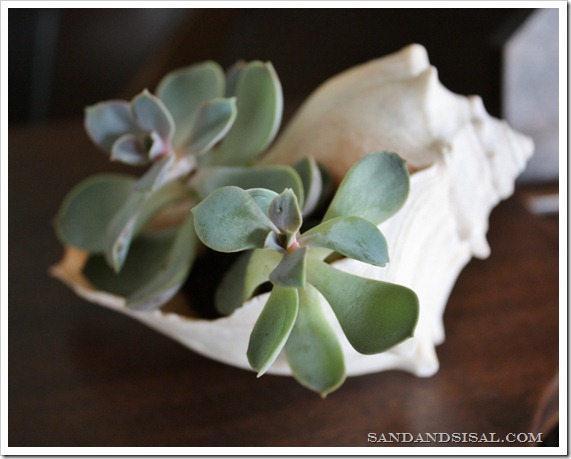 After the champagne spray paint was dry I slipped the succulents back into their pots and inserted them into the metal wall hanging and placed it in my foyer. This area receives wonderful light and I know they will thrive in this location. Plus, doesn't this arrangement make you smile after all the snowy cold and dreariness?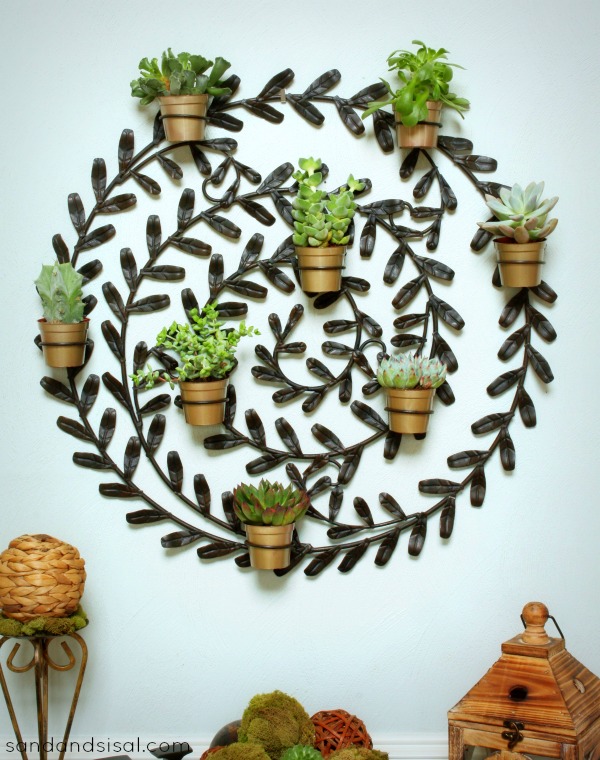 Look in your closets or on your walls. Look for anything that could hold a container or a candle. RE-Think how it can be used. Re-cycle and Up-cycle whenever possible. Be inventive, push your comfort zone in decorating. Shove moss inside a lantern, surrounding a candle. Replace a candle with a funky seagrass ball.
Decorating is not limited by your budget, it is only limited by your imagination. 
For more easy gardening tips check out my GARDENING TAB up top!
KIM