Welcome to the charming Screened Inn on beautiful Tybee Island just off the coast of Savannah Georgia. I had the privilege of attending a little blogger retreat last week, organized and hosted by Rhoda of Southern Hospitality, Diane of Mermaid Cottages, and Kathy aka the author Mary Kay Andrews. There were about 20 of us and we all stayed in several of the Mermaid Cottages. Brittany from Pretty Handy Girl, Holly from Storywood Designs and I all stayed in Screened Inn. Open the gate and let's take a tour!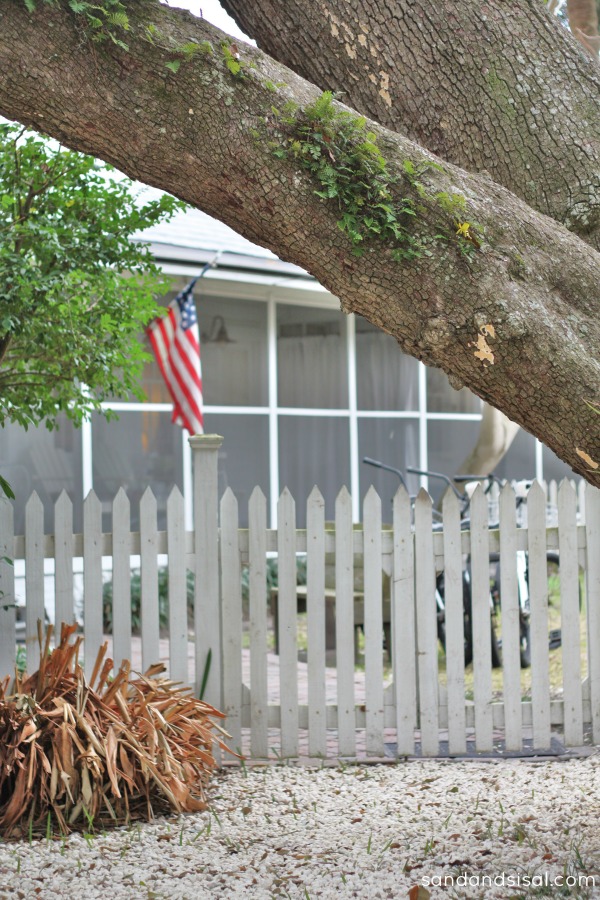 Screened Inn cottage used to be a mess hall for the officers of Fort Screven back in the 1920's. It is now divided into a duplex hosting two cottages.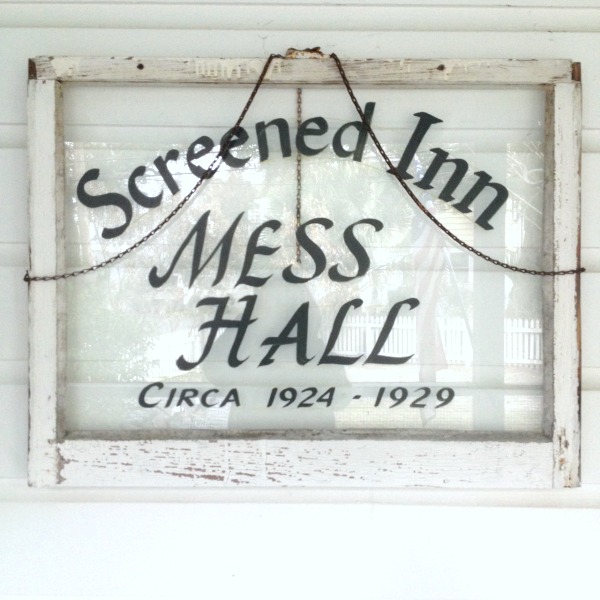 The Screened Inn cottage is also just a very short walk away from the beach and the historic Fort Screven Light House.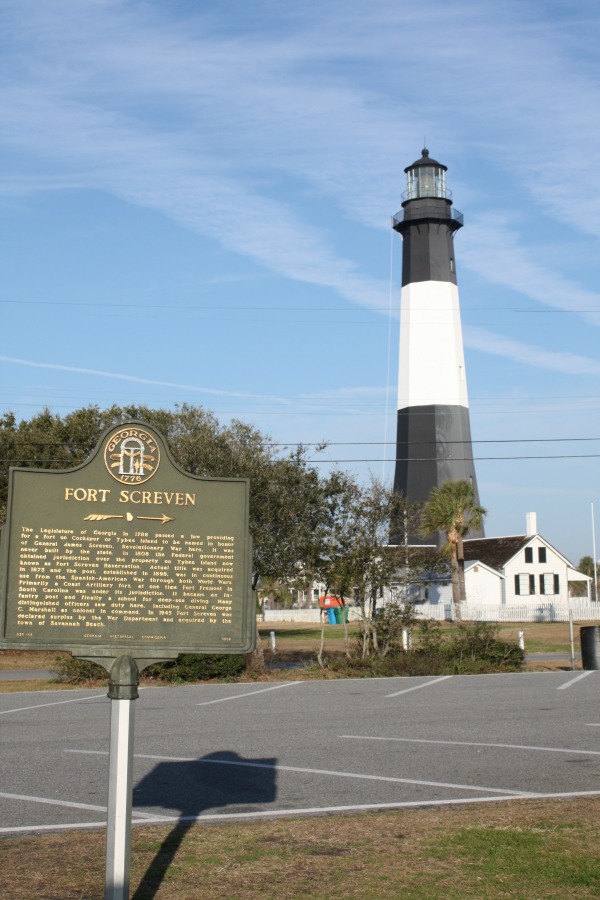 The screened porch is long and expansive, full of rocking chairs and couches where you can sip some sweet tea and enjoy the ocean breeze. Our weather was rather nippy but I can just imagine how nice this porch would be in warmer months.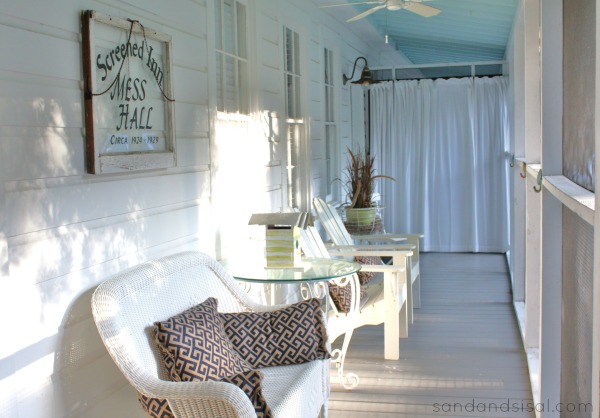 If you remember, I recently posted about Coastal Door Knockers and was pleasantly surprised to be greeted by this bronze fish door knocker!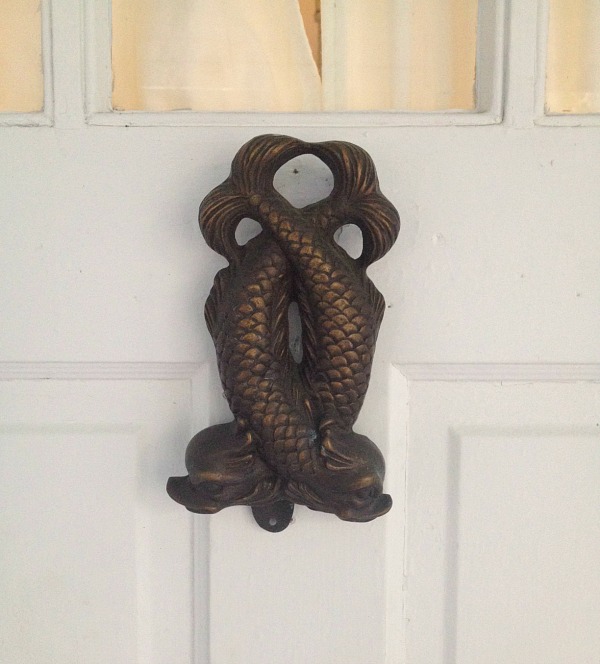 Step inside and enter the bright and cheery cottage kitchen, with open shelving, board and batten walls, and industrial lighting. The kitchen is stocked nicely and is large enough to host a crowd.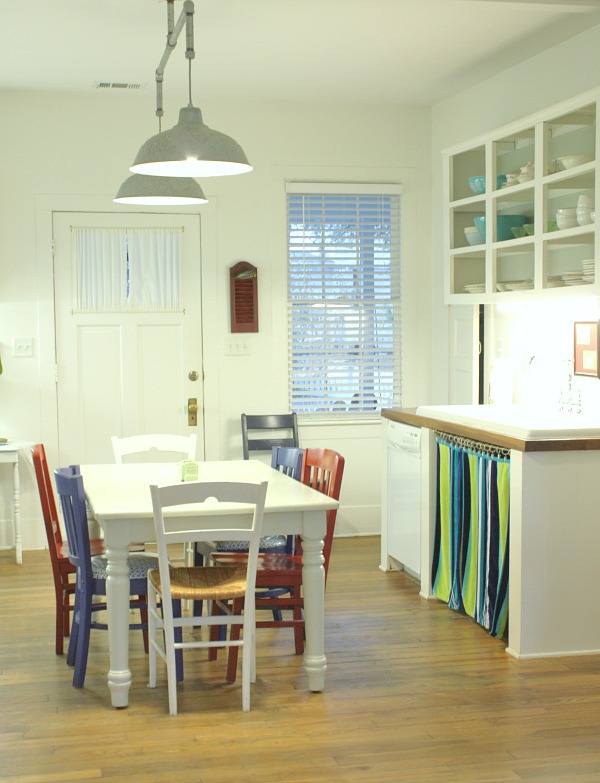 The Screened Inn received a decorative makeover a few years ago by Kevin and Layla from the Lettered Cottage. So let's enter the master bedroom, cleverly titled the Lettered Love room!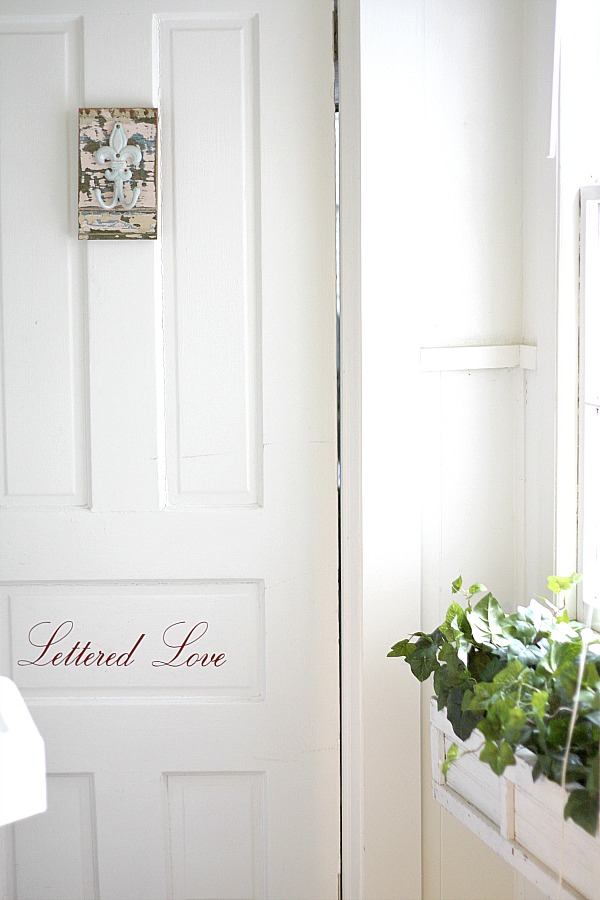 The super comfy bed boasts an impressive headboard made from upcycled old doors finished in a driftwood whitewash.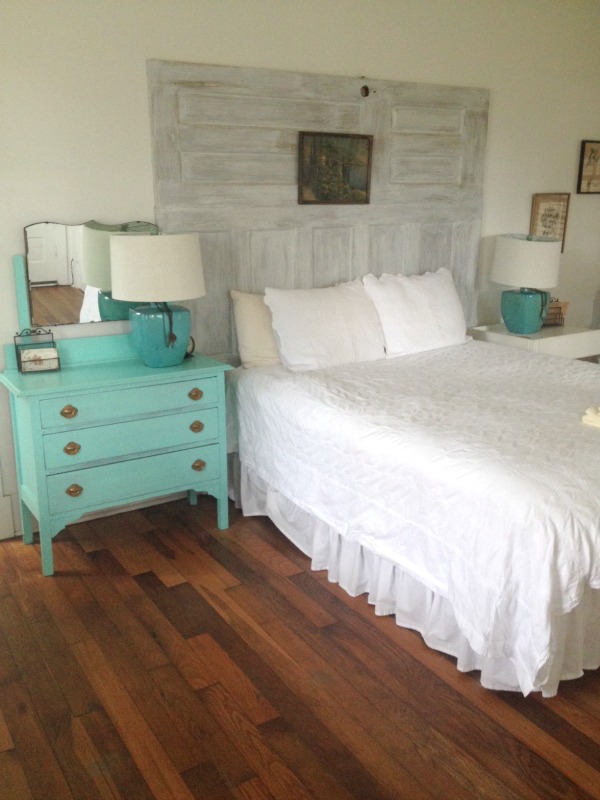 And across from the bed is the Lettered Wall which displays a lovely quote about an island. This wall quote vinyl decal was created and installed by my friend Leen the Graphics Queen.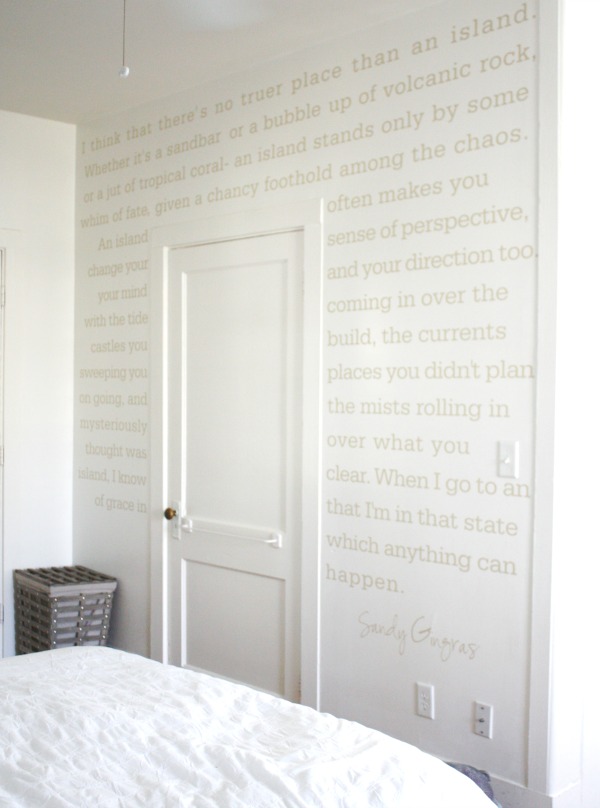 The home is filled with fun coastal decor like this wood sea horse wall hanging. I wanted to take him home with me!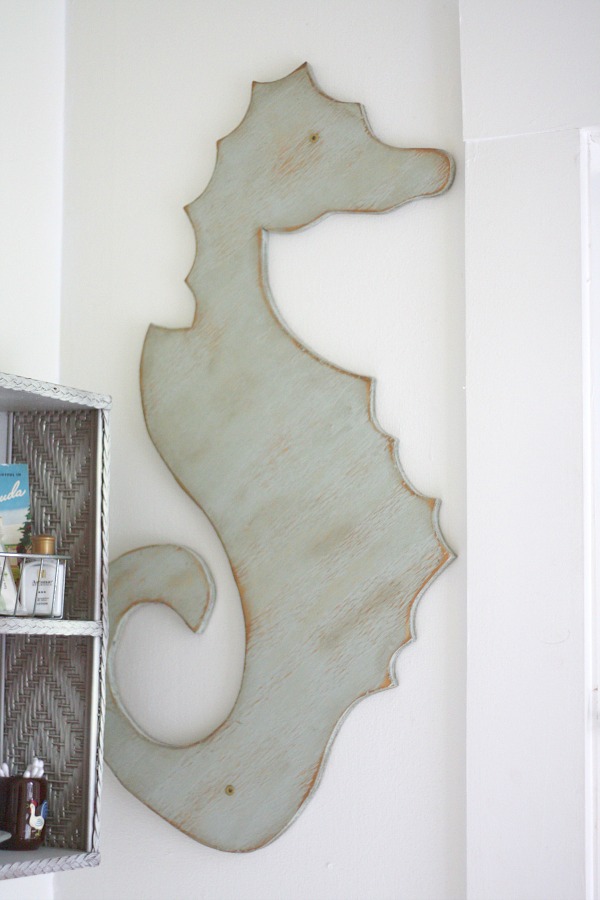 Each of the rooms have their own unique title and this bedroom directly off the kitchen is the Sand & Sea room. This room was adorable! One bed was labeled sand and the other was sea, but I was tempted to change it to SISAL! 😉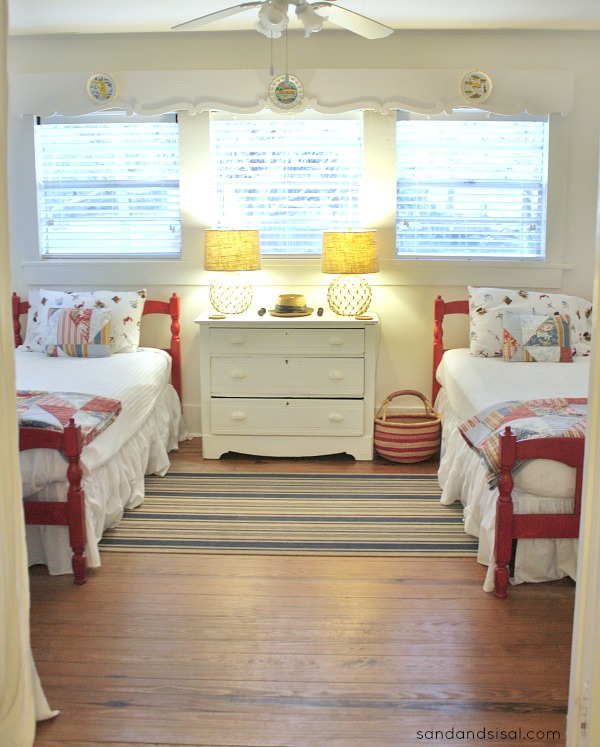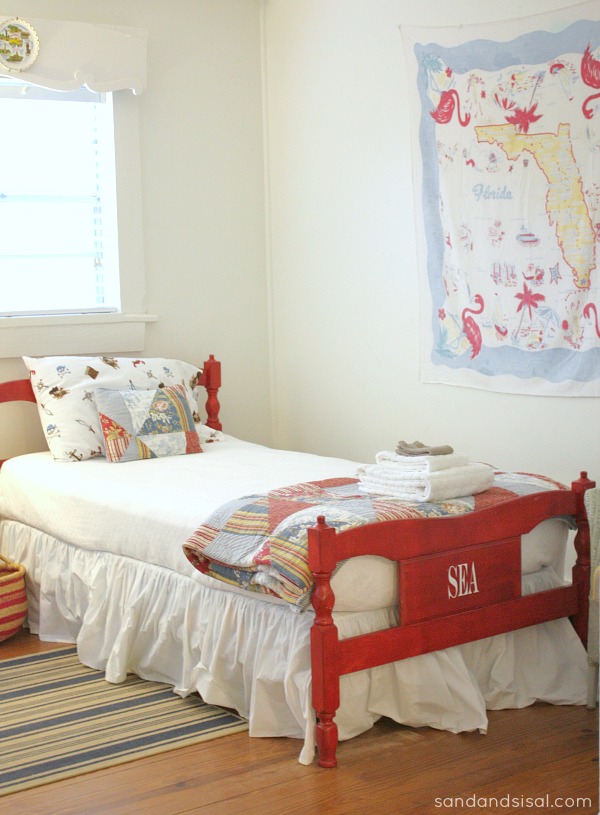 The 3rd bedroom which holds a queen and twin bed is called the Lemonade Mermaid room. Cheerful pops of sunny yellow decorated the room.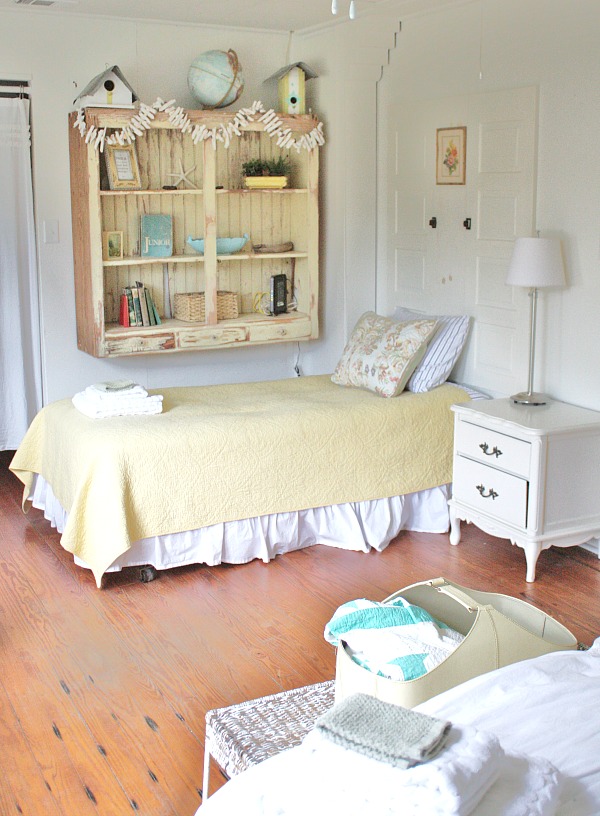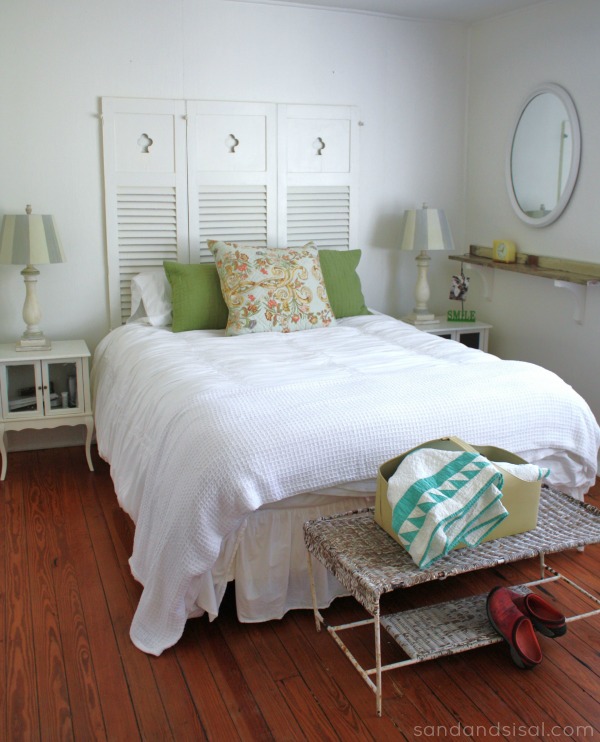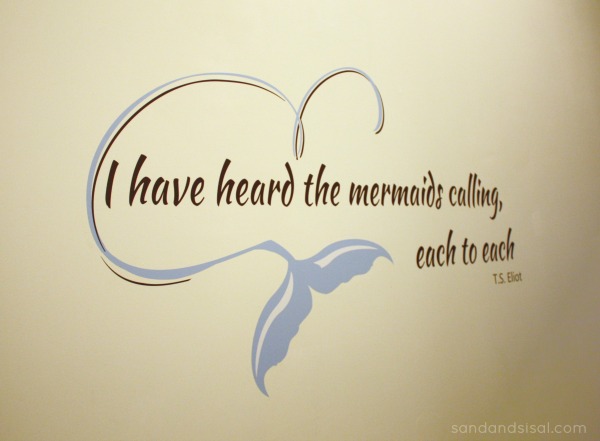 The Screened Inn family room holds plenty of seating and is decorated in a fun nautical motif. I loved the bold stripes painted in a soft and subtle gray.
How fun is this idea? Starfish are strung and hung from the ceiling above a shelf which runs the entire length of the room.  The cottage also is filled with vintage finds and artwork.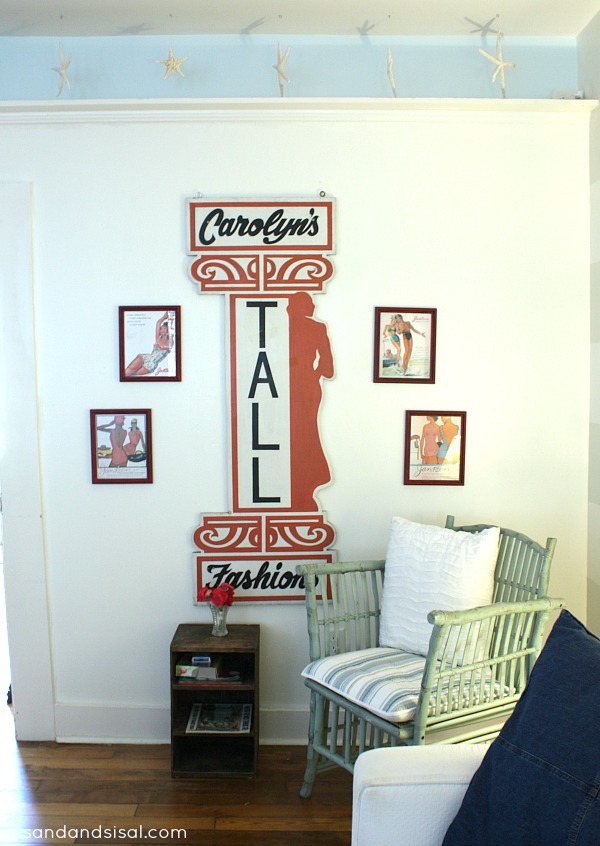 I instantly fell head over heels with this antique door knob on the chippy turquoise distressed door. How gorgeous is that?!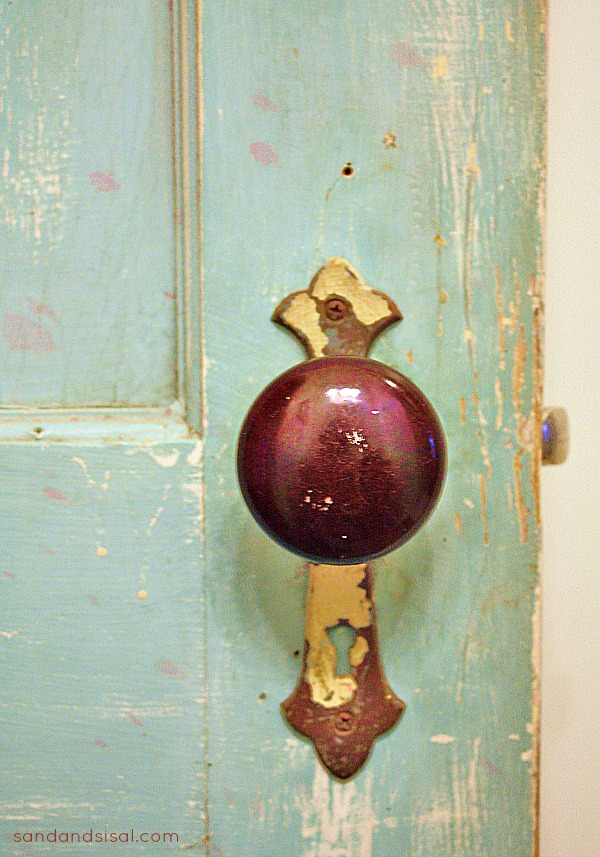 But besides the coastal decor of this quaint cottage, it was the people inside it that left you feeling relaxed …. and those were my wonderful and fun roommates, Brittany and Holly! (Pictured Left-Right: Me, Holly, Brittany, & Rhoda)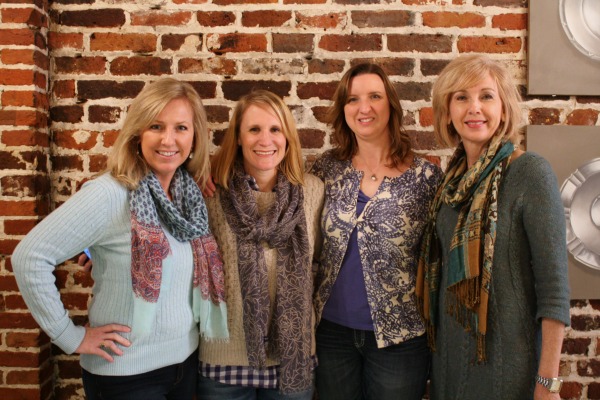 I'll be posting more about our girlfriend getaway on Tybee Island and Savannah later this week.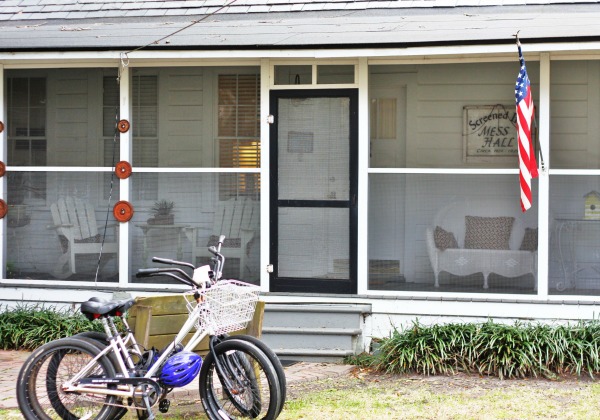 Hope you enjoyed the Screened Inn Cottage tour!
KIM