We had a wonderfully warm sunny day yesterday and I was able to open up the windows and let some much needed fresh air into our home.  Have you ever noticed how after months of such a cold winter, the air in the house seems to become stale? There is a very simple solution to improving the air quality in your home. It is houseplants!  I recently purchased several house plants that clean the air and thankfully they are also easy to grow and maintain.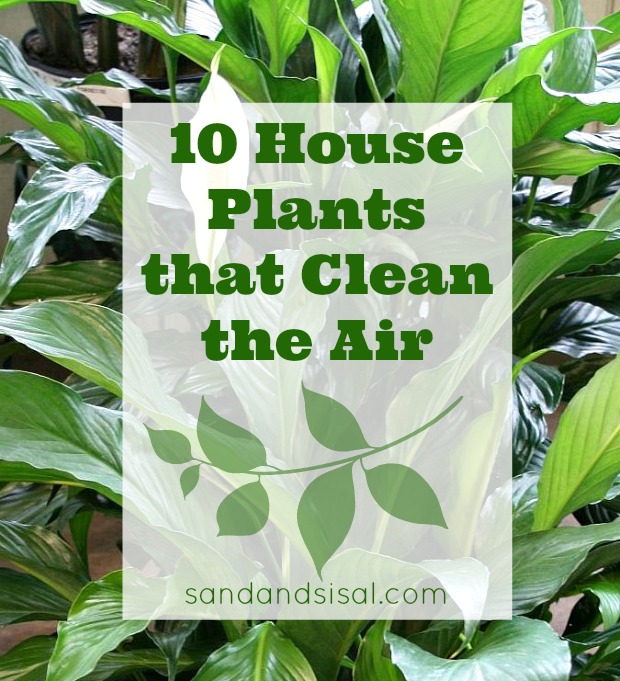 Most homes have common volatile organic compounds (VOCs) in the indoor air.  These toxins are found in emissions from paint, plastics, carpet, cleaning solutions, dry cleaning solutions, and many types of building materials. The following are the most commonly found:
formaldehyde: in carpets, upholstery, glues, paint, and more
trichloroethylene: in paint removers, rug cleaning solution, adhesives, and more
benzene: in plastics, synthetic fibers, lubricants, rubber, pesticides, and more.
There are several houseplants that will clean the air and filter out these chemicals naturally. Plant leaves are able to absorb pollutants and send them to the roots, where they become food for microbes. Let's take a look at some of these air purifying plants. (Click your computer's arrow keys for super easy browsing or click the arrow button above)
Love this post? Let's keep in touch!
Subscribe for free to have Sand and Sisal delivered straight to your inbox.