This post brought to you by Texas Pete. All delicious opinions are 100% mine.
BBQ by any other name is not the same…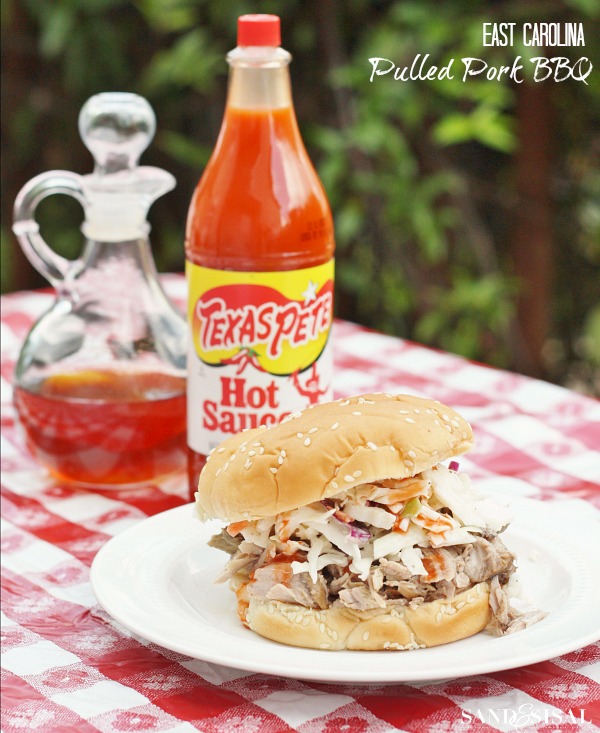 When my parents moved us from Oklahoma to eastern North Carolina, (Greenville, NC to be specific) back in high school,  neighbors welcomed us, extending their southern hospitality with an invite to the neighborhood's annual pig pickin'.
"A pig what?", we asked…. somewhat horrified.
"A pig pickin'!" they replied all gleefully. Obviously picking up (no pun intended) on our widened eyes and totally clueless looks, they explained, "You know, a bbq!"
Ahhhhh. Now a bbq is sounded like fun! We loved bbq! Well we arrived ready to chow down. The aroma of the smoky pork bbq filled the air and my taste buds were salivating! Were was the smell coming from?
And then I saw it. There on the picnic table was an enormous whole pig, with apple in its mouth and everything! That was something I had never seen before (except in movies). At a pig pickin' a whole pig is slowly smoked and cooked for hours and then everyone gets to "pick" the meat off of the pig… hence the name "pig pickin'". This was a day full of new cultural explorations.
We were served generous mounds of shredded pork on soft buns. But something was missing…. "Where's the bbq sauce?" We were accustomed to the typical tomato based bbq sauce out of a bottle. The neighbors looked at us curiously and simply passed us some vinegar and Texas Pete Hot Sauce. Ok, I'm game… I'll try this out.
I took a bite… IT WAS AMAZING, tangy, peppery, with just the right amount of heat! I was hooked.
Now I understand that when you mention the best BBQ ever, well "them is fightin' words!" Every region of the USA has their own recipe for BBQ. It is even different tasting in separate regions of NC, but if you love all the taste of a pig pickin' then you will really enjoy my East Carolina Pulled Pork BBQ! Better yet, we are making it in a slow cooker!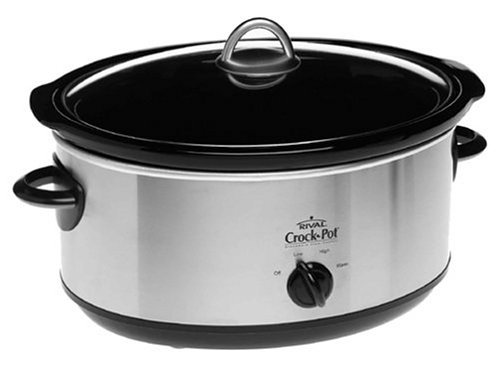 This recipe can be made as hot and spicy or as mild as you like. It is such an easy recipe to make also! Start with a bone-in pork shoulder roast, rinse and place it in a large slow cooker. Next season it with salt, black pepper, and cayenne pepper. Then you pour in apple cider vinegar around the meat. Drizzle liquid smoke over the meat. The liquid smoke gives it that taste as if you've been cooking it in a back yard smoker! Now add more heat. Pour in the Texas Pete's Hot Sauce, so it can slowly penetrate all the meat with it's delicious peppery goodness!

East Carolina Pulled Pork BBQ
Author:
Kim Wilson - c4a.bc9.myftpupload.com
Recipe type:
slow cooker main dish
Prep time:
Cook time:
Total time:
Bring the taste of an East Carolina pig pickin' to your table, but with out all the work! This slow cooker bbq recipe has the traditional vinegar and pepper flavor that is a sure crowd-pleaser.
Ingredients
1 (5-6 pound) bone-in shoulder pork roast (trim fat layer if desired)
1 teaspoon salt
1 teaspoon black pepper
1 teaspoon cayenne pepper
1½ tablespoons Texas Pete's Hot Sauce
3 tablespoons liquid smoke
1 cup apple cider vinegar
¼ cup brown sugar
2 teaspoons red pepper flakes
Instructions
Pull pork shoulder out of fridge and allow to sit at room temp for 30 minutes.
Remove from packaging and rinse pork shoulder, then place in a slow cooker..
Season with salt, black pepper, cayenne, hot sauce and liquid smoke.
Pour cider vinegar around the roast.
Cover and cook for 11 hours on low.
When done, remove shoulder blade and shed pork with two forks (it should fall apart easily).
Stir in brown sugar and red pepper flakes, keeping pork warm in the slow cooker until serving.
Serve pork using tongs, allowing juices to drain, and place on warm buns.
Optional: Top with creamy cole slaw and extra Texas Pete's Hot Sauce and a drizzle of cider vinegar if desired.
This recipe makes a lot, which is great for a crowd. I made 20 lbs of East Carolina Pork BBQ for my daughter's Graduation Party. It was a huge hit! One tip I do have is that you can make the BBQ a day or two ahead, place it in a large casserole or foil roaster pan, refrigerate, and then simply reheat it before serving. You can also freeze any left overs.
I want to give a little shout out to Texas Pete and thank them for sponsoring one of my family's favorite recipes. They have a variety of sauces that add that special secret ingredient to you recipes. Click here to find more Texas Pete Hot Sauce recipes or to find Texas Pete Hot Sauce near you.
Texas Pete is giving back this fall to those less fortunate and donating $1.00 to Feeding America for every social media share you partake in. Each time you pin, tweet, or share this post on Facebook you are helping others in need. (Be sure to let me know in the comments below if you shared in any way!) Thanks!