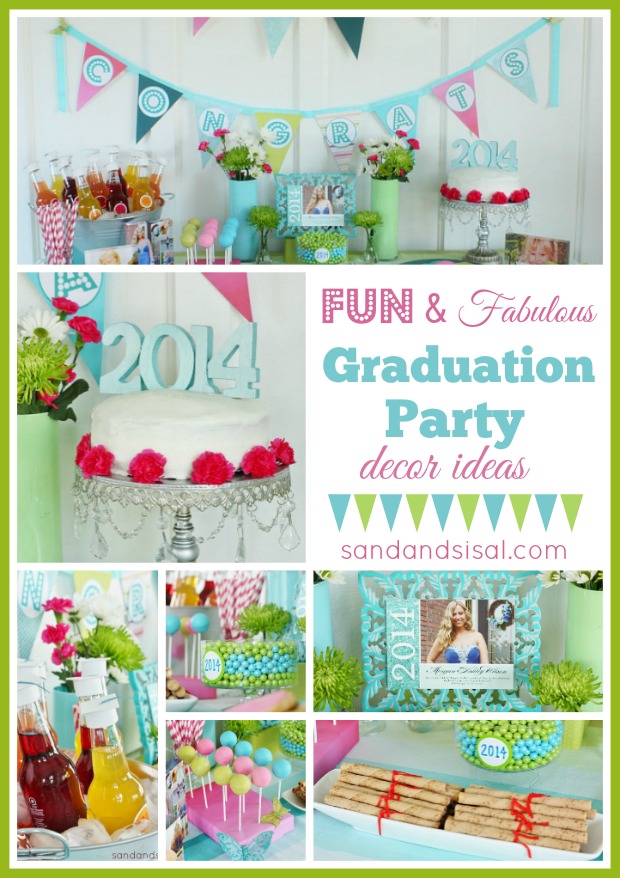 The time flew by faster than I ever could have imagined. Now my first born is ready to graduate from high school! It is approaching a bit too quickly for me (sniff, sniff, waaaaa!).  Time to start the planning and preparing for Graduation party time! I've based the entire graduation party decor ideas and theme around these pretty, glittery light teal Shutterfly Graduation Party Invitations.
That's my baby, Morgan! Isn't she beautiful? She's all grown up! Someone grab me a tissue please!
I tried to keep the decor fun and festive, but also conscious of cost. Two graduation pennant banners were made from scrap book paper, and ribbon. Look for the tutorial later this week!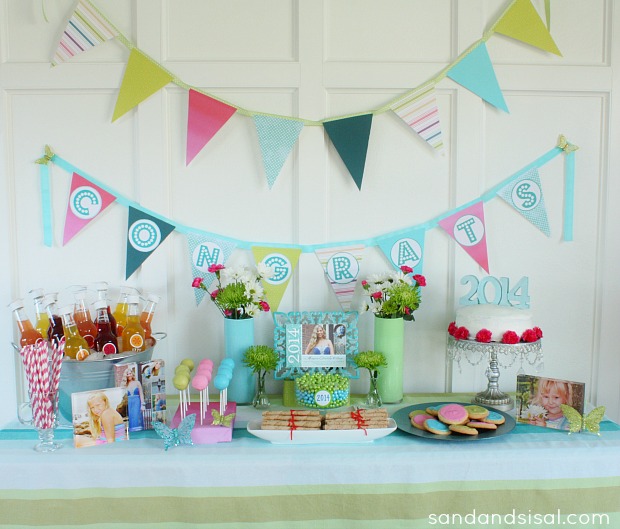 The graduation invitation is the centerpiece of the party table. I found a pretty frame, in the same color of the invitation, on clearance for $2.00 and just taped the invitation to the frame. To elevate it a bit, I covered a small dominos container in scrap paper. Voila! The flower arrangements were made from two $4.00 bunches from the grocery store, and were placed in my Painted Glass Vases.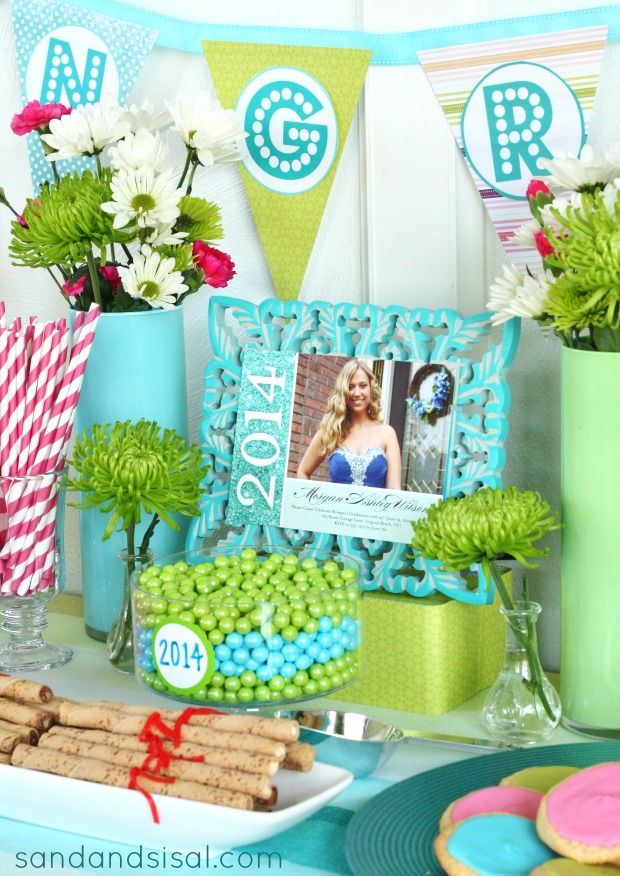 My daughter Morgan is known for being incredibly sweet and kind hearted, so let's create a dessert table full of sweet treats!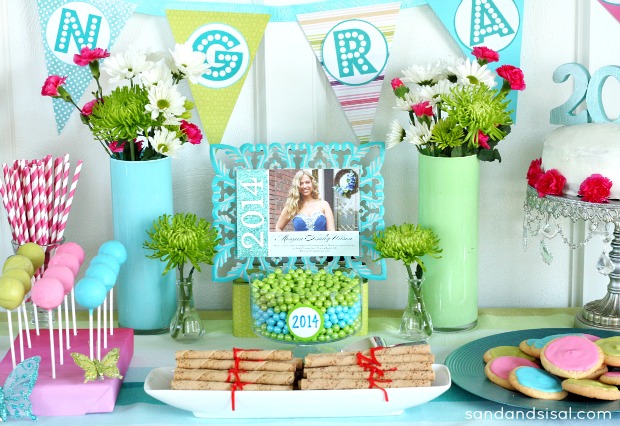 I like going against the grain when it comes to "expected party decor". You won't see any cliche, black graduation hats here. For a fun twist on the graduation hat decor, I made up tiny, white Graduation Cap Bottle Toppers, complete with tassels even. They fit over any water bottle or in this case, sparkling juice bottles. Are they not just the cutest things ever? The juices are served out of galvanized pail from a hardware store.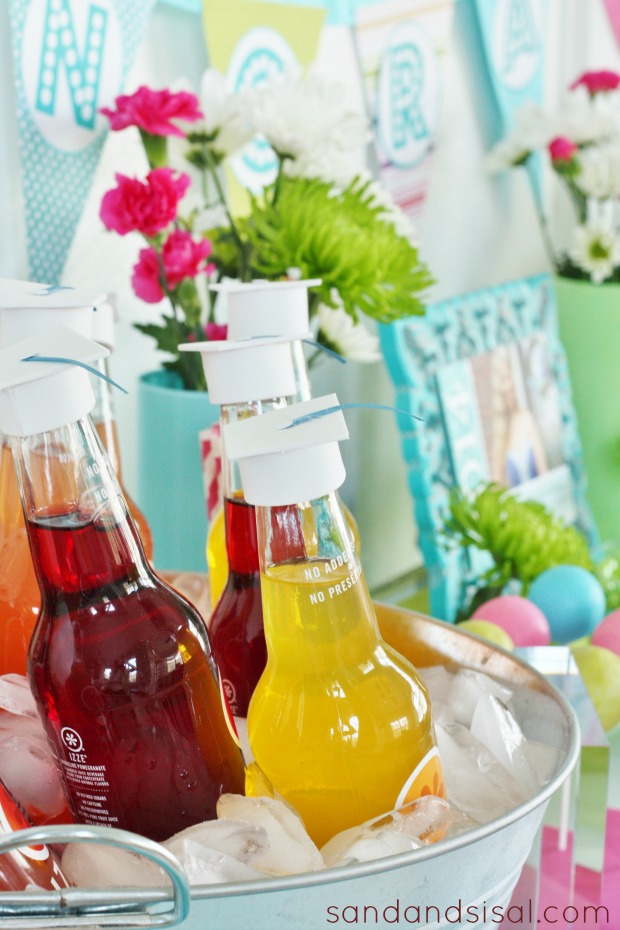 And if we're drinking special, sparkly juices, then we need fun and festive decorative straws to sip with!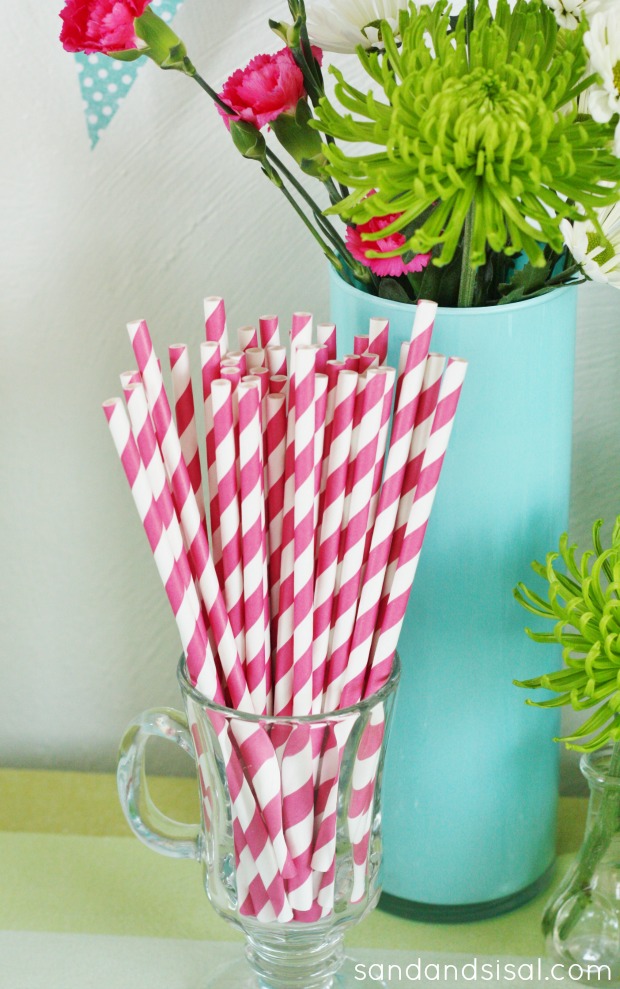 Because this day is all about Morgan, I wanted to display pictures of her over the years. Shutterfly has these amazing, customizeable, plexi photo cubes. I made 3 different designs on their website, one of her as a toddler, one in grade school, and a collage of her in high school. She absolutely loves them. These would make a great gifts for your graduate. She plans on snagging the collage photo to take to college with her.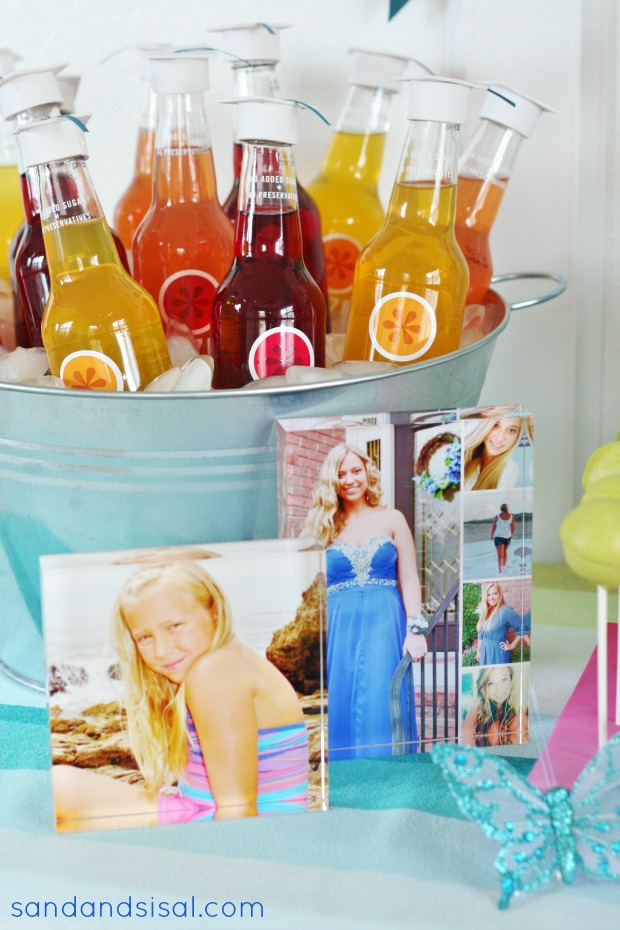 Everyone loves a fudgy brownie right? Dessert gets even more irresistible when it's in the form of colorful, candy coated Brownie Pops (click link for recipe).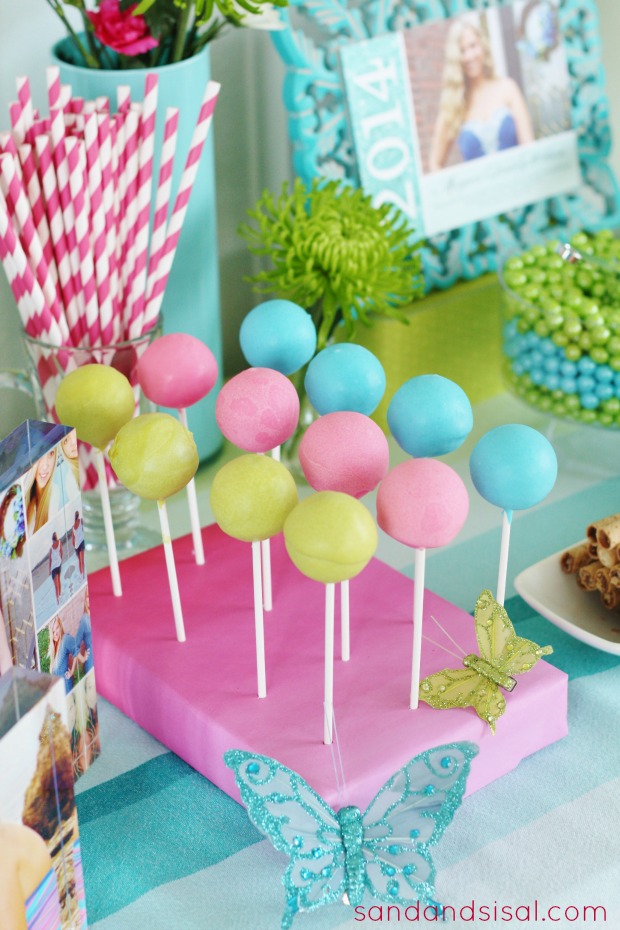 Layer coordinating colors of chocolate candies in a clear, dollar store, footed bowl, or use a wide mouth vase even. Stick on a 2014 sticker for added appeal.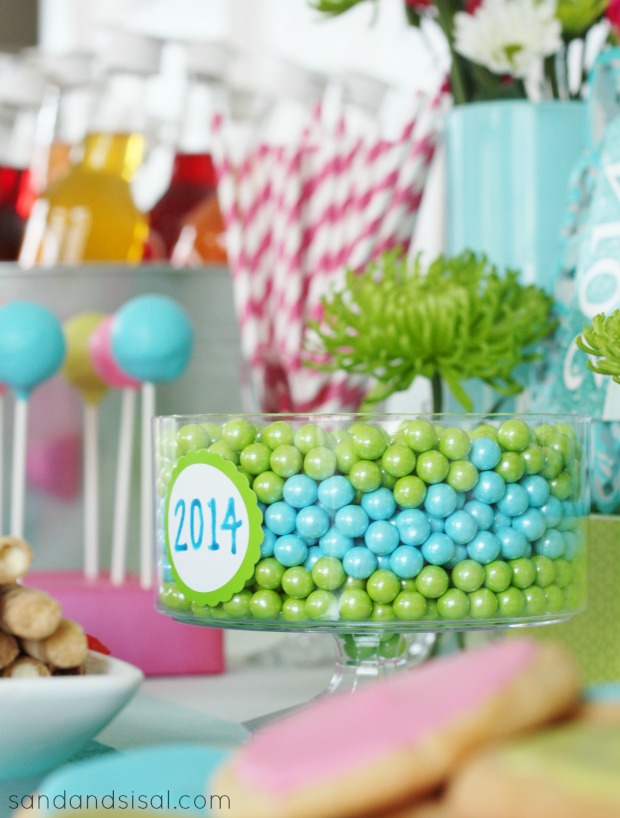 Continuing the graduation theme, we have some edible diplomas! Hazelnut and vanilla Pirouette cookies are tied with foot leather strips to replicate graduation diplomas. FUN and delicious!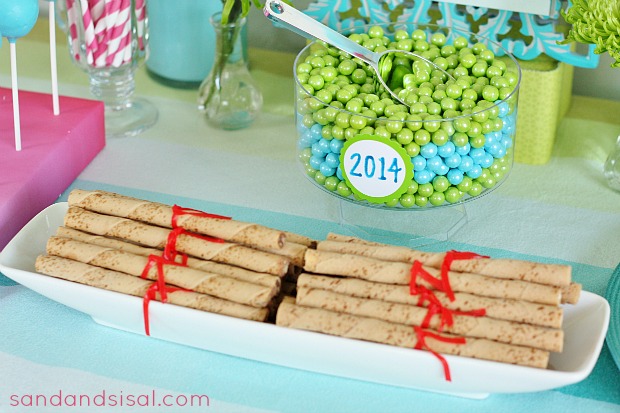 Every celebration needs a cake… a chocolate cake…  (a girl can never get too much chocolate!). This is just a homemade box cake, with white buttercream frosting. I dressed up the cake with hot pink carnations and 2014 wood numbers from the craft store, which I painted and hot glued together. This is an easy, yet beautiful presentation.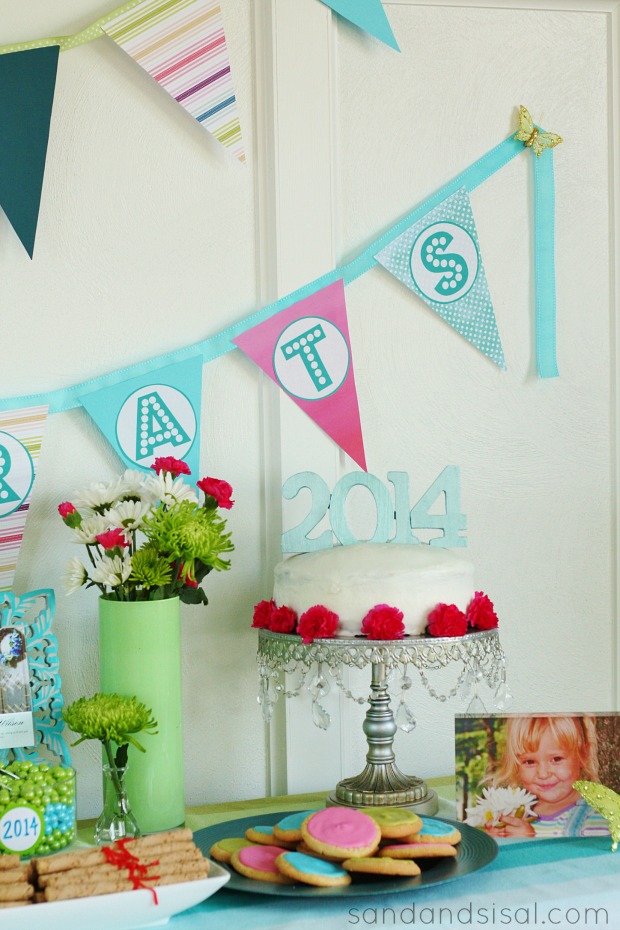 This was the first time I was able to use the silver and crystal cake stand, given as a gift from my sister. If you notice too, butterflies are all around the tablescape also. A butterfly represents a new life, a new beginning. They need to spread their wings and fly! All of which Morgan is about to do as she embarks on her new journey, heading off to college.
Oh no… here come the happy tears again. 😉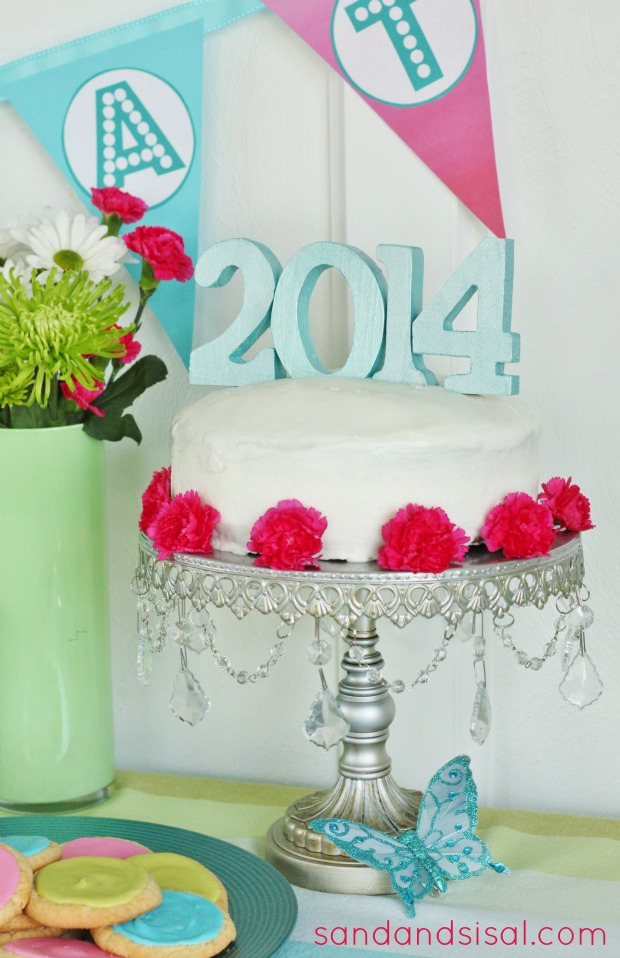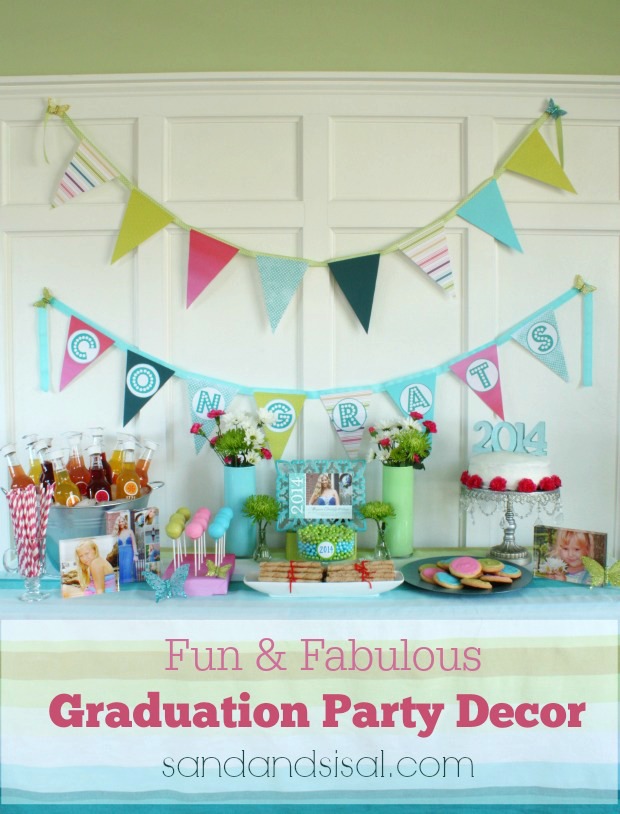 I hope you love these fun and fabulous graduation party ideas! If you have a son graduating, then feel free to check out this fishing themed graduation post. And visit Shutterfly for all your graduation announcements, invites, and gift ideas too! I love mine!
Kim
Disclosure: This post was brought to you in partnership with Shutterfly. All opinions and expressed idea are my own.
Linking up to TidyMom