Do you ever stare at a wall and wonder how to decorate it? Do you feel overwhelmed and unsure? I sure do sometimes! Today I want to give you some inspiration and help. We're going to look at 5 Ways to Fill a Blank Wall.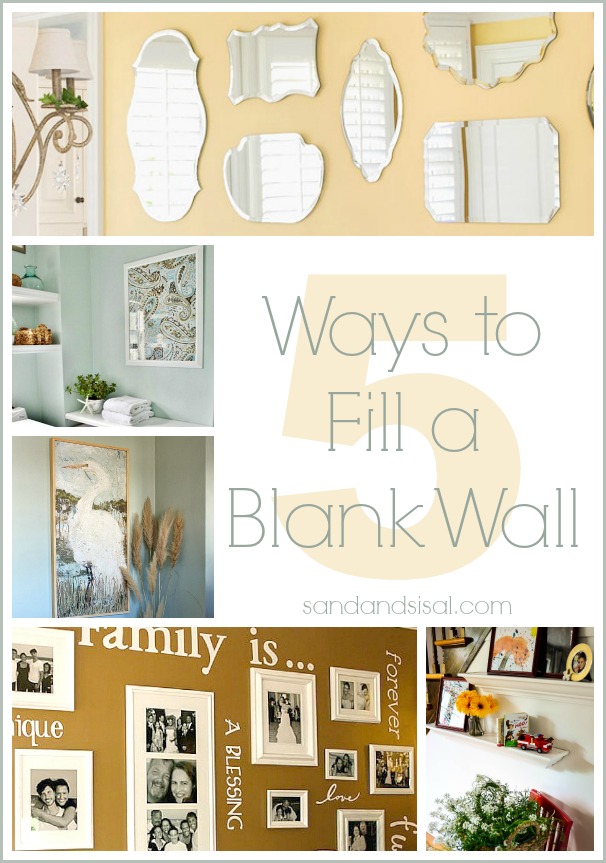 I have an awkward wall in my home that annoys me. Yes, I can be annoyed by a wall.  The space is too small to do much of anything with. I've tried placing plants in the corner, but they suffer because of the poor lighting. I've played around with a single mirror. That mirror on the wall is too small and therefore gets lost in the space, and the large mirror was fine, but boring. This wall is in located in a very high traffic area in our family room, next to the kitchen. Because it is such a visible location, I wanted something attractive, something large, something special, something that made a statement! It needed Ballard Designs! (At least that's what I convinced myself!)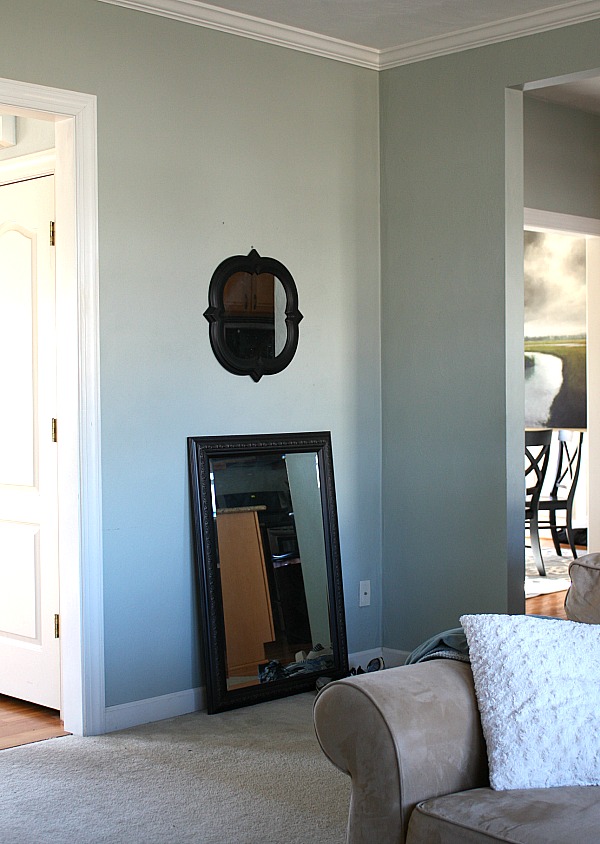 Make a Statement with Large Artwork
Ta-da! We have definitely made a statement with this large painting from Ballards. This White Heron Glicee has been on my wish list for ages and I'm thrilled that I took the plunge and bought it. We have enormous herons that will often fly through our yard in search of the fish in the pond out back. I like decorating with large artwork because it fills a blank wall easily and instantly commands visual attention. The corner was softened with a ceramic urn filled with soft and billowy pampas grass fronds.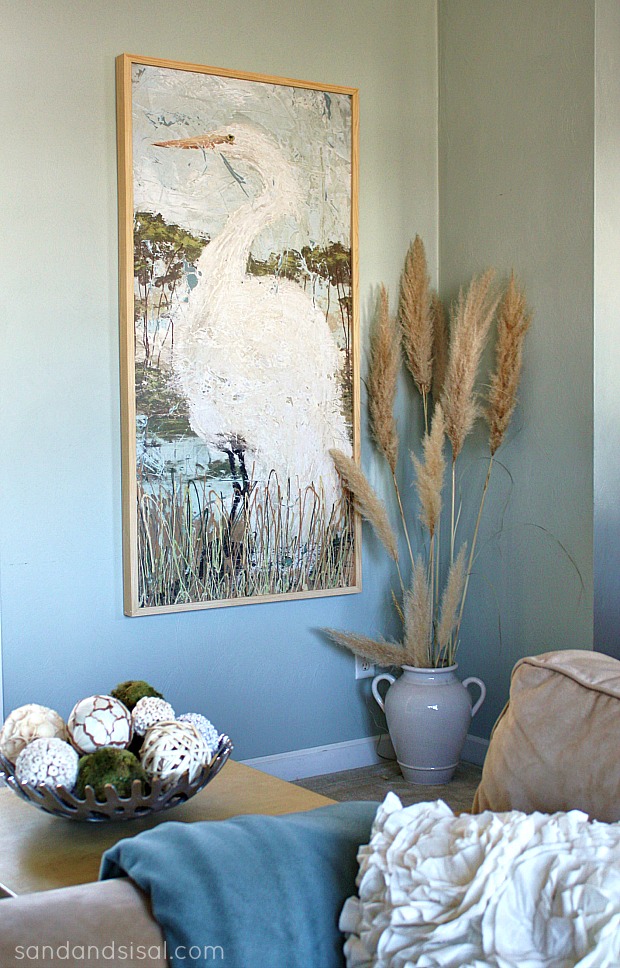 I've also used large paintings to fill a blank wall in our dining room. That painting is Storm Over the Marsh (also from BD). It depicts the coastal marshes of the south east and looks exactly like the area where I live, which gives the painting significance and meaning to me.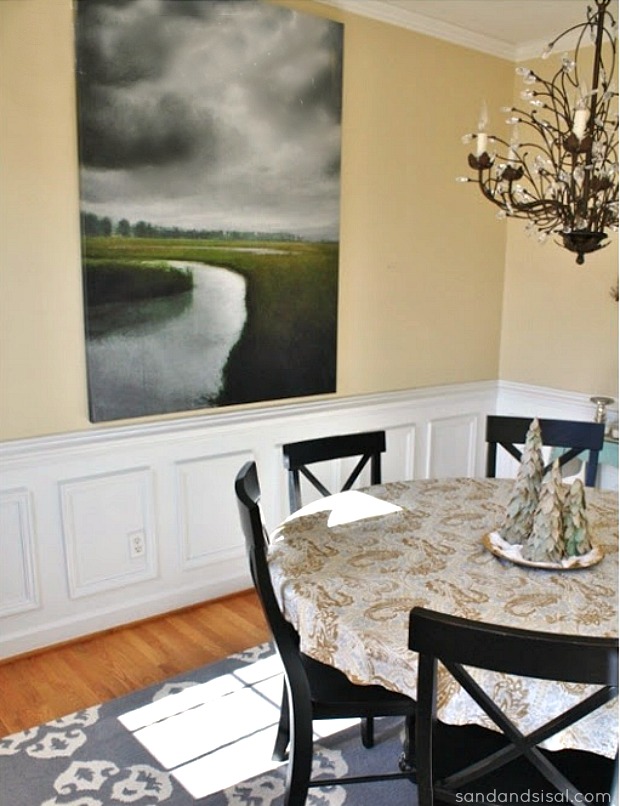 Create a Gallery Wall
Another way to not only fill a blank wall but to also add significance and meaning to it, is to create gallery wall. I absolutely love this family room gallery wall by Marty's Musings! She kept the gallery consistent, by using all black and white family photos with white frames, but created interest with varying sizes, layouts, and decals.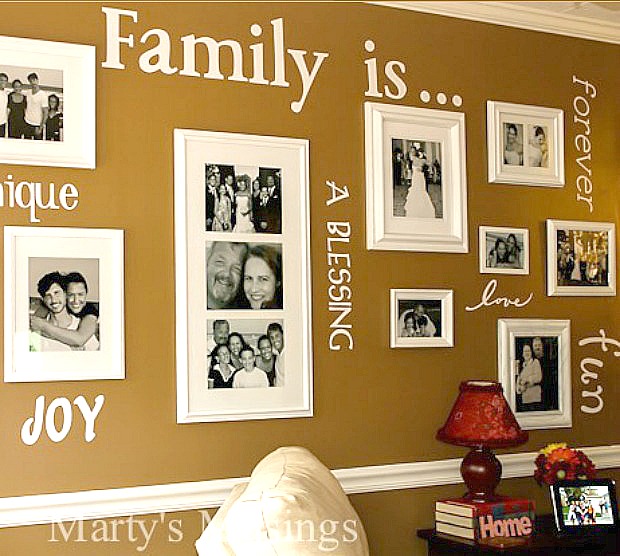 A gallery wall can all also have a repetitive, structured theme. I created a very linear gallery wall in our playroom using framed DIY Shell Art, made from shells our family has collected along the beach.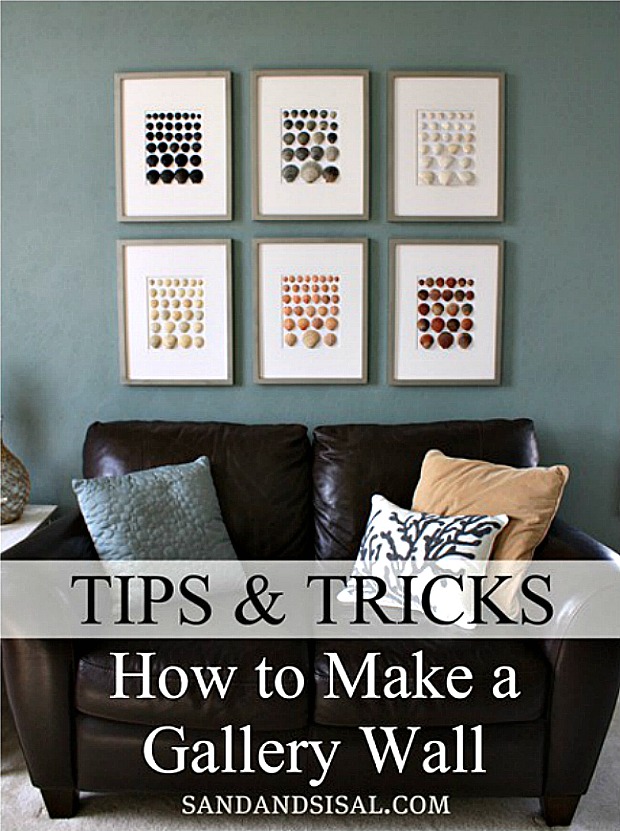 Do-It-Yourself Artwork
If you have a bit of an artistic flair, consider filling a blank wall with your own artwork! DIY art can be as involved or as simple as you want. Below is my Twilight Art or Tree of Life Painting, which I like to call it. 😉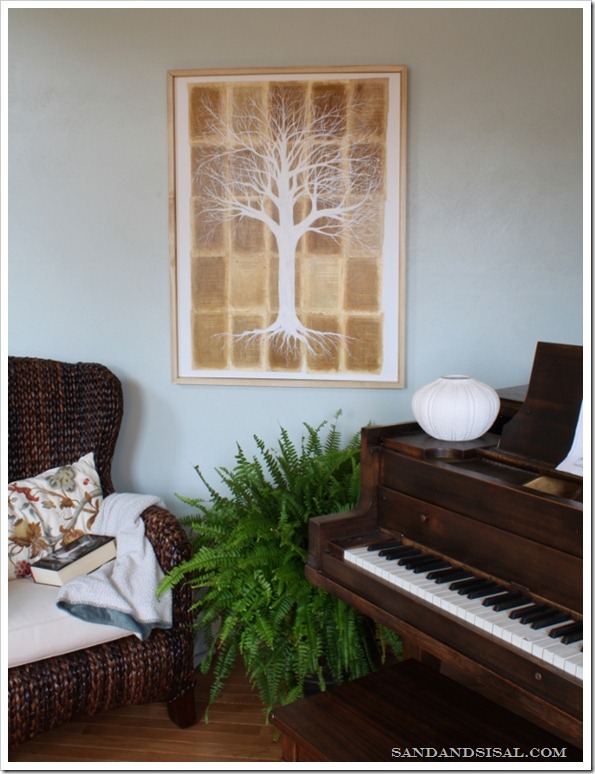 Get your kids involved in the artwork! These Easy Watercolor Resist paintings were done by my daughter.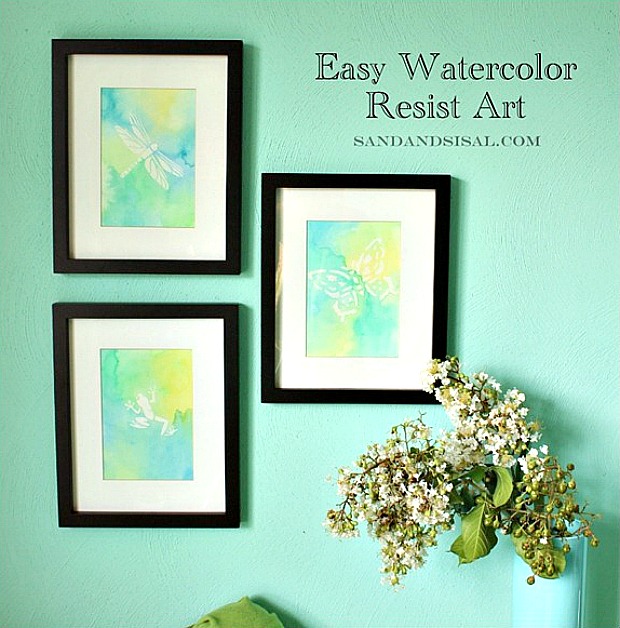 And you can't get any simpler than making your own Framed Fabric Art! Absolutely no skills required.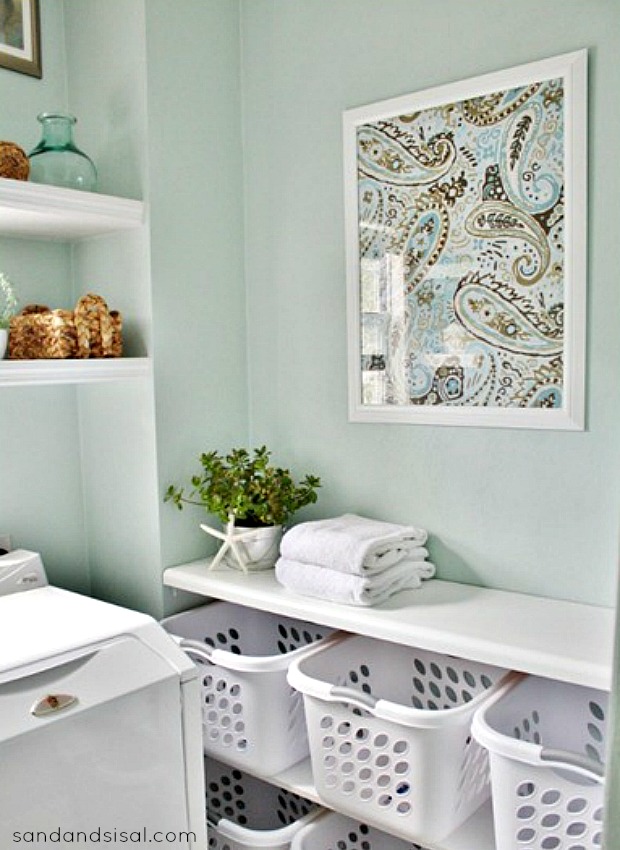 Reflect the Space with Mirrors
Another way to fill a blank wall is to use mirrors. Of course you can use just one, but look at how interesting grouping several mirrors together is! Not only is it attractive, but this is also a nice solution for a small or dark room. The mirrors with reflect the light and give the illusion of a grander space.
I turned charger plates into decorative mirrors and lined them in a row to fill a skinny wall.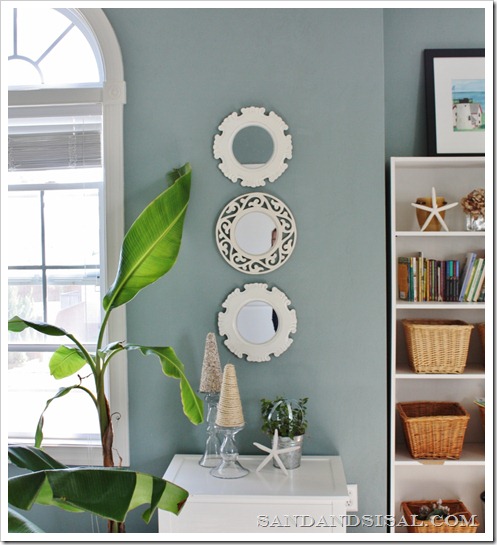 Install Floating Display Shelves
Fill a blank wall with floating display shelves to display artwork, photos, and little treasures or collections. Jessica from Four Generations One Roof teaches us how to hang shelves in seconds using painter's tape! She filled the awkward blank wall on the side of their staircase. So smart!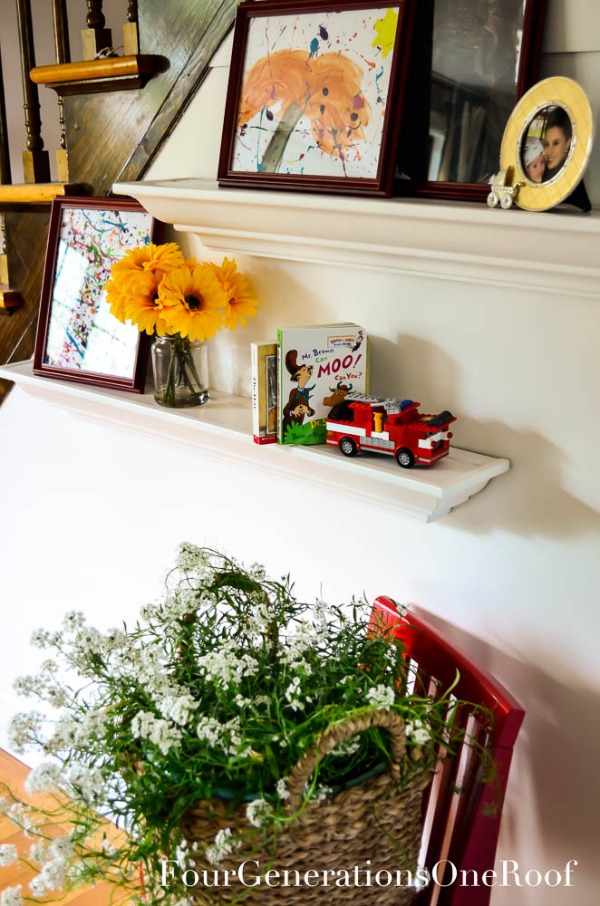 The floating shelves don't have to be only for display, they can be very functional. We built 4 floating shelves in our laundry room to help store and organize our cleaning supplies.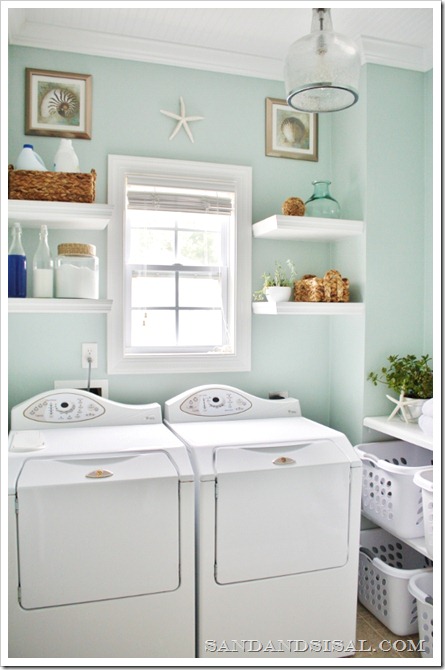 Beth from Home Stories A to Z replaced a painting with 3 floating Display shelves, maximizing functionality and organization in this small powder room. You need to check out the before and after pics!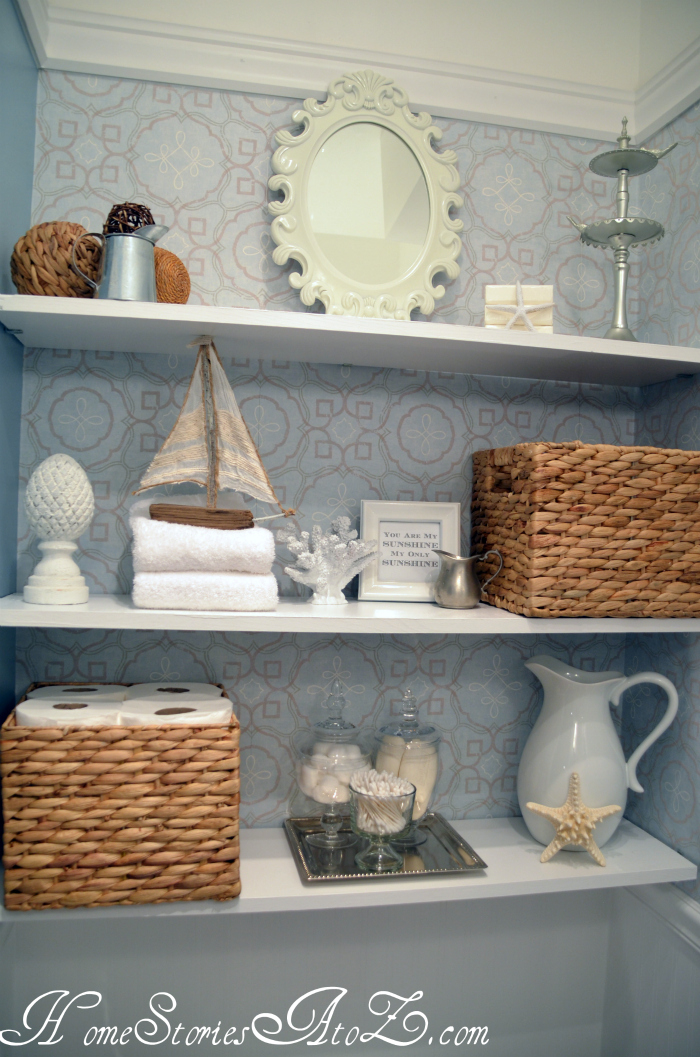 So don't let those blank walls frustrate you any longer! Try one of the 5 ways to fill a blank wall and you will be loving your spaces even more than before!
KIM